Transforming a Basement into a Home Theater
Heads up!
Welcome to this article from the Crutchfield archives. Have fun reading it, but be aware that the information may be outdated and links may be broken.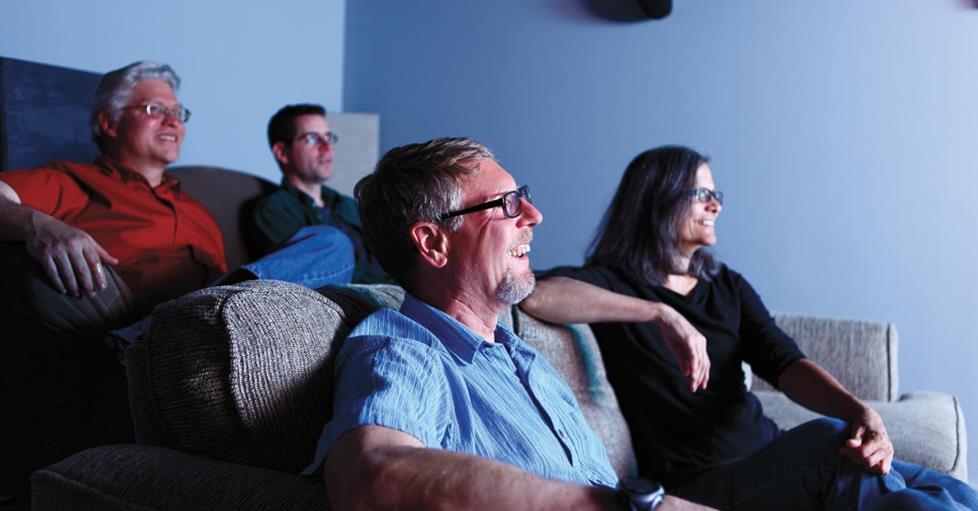 Getting started
When I moved into my house eight years, ago my top priority was creating a room for great home theater and music listening. I knew I wanted a projector because I'd been knocked out by demos at trade shows and in Crutchfield's training room. For sound I planned a 5.1- or 7.1-channel surround system.
Luckily, the house had a big unfinished basement. The first time I walked through, I began hatching a plan for my own personal movie palace — minus the velvet drapes and sticky floors.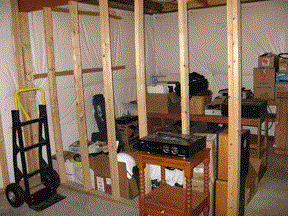 I'll be talking about my thought processes and priorities for the room, and including plenty of details on the various construction stages, gear selection, and the final result.
This room is part of a complete basement remodel, so I should tell you right off the bat that I didn't do the work myself. Heck, I can barely drive a nail straight! But if you're thinking about creating a theater room, or just like reading about this stuff, I hope you come away with one or two useful ideas. And you might learn a few things from my mistakes.
Why a basement room?
Basements have a lot of natural advantages for theater rooms. The floor is usually concrete, which doesn't transmit vibrations as much as a wooden floor. (Some people feel that those floor-vibrations add a "live" feel to music, but I prefer concrete floors.)
Foundation walls are usually cinder block or poured concrete, which keeps late-night sounds from escaping your room and assaulting your neighbors. And basements often have few or no windows, which is great for "light control" — it's easy to darken the room for that theater-like movie experience.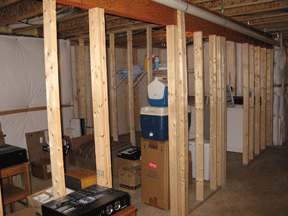 When I moved in, the basement already had some basic framing. But I didn't want
a wall at the support beam, so the framing was removed and the wall was pushed out
several feet to the right of the beam.
Working around an immovable object
As I sketched some possible layouts, the main obstacle I kept bumping up against was two massive support beams running lengthwise through the basement space, dividing it into thirds.
Normally, I'd have built one wall incorporating the beam, but if I did that I'd end up with a room width of under ten feet, and I was afraid that would prevent me from having BIG enveloping sound and room for friends to enjoy it.
So I decided to push a wall out beyond one of the beams. The downside: I was stuck with a ginormous beam hanging down into the room, which would definitely limit the size of a projection screen on the front wall. The upside: I gained several feet of extra width, so my audience wouldn't be required to crush together in one big armchair to watch a movie.
The equipment closet: A changing room for A/V gear
One of my main goals for this theater/listening room was making sure that I'd be able to easily access and swap out equipment without cluttering the room with components.
Part of my duties here at Crutchfield involve occasionally trying out gear at home (I know, tough gig, right?). I started thinking about an in-wall cabinet, and then I realized that what I really needed was an equipment closet.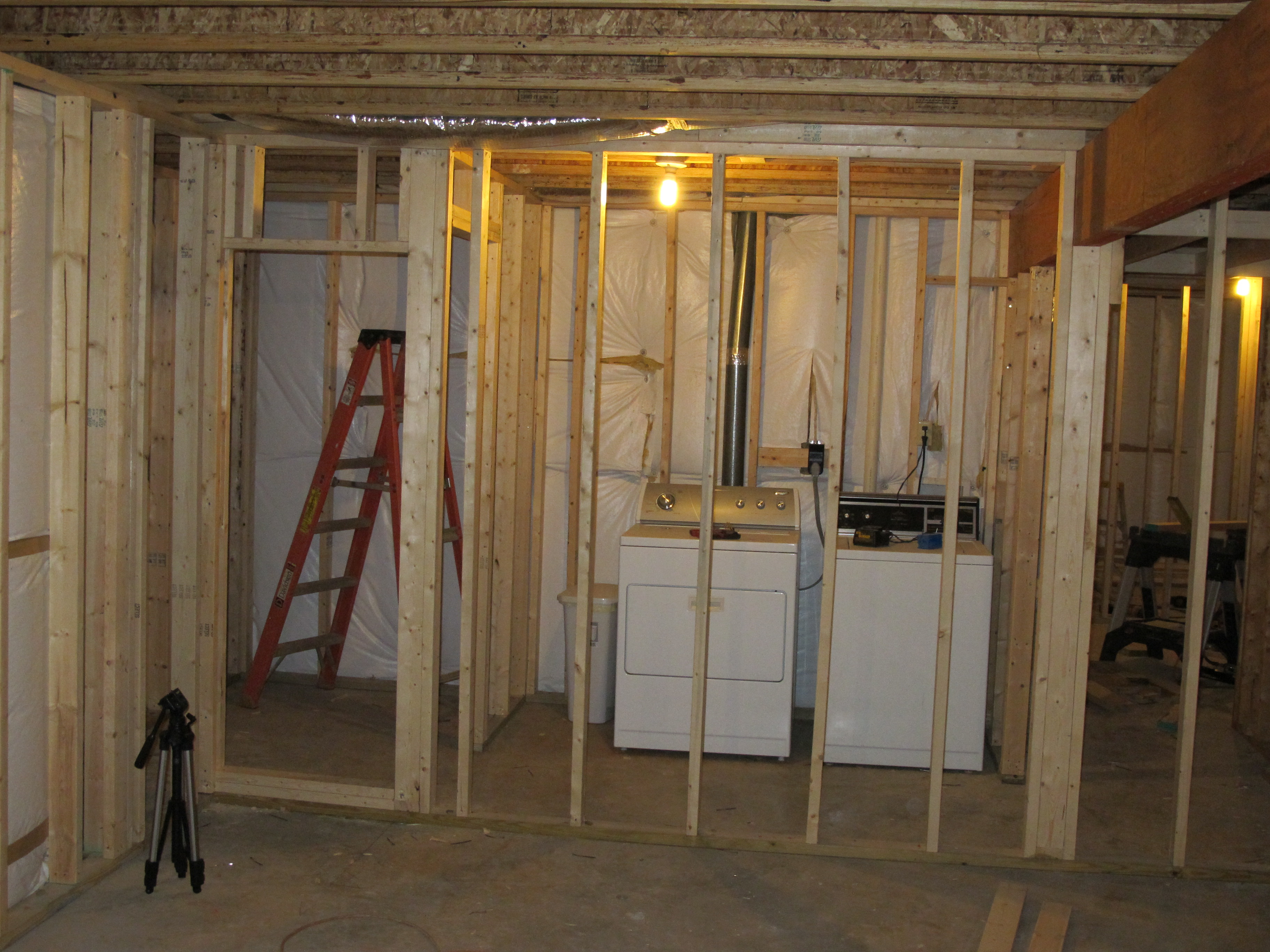 The area behind the front wall of the theater room
is shared by a laundry room and the future equipment closet.
Fortunately, I had a decent-sized space to work with. Originally, the entire area behind the front wall of the theater room was taken up by a laundry room. The space was much bigger than it needed to be to house a washer and dryer, so I sliced off a 4-ft. by 6-ft. chunk to use as the equipment closet.
A door between the laundry room and equipment closet gives me easy access to the back panels of my equipment, as well as to the various cabling running from my components to the projector, surround speakers, etc.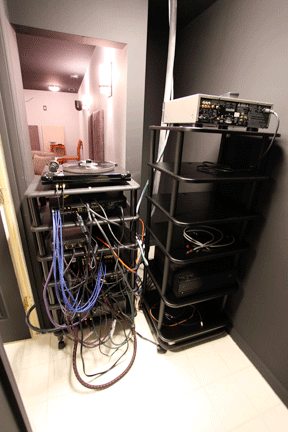 The equipment closet gives me plenty of room
to access components and cables.
The equipment racks: Free-standing vs. built-in
I've seen lots of photos of home theater setups featuring an equipment closet where the gear is housed on built-in shelves. That would have been a cleaner-looking approach, but I thought it might compromise the system's sound quality slightly.
See, I'm kind of obsessed about reducing or eliminating vibrations wherever possible. Even tiny vibrations can negatively impact the performance of delicate electronic circuits.
Built-in shelves would structurally be part of the room and more likely to pick up vibrations. Instead, I decided to place my components on two racks that would rest on the concrete floor in the closet. I'd be able to get to the front-panel controls of the gear through the opening between the theater room and the closet.
One minor drawback to my arrangement is that the front-panel displays are located on the front wall, to the left of the projection screen, which could be a visual distraction. I can dim or darken the displays — eight years in, it hasn't really been an issue.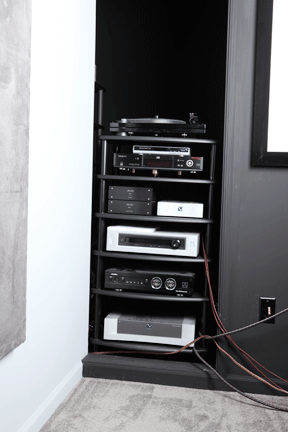 Here's what the equipment rack
looks like from the theater room.
Most of the cables were
rerouted out of sight.
Keeping components from losing their cool
So, the equipment closet idea seemed to be an ideal solution, right? Actually, here's where I almost made a serious goof. Loading a closet-sized space with hot-running electronics is just about guaranteed to send the room temperature soaring. And that's not healthy for the performance or lifespan of audio/video gear.
Fortunately, I had mentioned my project to Crutchfield A/V Designer Norm Hawes. (The room design issues I was wrestling with are the bread and butter of our A/V Design Group — these guys field questions like this all day long.)
When I described the closet idea, Norm immediately recommended running a supply duct to the closet for heating and air conditioning, Luckily, there was still time to get the HVAC guys to make it happen. Whew!
Soundproofing — keeping the sound in the room
Once the walls were framed in, but before the drywall went up, it was time to take some steps to soundproof the theater room. One of the reasons I ended up in a house rather than an apartment or condo was that I wanted to be able to play movies and music LOUD without disturbing neighbors.
But I also wanted to see if I could contain the sound within the theater room as much as possible, so that very little leaked out into adjacent rooms. That goal required fairly extensive treatment to the room's ceiling and two interior walls.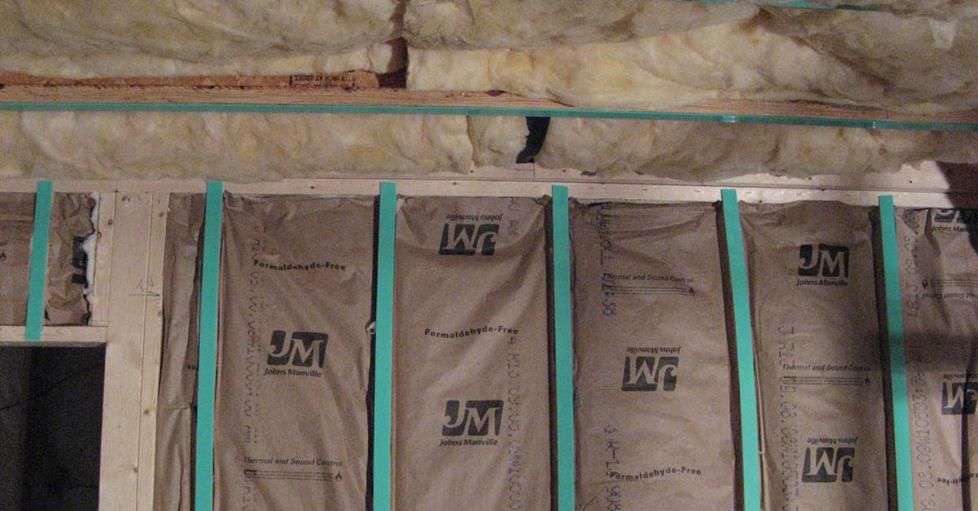 The insulation in the interior walls and ceiling is strictly for soundproofing. I also applied foam tape to the studs and ceiling joists to provide a bit of physical isolation between them and drywall panels.
Typically, houses don't have insulation in the interior walls or the ceiling between floors. But batts of fiberglass insulation provide fairly effective and low-cost soundproofing. So in went the insulation into the theater room's two interior walls and ceiling.
In addition to using materials like insulation or denser specialty soundproofing materials that actually block sound waves, you can reduce sound leakage by limiting the physical transfer of sound through structural materials.
As an example, I applied 1/8"-thick foam tape to all the wall studs and ceiling joists in the room before the drywall was installed. This created a thin isolating cushion between the studs/joists and the drywall.
It also reduced the likelihood that I'd hear creaks and rattles from the walls when my subwoofer started pumping out deep bass.
One of the costlier material choices I made was the drywall for the theater room's two interior walls and ceiling. I used a special sound-damping gypsum panel called QuietRock®. It's definitely effective, but I'd think twice before using it again simply due to the cost.
Get a free system design
In a well-designed home, form and function are on the same team. Furnishings and appliances smoothly serve your family and guests. You should expect no less from your audio/video gear. But first you need a plan, and that's where your Crutchfield A/V design specialist comes in. Submit a system design request today! You'll receive a detailed system plan and a link to a pre-filled shopping cart.
3 easy steps
1
Share your info and ideas