Ultralink UCube™ Portable Speakers
Heads up!
Welcome to this article from the Crutchfield archives. Have fun reading it, but be aware that the information may be outdated and links may be broken.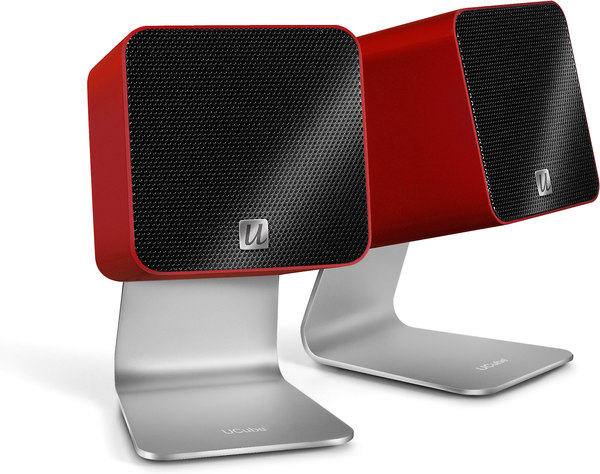 The UCubes come in four colors: black, white, silver, and red.
Traveler's blues
I've done a fair amount of business travel in my time. After a long day I always liked to retire to my hotel room and relax with some music. One problem: getting decent audio. I've yet to hear a laptop that delivered more than marginal sound (of course that's not the primary reason why I bought it in the first place). Lugging around a set of powered speakers was just unmanageable. Not only did they add weight and bulk to my suitcase, but finding a free plug in the hotel room for the power adapter was often a challenge. I tried using small unpowered speakers that plugged into the computer's headphone jack, but they just sounded tinny .
Portable and powerful
That's why I was glad to check out the Ultralink UCube compact USB mobile speakers. They seemed to be the right solution for all my issues. They're definitely compact: each speaker is a 3.25" cube. Their small, screw-on stands are aluminum, so they're both sturdy and lightweight.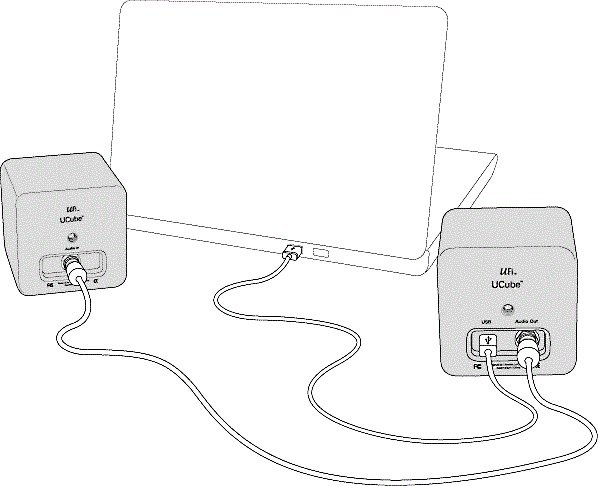 There are just two cords. A USB connection runs to the computer for power
and the digital audio signal. A second cable connects the two speakers.
But more importantly, they're powered by the laptop's USB port. The system just has two wires. The USB connection runs from the computer to one speaker, and a second wire runs from one speaker to the other. Cable lengths are short, so there's not a lot of tangled wire, and setup can be done within minutes.
Built for travel
I was particularly impressed by the UCubes' build quality. I've had cheap speakers on my travels, and what I "saved" in the purchase price was usually negated by how often I had to replace them. The UCube speakers are made from a sturdy, high-impact plastic, with a metal grille over the driver. The casing has all rounded corners and edges. That's a nice feature if you pack these in with your clothing — you don't have to worry about them snagging on something. And it doesn't hurt that those smooth lines give the system a sleek, Euro-style look.
The cable that connects the speakers has tight-fitting RCA plugs, and is encased in a plastic sleeve. Printed on the plugs is the claim, "the ultimate connection." Well, I don't know about that, but the connectors do fit securely to the speakers, and the wire isn't likely to fray (as inexpensive ones tend to).
Built for intimate sound
The UCubes work best for close-in listening. I experimented with placement, and the optimal position seemed to be close in on both sides of my laptop, angled towards me. With that setup, the speakers generated a nice, spacious soundfield around my desk and chair. The UCubes were a little light on the high end and while the bass was there, it wasn't chest-thumping. But for small, portable speakers, I thought they did an excellent job.
One tip I have to pass on after playing with the setup — use the stands. The speakers have foot pads, so you can place them directly on your desk or table and not worry about them sliding around or scratching the furniture. But the stands (which also have pads) angle the speakers up towards your ears. Having the focal point of the sound the center of your head is better than having it the center of your sternum.
How about some details?
As always, I made sure I played a wide variety of music to get a better idea of what these speakers could handle.
Classical music did well. One of the selections I listened to was a Palestrina mass. The sound had a natural echo to it (it was recorded in a church), and I got a sense of the immensity of the space. That spacious feeling remained when iTunes moved on to Vladimir Viardo's performances of Shostakovich piano preludes. His Steinway grand had a natural sound to it, although sometimes it seemed a little harsh in the upper register.
Other types of acoustic music sounded fine. I tried some jazz tracks from drummer Robert Jospé and his small combo. There was a good amount of detail in the ensemble's sound that I could easily make out. For some variety, I played some tracks by flamenco guitarist Paco Peña. The energy and fire were there, but his guitar has a slight edge to it at times.
On the rock side, things were even better. Los Campesinos (You! Me! Dancing!) sounded sufficiently detailed. The edge I detected in the acoustic tracks seemed to improve the sound of the electronic instruments of this track — especially the glockenspiel. I also checked out some YouTube videos by Pomplamoose. Their multilayered music sounded sufficiently dense, but I could still follow the individual lines.
Is loud allowed?
Sitting close to these speakers, I seldom moved the computer's volume past the halfway point. When I did crank it all the way, (depending on the audio quality of the source), the sound got a more pronounced edge to it, and there was some bass distortion. But sitting that close, I found the volume was also uncomfortably loud. So for most situations (like when I was working at the computer), moderate volume levels were more than adequate.
Overall impressions
I liked the Ultralink UCube speakers very much. Their thoughtful design made them an appealing travel companion. And they also worked great in my home office. The UCubes didn't take up a lot of room, which is a real plus with my perpetually cluttered desk.
If you're used to listening to your music through your computer's built-in speakers or — worse yet — some cheap unpowered speakers, do yourself a favor and invest in the UCubes. I don't travel as much as I used to, but no matter. Even though it was my home office rather than an anonymous hotel room, the UCubes filled my immediate surroundings in a warm, clean sound. And I didn't have to hunt for an extra outlet.