Upgrade your car stereo's sound
...without replacing the factory radio
Sometimes, you just have to keep the factory stereo. And the good news is that you don't have to replace the factory radio to get awesome car audio sound. Below, we'll show you a few examples of how to improve on the OEM sound system without replacing the radio.
actory stereo systems often leave a lot to be desired. For example, sometimes they're programmed with equalization (EQ) curves that compensate for the system's lack of power by reducing the level of the bass. And if you want to replace the stereo, the dash designs of some vehicles make it difficult – or impossible – to do.
And sometimes, especially in newer cars, like the 2013 Ford Focus shown above, the factory stereo is actually pretty cool. But there's still plenty of room for improved sound.
Custom sound system upgrades to the rescue
Luckily, this problem has some solutions that let you keep your factory stereo and get spectacular sound, customized for your specific vehicle. The upgrade systems we discuss in this article improve the factory sound of different vehicles in different ways — you can call us if you need a hand deciding which will work best for yours.
Stealthy add-ons keep your dash intact
In addition to improving the sound to match your vehicle's size and shape, these upgrade systems are "stealthy," in that they're designed to fit in your vehicle with no visible modifications to its interior, except for the addition of a subwoofer.
---
Alpine PXE-0850SX
Spectacular sound for nearly any factory stereo
Alpine's developed a neat product that solves the sound issues of many factory systems. The PXE-0850X amplifier/processor takes up to three pairs of high-level inputs, processes the sound, then sends out up to eight channels of amplified signal to your vehicle's tweeters, midrange drivers, woofers, and subwoofers.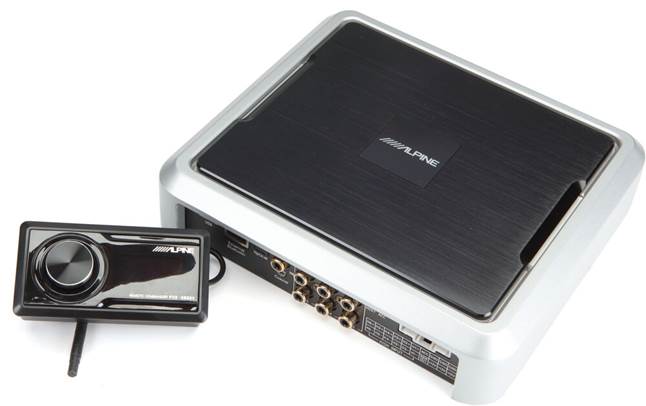 You use an app on your Bluetooth® device or wired PC to adjust a 31-band EQ and set crossovers and time alignment for better fidelity and imaging. Crutchfield Car A/V Editor Matt installed a PXE-0850S, the earlier version of the PXE-0850X, in his 2014 Ford Focus, and had this to say:
The PXE-0850X amp/processor comes with a wired LCD remote controller so you can control volume, store and recall EQ presets, and select between sources from the driver's seat.
---
Kicker VSS™ Powerstage™
Custom fit and programmed to make your vehicle sound great
A Kicker VSS Powerstage system upgrade will transform your vehicle's stock radio and speakers into a high-fidelity sound system capable of giving you full, accurate, and richly textured music. And it does it without changing the look of your car's interior or dash.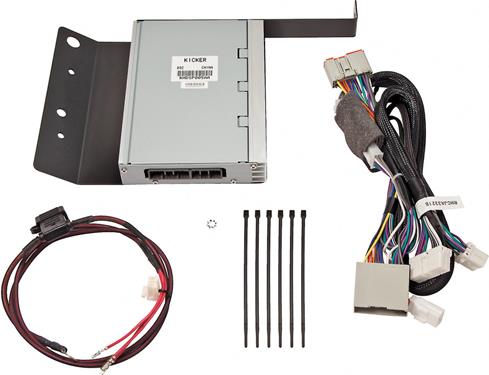 VSS Powerstage system for the 2012 Ford Mustang
It plugs into your factory wiring with no cutting
The heart of the system is the VSS Powerstage processor/amp module that plugs in between your car's stock receiver and speakers with the help of a vehicle-specific wiring harness. Kicker's technicians measured the acoustics of the specific vehicle's interior, then developed a program to get the strongest and cleanest audio performance possible from the stock speakers. The VSS Powerstage module breathes new life into your vehicle's factory system, automatically correcting for the limitations of the factory speakers, then adding plenty of power so the speakers can sound their best.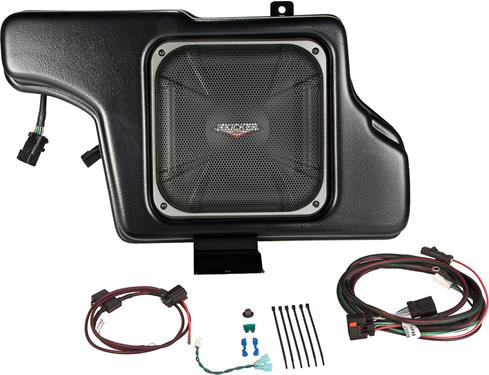 Kicker VSS Powerstage subwoofer for the 2012 Mustang
Of course Kicker includes a subwoofer!
A powered subwoofer, built to fit exactly in your vehicle, supplies the bass you need for fully balanced music. VSS Powerstage upgrades come with all the wiring precut and terminated to make installation easier. Step-by-step, illustrated instructions make this sonic upgrade a fun and rewarding project.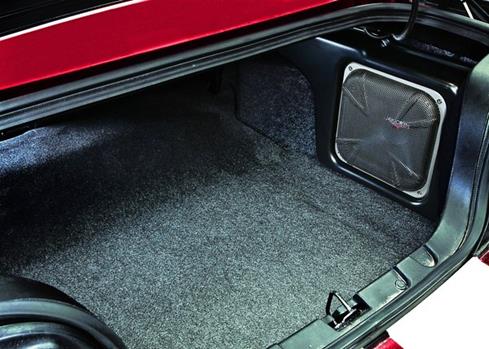 VSS Powerstage subwoofer installed in the Mustang
They're currently available for many Chevrolet, Dodge, Ford, and Jeep vehicles. Use our vehicle selector to see if there's a Kicker VSS Powerstage system available for yours.
---
AudioControl D-6.1200
Add power and sound control
A problem with many premium sound systems is that replacing the puny factory amp with a more powerful one will mean losing some of the vehicle's audio functions and audible notifications.
The AudioControl D-6.1200 6-channel amplifier with digital signal processing makes a great solution, retaining your vehicle's audio and communication functions while adding tons of power and tuning ability to your system.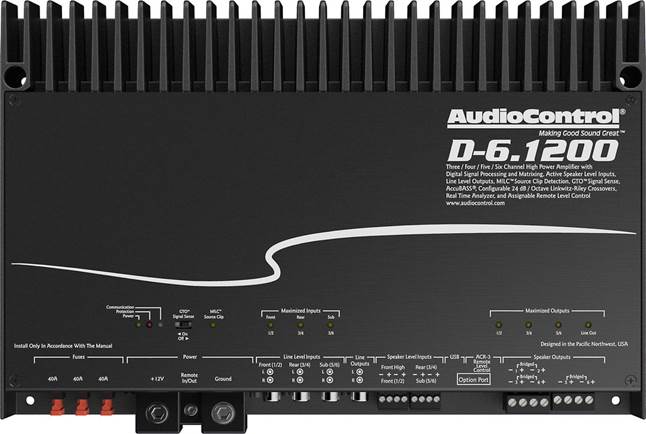 The D-6.1200 can use your vehicle's factory amplifier outputs to provide a clean audio input signal for this amp, so all factory audio features are retained. You control the amp's sound processing by way of your computer and AudioControl's DSP control app. It lets you apply and adjust filters to match signal to speaker, set the time alignment so the stereo image will sit centered on the driver seat, and adjust the tone to perfection.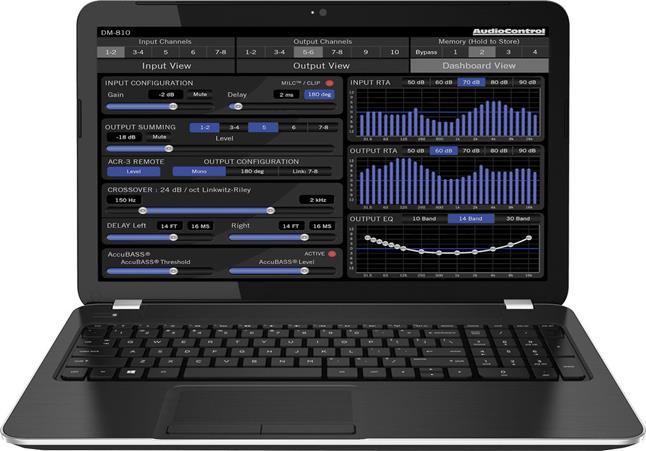 Smart-User DSP tuning software on a laptop (DM-810 version shown)
Improve the sound of your factory stereo
These are just three ways to add improved sound to your car without changing the factory stereo. For more ideas, check out the Factory Radio Improvement section of our website, or give us a call and talk to our knowledgeable advisors. They'll help you figure out the options available for your car.