Sonos and a multi-room amplifier
How to mate Sonos with in-wall and ceiling speakers
Setting up a multi-room audio system can include an almost endless number of options and possibilities.
If you want to conceal the speakers in your ceilings or walls, you need a hard-wired system. That's no problem if you're building a home or buying one with the wiring already in place.
Retrofitting an existing home with the wires for in-wall and ceiling speakers can be a daunting proposition. If you're not willing to tackle that job (or pay an electrician to do it), a wireless system is your best bet.
But there's no reason to limit your system to one approach or the other. In many homes, a hybrid system is the perfect solution.
Getting the best of both worlds
A Sonos wireless music system provides fantastic multi-room flexibility. You can put a powered speaker in any room. And you can use your smartphone or tablet to select the music streams you want to hear and control the volume.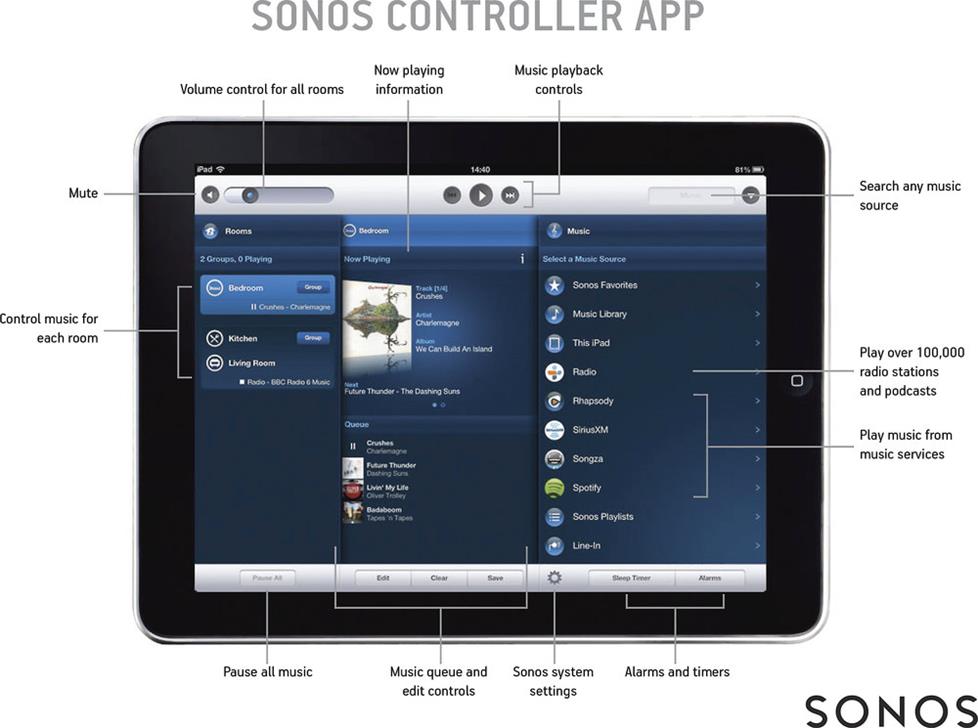 The Sonos controller app lets you easily choose different music for different zones or play the same music in multiple zones.
A traditional hard-wired system uses a receiver, satellite radio, or CD player as the music source. In-wall keypads are used for music selection and volume control. Using Sonos CONNECT modules as the music sources for your in-wall and ceiling speakers gives you easier control and more music choices.
Let's look at a hybrid system design
Say your home, like the one in our illustration below, already has multiple in-wall speaker wires running from various rooms to a central location like a utility closet. Furthermore, let's suppose this system includes two pairs of outdoor speakers on the deck and by the pool.
This scenario is a perfect example of how neatly a hybrid system can bring together the convenience and control of a wireless Sonos music system with the high-power capabilities of a separate multi-channel amplifier.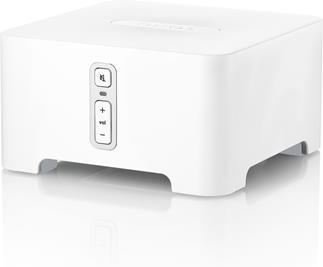 Use one Sonos CONNECT component for each music zone.
In our hypothetical three-zone system, we are using three non-powered Sonos CONNECT modules (one for each zone) plugged into to a Clare Controls amp.1640 16-channel power amplifier. The amp, in turn, is hard-wired to a variety of in-wall, in-ceiling, and outdoor speakers located throughout our home. Each Sonos module allows us to play a different music source in each zone.
Eight of our amplifier's channels are being used in Zones 1 and 2 to power in-wall speakers in the family room, and in-ceiling speakers in the dining room and Kitchen.
The amp's other eight channels are being used to drive our power-hungry Zone-3 outdoor speakers. Four of those channels have been combined (or bridged) into two channels that can now supply a beefy 160 watts RMS to each of our deck speakers. The other four channels are feeding the stereo inputs of our two Niles "rock" speakers by the pool.
The beauty of this system is that it can be expanded to include more zones by simply adding additional Sonos wireless powered speakers or more CONNECT modules and more power amps.
If you'd like more information, Crutchfield's A/V Design Group can help you plan your system.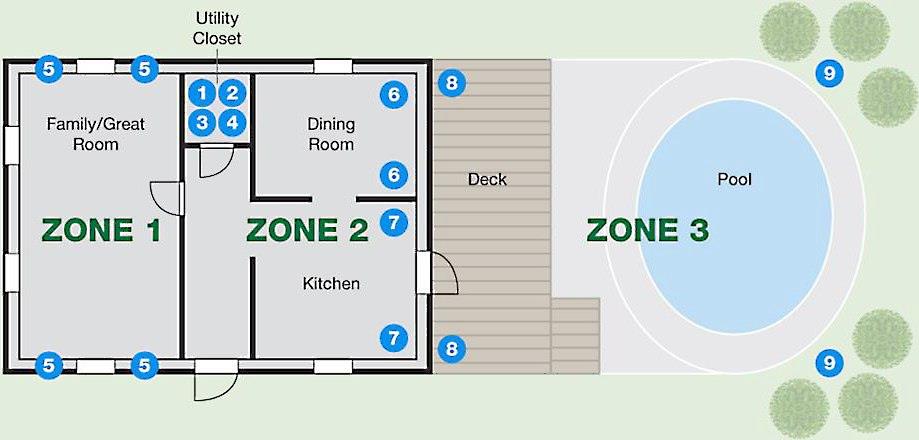 Components in the utility closet
1) Clare Control16-channel multi-room power amp
2) 3 Sonos CONNECT Wireless streaming music modules
3) Panamax MR4300 Power line conditioner and surge protector
4) Your home's Wi-Fi router (one of the Sonos CONNECT modules must be connected to the router with an Ethernet cable)
Speakers
5) Klipsch R-3800-W In-wall speakers
6 & 7) Klipsch R-1800 In-ceiling speakers
8) Definitive Technology AW 6500 Outdoor speakers
9) Niles RS8SI Pro Outdoor rock speakers