Warwick Acoustics Bravura headphone system review
A full electrostatic personal audio rig that looks, feels, and sounds special
Some headphones are known for certain strengths and sonic characteristics. But in terms of the overall listening experience, the Warwick Acoustic Bravura headphone system is one of the best I've ever heard.
This complete, closed system includes the super-premium Bravura electrostatic 'phones and the dedicated Sonoma M1 amplifier/energizer needed to properly power them. The M1 features a built-in digital-to-analog converter that's optimized for this system, along with custom-made cables.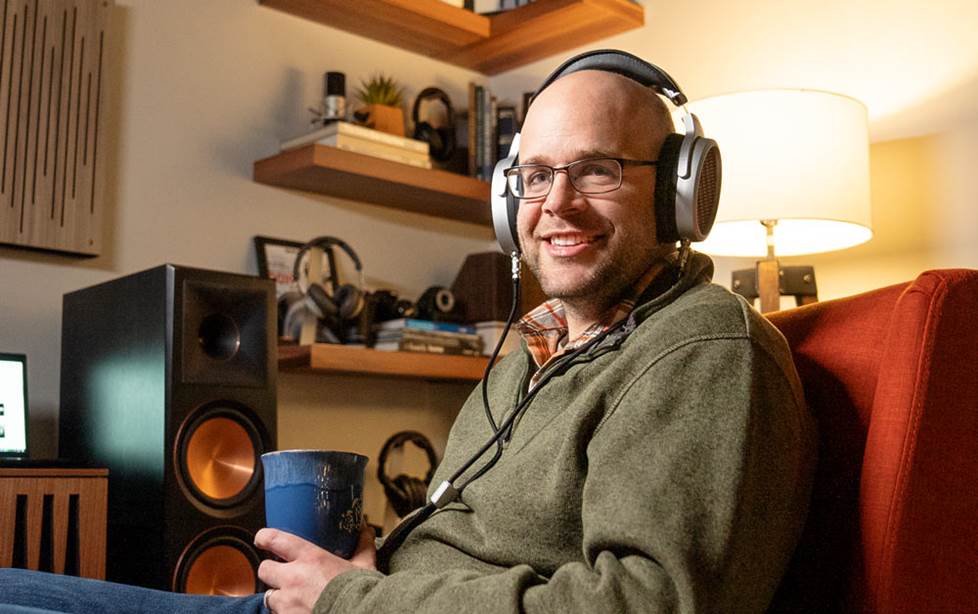 The Bravura electrostatic headphone system delivers one of the most transparent, resolving sonic experiences I've heard — with bass you can feel.
I was fortunate enough to spend about six weeks with this electrostat system, sitting right next to my home office. I auditioned plenty of other headphones during that stint, but my eye wandered often to this gorgeous combo of gear. And many times, I had to give into the temptation of those glittering, tinted magnesium earcups.
Detailed, revealing sound from an all-in-one system
I call it a "closed" system because the Warwick's Sonoma M1 amp/energizer/DAC and Bravura headphones are both intended for each other — and neither will work with headphones or amps from other companies. It comes at a hefty price tag, for sure, but consider the fact that you get a complete personal audio setup, including cables. Now you're in the same league as other super-premium headphones and amps, with the added confidence that all the gear will play nicely together.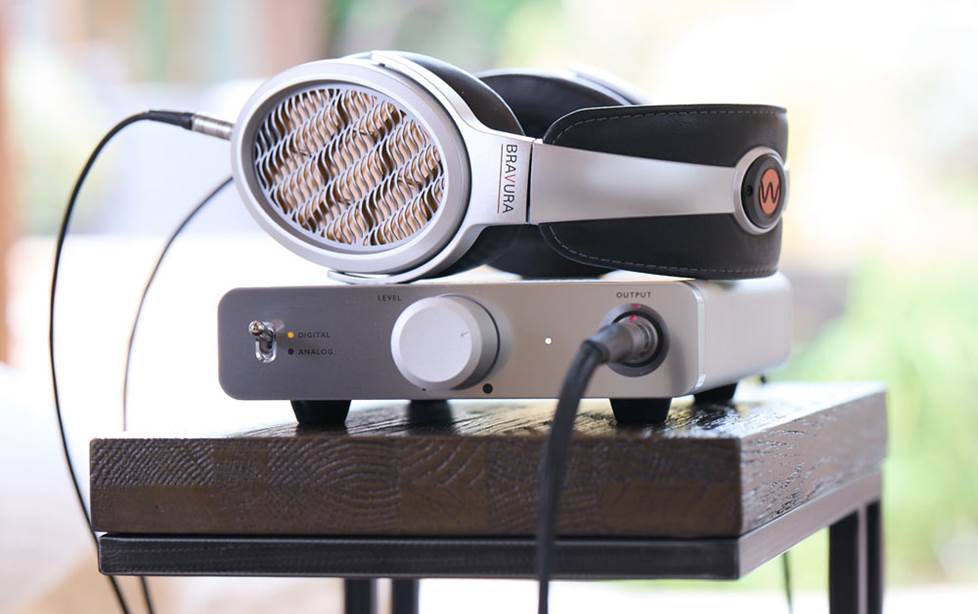 This closed system is available in silver or black and it includes the Bravura electrostatic headphones and Sonoma M1 amp/energizer/DAC.
As you'd probably expect, these aren't the type of headphones you use on the go with your phone. Instead, this is designed for people who are downsizing from an ultra-high-end speaker-and-amp system or perhaps want something comparable for another room or for late-night listening.
Trickle-down headphone technology
While the amp has stayed the same, the headphones have received some notable improvements. Since designing that original system, Warwick developed their cost-no-object APERIO electrostatic system, which retails for upwards of $25,000. When designing the Bravura headphones, they took some of what they learned from creating the super-luxury APERIO system to further play to the amp's strengths.
My listening impressions
The beauty in this system is that it doesn't really impose itself on the music you're listening to. That's not to say it's reserved — though it can be if the song or genre calls for it. But if the track calls for big and over-the-top, these headphones can certainly oblige. This headphone system is designed to allow a song's character to shine through rather than force-feeding you its own personality.
As I've noted with other electrostatic systems, when I put these on I get the sense that I'm almost "inside" the music, a part of it. Imaging is spot-on, rendering a genuine sense of place. Lead vocals were typically right in front of me, dead center, and there was tremendous instrument separation.
An event, every time I hit "Play"
I shouldn't overlook the rewarding ritual of firing up this headphone system. Hitting the satisfying power switch on the back, adjusting that oversized high-precision digital volume knob, and reclining with the day's first cup of coffee. It's a multi-sensory moment that often helped clear the early-morning fog from my head.
These electrostats seemed to serve every mood. They were as comfortable presenting an intimate acoustic set as they were a spread-out, dynamic orchestral production. Loud-to-soft moments felt true-to-life and layered, and midrange and high frequencies had presence and detail.
Realistic bass — that I could feel
But I really got a kick out of the bass. It's hard to get the same bass experience with headphones that you have with speakers in a room — where you can feel the low-end as much as hear it. Headphones that make the effort to do that often sound bloated, overextended, or like they're beating you over the head with bass. The bass response in these headphones was always natural — and even subtle and reserved when the track called for it — but it also delivered that impact I sometimes seemed to feel in my chest.
It was perhaps best illustrated by the album Philadelphia International Records: Dmitri From Paris Remixes. I was tipped off to this engaging DJ mix of old-school Philly soul records while I auditioned the Bravura 'phones. Dmitri From Paris manages to preserve the spirit and distinct texture of those classics from Harold Melvin and Teddy Pendergrass, while stitching them together with a thumping bass line. It packed plenty of punch, but not an obnoxious amount.
And most importantly, it was more of a grounded, visceral presence — opening up the sound, and allowing the rhythm, percussion, and horns to soar.
How do electrostatic drivers work?
In most electrostatic headphones, you have electrically charged diaphragms suspended between two metal stators. Warwick has developed a new type of electrostatic driver that only uses one metal stator per earcup, but the idea is the same. The diaphragms receive a fixed, high voltage, while each stator receives a varying audio signal to move the diaphragm back and forth.
Driver improvements for lower distortion and stronger bass
For the Bravura headphones, Warwick has further refined their well-received High-Precision Electrostatic Laminate (HPEL) transducers. These hand-assembled drivers use a single stator design, which cuts down on weight and removes the metal obstruction on the side closest to your ear. That means you get purer and more direct sound — helping place you in the middle of the music.
Warwick has clearly addressed some of the feedback they received on their original headphones. I tried that original system, and really loved it — but did find the bass more "polite" than I usually prefer. Here, Warwick has tweaked the stator design and used higher-grade materials for bass that's deeper, yet that stays realistic and won't distort at higher volumes.
Snug, well-padded fit
Another area of improvement for the Bravura headphones is comfort. Electrostatic headphone drivers must be positioned next to your ears in a certain way to sound their best — similar to how crucial it is to be in the "sweet spot" for electrostatic speakers. So Warwick designs their headphones to fit securely and stay put, maintaining proper alignment with your ears.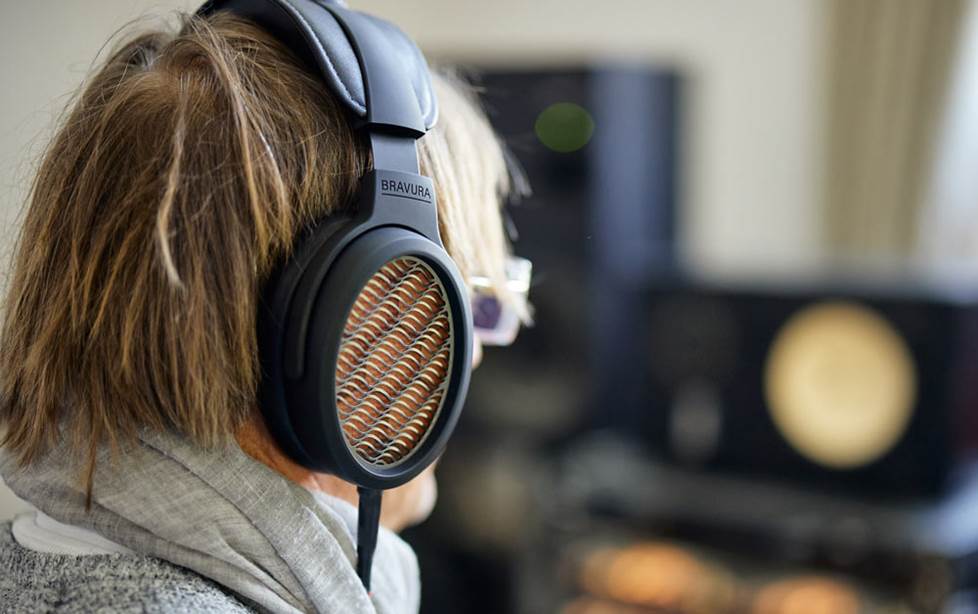 Intricately etched magnesium earcups help protect the vitals and allow air to flow.
While the previous generation Sonoma M1 'phones clamped a little too much for some people's liking, the Bravura sports a slightly more flexible yet sturdy headband. The earcups have better grip thanks to the Cabretta leather ear pads — a soft material often used to make professional golf gloves. It's a snug fit, but I didn't feel excessive pressure and could enjoy the headphones for entire work shifts.
Several ways to connect
The Sonoma M1 connected directly to my laptop via the included USB cable. From there, I could stream lossless high-res tracks via Qobuz. There is also a coaxial digital input, along with unbalanced RCA analog inputs and a 3.5mm miniplug on the back panel.
Makes all your digital music sound better
Two ESS Sabre DAC chips run in dual-mono mode to squeeze out lots of musical detail from digital audio sources — including Spotify®, Apple Music®, and YouTube. The DACs will decode high-resolution PCM-based music files up to 32-bit/384Hz resolution, and DSD files up to 11.2 MHz.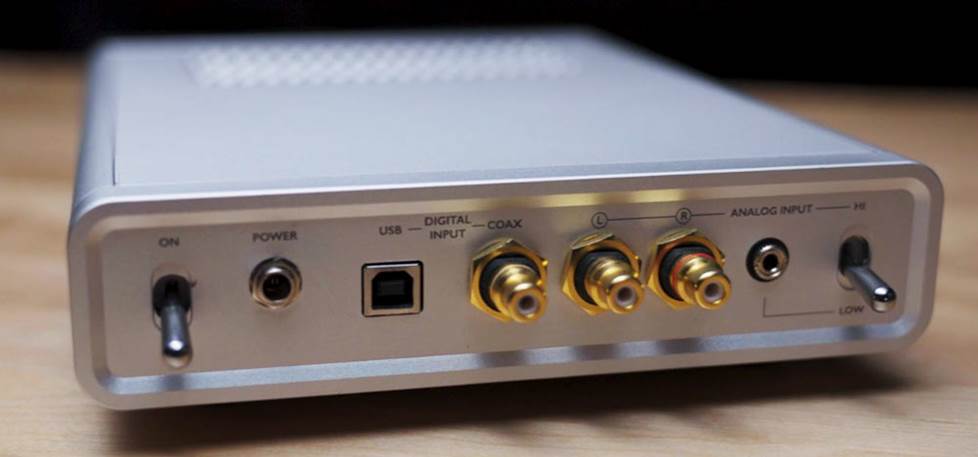 The M1 amp's back panel offers digital and analog connection options.
Warwick also applies 64-bit digital signal processing (DSP) to achieve their desired tuning. Again, it's all about optimizing everything for the strengths of the amp and headphone drivers. In this case, the desired frequency response closely matches a pair of "flat" loudspeakers in a room.
Final thoughts
The Warwick Bravura headphone system offers one of the best examples of the profound transparency electrostatics are known for. Where it often feels as if the sound is simultaneously emanating from everywhere and nowhere at once. Their overall sense of clarity and realism combined with their authoritative bass makes for listening experience befitting of their premium price.
Details
complete premium electrostatic headphone system for focused listening
includes electrostatic headphones, amplifier/energizer with built-in DAC, and cables
headphone and amp are designed to work together as a set, and not separately
designed, built, and tested by hand in Warwick's Nuneaton, UK headquarters
headphone frequency response: 10-60,000 Hz
headphone weight: 14.2 ounces
Need more help? Contact us!
Have questions about how the Bravura system compares to other headphones? Contact us today.
Our expert Advisors know headphones inside and out. Your Advisor can send specific Crutchfield pages to your screen, saving you a lot of browsing time. You'll get a shopping cart loaded up with everything you need.
Free lifetime tech support is included with your Crutchfield purchase.
Last updated 5/19/2022