What do I need to podcast?
Basic gear for audio podcasting
An audio podcast is a simple thing. Just a series of audio recordings posted regularly to the Internet that can be automatically downloaded to a smartphone, tablet, or computer and played back at the listener's convenience. Yet it's a medium that encompasses a wide variety of content: round table discussions, music and movie reviews, political commentary, instructional guides and educational lectures, radio drama, comedy, and more.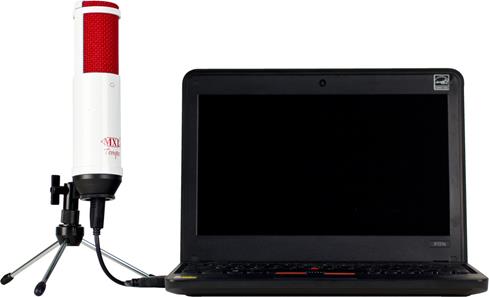 A podcasting studio can be as simple as this: A USB mic (in this case, an MXL Tempo), and a laptop.
It's easy to get started. All you need is a microphone, a computer, and some simple software. You use the computer to record and edit the sounds picked up by the mic. Below we list some resources that will help you share your podcast with the world.
Sound quality — and why it matters
Investing in a good quality microphone can make a great deal of difference in your final product. And audio quality does count if you want your podcast to be heard by others. Although compelling content is a must, poor audio quality can actually drive potential listeners away.
Virtually all software audio editing programs will allow you to improve the sound of your initial recording — but the better the quality coming into the system, the less time you'll have to spend tweaking it after it's recorded. And some problems can't be completely fixed through editing — just made slightly less irritating.
USB Microphones
A USB microphone designed for voice recording is ideal for a simple podcasting setup. Such mics have a cardioid polar pattern that minimizes room noise and ambient sounds coming from behind and around the sides of the mic. Some include handy accessories, such as stand adapters, or desktop stands.
[Shop Crutchfield's selection of USB Microphones]
For voice recording, having a stationary mic is essential. A hand-held microphone can pick up the rustling of the cable, and because it's almost impossible to hold a microphone completely still, slight variations in volume and sound quality can be introduced.
Microphone accessories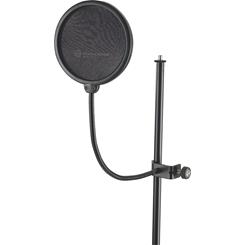 A pop filter can keep your voice from sounding harsh.
Many audio podcasters use a simple desktop tripod stand, although others prefer a floor stand, which can free up desk space for a mixer, show scripts, or other items.
[Shop Crutchfield's selection of mic stands]
Sometimes, a wind screen or pop filter is desirable. A wind screen is a foam sleeve that fits over the mic to minimize wind noise. A pop filter is used in a studio setting. It's a pourous screen mounted between the mic and the recording subject to soften aspirated plosives, such as "p" in the word "ping."
[Shop Crutchfield's selection of microphone accessories]
USB Audio Interfaces
If your podcast has two or hosts, or is an interview-style show with guests, you'll probably need to record in two or more channels simultaneously. The best way is to use a USB audio interface that lets you mix the input from two or more microphones together before sending it on to your computer.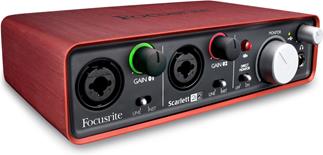 With the Focusrite Scarlett 2i2, you can simultaneously record two mics into your computer.
These interfaces have XLR plugs, so you can use most professional-grade microphones with them. You won't be able to connect a USB microphone, though. USB audio interfaces come with their own editing software, which usually give you a great many ways to shape the sound.
[Shop Crutchfield's selection of USB audio interfaces]
[Shop Crutchfield's selection of studio XLR microphones]
Studio headphones
A high-quality microphone will record sound more accurately than an entry-level model. Similarly, a good set of studio headphones will let you hear far more detail than a set of earbuds — and that's important. In order to edit your podcast to sound as good as it possibly can, you need headphones that can let you hear all the details — including the warts. Over-the-ear models are best, as they shield your ears from the room noise and let you focus on what the microphone is actually picking up.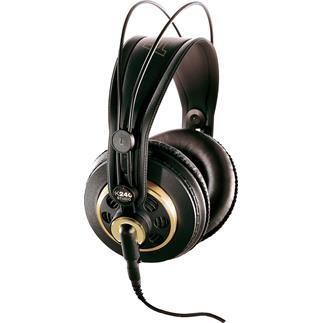 Studio headphones can help you monitor your recordings with greater precision.
Plus, studio headphones are specifically designed to be worn comfortably for long periods of time — a fact you may come to appreciate during a late-night editing session.
[Shop Crutchfield's selection of studio headphones]
Portable recording options
If your podcast involves interviews out in the field, a digital hand-held recorder can be a good investment. Some models come with built-in capabilities to do some fairly sophisticated editing of the sound files, making final mix-down back at your home studio much easier.
[Shop Crutchfield's selection of digital hand-held recorders]
Wrap it all up with a bundle
If you already own some pro audio gear — such as a good microphone — then purchasing just the other components you need makes sense. But if you're truly starting from scratch, a home recording bundle can be a simple and inexpensive way to get your podcasting empire up and running.
Home recording bundles usually include studio headphones, a good-quality voice microphone, a USB audio interface, and the necessary cables to connect it all together (and to connect to your computer). Many also come with their own audio editing software as well.
[Shop Crutchfield's selection of home recording bundles]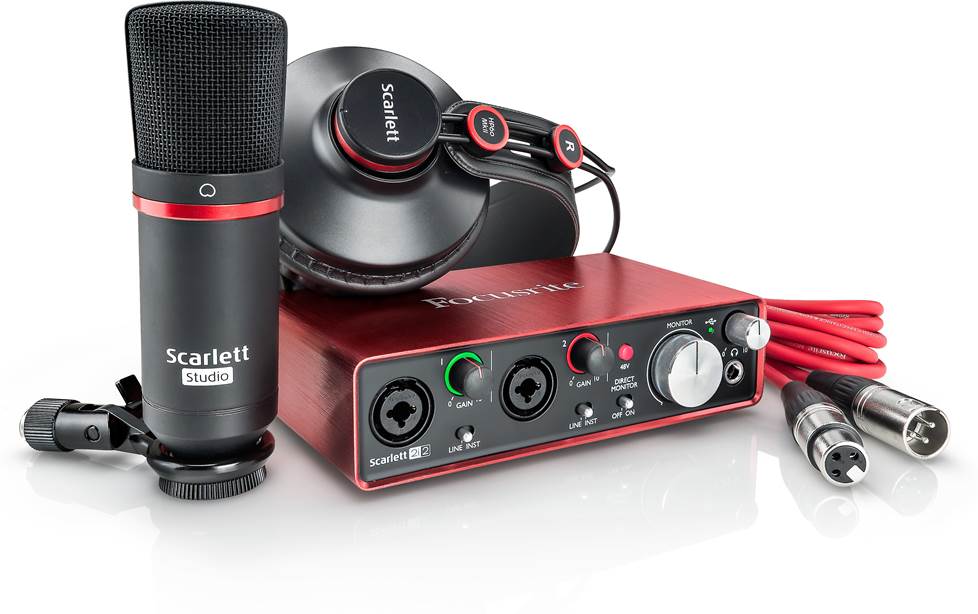 The Focusrite bundle includes headphones, mic, cables, and a 2-input interface.
Other basic resources:
Many computers have some type of basic audio editing software. Often times it's not well-suited to podcast editing. One of the best — and most powerful — of the free audio editing software available is Audacity, which is used by many podcasters.
There are many services available to help you upload your podcast to the web and distribute it via an RSS feed. Here are links to two of them:
Feedburner (run by Google)