Intro to Apple AirPlay
Wireless streaming from your iPad, iPhone, or iTunes
Heads up!
Welcome to this article from the Crutchfield archives. Have fun reading it, but be aware that the information may be outdated and links may be broken.
Apple Airplay® is a feature of Apple's iTunes® program (version 10 or later). It's a way to wirelessly stream content from an Apple portable (iPhone®, iPod touch®, iPad®) or a computer running iTunes to compatible speakers and home theater receivers. AirPlay operates through your home Wi-Fi® network.
The Basics: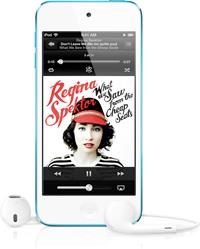 Stream music to AirPlay-compatible speakers and make selections from your Apple portable.
AirPlay with a computer
AirPlay is a simple and convenient way to stream music from your computer's iTunes library to your audio/video system. iTunes can link to multiple AirPlay-compatible speaker systems and receivers in your home. So you can play your music simultaneously through speakers in different rooms. The AirPlay menu lets you select which compatible speakers to stream to, and control each one's volume separately.
When you're streaming from your computer, you can use your Apple portable as an AirPlay remote control. Select song and playlists from your computer's iTunes library, play, pause and skip tracks, and individually adjust the volume of each linked speaker system right from your iPhone, iPad, or iPod touch.
AirPlay from an Apple portable
Using AirPlay on your iPhone, iPad or iPod touch is a little different than using it on your computer. Your portable can only make a a one-to-one wireless connection with a speaker system (as opposed to the multiple connections you can make with your computer). With some powered speaker systems, your device can make a direct connection via AirPlay without going through a Wi-Fi network.
AirPlay streams all the audio from your device, so you can play music stored on your Apple portable, or listen to selections from online music services such as Pandora Internet radio or Spotify. You can also stream the soundtrack from the video you're watching on your portable, and sound effects from games you're playing. And you can enjoy tracks from iCloud® and other cloud-based music storage services.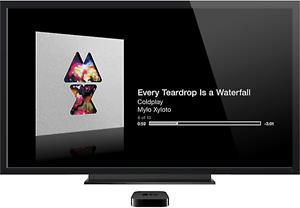 Apple TV (bottom center) lets you play your iTunes music through your home theater system, and display menus and track information on your HDTV.
AirPlay with Apple TV
Apple TV is a compact digital media receiver that connects to your TV or home theater receiver. It can access certain Internet services and sites, such as Netflix and YouTube. Through AirPlay, it can receive not only audio streams, but photos and video content as well from your Apple portable.
If you have an iPad or iPhone 4S (or later) you can also do AirPlay Mirroring. Using AirPlay, your device streams what's on its screen to your TV screen through the Apple TV. You can zoom in on images, and change from landscape to portrait and your TV will "mirror" the changes.
With certain content, you can also enjoy dual screens. Some games, for example, display the game world on your TV, while only showing a control panel on your Apple portable. You can watch a concert from Apple Events (one of the online options available through Apple TV) on your HDTV, and see special features and options from the event on your iPhone.
[Shop for Apple TV]
How do you control AirPlay?
All of the controls for AirPlay are integrated into iTunes 10.1 (or later), as well as the operating systems of the compatible devices. Let's walk through some examples:
Setting up and using an AirPlay system from your computer
Click on the AirPlay icon at the bottom right of the iTunes window.
iTunes finds all the AirPlay components in your home and lists them in a drop-down menu. Just select the device you would like to stream your content to.
If you want to stream to multiple speakers simultaneously, select multiple speakers and adjust the volumes accordingly. In the example below, we've selected "this computer" so we can continue to listen on our PC even as the audio is streamed to other devices.
The Master Volume control adjusts the volume of all linked components the same. It's best to make sure you have the volume of iTunes lowered before enabling AirPlay connections. If not, you could possibly overdrive some of your connected speakers, resulting distorted sound, or possibly damage to the drivers.
If for some reason, you don't see any AirPlay devices on your network (even though you own some), be sure to check "Settings" under iTunes Preferences to make sure you have AirPlay enabled.
If you're streaming audio files — like those in your music library — iTunes will stream them to a compatible device. At the time of this writing, photos and video can only be streamed to an Apple TV. But you can watch video on your device (iPad, iPhone, iPod touch) and stream its audio through AirPlay to a speaker system or receiver.
Streaming audio and video from an iPad, iPhone, or iPod touch
Look for the AirPlay icon in the lower right of the app. In the example below, we're streaming a song from an iPod.
Here's an example of a YouTube video being streamed from an iPod touch to an Apple TV. Note the appearance of the AirPlay icon at the right letting you know you have that streaming option.
Photos also can be streamed to an Apple TV.
In this case, the icon is in the upper right of the app, but the results are the same. Select it, and your photos will be streamed to an Apple TV. In addition to still photos, you can also stream slideshows from your device.
Can AirPlay use Bluetooth®?
The default wireless setting for AirPlay is Wi-Fi. But AirPlay can use Bluetooth when Wi-Fi isn't available. The receiving device must support Bluetooth audio streaming protocol A2DP. When you stream content using Wi-Fi, sometimes there can be an initial delay of approximately two seconds while the content buffers. There is no buffer delay with Bluetooth.
Like to know more?
The best solution is to go straight to the source:
For more information: