What is a connected car?
Heads up!
Welcome to this article from the Crutchfield archives. Have fun reading it, but be aware that the information may be outdated and links may be broken.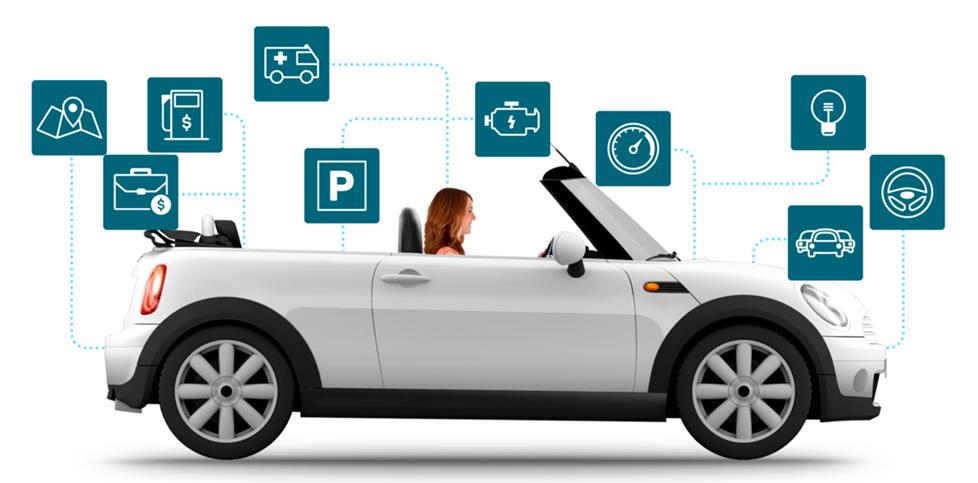 Since 1885, the modern automobile has been moving people from destination to destination, and for most of that time it's been somewhat difficult for drivers to control anything beyond the steering wheel or stereo. Thanks to developments in Bluetooth® connectivity, cellular service, and other wireless forms of technology, the barriers to safely interacting with the outside world are slowly crumbling.
Connect your car to the rest of your world
A connected car is simply a car that uses data to engage the outside world without the driver getting involved. Your car is basically a computer on wheels at this point, so there is a lot of data at your disposal. Its location, speed, direction, and engine performance — these are all data points, and until now they've mostly only been useful inside of the vehicle. A connected car uses this information — in conjunction with a smartphone connection — to make your life easier.
Your connected car can help you make your home the perfect temperature as you're pulling into the driveway. Or calculate and submit your mileage reports for business trips. Or help your teenage driver learn safe practices behind the wheel. These are just a few ways a connected car can improve your quality of life right now — the exciting thing is how wide open the future is for more developments.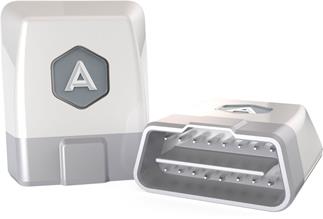 How does a car become connected?
A connected car typically employs a device attached to its OBD-II port to send info to your smartphone. The OBD-II port is standard on vehicles made since 1996. It's the car's main interface for vehicle diagnostics and is usually found below the steering column. It's what your mechanic plugs into when the "check engine" light comes on.
The Automatic Car Adapter is one such connected car device, and it has the most potential of the devices we've seen so far. There are other devices on the market, some of which we'll briefly cover later. Automatic's growing ecosystem of compatible apps includes popular choices for business, safety, convenience, performance, and more, so we'll focus on this adapter for this article.
The Automatic Car Adapter features built-in Bluetooth connectivity and GPS positioning. It transmits diagnostic and GPS info to your smartphone via Bluetooth, so all you need to do once you plug in the adapter is pair it with your phone (the Automatic is compatible with the iPhone® 5 or newer, and most Android™ phones running the 4.3 version or newer). Automatic's free smartphone app gives you access to the data from the adapter and puts you in touch with the many different apps within the Automatic ecosystem. Some of the apps that work with Automatic require a web-based browser interface.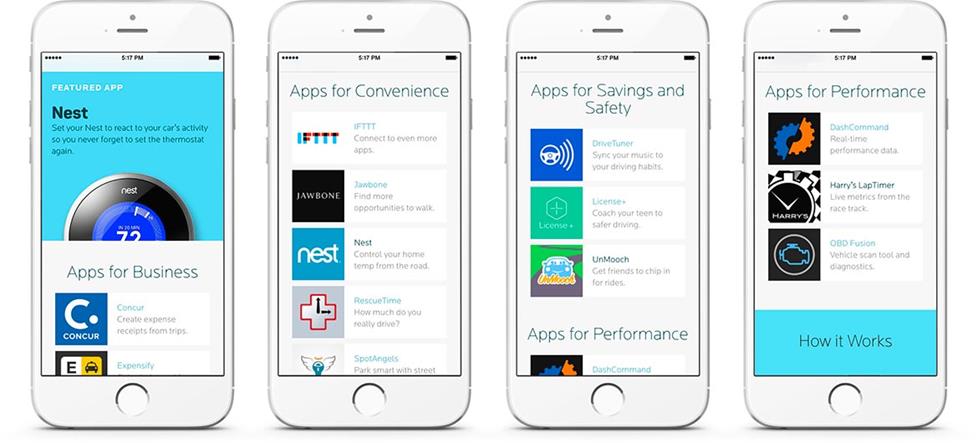 What do the apps do?
The Automatic Car Adapter and Car Apps work together to help you accomplish tasks without thinking too much. A few examples include:
If This, Then That (IFTTT): IFTTT seems to hold the most potential for integrating the connected car into everyday life. It's an app that employs simple commands (called Recipes) to control apps and connected devices. There are single-use Recipes (called "Do Recipes") that execute a command with a single button tap, such as turning on or off connected devices in your home, or uploading photos to your favorite social media sites all at the same time. Dependent Recipes (called "IF Recipes") run automatically in the background, and employ user-determined conditions to engage, such as "If I'm at home and turn off the engine, then close the garage door."
Nest Thermostat and other connected devices: The Nest Thermostat is one of several household devices that can be controlled remotely with an app. Its Automatic compatibility means you can establish parameters for the thermostat to turn on or off when you're leaving or approaching your residence, so you won't have to remember to turn the thermostat off when you leave in the morning, and can have the perfect temperature when you walk in the door in the evening.
Other connected devices include light bulbs, electrical outlets, security cameras, and garage door openers, with more coming in the future. Automatic's connectivity should allow you to set parameters for these and other devices to engage them depending on your car's proximity to your residence — set the system up once, and never think about your devices again.
Business expenses: There are several apps that can keep track of those hours spent on the clock driving for work. You won't have to worry about keeping separate paperwork and receipts for every trip — just access your Automatic information and account for every mile driven. You'll be able to provide details for each trip, including a route map. And you can even submit a receipt right from your phone. Examples of expensing apps which work with Automatic include Nexonia, Xero, Expensify, Concur, FreshBooks, and TripDots.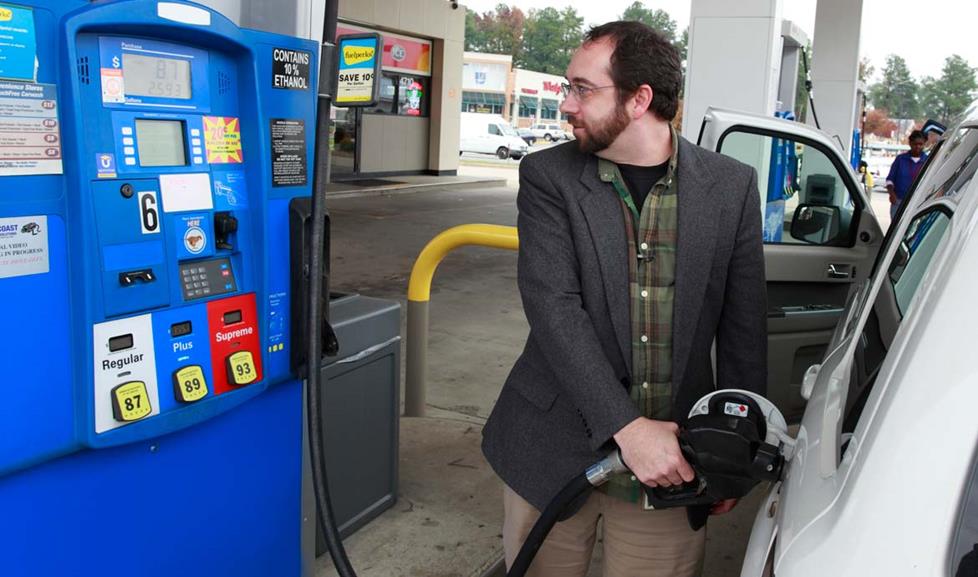 Fleet management: If you're in charge of a fleet of vehicles, you know what a headache it can be to manage costs. Automatic Fleet coordinates data from adapters in each of your vehicles, allowing you to see your drivers' locations and driving patterns, know when it's time for maintenance for each vehicle, and determine how much your fleet is costing you. Everything is done automatically so you can do your job more efficiently.
Driving instruction: The License+ app is a convenient way to help your teen driver gain experience and driving skills. The app offers tests for highway driving, night driving, and other situations. You can pair your teen with a coach (usually a parent) and watch them earn badges for each test completed within the 100-hour program.
Vehicle performance: There are a number of apps like Harry's Lap Timer and Dash Command which can offer detailed analysis of your car's performance through the diagnostic data gathered by the Automatic Car Adapter. You can use this information to make changes for improved road-readiness.

Does my connected car do anything else?
Of course it does! Automatic can remember where you're parked so the next time you're at a big sporting event or concert, you can find your car easily by pulling up the app on your phone. Automatic also offers crash assistance around the clock if the Car Adapter senses a collision has happened. An Automatic operator will call your phone and if you don't answer, or confirm that you need assistance, they'll contact nearby emergency services. The operator can also call your emergency contacts to let them know you've been in an accident.
Automatic can also analyze your driving habits to let you know when you've been driving inefficiently (hard accelerations, sudden stops) and give you subtle audio cues to take things easy on your car and save gas in the process. And Automatic's able to read diagnostic codes to tell you what that "check engine" light means, so you can determine how serious the problem is and if you need to find a nearby garage right away (Automatic can help you out there as well).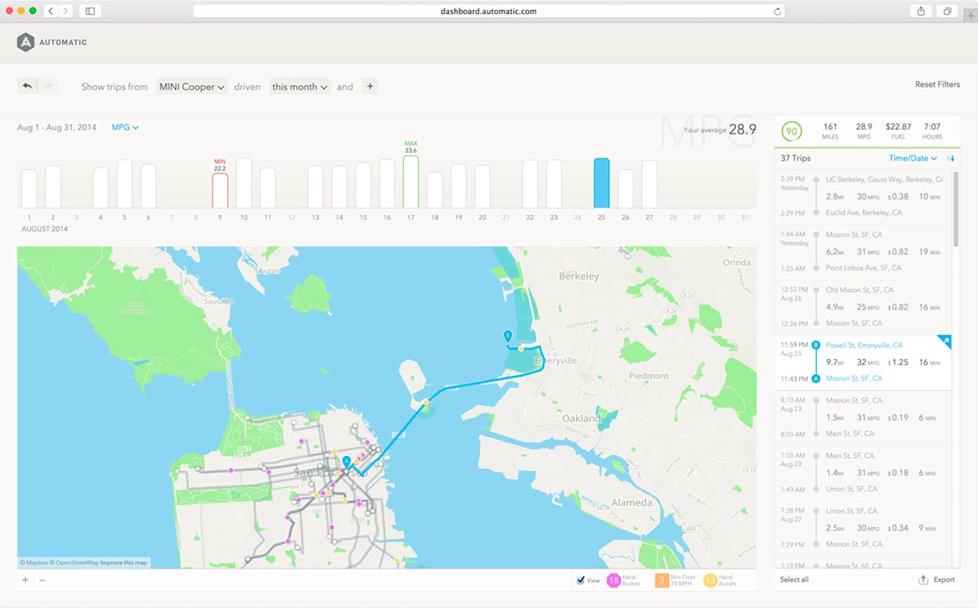 Are there other products available besides Automatic?
Audiovox's Car Connection Pro service allows you to track your vehicle's location through your smartphone or computer, including driving history and unsafe or inefficient driving practices. It also allows you to set up geofences and can provide alerts if your vehicle leaves a specific location (if the car's being towed or stolen) or goes to a specific location (if your teen driver is headed to an unsafe part of town). It can also work with smartphones to reduce distracted driving by blocking incoming calls and texts and sending automatic replies to let others know that you're behind the wheel. It also can let you know what those "check engine" light codes mean. Car Connection Pro utilizes an OBD-II adapter, and there is a monthly service subscription fee.
The Garmin Mechanic with ecoRoute HD tracks your vehicle's performance and can also clarify "check engine" light codes. It can display detailed vehicle gauges and charts on Android smartphone displays and on the screens of compatible Garmin nüvi portable navigators. You can also use it as a trip computer. It also measures your car's fuel efficiency and shows areas that can be improved with more conscientious driving habits.
Get connected!
If you have any further questions about the connected car concept or want to learn more about the products here, please contact us via e-mail, chat, or over the phone.