What's up with wireless Apple CarPlay?
iPhone functionality comes to your dash without a wired connection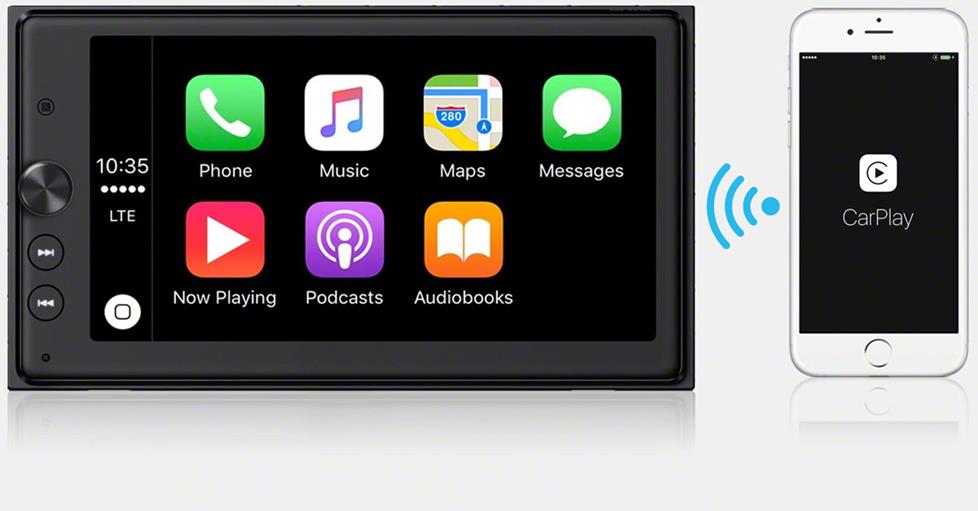 Apple CarPlay® performance with wireless convenience
After months of speculation, the first wireless CarPlay receiver finally hit the scene. The Alpine iLX-107 digital media receiver began shipping in the summer of 2017. It doesn't have a CD player but it does boast a built-in Wi-Fi network, which it uses in combination with Bluetooth to communicate with your iPhone. After the initial setup and pairing with your phone, you'll be able to launch CarPlay on the stereo without touching your phone as soon as you get into your vehicle.
And now, more than a year later, there are even more stereos that offer this feature:
[Check out our full selection of aftermarket stereos with wireless Apple CarPlay]
Editor's note: The above was an update to our original speculation about wireless Apple CarPlay. We've preserved those thoughts below, in case you want to hear what we had to say back then. But if you don't read any further...you're not missing much. Instead, I suggest you go read our article about the basics of Apple CarPlay – what it is and how to get it.
---
Ever since it debuted in early 2014, Apple CarPlay® has been a pretty big deal for car audio-loving iPhone enthusiasts across America. At first, CarPlay compatibility was only available in select Ferrari models, but over time it popped up in other factory stereos. When Pioneer became the first company to introduce CarPlay in their aftermarket stereos, we got really excited.
It's been several years since CarPlay entered the aftermarket realm. It's been a boon for many drivers who love its ability to let them use the main functions and apps on their iPhones in a road-friendly manner. Yet, some people have been wondering when a wireless version will be available.
[See all of our aftermarkert stereos with Apple CarPlay]
Normally, CarPlay requires a USB-to-Lightning cable connection between the iPhone and the receiver. No Bluetooth® connection or other wireless method of data transfer is involved. When Alpine rolled out their first digital media receiver built specifically for use with CarPlay, the lack of Bluetooth was one of the qualms that people had with it. (Editor's note: Don't worry...they got the memo.)
Rumors have been circulating about wireless CarPlay since the software was included in the initial iteration of iOS 9. So far, there has not been any official hardware (i.e., car stereos) which will work with wireless CarPlay. Everything at this point is still speculative. But we thought it would be fun to imagine what wireless CarPlay might be like.
How would it work?
Without a wired connection, the data transfer between the iPhone and receiver would have to happen via Bluetooth, Wi-Fi®, some combination of the two, or another wireless technology altogether. It seems Bluetooth alone would not be robust enough to transmit large amounts of data between the two devices. This is important so that the stereo can display maps in a timely fashion. That's one of the key benefits of using CarPlay. Bluetooth should work for displaying album artwork, incoming messages, playlists, and songs from an iPhone, but maps will likely require something a little stronger, like Wi-Fi.
If Wi-Fi is involved, then it would have to be built into the receiver. There are only a handful of receivers on the market with Wi-Fi capability right now, and they're not exactly a bargain. It would be interesting to see what stereo manufacturers think consumers are willing to pay for that just to avoid plugging in their iPhones. On the plus side, Wi-Fi can be really fast if done correctly, which could be great news for audiophiles.
Could it sound great?
If this hypothetical wireless CarPlay receiver depends on Bluetooth for transmitting music between the iPhone and the stereo, then sound quality probably won't be as good as the present iteration of wired CarPlay. While Bluetooth technology has evolved over the years, it still depends on compression to get data from one device to another. That compression ultimately causes most musical information to suffer in some noticeable way.
However, if Wi-Fi is involved, then there might not be a noticeable loss in sound quality. Wi-Fi can move a lot of data quickly, and one can expect MP3s and AAC (iTunes standard) files to sound about the same as they do through a wired connection. High-resolution lossless music files — such as Apple Lossless (ALAC) — could possibly stream from the phone to the receiver without any loss in quality, depending on a number of factors. This would certainly make wireless CarPlay worth considering for critical listeners.
Would wireless CarPlay really be that much more convenient?
A lot of people don't think that taking a couple of seconds to connect an iPhone to a stereo with a Lightning cable is a big deal. However, for commuters who have to make multiple stops on short- to medium-length trips, wireless CarPlay could make a world of difference.
Wireless CarPlay with automated pairing would mean that you could leave your phone in your pocket the entire trip, and still access your maps, messages, songs, and podcasts through your stereo. It might not mean much to everyone, but there are certainly a lot of people for whom it would be worth the investment.
So where is wireless CarPlay?
Like we said, people have been asking about wireless CarPlay since its wired debut. We've heard the rumors about wireless receivers popping up at various trade shows, but don't have any official word at this time. Apple's been busy with the iPhone 7 for the past few months, but now that that's out, maybe we'll see some substantial news in the near future. After all, they decided to go wireless with their headphones, so maybe CarPlay is the next logical step. Watch this space for any further developments.