Sonos PLAY:5 vs Bowers & Wilkins A7
Wireless speaker shootout
Heads up!
Welcome to this article from the Crutchfield archives. Have fun reading it, but be aware that the information may be outdated and links may be broken.
Editor's note: This article focuses on the original Sonos PLAY:5, not the new model.
Not long ago, if you wanted crisp, room-filling sound, you needed a receiver, a CD player, and a pair of speakers. For some music fans, such old-school hi-fi systems still rule. Set things up just right, sit in the sweet spot, and you can enjoy some mind-blowing stereo sound.
But what if you don't want bulky gear, wires, and remote controls cluttering up your décor? What if you don't want to just sit and listen? What if you don't own any CDs?
Yes, you can you get amazing sound from a much smaller kit
Today's wireless music systems are easy to set up and easy to enjoy as you move around the room. Grab your smart phone or tablet, and you're all set. You have your music collection and a powerful remote control in your hand.
Two of our customer favorites are the Sonos PLAY:5 and the Bowers & Wilkins A7. Shoppers frequently ask us how they compare, so we brought them to the Crutchfield Labs for a face-off. We focused on four points: setup, user-friendliness, sound quality, and multi-room functionality.
Sonos PLAY:5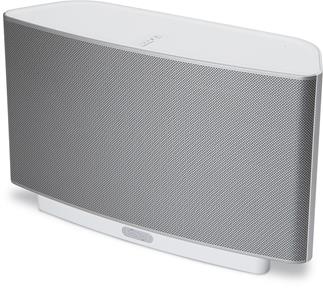 Sonos PLAY:5 wireless streaming music speaker
The PLAY:5 comes from a California-based company founded in 2002 with the goal to "reinvent home audio for the digital age" and a singular focus on user-friendly multi-room music systems.
Sonos lets you stream music from practically every online music service as well as Internet radio stations, your computer, or an Apple device. The PLAY:5 can play music stored on up to 16 PCs, Macs or NAS (Network Attached Storage) devices on your home network, supporting the most popular audio formats. The Sonos software even indexes your music folders so you can view your music collection by categories (such as artists, albums, composers, genres, or tracks). You use your smartphone, tablet, or computer to access all of the music sources through the Sonos remote control app, available for Apple and Android™.
The PLAY:5 measures 14-3/8"W x 8-9/16"H x 6-13/16"D and weighs about 12 pounds. It houses two tweeters, two midrange drivers, and one 3.5-inch woofer, powered by discrete built-in class D amplifiers.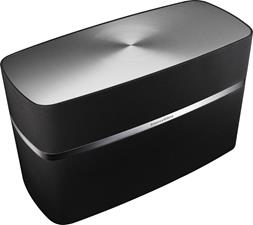 The B&W A7 powered speaker system iwith AirPlay wireless streaming
Bowers & Wilkins A7
Bowers & Wilkins, an English company founded in 1966, made a name for itself with high-end stereo speakers. Their aim with the A7 is to give users "all the convenience and freedom of wireless music, without compromising on sound quality."
B&W uses Apple's AirPlay system. If you have a Wi-Fi network, you can use a single Airplay speaker wirelessly right out of the box.
Unlike Sonos, which controls many music sources from a single user interface, AirPlay functions from within whatever music source you happen to be using on your Apple device (or a computer running iTunes). Both systems give you access to a vast selection of content choices. One advantage for the A7 is streaming from YouTube via the AirPlay function built into the app. Sonos does not support streaming from YouTube.
As a multi-room solution, AirPlay isn't quite as robust or flexible as the Sonos system. It is possible to stream music from a computer running iTunes to multiple AirPlay speakers with independent volume control. And Apple's remote app gives iPad or iPhone users track and volume control of the music stored on a computer. However, if only one Apple device is involved, you must stream the same song to all speakers. And you can only stream music from an Apple portable device to a single AirPlay speaker at a time.
The A7 – at 14-3/16"W x 8-5/8"H x 6-5/16"D and 12.5 lbs – is a tiny bit larger and heavier than the PLAY:5 and a little less easy to move around. The Sonos has a rear port that doubles as a carrying handle for easy transport between rooms.
Like the PLAY:5, the A7's five speakers are powered by discrete class D amplifiers, though the A7 relies on a 6-inch subwoofer for deep bass, as opposed to the PLAY:5's 3.5-inch woofer.
The A7 uses some of the same technology from B&W's well-respected component speakers. The A7's rear Flowport™ is a dimpled bass port that carefully controls air flow to deliver tight bass without excess noise, known as "chuffing," as air travels through the tube. And the A7's tweeters feature tapered tubes, a design borrowed from B&W's esteemed Nautilus™ speakers, that minimize reflection off the rear of the enclosure, for clean, clear high frequencies. Also, digital music signals are upconverted to 96kHz/24bit resolution by the A7's high-quality digital-to-analog converter.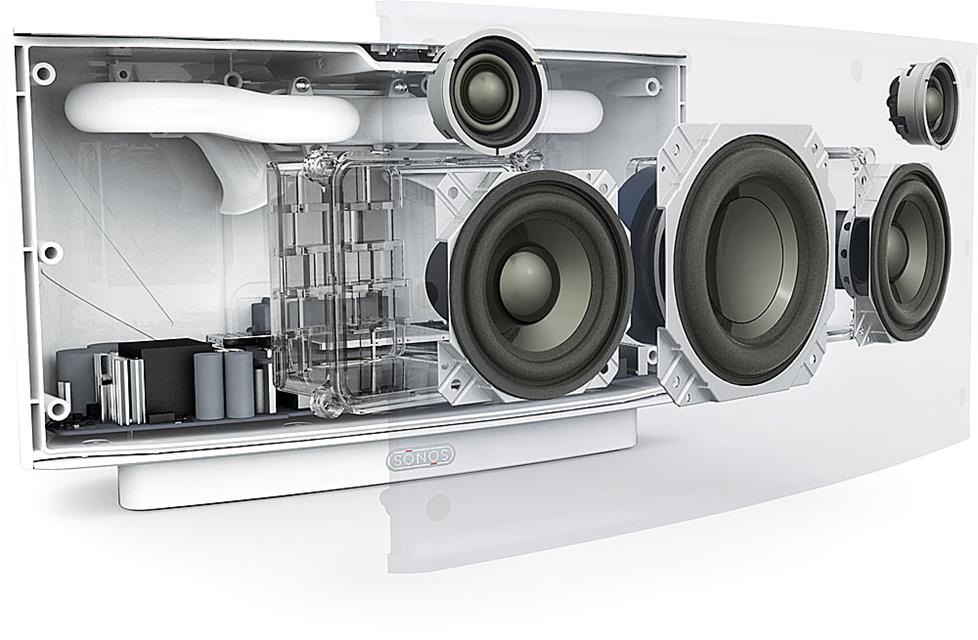 Sonos PLAY:5 internal driver array
B&W A7 internal driver array
Setup
The Sonos PLAY:5 is made for easy set up, and it did not disappoint. We already had a Sonos Bridge connected to the Wi-Fi network in our Labs. From there, I downloaded and opened the Sonos app on my iPod touch®, followed the set-up instructions in the app, pushed a couple of buttons on the Bridge and PLAY:5, and I was ready to listen. The whole process took about three minutes to complete. From there, I was able to stream lossless music stored on my iPod touch.
Setting up the B&W A7 was even easier than the PLAY:5. As with Sonos, you'll need the free B&W app on your iPhone, iPod touch or you can download a set-up program for your computer from B&W's website. With the A7, the app is solely for setup. Download the app, plug in the power cord, follow the instructions, which include entering your Wi-Fi network password, and you're ready to start listening.
Sound
I started with the A7 and was immediately impressed by its lush tone. Well-balanced and vibrant, it had excellent bass extension that didn't distort or dominate the performance. It demonstrated particular presence in the upper bass frequencies and lower midrange, while sounding very refined in the high-end. And while I was definitely aware of the music coming from a single speaker, our listening room was filled quite nicely with rich sound, impressing me with excellent dynamics even as I pushed the volume higher and higher. I was able to play it very loudly before it started to show any signs of distortion.
The highlight of listening to the A7 was John Coltrane's "Blue Train." This was my "wow" moment with this remarkable speaker. The tone of Coltrane's tenor sax was huge, big and bold, rich and dynamic. It leapt at me from out of the A7's drivers and made me rethink the limits of what wireless speaker systems are capable of.
In comparison, the Sonos PLAY:5's sound is a bit thinner than the A7. It was more airy in the high frequencies, but it lacked the bass definition and impact of the A7. On Paul Simon's "Born at the Right Time" from The Rhythm of the Saints, a very low drumbeat that came through powerfully with the A7 didn't have the same impact with the PLAY:5. Though it's easy to add a Sonos wireless sub to beef up the low-frequencies.
Nevertheless, the PLAY:5 is a very good speaker in its own right. "Blue Train" sounded marvelous – just not as rich as it did with the A7. Coltrane's tenor sax tone was not as fully rounded out as with the A7.
Here's where it gets interesting
While the PLAY:5 sounds quite good, the A7 is definitely a cut above. And given the price difference, that's no surprise. For about the price of one A7, you can put PLAY:5's in two rooms. Or you can combine a pair for a true stereo experience in a single room. There's a mode that lets you send the left channel signal to one and the right channel to the other.
At times during my listening sessions, I felt the Sonos competed quite well with the A7. And on a couple of occasions, it even sounded better.
I noticed this in particular on another Paul Simon track, "The Coast." There is a lot of percussion in this song, which resides tonally in that upper bass/lower midrange zone. The A7's rich response in these frequencies made the percussion really stand out, to the point where they muddied up the vocals a bit, making them sound slightly muffled. But on the PLAY:5, because those frequencies are recessed, the presentation sounded more balanced, with clear, natural-sounding vocals.
Conversely, I played "Hold On" by Alabama Shakes, a song with more open space. The A7 was the clear winner here, with its deep bass response delivering this song's groove with power and feeling. The vocals floated over the music rather than getting lost in it. With the PLAY:5, the song felt thin compared to the A7, not quite as infectious or toe-tapping.
Very different soundstages
The other interesting difference in sound is the soundstage each speaker projects. At first listen, the A7 sounded much bigger. But the more I listened, the more I realized that the PLAY:5 actually projects a wider soundstage. It sounds like the music is presented across a wider horizontal plane, whereas the A7 sounds more like it's coming from the middle of the speaker. Yet the A7's sound had more depth to it. I would characterize the PLAY:5's soundstage as wide and flat, while the A7's is tall and deep.
The bottom line
While I preferred the sound of the A7, I came away feeling good about each speaker. The B&W A7 is an excellent one-box wireless system for rooms where you're eager to pursue high-fidelity sound but unwilling to deal with multiple components and speakers.
The Sonos PLAY:5 offers a seamless, goof-proof user experience while still delivering very good sound. Sonos also offers the promise of more versatility with a larger selection of speakers to expand your system.
I'm a traditionalist when it comes to home audio, preferring the receiver/source/speaker setup. But after spending time with these wireless speaker systems and hearing just how good they can sound, I could definitely find a place in my home for either the PLAY:5 or the A7.
Sonos PLAY:5

Bowers & Wilkins A7

Wireless technology
Sonosnet™ 2.0 proprietary wireless system or standard Wi-Fi.
Apple AirPlay – Requires a Wi-Fi network and either an Apple portable device or a computer running iTunes.
Remote control
Sonos app for Apple or Android portable devices – Lets you stream music from your networked computer and online music sources as well as music stored on Apple devices. Streaming of music stored on Android devices is not yet supported. Can be controlled from a computer, too.
Your Apple device – Lets you stream from its music player or other apps. Apple's Remote app let's you stream from a computer running iTunes. The A7 also comes with its own small remote.
Online music services
Sonos let you choose from a wide selection of services and thousands of Internet radio stations from within its app.
Listen to any music service that offers an AirPlay-compatible music app, including YouTube. Each app must be launched and controlled separately.
Supported music file formats
MP3 (compressed)
WMA (compressed)
AAC+
iTunes
Ogg Vorbis
Audible (format 4)
Apple Lossless
FLAC (lossless)
WAV (uncompressed)
AIFF (uncompressed)
Amazon Cloud
MP3 (compressed)
MPEG-4
AAC
iTunes
Apple Lossless
AIFF (uncompressed)
WAV (uncompressed)
Multi-room functionality
Sonos offers a more versatile and user-friendly multi-zone system. It features synchronous playback (same music plays in multiple zones) or multi-stream playback (different music streams in each zone). Control all zones from a single portable device. No computer is required.
Music can be streamed from a portable device to one AirPlay speaker at a time. Multi-zone playback of one stream on multiple AirPlay devices is possible from a computer running iTunes. The Apple Remote app allows you to control these streams from an Apple portable device.
Speaker configuration
Two tweeters, two 3" midrange drivers, one 3.5" bass driver
Two tweeters, two 3" midrange drivers, one 6" bass driver
Warranty
1 year
2 years
Dimensions
14-3/8"W x 8-9/16"H x 6-13/16"D
14-3/16"W x 8-5/8"H x 6-5/16"D
Weight
11.9 lbs.
12.5 lbs.