Wireless surround sound with Sonos
A simple, flexible home theater system — without all the wires
Heads up!
Welcome to this article from the Crutchfield archives. Have fun reading it, but be aware that the information may be outdated and links may be broken.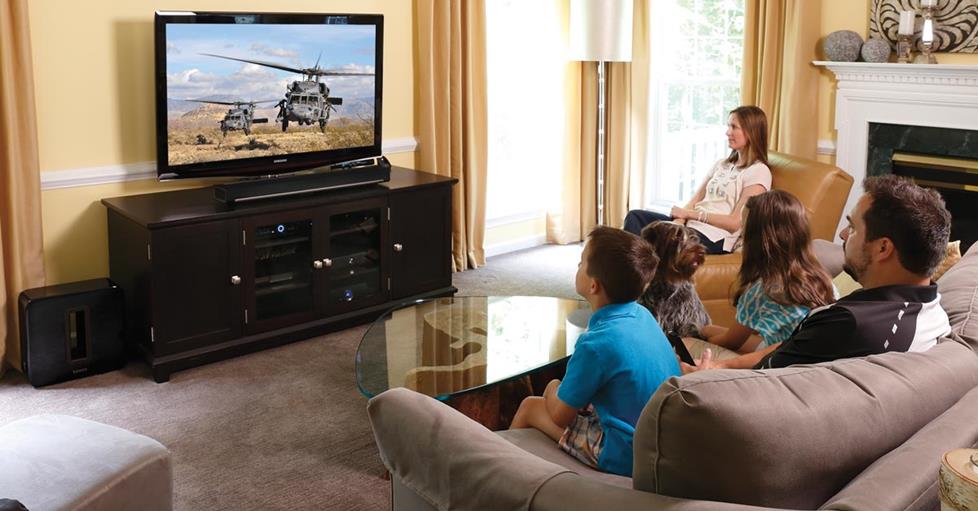 If you want immersive home theater sound without a lot of stress, Sonos has a simple solution. Their wireless speakers can be configured as a 5.1-channel surround sound system, eliminating the hassle of running cables to the back of your room. Plus, they're easy to set up, attractive, compact, and sound great.
We knew how great Sonos speakers are for music, and that the Sonos PLAYBAR gives TV sound a major boost. But we hadn't yet heard these components in a surround sound setup. So we set one up in the Crutchfield Labs to check it out.
Setting it up: even faster than we imagined
Going into it, we expected this system would be quicker and easier to set up than a conventional surround sound arrangement. We were still surprised. The entire piece-of-cake process, from unboxing the speakers to enjoying a movie, took less than 20 minutes. That even included speaker firmware updates and popping popcorn.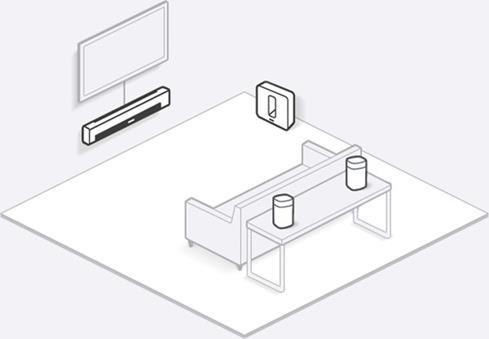 A diagram of a full Sonos wireless surround sound setup.
What we used
The PLAYBAR sound bar covered the front- left, right, and center channels
A SUB added deep, powerful bass
A pair of PLAY:1 speakers for the left and right rear speakers
The free Sonos app (available for Apple® and Android® devices — we used it with an iPad®) to set up and control the system
Getting it all connected
First, we connected the PLAYBAR to our Samsung TV with the included optical digital audio cable. Then we placed the SUB against the wall near the TV. Next, we placed the two PLAY:1 speakers behind our seating position at ear level. For this, we recommend Flexson's line of excellent custom stands and wall-mounts for Sonos speakers.
Each Sonos component must be plugged into a power outlet. It's a good idea to use a power protection device.
The App handles the rest
Once all the speakers were set up and plugged in, I opened the Sonos app on the iPad. It asked if I was adding a new speaker. The easiest way to set up this system is to start with the PLAYBAR, so that's the device I selected.
The PLAYBAR in our system was brand new, so the app prompted us to update the firmware. This took about a minute, and then we were ready to add the rest of the speakers to the system.
The app walked us through the process of adding the SUB and PLAY:1 speakers, downloading firmware when needed and occasionally requiring us to press a button on each device.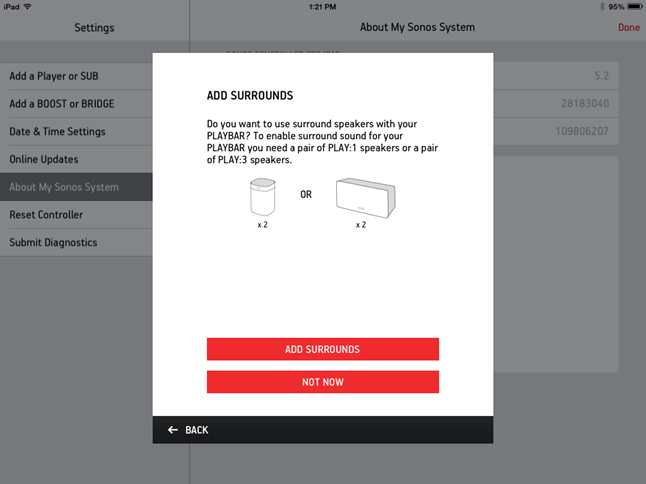 After setting up the PLAYBAR, the Sonos app helped us add more speakers to the system.
After just a few minutes, the system was set up and ready for some fine-tuning.
Some final tweaks
Just like a home theater receiver, Sonos can tailor the sound of its home theater setup for your room and preferences. This involves sitting in the main listening position and answering a few questions in the app.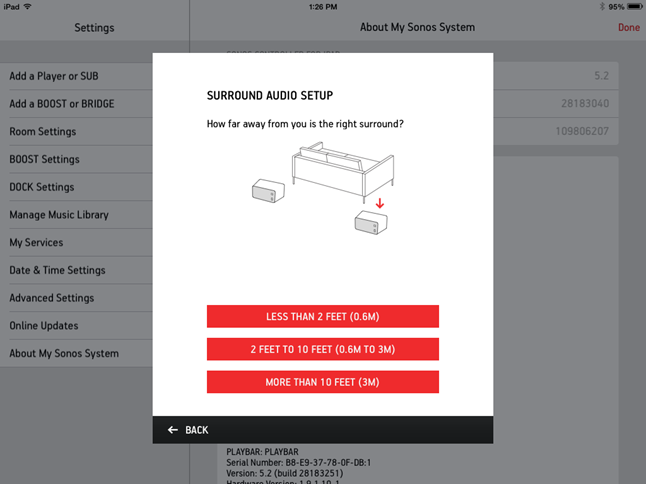 After a short series of questions, we got the best sound for our room.
Next, the app asked us to turn on the TV. When we did, it detected the signal and we were ready to start enjoying 5.1-channel surround sound. (Some TVs may first require you to change the audio settings to "external speakers).
If you want to use your TV or cable remote to control the volume of the system, Sonos makes it easy to program your remote. You can also choose from several listening modes, such as Dialogue Boost for enhanced voice clarity and Night Mode for late-night viewing.
So how did it sound?
There's nothing like the vicious clashing of metal, colorful technobabble exposition, and ever-present explosions to really test out your system. We threw on the latest Transformer movie, and caught the ear of our International department reps.
The consensus was that the system sounded quite good. Lincoln, a Crutchfield advisor, said, "There's certainly ample power, good bass, and clarity." I agreed as engines revved all around us during a thrilling chase scene. I bumped up the volume of the rear speakers and listened as airplanes flew from behind and over my shoulder before they even showed up on screen. We were also impressed how Dialogue Boost made even whispers clear.
Of course, with Sonos, you're getting more than just great movie sound. With one push of a button, we switched over to the streaming service Tidal® and listened to some music.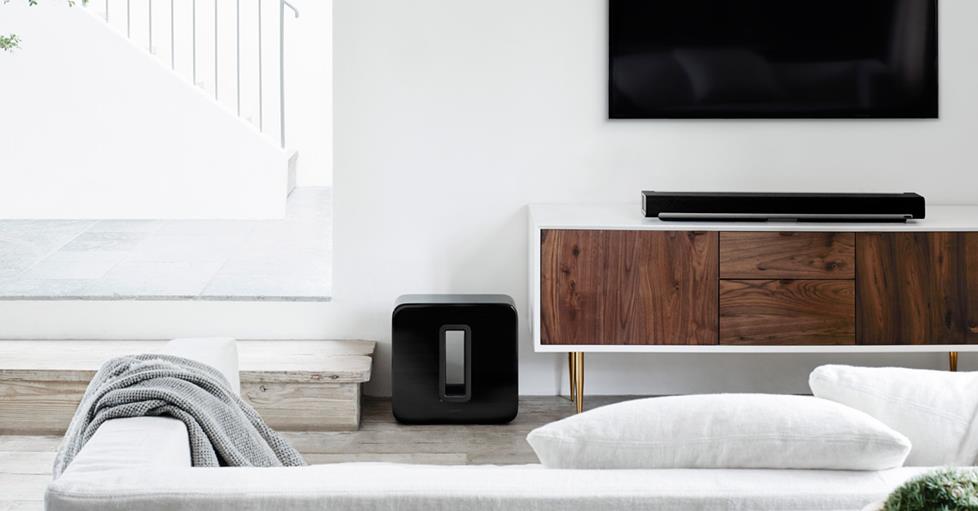 The bottom line
Our experience with the Sonos wireless surround system was as engaging as some wired setups we've heard. If you're thinking about a 5.1-channel system but running wires doesn't excite you, the Sonos system is a great solution. Plus, you can always use those PLAY speakers to enjoy music in other rooms. Then just bring them into the TV room for serious video gaming, big sporting events, or movie night with friends.
Setup is quick and painless, and resulted in a clean, wire-free look. Like I said, we were up and running within 20 minutes. Surround sound doesn't get any easier than that.