Best wireless surround sound systems
Top ways to get home theater without all the wires
Heads up!
Welcome to this article from the Crutchfield archives. Have fun reading it, but be aware that the information may be outdated and links may be broken.
In a nutshell: Want the surround sound experience without the hassle of running and hiding wires for rear speakers? Consider these system options:
urround sound creates a thrilling, immersive soundscape that increases your enjoyment of movies, games, and sports. But running wires to rear speakers can be a real hassle. Wireless surround sound systems give you all the gain with none of that pain. Here are four great options:
1. Prepackaged systems
This is the simplest solution for a wireless surround sound system. Here are a few of our most popular packages.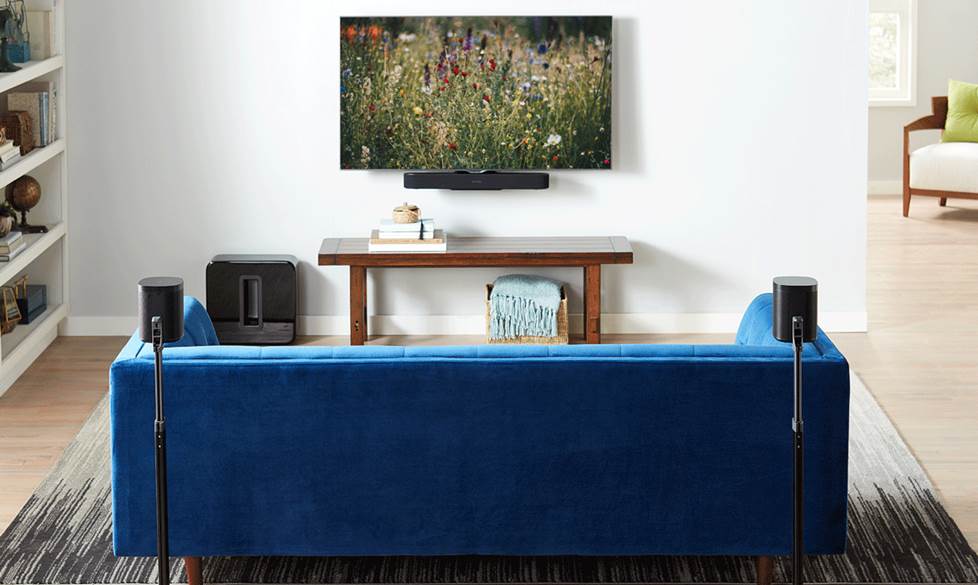 If you already own or plan to buy a Sonos wireless speaker, you should strongly consider a Sonos surround sound package. It will fit right in to your Sonos multi-room audio system.
Sonos
You basically have three options for 5.1 packages from Sonos, all of which rely on your choice of sound bar. The sound bar will serve as the center, left, and right channels. In addition, you will get the Sonos Sub and two Sonos One (Gen 2) to use as surround speakers.
JBL BAR 5.1
The JBL Bar 5.1 is the only wireless surround sound system that offers battery powered surround speakers. Two surround sound speakers detach from the sound bar and can be placed wherever you like. Since the bar recharges their batteries, you won't have to plug them in.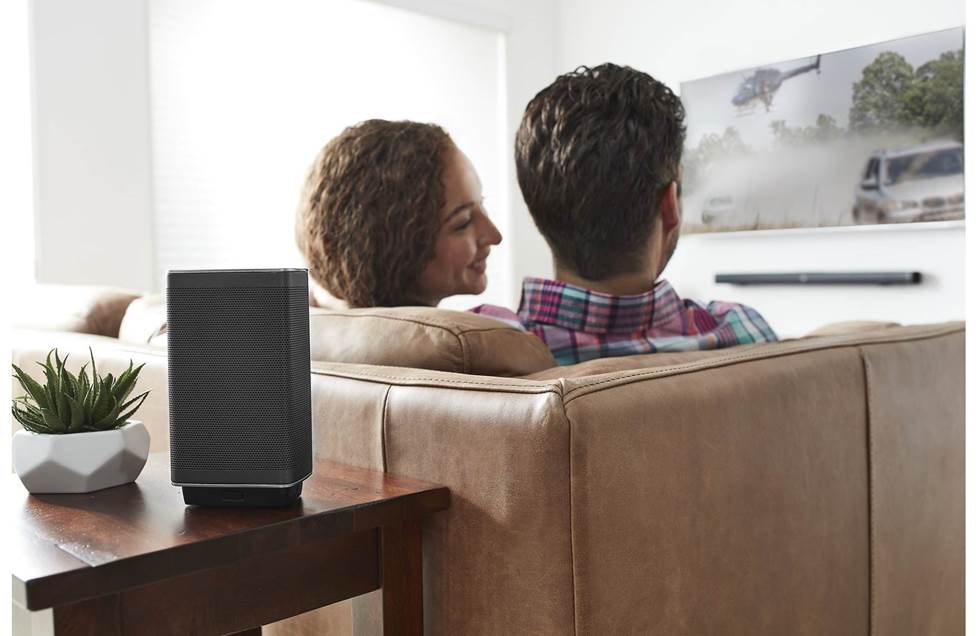 The Bar 5.1's battery-powered rear speakers recharge when connected to the sound bar. A full charge gives you about 10 hours of surround sound.
As far as sound goes, JBL always knows how to pack the bass. The subwoofer is no exception. Meanwhile, the sound bar is powerful enough as a center, left, and right channel to bring the soundtrack and accentuate the dialogue.
Polk Audio MagniFi MAX SR
The MagniFi MAX SR from Polk audio is another convenient, easy set-up system.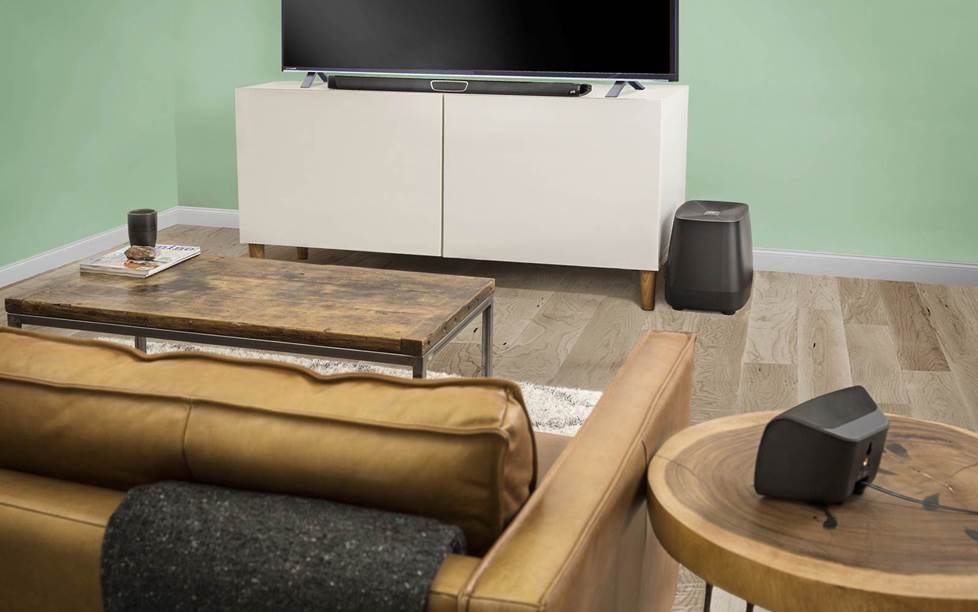 The MagniFi Max SR gives you five sound-optimizing EQ presets, so you can easily tailor the sound to any program material.
The system is packed with handy features, like independent bass control and five EQ presets. It also includes Polk's patented VoiceAdjust technology so you can hear the actor's voices during explosions or upticks in the film's score.
Want more options? Check out our entire selection of systems.
2. Receiver plus optional wireless rear speakers
Yamaha surround sound receivers and the Denon HEOS AVR now let you use self-powered wireless speakers for the rear channels. Your center, left, and right speakers will have wired connections.
This option gives you a lot of flexibility for your TV, movie, and music system.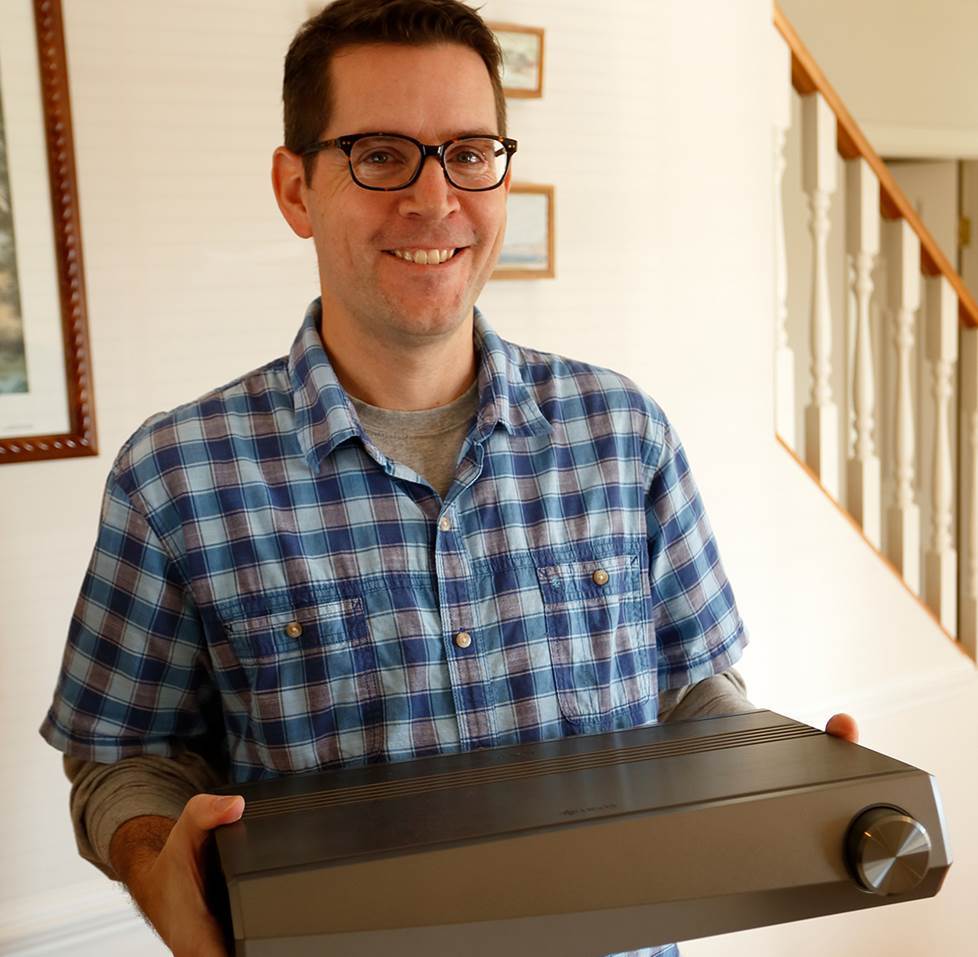 The HEOS AVR has no buttons or lights on the front panel. Just a volume knob. You use an app to control everything.
Denon HEOS AVR
Our own David Brown already did an in-depth article breaking down six reasons he was excited about the Denon HEOS AVR.
Connect the HEOS AVR to a hard-wired center, left, and right speakers. Then wirelessly pair two Denon wireless speakers for your surround channels.
Yamaha Wi-Fi receivers
Yamaha sells quality receivers at a great value. Since 2018, their Wi-Fi receivers have used MusicCast to wirelessly transmit surround sound channels to compatible speakers.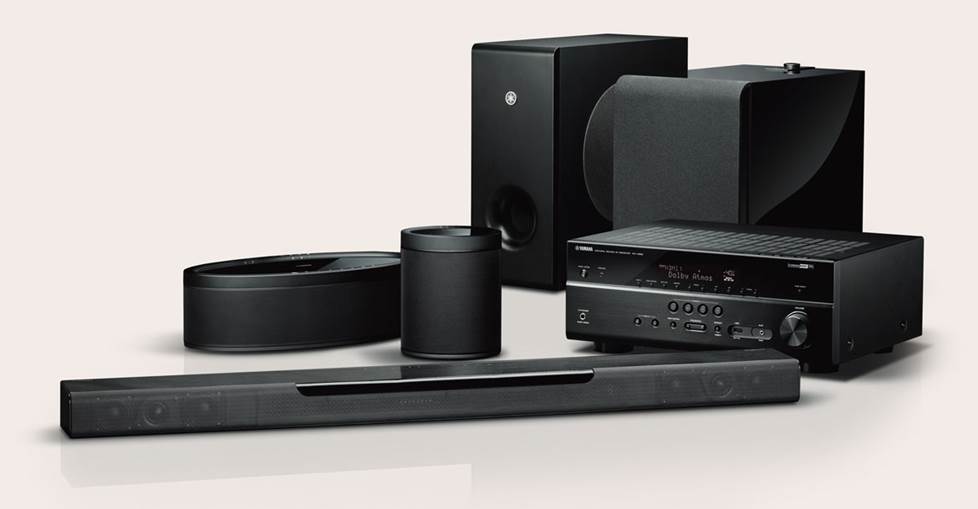 You can get two MusicCast 20 speakers in a bundle. Then add a MusicCast SUB 100 for deep, clear bass.
3. Sound bar plus optional wireless rear speakers
Many sound bars support the addition of optional wireless rear speakers. Below you'll see a few of our favorites.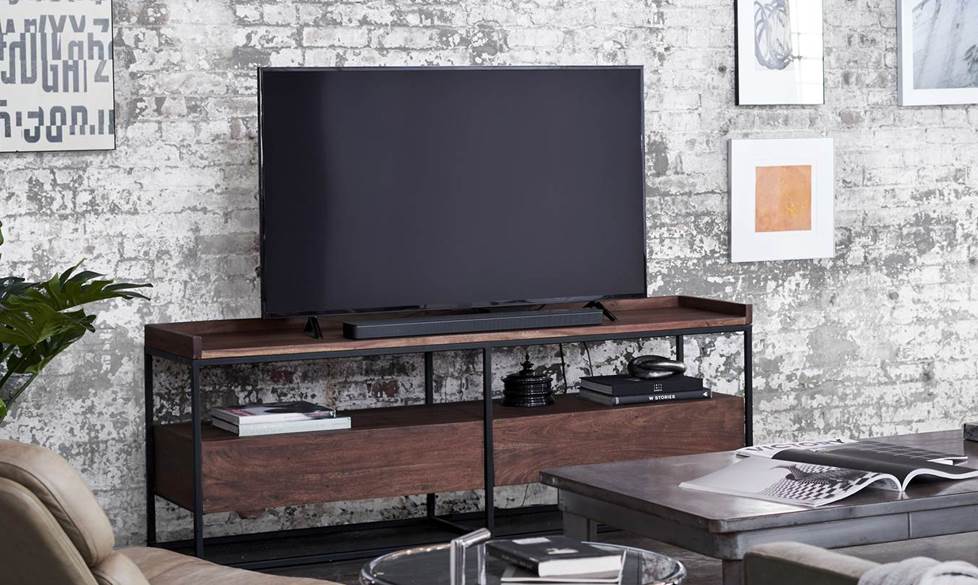 Use the Bose ADAPTiQ® automatic calibration system to perfectly balance the sound of the bar with the optional bass module and wireless surround speakers.
Bose® sound bars
The Bose® Soundbar 500 and Soundbar 700 have compact designs that deliver big sound. They can be paired with the wireless Surround Speakers 700. Wireless bass modules (500 and 700) are also available.
---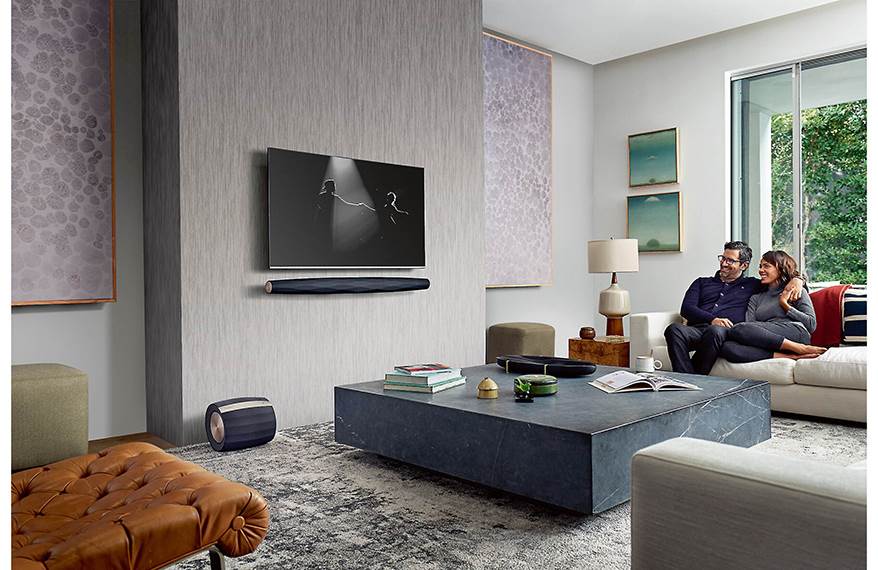 The sound of the Bowers & Wilkins Formation suite rivals the performance of receiver-based systems.
Bower & Wilkins Formation series
The exquisite Formation Bar has a total of nine speakers configured as front, left, and right channels. Add the Formation Bass for depth and impact. Then add two Formation Flex wireless speakers for your rear channels.
---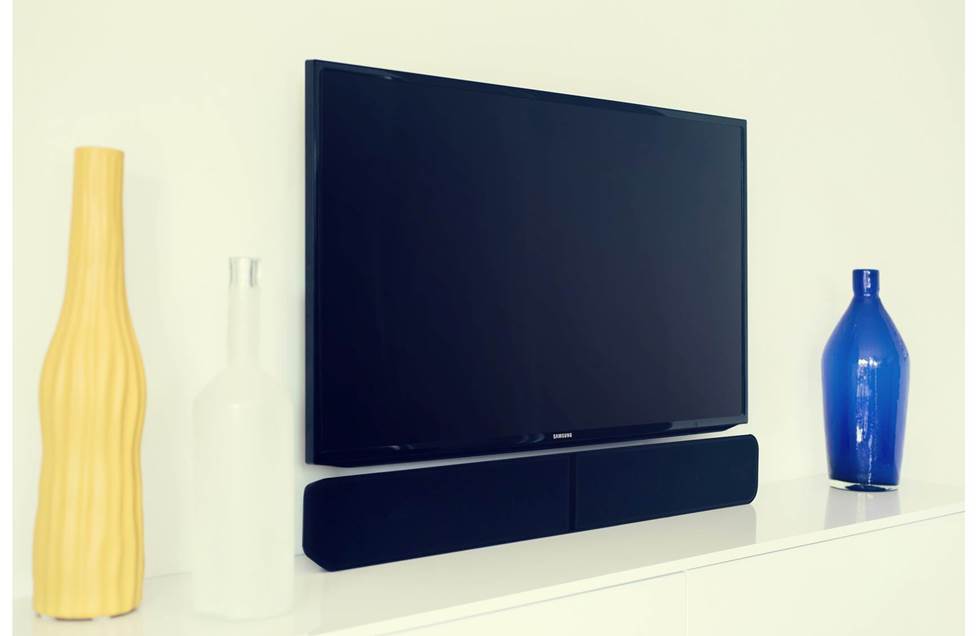 The Bluesound Pulse 2i offers some really useful listening modes, including wide cinema, dialogue enhancement, and late-night.
Bluesound Pulse 2i
Bluesound is a multi-room audio system that is capable of streaming high-resolution audio files. A wireless home theater system includes the Pulse 2i sound bar, Pulse sub, and two Flex 2i wireless speakers for the rear channels.
---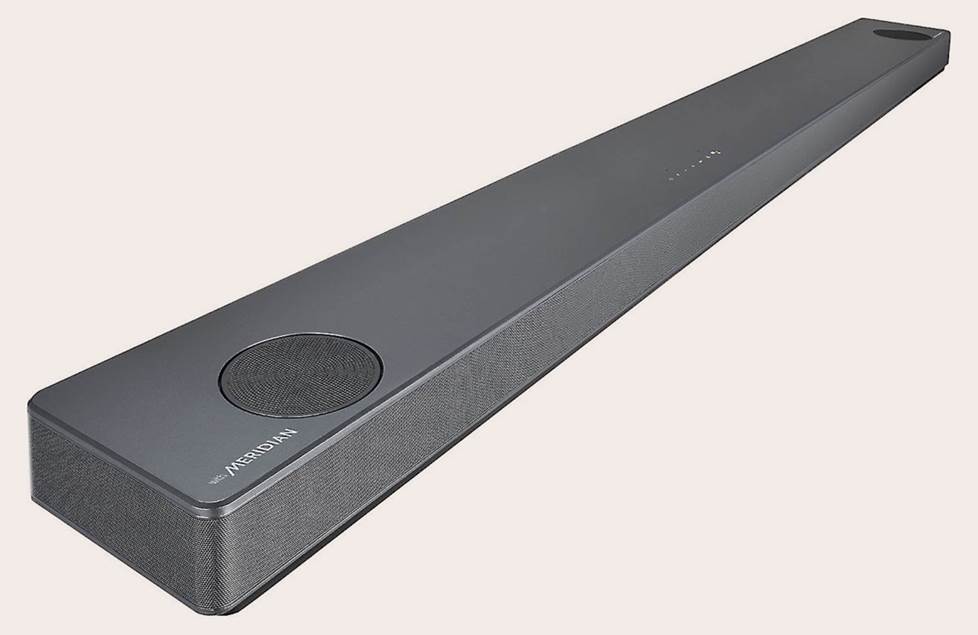 These LG sound bars have upward-firing speakers that bounce sound off the ceiling, mimicking overhead speakers. They also feature Meridian Audio technologies that expand image height and widen the sound field.
LG sound bars
We carry four different sound bar + subwoofer packages from LG. All of these can be expanded to full surround sound with the SPK8-S Rear Speaker Kit. Depending on your sound bar selection, you can get up to 7.1.2 wireless surround sound.
---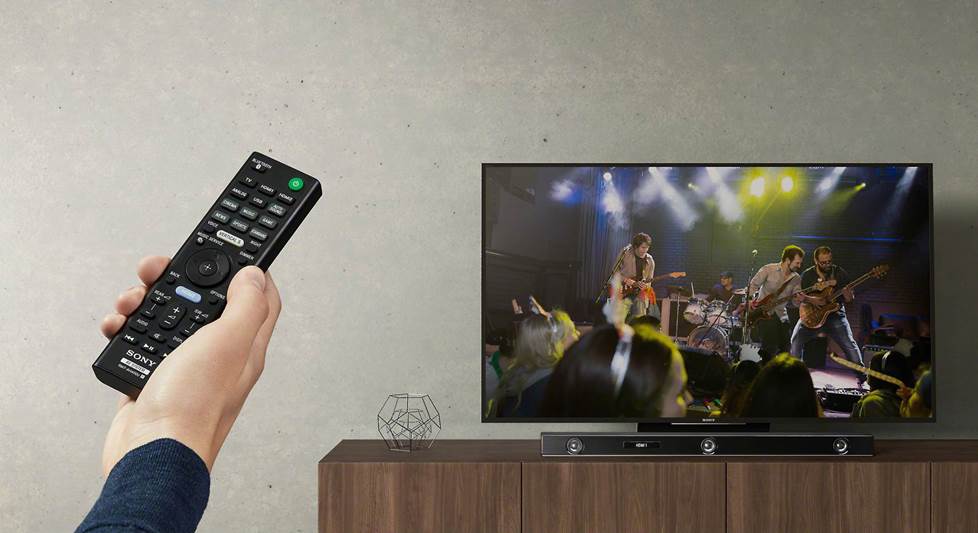 The Sony HT-Z9F has Dolby Atmos and DTS:X decoding, but it can also deliver immersive surround sound from any audio signal.
Sony HT-Z9F
The Sony HT-Z9F is another sound bar/subwoofer combo. It can be paired with the SA-Z9R wireless speaker kit for full surround sound.
This set up is a virtual 7.1.2. Although there are no upward-firing speakers, Sony has created the "Vertical Surround Engine". It's a new digital processing technique that simulates overhead speakers. Since it doesn't rely on a surface to bounce off, it's optimal for use in rooms with vaulted ceilings.
Want more options? View our complete selection.
4. Klipsch Reference Wireless system with WiSA technology
The Klipsch Reference speakers are some of the world's most tried and true speakers. Now, with the inclusion of WiSA (Wireless Speaker & Audio) technology, you can get a full 5.1 system without a receiver or speaker wires.
The Klispch Reference wireless 5.1 bundle includes:
Four RW-51M speakers as your left, right, and surround speakers.
One RW-34C as your center channel.
One RW-100SW as your subwoofer.
One Axiim LINK wireless home theater transmitter which will send the signal.
I sat in on a demo of this system where we watched an action set piece from the film Spider-Man: Far From Home. The sound was huge, just like I what I heard when I saw it in a movie theater. It was amazing to hear speakers produce that much quality and volume without the use of a receiver.
Note that you need compatible sources for this system to work:
What we mean by "wireless"
Keep in mind that the term "wireless" refers to signal transmission only. you don't need speaker wire. But you do need AC power for your self-powered wireless rear speakers. They come with power cords that must be plugged into power outlets. The one exception is the JBL Bar 5.1, which includes battery-powered rear speakers that dock with the sound bar to recharge.
Connect with a Crutchfield advisor
Have questions about choosing the right equipment for your surround system?
For one-on-one shopping advice, call, email, or chat with us today. Free lifetime tech support is included with every order.
Call, email, or chat with us online today.
Last updated 2/4/2020