Tips for working with fiberglass
Fabricating a custom subwoofer enclosure for the trunk
A Crutchfield employee and installation expert shares his process and some pro tips for working with fiberglass. He documented his recent build of a custom subwoofer enclosure and let us pick his brain for the details. Read below for an intro to custom fiberglass work.
When Darren, Crutchfield's vehicle integration gear guru, overhauled the factory system in his 2017 VW Golf Alltrack, he built a fiberglass enclosure for his 10" Hertz subwoofer. No stranger to working with fiberglass, Darren decided he'd make an enclosure that molded to the shape of the spare tire and be removable if he needed quick access to the spare. It took him nine steps to go from concept to custom box.
Fiberglassing starter kit
You'll find some of the essentials for a project like this in our box-building tools, but most will require a trip to your nearest hardware store. You might also opt to borrow a tool or two from your neighbor if this is your first go at a custom build. And then there's the stuff you might be able to find lying around the house.
Before diving into building his subwoofer enclosure, Darren gathered up the following...
List of tools
Measuring tape
Circular saw and jig saw or router
One or two disposable containers (You'll need these for applying resin. Old coffee cans, sour cream containers, etc. work best!)
Rubber gloves (This project could get messy.)
Clothes you don't mind ruining (Like really messy.)
Painter's mask (And fume-y.)
Paint brush (For applying resin)
List of materials
Multiple rolls of painter's tape (You'll need these for taping off the area where your custom-fit box will be.)
MDF (If you have any structure framing you need to do, fiberboard is a good, cheap option.)
Fiberglass chopped strand mat (This is what gives your enclosure its custom shape.)
All-purpose fiberglass resin (Applied to the fiberglass mat, this is what gives your enclosure rigidity.)
Sand paper (Never hurts to have sand paper to smooth out any rough edges.)
Caulk (For sealing any seams and ensuring an airtight enclosure)
Box carpet and 3M spray adhesive (For a finished look)
Speaker terminal and speaker wire (For easy hook-up and removal of your enclosure)
When it comes to materials like painter's tape, fiberglass mat, and resin, Darren recommends overestimating how much you'll need. He had to make two trips to the hardware store for this project, and when you're covered in dried resin, the last thing you want to do is go out in public (especially in the car you're currently working on).
Planning and building your box
With all your supplies gathered, you're ready to take on your project. Darren set up shop in his garage because it's temperature-controlled and all his tools are close at hand. If you don't have a garage, you'll want to tackle this job when pleasant weather is on the horizon and in a space that has plenty of ventilation. Fiberglass resin is unbeatable for its rigidity once it dries, but in liquid form, it's noxious stuff.
Darren stretched out the following steps over days, but if you have the time to work 'em into a weekend, go for it!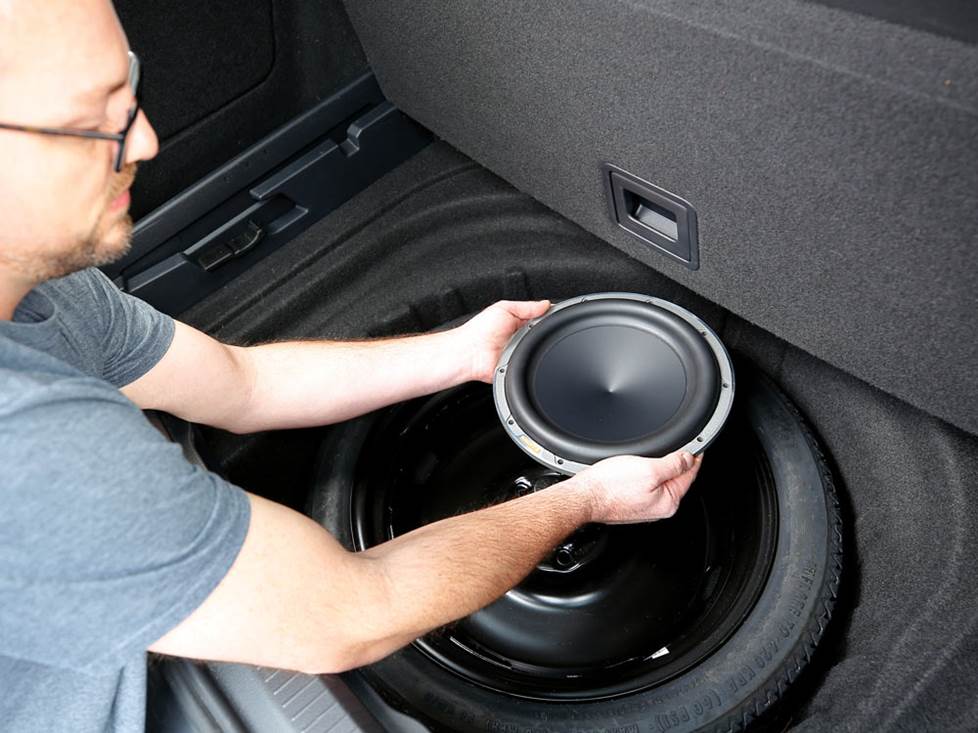 Step 1: Test fit the location
Place the sub in your chosen location to get a sense of how it will mount and if there will be sufficient air space. (You'll usually find your sub's ideal enclosure volume in the speaker's manual.)
Tip: You may want to take some initial measurements and keep them on a Post-it® note nearby for easy reference.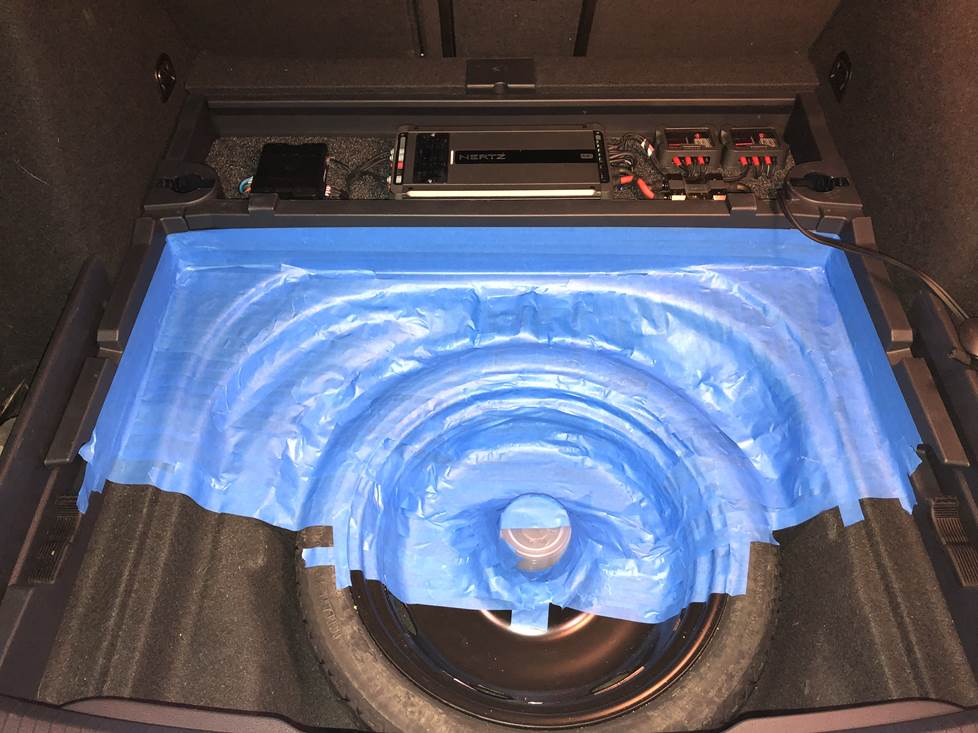 Step 2: Prep the location
Completely seal off the area you'll be using to create your mold. In Darren's case, he laid down layer upon layer of painter's masking tape to ensure that nothing could seep through and damage his VW interior. Even though it was a relatively small area, Darren used a couple rolls of tape.
Tip: You can't be too careful. Some folks go as far as adding a layer of aluminum foil as well to ensure nothing leaks through.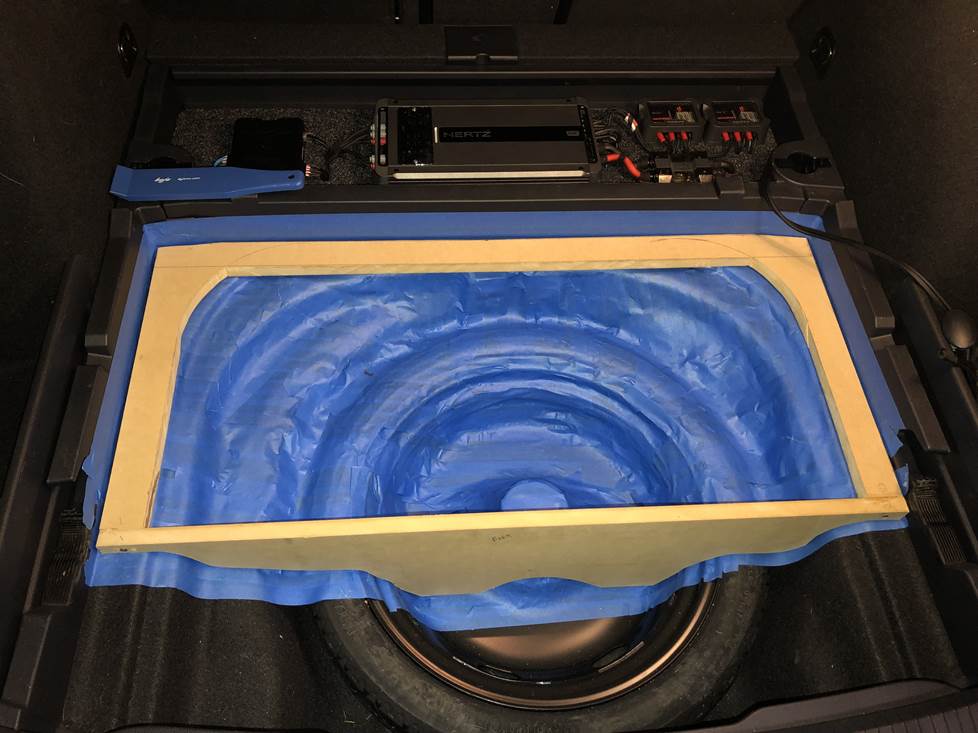 Step 3: Build a skeleton
Confirm the volume you'll need for your enclosure and build accordingly. Darren cut a board to frame out a fourth wall so that every part of the box would be structurally sound. This is the foundation of your box, so make sure it won't move at all as you take on the next step.
Tip: Be sure to overestimate the box volume you'll need. When the time comes to add the top to your box, it's always going to be easier to refine the structure than build it up.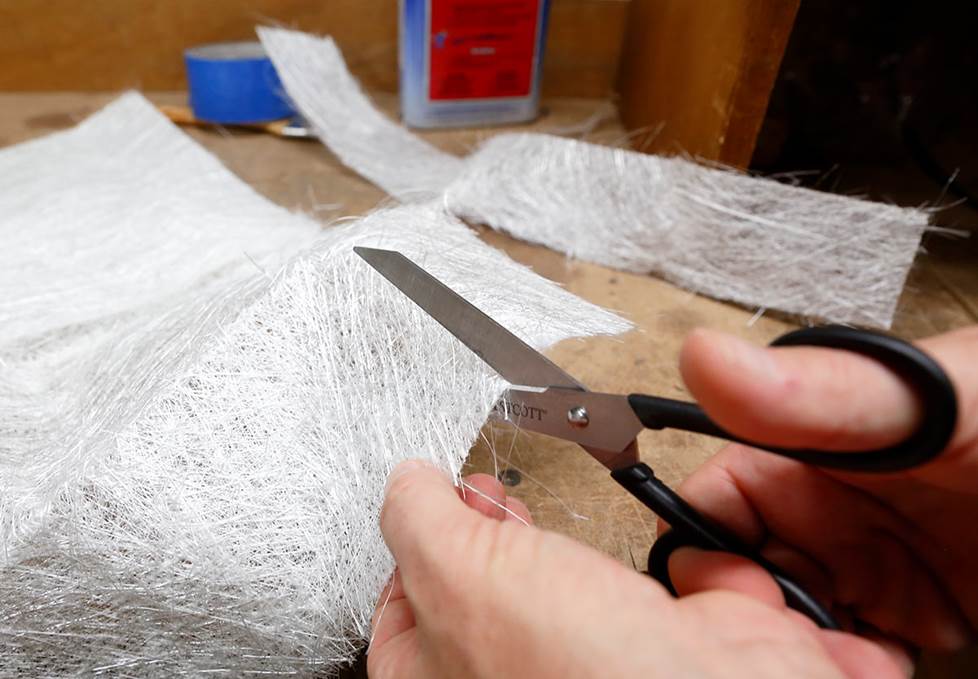 Step 4: Arrange fiberglass mat
Cut your fiberglass mat into manageable strips and pieces. Organize them to cover the surface area of your enclosure.
Tip: Weight the mat in key locations to keep your strips in place as you begin the next step.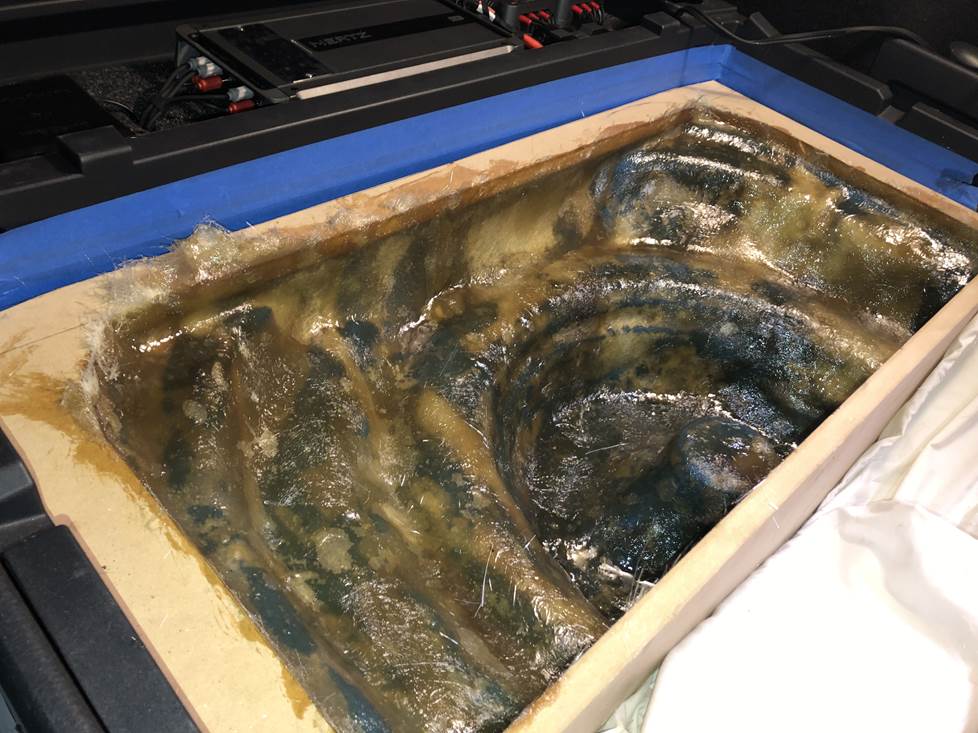 Step 5: Apply resin
Pour over, dab, or paint resin to coat your arranged mat strips and seal any gaps. The more coats of resin the better. You'll want to check the directions on resin packaging for ideal drying temperatures. Darren built his box in the dead of winter, but because he did the job in a temperature-controlled garage, this step went smoothly and didn't drag on.
Tip: Take your time, assess progress, and apply more coats as needed.
Step 6: Finalize measurements
Once the structure is dry to the touch, remove it from the vehicle and peel off any tape that has adhered to the bottom. With your new box outside the vehicle, you'll have an easier time finishing your work. Confirm that the volume of the box matches your initial plans.
Tip: There's no one correct way to measure the volume of your box. Some fill the enclosure with styrofoam peanuts or water. Darren measured the space in manageable layers.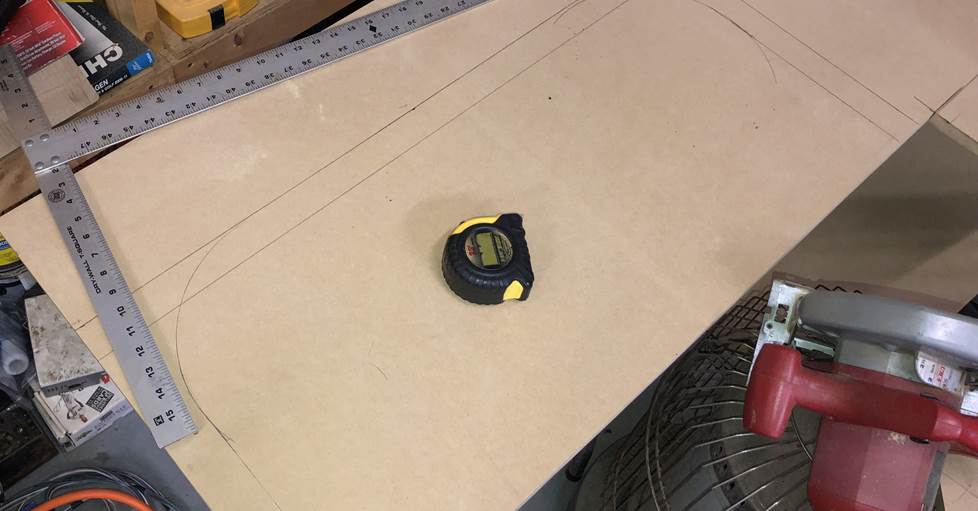 Step 7: Build and secure your lid
Measure and cut a piece of MDF that will be the lid of your box. Use your sub's listed cutout diameter to create a hole for mounting the speaker. Secure the lid to the molded enclosure.
Tip: Darren caulked the seams of the box just to be sure it was perfectly sealed.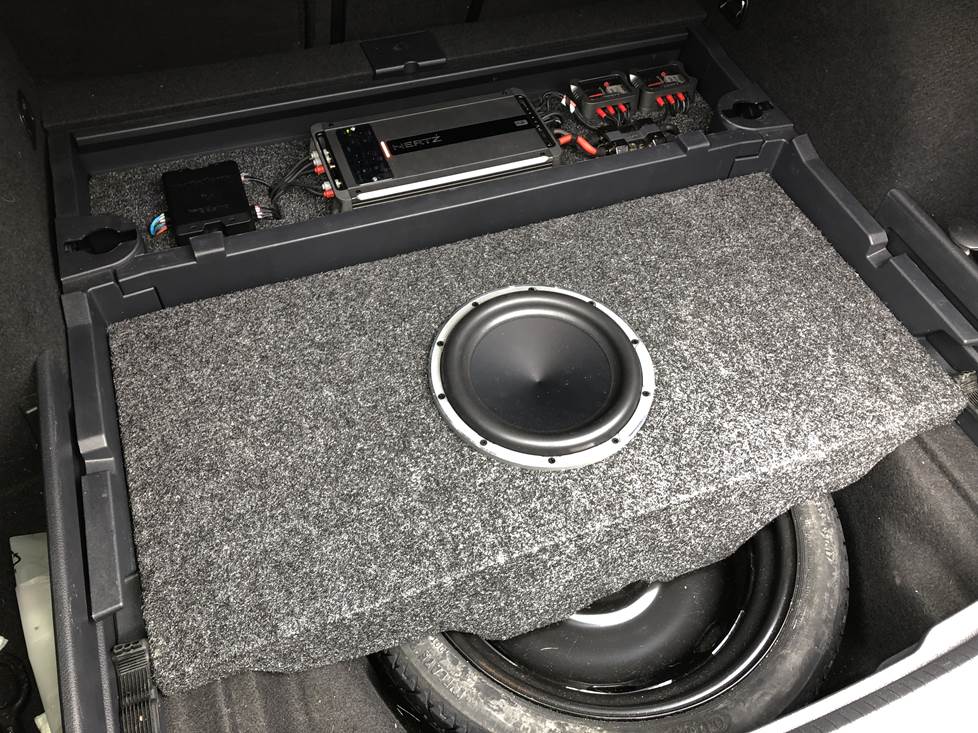 Step 8: Finishing touches
You may want to add speaker terminals for easy hookup to your system. Check out our assortment of other subwoofer box accessories for ideas. Darren used 3M adhesive spray to finish the box with a carpeted exterior, but this is your chance to truly customize your creation. Be bold and give it an exterior that suits your vehicle's interior. Then, wire and secure your sub (or subs) to your new custom enclosure and start thumpin'.
Darren's one final tip
As we wrapped up our conversation with Darren, he summed up with this little nugget of wisdom: "Fiberglassing is really a project for a true audio enthusiast. It's messy work and can be painstaking at times, so before you dive in, it's important to be really excited about what you're going to create."
Keep in mind that every project is different and there's no end to creative solutions. If you're stuck at any point in the process, explore YouTube to find videos of enthusiasts showing off their work and the process. And if you have any advice for others, feel free to share it in the comments of this article.