Yamaha and Polk home theater system review
Affordable, easy, and fun
Heads up!
Welcome to this article from the Crutchfield archives. Have fun reading it, but be aware that the information may be outdated and links may be broken.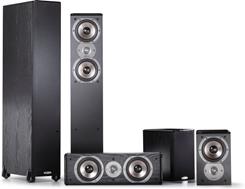 Thinking about making the leap from an old stereo system or sound bar to a true home theater? You can get a great-sounding system for less than you might think. And while home theater receivers offer seemingly endless tweaks, they're pretty easy to get up and running to take advantage of their basic features and start enjoying spine-tingling sound.
I put together a modestly priced surround system to audition in my home. I chose some customer-favorite Polk Audio TSi speakers and matched them with a new Yamaha RX-V575 receiver. Read on to see what I found and what's possible with a 5.1-channel home theater system.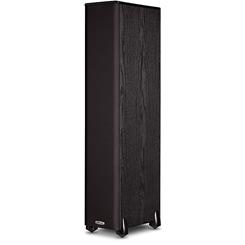 The System:
Front speakers: Polk Audio TSi300
The floor-standing TSi300 speakers are as attractive as any speaker I've seen at this price. They are skinny and sleek, featuring a high-gloss top plate, black veneer cabinets, and rubber feet amenable to hardwood floors as well as carpeting. If you crave tower speakers for their big sound and extended bass response but don't want them to dominate your living room, these blend in nicely to their surroundings.
Center speaker: Polk Audio TSi CS10

Center channel speakers are often an afterthought for many customers. Yet their role in delivering dialogue for movies and TV shows is crucial. The TSi CS10 is big in both size and sound. While its wide load kept it from fitting in my cabinet, its unique design allows placement flexibility: you can turn it upside down and rest it on the angled surface, thus angling the drivers upward. This lifts the sound to the same level as the TV, reinforcing the illusion that the sound is coming from the screen.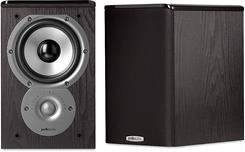 Surround speakers: Polk Audio TSi100 bookshelf speakers
These compact speakers make excellent surrounds in large systems or good fronts in a small stereo system for a bedroom or office. Rear mounting bars makes them easy to hang on a wall, though their depth might make them a better fit for a shelf or stands.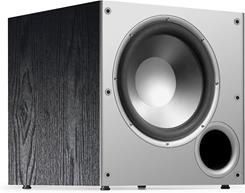 Subwoofer: Polk Audio PSW108
While the TSi300 floor-standing speakers can go pretty low, this subwoofer will take you a lot lower and with more power. The front-firing 10-inch woofer is driven by 50 watts of built-in amplification. When placed alongside the TSi300 speakers, their sound blends seamlessly.
The receiver:
Yamaha RX-V575 7.2-channel home theater receiver with Apple AirPlay®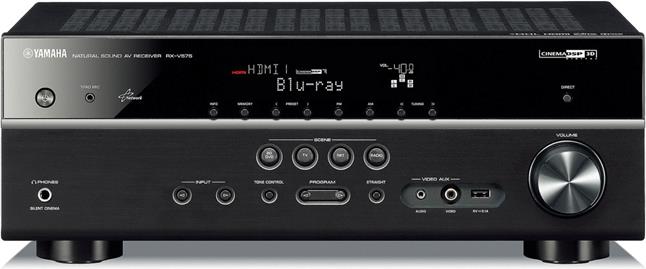 Offering network capability and AirPlay for music streaming from an iPhone® or computer, this receiver delivers 80 watts per channel in stereo mode. Paired with the highly efficient Polk speakers, it offers plenty of home theater bang for your buck. Automatic speaker calibration, on-screen overlays for changing settings, and a remote app for Apple and Android™ devices make it a breeze to set up and enjoy.
Receiver setup: where's the manual?
I have only one complaint about setting up the Yamaha RX-V575: there is no manual in the box. In an increasingly common but frustrating trend, Yamaha includes a CD-ROM so you can download the manual on your computer. Thank goodness for the Crutchfield website, where you can view the manual without having to bother with the CD-ROM. There is a printed quick setup guide in the box which covers the basics.
Fewer cables = much less clutter
Compared to my seven-year-old Yamaha receiver, connecting the RX-V575 required half as many cables. My old receiver doesn't have HDMI connections, meaning I have to run separate audio and video cables for my satellite box, DVD player, and Apple TV® to take advantage of my home theater speakers and get HD picture quality. How sweet it is to run a single cable from each component to the 'V575, then a single cable from the receiver to my HDTV.
Automatic speaker calibration
Once all the speaker and component connections were made, I turned on the receiver to start the setup process. The on-screen guide doesn't tell you what to do next, but the quick setup guide instructs you to plug the setup microphone into the front panel input. This automatically launches Yamaha's automatic speaker calibration, known as YPAO, which ensures properly balanced sound from all your speakers based on your chosen seating position. Just place the microphone where you usually sit (preferably using a tripod to simulate "ear-level"), follow the on-screen instructions, and let the receiver do the rest.
After YPAO works its magic, you're ready to start enjoying music and movies. But the RX-V575 has some other cool features that are worth exploring…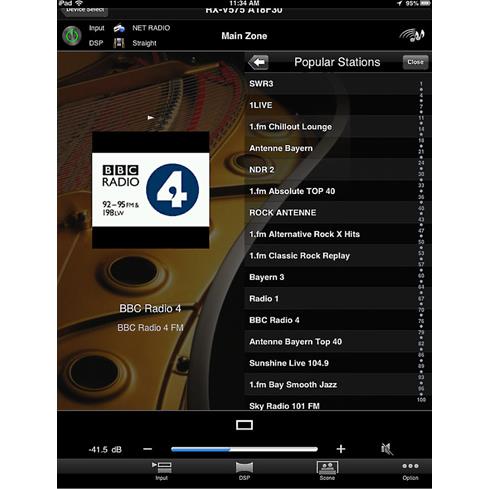 A network-connected RX-V575 offers free access to Internet radio streams worldwide, easily searchable with the free Yamaha A/V Controller app for Apple and Android devices.
Get networked for AirPlay and other digital music sources
I've never owned a receiver with network capability. So I was excited to connect the 'V575 to my wireless home network and open up my music choices far beyond CDs and USB thumb drives. I ran an Ethernet cable from my router to the receiver, though I could also add Yamaha's wireless adapter if my router was too far away for a wired connection.
In addition to built-in support for Pandora® and Internet radio broadcasts from stations worldwide, the 'V575 has Apple AirPlay. So if you have a large iTunes® library on your networked computer, like me, then you can send any song instantly to the receiver for playback in your system using Apple's Remote app on your iPhone or iPad®. You can also stream music from Windows PCs and servers thanks to DLNA compatibility.
When I started playing tunes over AirPlay, something struck me about the sound quality. I've been using an Apple TV with my old Yamaha receiver to stream music for about six months. But familiar tunes sounded more refined with the 'V575. Perhaps it was the Polk speakers. My curiosity piqued, I grabbed the Apple TV and connected it to the receiver for some A/B comparison. Sure enough, the receiver's built-in AirPlay offered better sound than the Apple TV, even though the digital decoding from each signal was being performed by the 'V575's converters.
This was an eye-opener. Suddenly, I started thinking it might be time to upgrade to a receiver with AirPlay on board.
Polish up MP3s and other compressed digital music files
When using AirPlay to stream music from an iPhone or iPad, it's likely you're going to be playing heavily compressed, low-bitrate files. So I tried out Yamaha's Compressed Music Enhancer with a 192kpbs recording of We Brave Bee Stings and All from Thao and the Get Down Stay Down. It added more bass extension and crisper high-end detail to songs that previously sounded a little flat. Thao Nguyen's vocals really popped over the guitar intro of "Bag of Hammers" with this enhancement, whereas it faded into the background without it.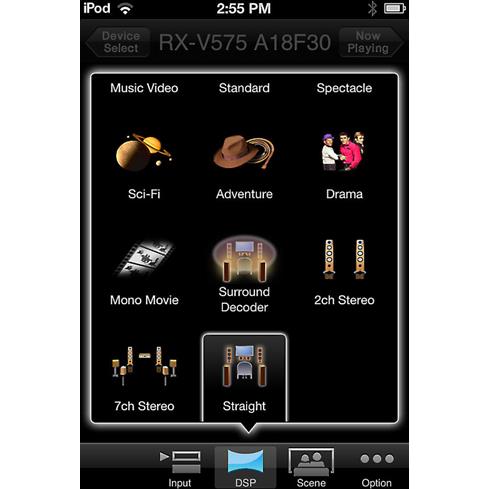 The free Yamaha A/V Controller app for Apple and Android offers versatile touchscreen control of a network-connected RX-V575.
Your tablet and smartphone are powerful remotes
When you connect the RX-V575 to your wireless network, you can take advantage of Yamaha's gorgeous A/V Controller app. Available as a free download for Apple or Android, it's graphic-heavy, customizable, easy to operate, and far more engaging than your standard rectangular wand packed with tiny buttons and tinier labels.
The app is most impressive when streaming music. Once you've set up your Pandora account (you'll need the factory remote for this), the app pulls in all your stations so you can select tunes and see what's playing. Same goes for Internet radio streams, as well as songs stored on your portable device or a music server. You can even turn the unit on from the app, though you must activate "network standby" mode first. The app prompts you to do this the first time you use it to power off the receiver.
"Who turned this thing up so loud?!?"
One of the things that drives my wife crazy about our old receiver is when she turns it on and the volume is frighteningly loud from my last music-listening session. Apparently, it's a common problem. So the RX-V575 lets you set the startup volume to a fixed level of your choosing. This is a great feature that can save your ears as well as your speakers from unexpected glass-shattering volumes when you power on your system.
HDMI control and the beauty of one remote
Most of us have a pile of remotes in our TV room. But HDMI-CEC (Consumer Electronics Control) is making it easier to use one remote to control multiple components. That's one advantage of using newer equipment with HDMI connections.
In my house, the satellite remote gets far more use than any other. So I really wanted to be able to control the receiver volume with it. Sure enough, by simply enabling "HDMI control" in the receiver's settings, this lone remote could turn on my TV, satellite box, and the receiver, with sound coming through the Polk speakers and volume control via the satellite remote. It doesn't get any easier than that. My itch to upgrade my receiver just got a little itchier.
One remote is nice…how about one button?
Our TV room is used mostly for…you guessed it – watching TV. But what about when the kids want to watch a DVD? Or my wife, for that matter? There are some hoops to jump through. Switching the TV to the right input, which speakers do I want to use, do I want the subwoofer on, etc.

The RX-V575's customizable "Scene" modes boil all those variables down to the press of a single button. So when my kids wanted to watch a DVD, they pressed BD/DVD on the remote and everything was ready to go based on my preset selections. The source on receiver switched to DVD, all five speakers and the sub were activated and ready for the surround sound format of my choosing ("Adventure"), and the disc player and TV turned on as well. Once the movie started, my daughter remarked, "Wow, we can actually hear it!"
Performance: how does it all sound?
I spent lots of time listening to this system, both in surround sound and stereo. When it comes to music, I'm more of a two-channel purist. But I've got some concert DVDs that were in need of some multichannel love.
The first one I played was Pink Floyd's Pulse, a live show from Earl's Court, London in 1994. The Polk speakers really brought this show to life and put me front and center. The surround speakers in the back added depth to the music, providing a reverb effect as if I was in the hall with the music bouncing all around me. The sub really shined, too, filling out some of the deep bass effects that add power to this live performance.
Next, I loaded Stop Making Sense, the legendary concert film by the Talking Heads. I recently watched this in stereo, which I thoroughly enjoyed. But the impact of the 5.1-channel performance blew me away in comparison. On "Burning Down the House" the keyboard intro built up until the full band blazed in, with the Polk sub delivering the full jolting impact of the drums and bass on the first downbeat. The sound was huge, immersive, and positively thrilling. Wow, there is definitely room for surround sound music in my life.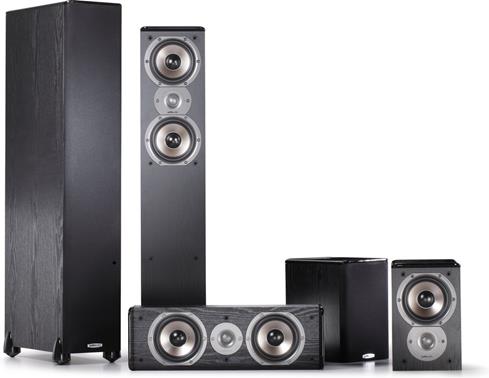 The Polk Audio TSi speakers delivered smoothed, balanced sound with movies and music.
Rock solid in stereo, too
Most of the time, I'm content to listen to music in good ol' stereo. And the TSi300 floor-standing speakers impressed me with their balance and smoothness. They're also highly efficient, so the RX-V575 receiver had more than enough power to drive them to very loud levels.
These aren't particularly aggressive speakers. Their tone is more laid back, tipped toward delicacy rather than detail in the high frequencies. The midrange is pleasing, though they are a bit thin in the lower mid/upper bass region. The bass extension is quite good, though the PSW108 subwoofer certainly beefs it up.
I listened to the title track from Funky Kingston by Toots and the Maytals on CD. I started out in pure stereo (without the sub) and quickly locked into the funky reggae filling my living room. These speakers are really solid performers, particularly at this price. I added the subwoofer to the mix, and this turned up the groove a few degrees. The sub isn't a necessity for music, but it's a welcome addition – and a very affordable one as well.
Next I played "Deacon Blues" by Steely Dan. The snare drum didn't quite have the pop it does with other speakers I've heard. And the bassline wasn't as clearly defined as I'd prefer. But what the TSi 300 lacks in detail it makes up for in smoothness, for a sound that is ultimately satisfying and never fatiguing. I wouldn't choose these speakers for critical reference listening. But I wouldn't hesitate to play them all day long.
How about movies?
Most people want surround sound for movies. And once you've experienced it in your home, it's hard to go back to stereo, much less those sad little speakers built into your HDTV.
As I expected, this system made The Dark Knight on DVD every bit as intense and engaging as it should be. Sound effects were dynamic and punchy, whizzing around at times with seemingly pinpoint accuracy. When I looked down to write some notes for this review, a sudden shotgun blast practically knocked me off my couch. That's the kind of visceral reaction I'm looking for in a home theater system.
Don't neglect the center channel
By far the most impressive aspect of movie-watching was the performance of the TSi CS10 center-channel speaker. The speaker is quite large, but it's worth it to make room. Dialogue had no trouble competing with sweeping soundtrack music and swirling sound effects. Sometimes center speakers are an afterthought in surround systems. But the TSi CS10 is a real speaker, and far superior to the last center channel speaker I owned.
Conclusion
I've gotten away from 5.1-channel surround sound the last few years. But the performance and price of this Yamaha/Polk system has me rethinking that decision. The Yamaha RX-V575 receiver's connectivity and network features are a far cry from what receivers could do just a few years ago. The Polk TSi300 floor-standers are a tremendous bargain, in either a stereo or multichannel system. And the center, surrounds and subwoofer are excellent options to fill out a surround system to add depth and dimension to movies and music. If you're ready to experience home theater, this is an ideal place to start.