Zoom H6 handheld 6-track digital recorder review
A portable studio with plenty of possibilities
Heads up!
Welcome to this article from the Crutchfield archives. Have fun reading it, but be aware that the information may be outdated and links may be broken.
If you're a musician, you know how indispensable a recorder is. A good recording of your playing can reveal your flaws, show your strengths, and help you grow your skills.
The Zoom H6 is an easy-to-use portable digital recorder – but it's so much more than that. It's also a handheld six-track studio as well as a computer audio interface with a built-in mixer. Additional mic attachments and add-on accessories can expand the H6's versatility to DSLR video recording. But as an amateur musician, I wanted to see how easy it was to create a multi-track recording.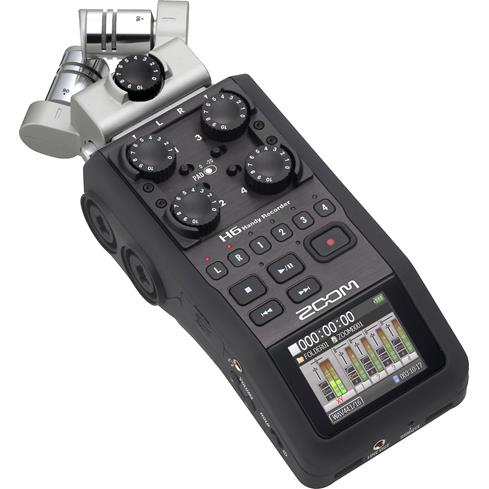 Unboxing and setup
The H6 comes in a hard-shell carrying case with internal padding for added protection. It includes "AA" batteries for power, two microphone attachments, a mic windscreen, USB cable, and a 2GB SD card for file storage. It also comes with Cubase LE digital audio recording software for PC and Mac®.
I pulled the H6 out of the case and popped the XY mic capsule onto the top. This consists of two cardioid, or unidirectional, mics configured in an XY pattern to capture a wide stereo image from a directional source.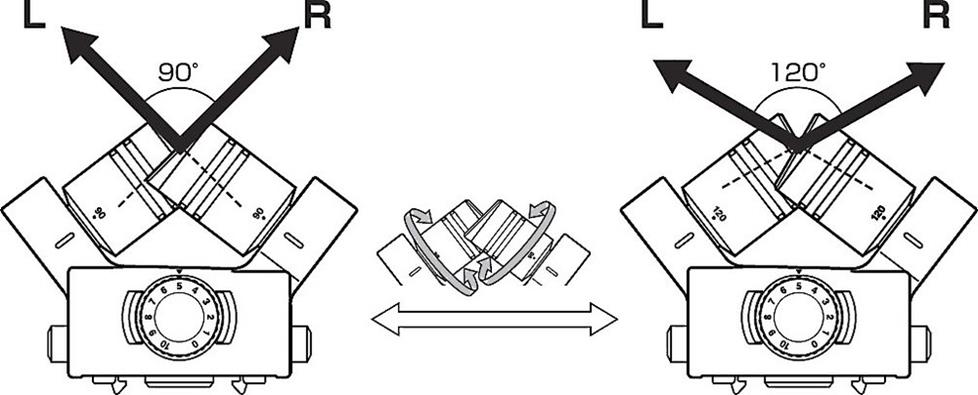 The XY directional mic capsule can be configured for a 90-degree or 120-degree stereo width.
There's also a mid-side mic capsule for capturing a directional signal along with ambient sounds – it's useful in DSLR video production such as on-location news-gathering.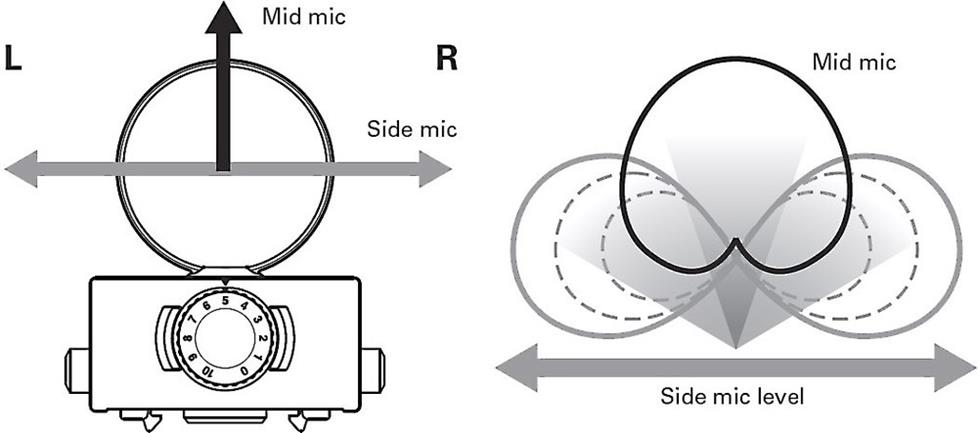 The mid-side mic capsule consists of a unidirectional and bidirectional microphones to capture sound from different sources.
After I connected the XY mics, I turned on the H6. The 2" LCD monitor at the bottom quickly lit up, revealing a full-color virtual mixer display with level meters for all six available tracks. In addition to the stereo XY microphone capsule, there are four inputs that can accept an XLR mic cable or a 1/4" balanced or unbalanced TRS or TS cable. Each of these inputs has a dedicated gain knob as well as 48-volt phantom power for use with condenser mics.
Recording with the XY mics
I wanted to record a simple two-track song with two guitar parts. I grabbed my acoustic guitar, set the H6 on my desk with the mics pointing toward my guitar, and pressed the "L/R" buttons to activate the stereo mics. Then I set the gain using the dedicated knob while checking the level meter on the LCD monitor. Because the monitor is on the opposite end of the recorder from the mics with the screen sloping away from me, it was a little tricky to do this alone. I had to sort of awkwardly stand up to see the level meter while keeping my guitar close to the mics. But I was able to dial in a good strong signal that wouldn't clip or distort. To ensure a clean recording, the H6 also offers backup recording mode, which automatically captures a "safety" recording at lower levels.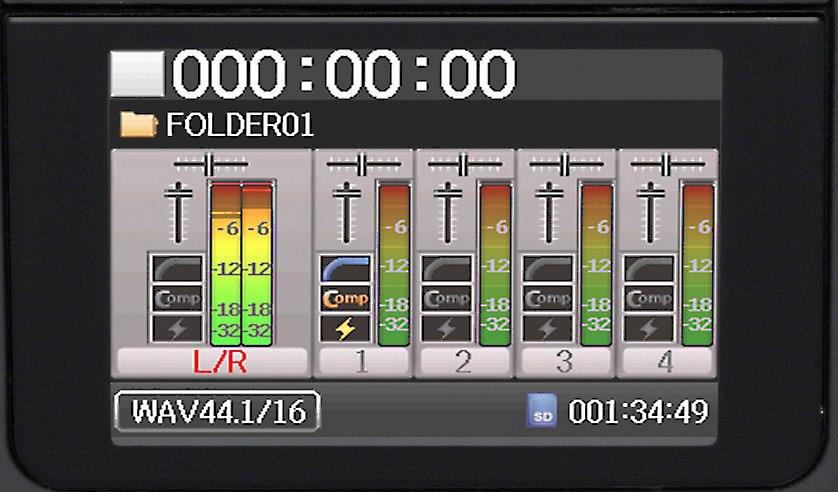 The H6's LCD monitor features level meters and effects indicators for each channel.
To start recording, I simply pressed the record button. You can also set up the H6 for auto recording, which starts recording immediately when an input signal is detected. After pressing record, I strummed out a simple, minute-long chord progression. I chose not to use the built-in metronome or to monitor my performance using headphones just yet.
After a couple of tries, I had a decent performance recorded. I played it back through the built-in speaker once to get a quick feel for it. Then I plugged in my headphones to listen more closely. My playing sounded much fuller and rounded out that I expected, with some nice detail. It was certainly way better than using my smartphone's voice recorder. And it was easy to use. Time to lay down an overdub. But first, I needed to see how the H6 saved my song.
The H6's file structure is fairly simple. There are different folders for saving projects, and each recording is automatically saved using the date as the start of the file name. But for easy recall later on, I recommend you give your projects their own name. It's a little tedious using the H6's toggle switch to select letters and numbers, but it's worth the effort. Otherwise you're quickly going to accumulate lots of files with names consisting of long strings of numbers.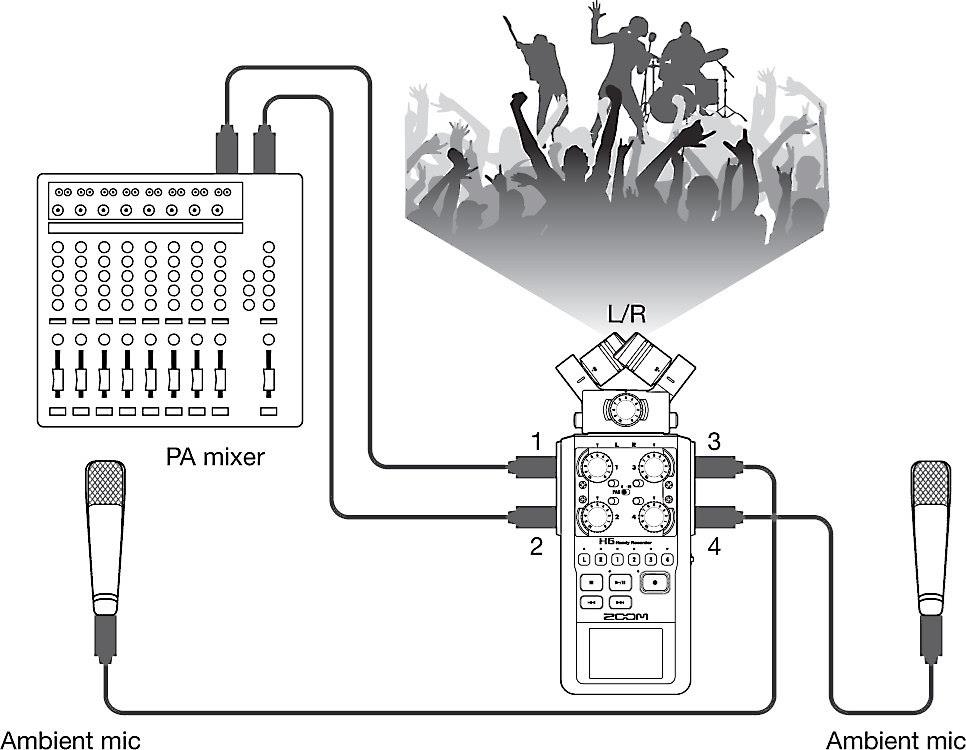 The H6 can be used to capture live band recordings with a combination of the XY mics, additional ambient mics, and the stereo master output from the mixing board.
Recording instrument overdubs
Now I was ready for that overdub. Overdubbing is very easy with the H6. While the prerecorded track is open (as indicated on the monitor), press menu and select Overdub from the "Project Menu." Then activate your desired input so it lights up red to show that you'll be recording with that input. Then you activate the pre-recorded track until its indicator is lit green. This activates playback of that track so you can monitor the original recording using the H6's headphone output.
I wanted to record an electric guitar part over the acoustic part. So I grabbed my Telecaster and my old Zoom multi-effects box. Because the H6 doesn't have a high-impedance input designed for direct connection of an electric guitar or bass, you need to run these instruments through a direct box or effects unit to boost the signal. My Zoom multi-effects pedal worked perfectly. I plugged my guitar into the input, then ran another 1/4" instrument cable to Input 1 of the H6.
Before switching on my effects pedal and setting the gain, I switched the input pad to -20dB to keep the high-gain signal from the effects unit from clipping. Then I was able to set the input gain as well as adjust the volume of the signal in my headphones for monitoring.
My first take at the electric guitar part was pretty ragged. Fortunately, it's easy to do retakes. All you have to do is start recording again. The monitor will show Take 2 as soon as you hit "record." You can record up to 99 takes in overdub mode, giving you plenty of opportunities to nail your performance. Fortunately, it only took me three.
After I nailed my third take, I played back my song. I was really excited, both by how easy it was to accomplish this with the H6 and also by how good it sounded. Not that my playing was so fantastic, but the sound quality of the recording was excellent. I was recording in high-resolution 24-bit/48kHz WAV files, the same high-resolution format that many studios use.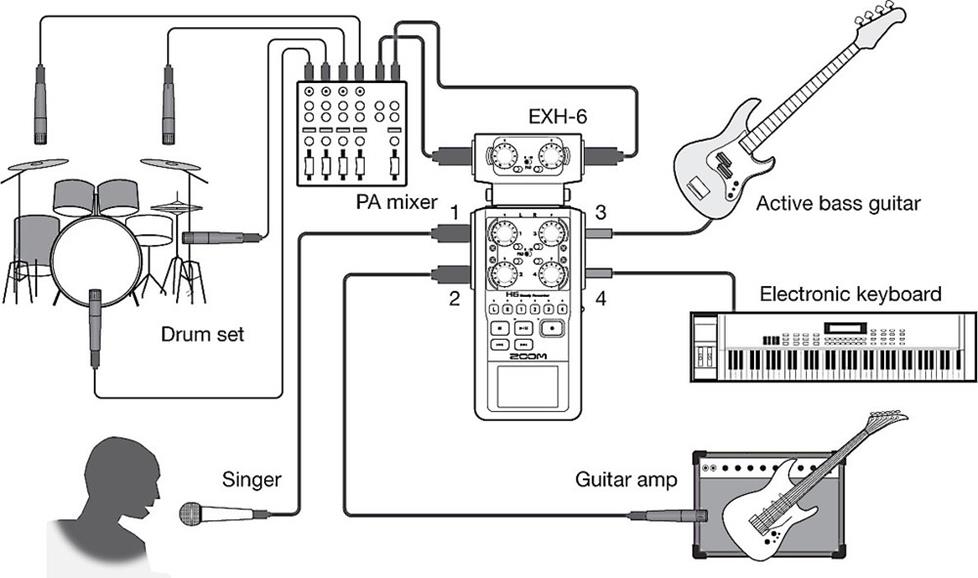 With the optional EXH-6 XLR/TRS capsule, you can connect up to 6 balanced cables for recording a full band in the studio.
Mixing and editing songs
When the recording process is complete, there are two ways to edit and mix your work with the H6. You can do it on the H6 itself using the built-in mixer and editor. Or you can use the H6 as an interface for your computer using the included Cubase LE software as your digital audio workstation.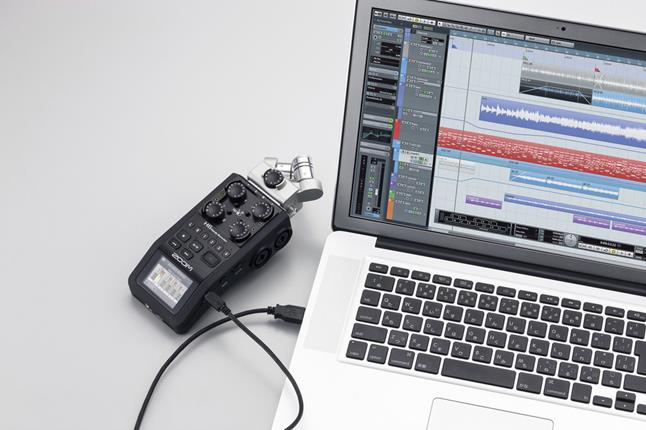 Connect the H6 to your computer to use it as an audio interface with the included Cubase LE recording and mixing software.
The H6's on-board editing consists of trimming the beginning and end off your song to eliminate false starts or extra seconds of silence, as well as adding marks and dividing projects. The on-board mixer offers level control, stereo panning, and pitch control (half-step increments) as well as a low-cut filter, compression, and a limiter. I mixed my song on the H6, bumping up the level of the electric guitar, while using the pan function to move it slightly to the right. I then moved the acoustic guitar slightly to the left, which really gave the performance a more full and polished sound.
Using the H6 as an audio interface with Cubase LE opens up a near endless amount of editing and mixing options. I experimented with Cubase a bit, just to get a feel for its capabilities. It's a full-fledged digital audio workstation capable of recording up to 48 tracks of audio. It's more than I needed for my simple two-track song, but if you're producing more sophisticated songs or simply prefer mixing on a computer rather than the H6, Cubase LE is an incredibly valuable tool.
Create songs on your iPad®
If you have an iPad, you can also use the H6 as an interface with GarageBand®. Use Apple's camera connection kit to connect the H6 to your iPad. After making the connection to my iPad, I opened up Garage Band, recorded a quick acoustic guitar part using the Guitar Amplifier interface. Then I could select an amp model from GarageBand's list and voilà, I had a pretty cool sounding electric guitar part, which I used to build a groove around using GarageBand's virtual instruments. This would be an easy portable setup for composing songs.
The bottom line
The more I dove into the Zoom H6, the more impressed I was with its many functions and features. Ultimately, my ability to easily create a great-sounding multi-track recording using my guitars was eye-opening, and a great deal of fun. In the course of half a day, I went from never having picked up the H6 to recording a song, editing and mixing, and mixing down to an MP3. Then I transferred the song to my MacBook®, added it to iTunes® and played it over AirPlay through my living room stereo to impress my kids with my talent. Usually, they're indifferent toward my musical abilities. But hearing my performance blaring through my in-wall speakers with pro-quality sound was enough to elicit a rave review: "Wow, that sounds pretty good, Dad."