A powerful tool from Clarion
The slick user interface makes choosing menu items a breeze — scroll through the icons with a swipe of your finger, or arrange them in an overhead "carousel" mode. The icons grow larger as you scroll toward the center, making it even easier to tap the screen and get where you want to go. You can also personalize your home screen with shortcuts to the programs you use most often for maximum convenience.
A powerful tool from Clarion
You can do a lot with the ClarionMiND Mobile Internet Navigation Device — surf the Internet, get directions, play movies and music, and much, much more. You'll enjoy the benefits of many devices in one sleek, portable package. Stow it in your bag when you go on vacation, check e-mail at the coffee shop, or compare prices while you're shopping at the mall. And you can access all this powerful functionality with just three simple buttons and a 4.8" LCD color touchscreen.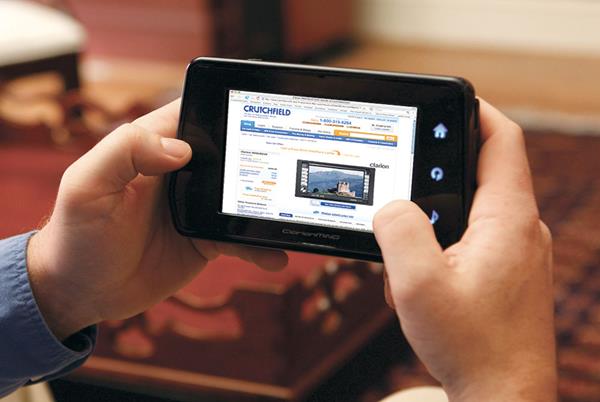 ---
Personalize your screen
The slick user interface makes choosing menu items a breeze — scroll through the icons with a swipe of your finger, or arrange them in an overhead "carousel" mode. The icons grow larger as you scroll toward the center, making it even easier to tap the screen and get where you want to go. You can also personalize your home screen with shortcuts to the programs you use most often for maximum convenience.
---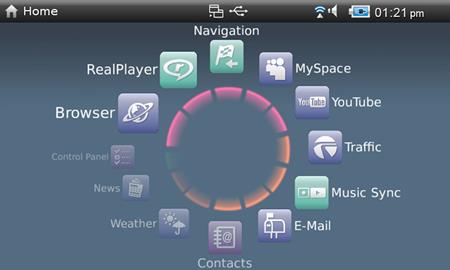 Entertainment at your fingertips
Play your movie and music files, view photos, watch YouTube™ videos, or play online games with the ClarionMiND. Built-in RealPlayer™ is compatible with most file formats, and gives you almost DVD-quality playback. Connect a gamepad to one of the USB slots to play games, or show everyone pictures of your vacation from a thumb drive. Unlike some other portable devices, you get a large, bright screen that's easy on the eyes.
Use the Music Sync application to access your MP3 files from anywhere you have Internet access. Your tunes are stored on a remote server, so you can synch them to the ClarionMiND any time you're online.
---
Built-in computer processor and Linux operating system
Your web pages will load quickly and movie files will play smoothly, thanks to a robust 800 MHz Intel® Atom™ processor, a user-friendly Linux operating system, and 512MB of RAM. You can even connect to the Internet on the road, using your Bluetooth® cell phone as a modem with your wireless data plan. A USB input lets you access files from or copy files to a thumb drive. You also get additional computer functions like an address book, file manager, calculator, and PDF viewer.
---
Wireless Internet access
With the ClarionMiND, you can surf the Internet in any Wi-Fi® hotspot or over your home wireless network, while you view full web pages on its large 800-pixel wide screen, minimizing the need to scroll left and right. You'll find popular web applications like MySpace™, YouTube, weather, news, and e-mail built right in. On the road away from a Wi-Fi hotspot, you can use your Bluetooth®-enabled phone and data plan to access the Internet.
---
Find your way with GPS navigation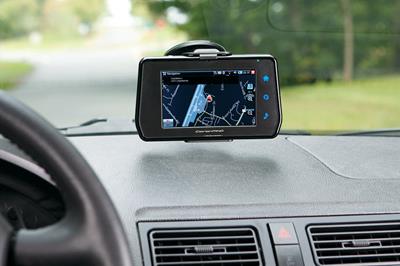 The ClarionMiND gives you turn-by-turn map and voice guidance as you drive, and you'll see maps of the entire U.S. and Canada clearly on the big touchscreen. You'll hear street names called out as you follow directions to your destination. A Traffic.com widget displays traffic jam info, so you won't get caught in the latest pile-up. Split-screen mode lets you keep an eye on the weather, news, your music, and other information as you navigate. You can mount the ClarionMiND on your car's windshield or console with the included cradle.
You can access powerful destination searches by connecting to the Internet. The ClarionMiND links with Google™ Maps to provide you with a wealth of information when you're looking for a place to eat, shop, or relax. You can narrow your search for a specific type of location or include as many options as you want — Google Maps can help you find what you're looking for.
READ LESS
Product highlights:
mobile Internet device with GPS navigation
suction-cup windshield mount and dashboard disk
car and home power adapters, stylus pen, and rechargeable small battery pack with up to 1.5 hours of life
Navigation features:
4.8" WVGA (800 x 480 pixels) touchscreen display
preloaded with maps of the entire United States and Canada
unlimited points of interest with Google Maps
Entertainment features:
built-in RealPlayer for video, music, and photos (many file types supported)
headphone jack and built-in speaker
Computer and Internet features:
Linux Kernel 2.6.22.18 operating system with Intel Atom processor
512MB RAM
4GB SSD flash memory
built-in Firefox-based web browser
widgets (one-touch icons) for YouTube, MySpace, weather, and news
Expandability:
Bluetooth 2.0 technology
integrated Wi-Fi technology
microSD™ card slot (supports up to 2GB)
USB 2.0 port
Other features and specs:
dimensions: 6-3/4"W x 3-13/16"H x 1-1/16"D
weight: 11.4 oz. with battery pack
warranty: 1 year
MFR # NR1UB
What's in the box:
Mobile Internet navigation device with black chassis
Rechargeable Li-ion battery pack (7.4VDC/850mAh)
AC adapter with attached 6' DC cord
North American AC plug
Cigarette lighter adapter with attached 5.5' DC cord
Mounting bracket
Suction cup mount
Adhesive disc mount
Stylus Pen (installed on back of unit)
Screen protector
Quick Start Guide (English/Spanish/French)
Warranty sheet
ClarionMiND reviews
Average review:
Thanks for submitting your review
Most reviews are processed and published within 5 business days. You will receive a confirmation email once your review has been published.
Customer photos
More details on the ClarionMiND

Researched by Crutchfield's

Research Team
Product Research
System Features
Navigation Features
Entertainment Features
System Features
Overview: The ClarionMiND is a mobile terminal that is equipped with various navigation functions and entertainment functions that are capable of accessing and using the Internet. The ClarionMiND is a Navigation plus Internet-Based Entertainment device that provides GPS navigation, and with Wi-Fi or Bluetooth-enabled cell phone, the Internet can be accessed via a full browser anytime and anywhere. It can connect to a network via Wi-Fi or a supported Bluetooth terminal for simple Internet access. The ClarionMiND is a multifunctional mobile terminal you can enjoy using both inside and outside your vehicle. The ClarionMiND intuitive interface allows you to navigate the real-world and the unlimited possibilities of the Internet at the touch of your finger.
Intel Atom Processor: The ClarionMiND is powered by Intel's smallest processor - the Intel Atom 800MHz Processor - which packs an amazing 47 million transistors. Despite its small size, it is powerful enough to deliver a full range of Navigation and Internet services and many useful applications.
4GB Flash Memory: The unit's navigation and internet applications are stored on the ClarionMiND using its built-in 4GB SD flash memory. Additional software and map updates can be downloaded to the unit using its wireless internet connection and USB port.
4.8" WVGA LCD Touchscreen: The ClarionMiND offers ease of operation along with a highly visible 4.8" WVGA (800 x 480) LCD touchscreen display. The LCD touchscreen display offers a contrast ratio of 800:1 and a vertical/horizontal viewing angle of 160-degrees. This intuitive, simple user interface can be operated while driving simply by tapping and dragging on the screen. Using the supplied stylus pen or your finger to tap or drag objects displayed on the screen makes operation simple. The unit's LCD touch screen also features Day and Night modes as well as offers adjustable brightness levels. The LCD can be set to turn off automatically after 1 to 60 minutes when idle.
HMI (Human Machine Interface): The ClarionMiND provides an intuitive HMI (Human Machine Interface). The graphics for the button size and layout, map design and menus are designed to provide excellent visibility to allow safe operation of the unit's touch screen.
Car Mode/Mobile Mode: ClarionMiND comes with a Car Mode for use in the supplied Standard Cradle or optional Car Dock (NK1U, sold separately), and a Mobile Mode that is used when you are carrying the ClarionMiND with you. These two modes give you maximum utilization of navigation in a variety of situations. All of the unit's applications can be used without restriction when in the Mobile Mode, but when driving (Car Mode), use of certain applications are restricted for your safety.
Car Mode: The special Car Mode interface makes navigating with ClarionMiND while driving safe and easy. The special Car Mode interface was designed for safety and comfort. Installing the standard cradle (included) and Car Dock (sold separately) allows the navigation to start up automatically and switch to a screen that restricts certain functions for increased safety while the vehicle is moving. Supported applications are Navigation, MySpace, News, Weather, Contacts, RealPlayer, Map, Control Panel, Connection, and Portal Sync only. When in the stand cradle, movies cannot be played with RealPlayer. Also, use of any functions related to e-mail and the browser is not supported.
Mobile Mode: The Mobile Mode is for use when using the unit outside of the vehicle. All applications are supported in Mobile Mode. The icon layout can be switched between Slide View and Carousel View, and the icon arrangement order and categories can be changed as well. Enjoy faster access by grouping and displaying the icons of functions used most often.
Software Keyboard: The on-screen software keyboard provides smooth alphanumerical input. You can select the fields for mail or keyboard search and a soft keyboard will appear on the display. Large and easy to use, the keyboard allows you to input navigation destinations and search words.
Calculator: The ClarionMiND is equipped with a calculator that displays up to 12 digits.
Quick Information Keys: The unit's on-screen Quick Information Keys allow you to check information on the home screen without starting up operations. A Quick Information Area is displayed in miniature at the bottom of the home screen. By tapping the four key icons at the edges of the area-News key, Weather key, MySpace key, and Portal Sync key-you can display information from each in real time on the home screen. This "quick function" lets you to check with a simple operation the latest information for weather, news, or any other topic at any time.
Built-In Speaker And Headphone Output: The ClarionMiND features a built-in speaker as well as a 3.5mm headphone to listen to audio from the mobile internet navigation device.
USB Port: The ClarionMiND features a USB port (USB type-A) for playback of audio and video files from your USB mass storage device, as well as downloading map and software updates. Note: The mini-USB port located below the Type-A USB does not function, and will be used for future expansion.
Multi-Language Compatible: The ClarionMiND can be set for three languages: American English, Mexican Spanish, and Canadian French.
Password Protection: Use the Password Protection setting to specify whether or not input of a password is required when starting up the unit.
Application Manager: You can use Application Manager to update, add, and delete applications. Applications can be updated and added from Clarion's portal site (my.clarion.com).
Car Mount: The ClarionMiND comes supplied with a suction-cup car mount which allows you to the mount the unit on your front windshield. The car mount allows the ClarionMiND to rotate up/down and swivel left to right. The unit also comes supplied with a self-adhesive disc for mounting the unit on your dash or console.
Power Requirements: The ClarionMiND comes supplied with a rechargeable Lithium-ion battery, AC adapter, and Car adapter for operation. The included AC adapter and Car adapter can be used to recharge the supplied Lithium-ion battery. The Lithium-ion battery takes up to 2.5 hours to full charge and lasts up to 1.5 hours when in use and 24 hours in Sleep mode. You can set the unit to turn off automatically after 1 to 60 minutes when idle.
Navigation Features
GPS System: The unit has a built-in GPS antenna, which means it can be used as a portable navigation unit. It can be used for navigation while walking, driving, or any other means of transportation. The system uses a 32ch GPS receiver and a high-accuracy internal GPS antenna to specify the present location and accurately navigate you to your destination. The unit also features an external GPS antenna port.
US and Canada NAVTEQ Maps: ClarionMiND is a navigation system with built-in NAVTEQ maps of the US and Canada to help guide you accurately to your destination. The ClarionMiND uses 2D (heading or North up) and 3D (heading up) map views. The map scale can be freely changed from 10 yds to 400mi to allow you to quickly find the destination. You can select 10yds, 25yds, 50yds, 100yds, 200yds, 400yds, 750yds, 0.75mi, 1.0mi, 2.5mi, 5.0mi, 10mi, 25mi, 50mi, 100mi, 200mi, and 400mi. The zooming movement is smooth and you can return to the standard 300yds display with one touch.
Destination Search: The ClarionMiND is equipped with a powerful and adaptable search function that enables you to search for a destination based on city, street, longitude, latitude, and type, as well as use POI in Google Maps.
Enter New Destination: This is a basic destination search using city (middle or intersection), street, coordinates, latitude and longitude.
Points Of Interest: This is a destination search performed from categorized POI categories. You can use the procedure below to search for a facility in a menu list grouped by genre. All navigation points of interest (POIs) usable for navigation are included in the menu list
Downloaded POI: Previously downloaded destination information can be used to set the destination. A POI that you find on Google Map using your computer or the unit browser can be used as a destination. First, search for the POI and use the Google Map transfer function to send it to the Clarion portal site. Then tapping the Portal Sync key will store the POI you send to the Clarion portal site to the navigation Downloaded POI database automatically.
Contacts: You can navigate to a saved contact in your address book.

Last Locations: This feature lists all past destinations. This feature is only available when there are four or more past destinations.
Google Maps: The Google Maps you are comfortable with for destination searches and the ClarionMiND navigation system are linked using the Google Maps function. This not only provides an efficient process for setting a pinpoint destination search, it also allows use of the navigation using a POI search, which expands the range of peripheral and related information. In addition to address search, such as city, street and coordinates, and genre search, such as facility category, you can make destination searches more effective by linking with Google Maps to easily set a large number of points of interest (POI). These different searches can be used not only when driving but also for navigation when walking or riding a bicycle or motorcycle.
Routing: When setting the route using the ClarionMiND, you can set conditions such as route calculation type and vehicle, congested traffic and road settings. In addition, you can also use flexible route settings depending on the circumstances, such as setting detours while driving and simulating other routes.
Routing Options: Type of vehicle (Car, Pedestrian, Bicycle, Motorcycle), Route type (short, fast, economical), Use or Avoid (Ferries, Highways, Toll Roads)
Cross Border Routing: Routes that cross national borders (US and Canada) are displayed without being cut off at the border. This allows you to take trips without having to take the trouble to reset the settings.
House Number Routing: If you use a house number to specify the destination, a detailed map showing the area immediately around the destination is displayed and door-to-door route navigation becomes possible.
Optimize, Edit, and Save Set Routes: The set route can be edited and saved. In addition, Optimize Route can be used to plot a shorter and more efficient route than the current set route.
Avoid Route: You can manually block certain segments on the upcoming route from your current location, and have the system produce a substitute detour route that avoids the blocked segments.
Route Information: Route information shows important information about the currently set route, and also can be used to perform a route simulation and to perform calculation to a different route.
Directions: Starting route navigation (either a new destination or a save route) enables the use of directions, which let you know which roads to use to arrive at the destination. As with distance, all route information is displayed in a list on the Directions screen. This provides a preview of the planned route.
Visual and Audio Guidance: Audio and visual route guides, route simulation, optimization and other features are support features of the ClarionMiND that help you arrive at your destination smoothly and safely.
Voice Guidance and Text to Speech: The ClarionMiND utilizes Text-to-Speech guidance using its built-in speaker to help you navigate you on your way while keeping your eyes on the road. You can choose from English, Spanish, or French.
Automatic Zoom: Immediately before an intersection, the display automatically changes to an easy-to-view detailed scale.
Visual Lane Guidance: A guidance arrow points in the direction of travel and guides you through lane changes. In addition, a variety of travel visuals are provided to let you use the display that is easiest to view depending on the circumstances.
Speed Limit Guide Setting: The route speed limit is displayed on the map. The navigation system sounds an alarm only when speed limit for the selected portions is exceeded.
Navigation Simulation: You can conduct simulation driving to check the set route and how much time will be required. A simulated run displays guidance on the map screen, and simulations of all driving operations are performed. Route guidance is conducted in real time based on the speed limits intrinsic to the map areas. Driving operations are provided visually on the screen, as instructed by navigation voice guidance. Route optimization allows you to make adjustments to make the route guidance for the currently set route more efficient.
Save Routes: You can save frequently used routes so you can recall them quickly.
Go To Screen: You can use this screen while route guidance or route planning is being performed to display a route overview and the destination area, or to display your current location or route planning start point.
Overview: Displays an overview of the calculated route from the current location or the start point. If there are multiple destinations, each one is assigned a number. The route between the current location or start point and the destination is displayed in purple.
Current Location: This function finds the corresponding road in the vicinity map from the direction the vehicle is traveling and other information using the high-performance current location correction function (map matching) and then recommends the correct current location.
Starting Point: Displays the route setting start point.
Destination Area: This displays a map of the area around the destination.
Turn Icon Screen: The turn icons shows the current or next driving operation in real time. The following information is provided.
The current bearing is indicated by an arrow icon. The icon display changes automatically when the next driving operation is approached.
The status bar to the left of the arrow icon indicates the distance until the next driving operation. The status bar changes as the driving operation is approached.
The road you are traveling on is shown at the top of the screen.
GPS Plot Tracking: The current route is recorded from the moment that your route begins when activated. The record is cleared when Trip info screen information is reset and when this setting is changed to deactivated.
Compass Screen: The current location is displayed as a compass readout, with the bearing, latitude, and longitude updated in real time in accordance with received GPS signals. GPS reception quality is converted to a value and displayed in the HDOP field. The number of satellites whose signals are currently being received is shown under the satellite symbol. The information bar at the bottom of the Compass screen shows the road you are traveling on and other information.
Trip Information Screen: This screen shows the maximum speed, average speed, travel distance, and driving time. Tapping the [Reset] key when route guidance starts will reset trip information to zero and restart it. Trip information values are reset automatically when there is no valid GPS information acquired within two hours.
Optional Real-Time Traffic Info (RDS-TMC): If you place the ClarionMiND in the optional Car Dock (NK1U, sold separately) and use navigation in the Car Mode, you will have access to helpful traffic information. Avoidance settings and guidance will be reflected in the route calculation and route display in accordance with traffic conditions. Traffic information is provided in real time and can be set to automatically update the navigation settings. The Car Dock comes with a lifetime subscription to RDS-TMC.
Entertainment Features
Internet Connection: You can connect the ClarionMiND to the Internet via WiFi (wireless LAN access point) or via dialup connection using a Bluetooth-enabled mobile phone with an Internet subscription.
WiFi (Wireless LAN Access Point): A wireless LAN access point connection (IEEE 802.11 b/g) to a network is required for the unit to access the Internet and to use e-mail. Network connection settings need to be made only once, the first time you connect. You can assign a name to the currently connected access point and save it. The next time you want to use the access point to connect to a network, simply select it on the profile list.
Bluetooth-Enabled Cell Phone: When you are in an area where Wi-Fi connection is not possible, you can use a Bluetooth-enabled cell phone with an Internet communication plan enabled to establish a dialup connection. In order to establish a dialup connection, you must pair the unit with the Bluetooth-enabled cell phone. Note: The ClarionMiND does not perform Bluetooth hands-free calling or audio playback.
Web Browser: The YouTube application lets you view the YouTube video sharing site on the Internet. Submitted videos are listed by category, and can be selected for viewing. The Browser application makes it possible for you to browse websites on the Internet. ClarionMiND has a full, highly functional browser that features ease of operation for mobile use. Using the Firefox-based web browser, you can navigate the Web the same way you do on your PC. Find where you want to go, such as restaurants, concert venues and shops by checking the information on the Internet. Inputting the search string into the key word input bar lets you search using Google or other search engines without having to directly access the site. The unit's web browser is compatible with Flash Player 9.
YouTube: ClarionMiND is equipped with a unique browser specialized for using YouTube in a mobile environment. The YouTube icon on the Home Screen gives you one-touch access to one of the world's most popular websites (you do not need to activate the browser). Now you can enjoy videos wherever you are. A video list is displayed when YouTube is opened. Use the keys at the bottom of the screen to switch to the latest video list to find a video you like. The easy to view and operate YouTube viewer displays thumbnails so you can use buttons like Featured, Most Viewed, Related and Most Discussed videos, to quickly view the videos you want to see. The ClarionMiND YouTube browser features a unique function called Auto Playback. This function continuously plays related videos automatically. This gives you a new way to enjoy YouTube by watching a series of videos in a genre you like.
Note: Video cannot be submitted from this unit, only transferred to the unit.
MySpace: With the MySpace application, you can display information from the MySpace Internet social network service (SNS). ClarionMiND features a unique MySpace browsing function that is convenient to use when you are driving or walking. ClarionMiND has convenient, built-in functions that allow use of the primary MySpace functions without activating the normal browser, including rapid access to the quick information area with the latest information.
MyScreen: The following information can be viewed on MyScreen after login:

Portraits: photos of members and their on-line status.
Current Alert Area: Displays a message when mail arrives from a friend or a blog is updated.
Bulletin List: Tapping this displays details of bulletin messages.

Friend List: In addition to confirming the on-line status of friends, users can access the latest blog posts and photos from all of their friends.
Mail: This lets you send and receive messages with friends, with a list of mail messages and details about each one.
Photos: You can view and use details of the Photo Album. You can choose Large View or Slide Show for the photo display, and attach comments to the photos that you view from the friend screen.
Notification Message Bar: When there are notifications to MySpace, including new messages, friend requests, blog comments and picture comments, messages are automatically displayed with a sound effect in the notification bar in the upper part of the screen, even when another application is activated.
Note: The browser is used when using the complete MySpace functions. Membership registration is required to use MySpace.
Weather Channel: The weather data is provided by The Weather Channel Interactive, Inc. by accessing The Weather Channel Interactive, Inc. website to obtain and display the weather information for the specified location. Activating the weather application will display meteorological information for 5 days. This is convenient for checking the weather both where you live and where you're planning to go on a drive. Meteorological data is provided by The Weather Channel and updated hourly. One day's weather information for a designated area is displayed in the Quick Information Area of the home screen. The Weather information function offers the following features:
Current Weather: Displays the current weather information for registered locations to make a quick check of weather conditions. This screen displays Current date, time and day; Location name (city); Current weather; Current Temperature; Forecast temperature high and low; and Weather information data acquisition date and time.
5 Day Forecast: You can check the weather information for 5 days by opening the Weather application. You can switch between registered cities to view their corresponding weather information or update the displayed content with the latest information.
Registered Cities: You can register up to 4 cities. You can also select cities from a list of cities that have been registered in the past.
News Channel: The latest news is shown in the Quick Information Area of the home screen and updated every 60 minutes. In the NEWS, 10 categories for both BBC and CNN Website are preset, and you can receive the information which you like by setting 5 favorite categories beforehand.
CNN News Categories: Top Stories / World / U.S. / World Business / Entertainment / Technology / Science & Space / World Sport / Travel
BBC New Categories: News Front Page / UK / Business / Entertainment / Technology / Health / Sports / Radio / World / Science / Nature
Email: The E-mail application can be used to send and receive e-mail. The ClarionMiND comes with e-mail software compatible with all the major mail protocols, including POP3 and SMTP. Input is easy using the unit's on-screen keyboard. You can register multiple e-mail accounts, enabling you to send and receive emails separately as required for personal or business use.
Note: The first time you start up the E-mail application, you will need to set up an e-mail account. You can set up multiple e-mail accounts as required.
Contacts: The Contacts application provides you with an address book. Contact information can be used in the Navigation and E-mail applications. Registering your address, phone number, and e-mail address in your address book enables you to smoothly link functions by activating Navigation from the Contacts screen, inputting the settings for your destination, and sending e-mail.
RealPlayer: The RealPlayer application can be used to play music and movies, and to view photographs. It can playback data stored in unit memory, in USB memory, or on a microSD card. The ClarionMiND comes with its own built-in RealPlayer browser that allows you to access your favorite music, movies and photos any time at all when you are walking around. Insert it in the Car Dock (sold separately) and audio will be output from your car speakers to provide background music for your drive. The unit's built-in RealPlayer software is compatible with Micro SD card and USB memory sticks. The ClarionMiND supports the following file formats - mp3, mp4, mpg, mpeg, rm, ra, rv, rmvb, aac, ac3, ogg, wav, wma, wmv, 3gp, jpg, jpeg, png, gif, bmp. The ClarionMiND offers the following playback features of these files:
Audio: The unit offers category lists like Now Playing, Artist and Album to bring up the playback screen and display artist names and album and song titles. The playback screen shows the artist name, album name, and track name. The progress bar moves from left to right in accordance with the track play time. You can drag the progress bar to any position and continue playback from there. You can select random or repeat for playback, or even use other applications while playing music.
Photo: You can select the still image folders you want to view and they will randomly display the photos in that folder. With random display, you can drag photos to change their location and switch to a row display. You can also rotate images 90-degrees to left up to 270-degrees.
Movie: You can play movies by selecting one of the playback files from the list of video files on your inserted micro SD card or USB memory stick. The progress bar moves from left to right in accordance with the movie play time. You can drag the progress bar to any position and continue playback from there.
File Manager: File Manager also lets you classify and manage music, video and photo data. The registered data can be displayed in the folder list. ClarionMiND provides file management, allowing you to search for, move, copy, delete, or change the names of files in the directory file within the ClarionMiND folder. In addition to ClarionMiND file management, connecting to a USB / micro SD device automatically activates File Manager, which makes it possible to manage files saved to USB / micro SD devices, such as USB memory cards and micro SD cards. Use this to manage documents and PDF files, as well as music, videos and photos that can be reproduced using RealPlayer.
PDF Reader/Viewer: The ClarionMiND offers PDF file viewing capability. You can use the PDF Reader application to browse PDF files. PDF files can be opened in the File Manager or the Browser. You can use touch operation to change the display location by dragging it across the screen. Long-pressing the screen gives you the full-screen display.
Note Pad: You can create simple documents using Note Pad. In addition to creating and editing sentences, you can use the text editor for search and replace, selecting fonts, and setting the Word Wrap and Auto Indent functions.
Portal Sync: You can continually upgrade and extend the ClarionMiND capabilities. You can use a wireless Internet connection to go to the Clarion portal site, MyClarion (my.clarion.com). The Clarion portal site is periodically updated with information required for using this unit and with other helpful information. In addition to accessing useful information, the Clarion portal site all provides you with the following services.
Content download
Online store
Support (Q&A)
User manual downloads
Additional application downloads
Note: Unit must be in Mobile Mode to register unit. After purchasing this unit, be sure to first visit the portal site and register as a user.