The second generation of the best-selling plug-and-play satellite radio receiver around is here! And Delphi's SKYFi2™ adds more spectacular features to help you enjoy the endless programming variety of XM Satellite Radio at home and on the road!
The second generation of the best-selling plug-and-play satellite radio receiver around is here! And Delphi's SKYFi2™ adds more spectacular features to help you enjoy the endless programming variety of XM Satellite Radio at home and on the road!
The SKYFi2 features a built-in FM transmitter which can broadcast XM directly to your vehicle's FM radio. The receiver's TuneSelect™ feature can save the names of up to 20 songs, and alert you when any one of them is playing on XM. You can create a scrolling stock quote list (up to 20 stock symbols), and select from more scrolling options, such as sports scores.
Even better — the SKYFi2 records the last 30 minutes of whatever it's tuned to. If you have to leave the room, just pause the live broadcast, so you don't miss a thing. You can also listen to any of the recorded material again, then jump back to the real-time broadcast. (The memory resets when you turn the receiver off.)
You can search by channel number or category using the rotary dial, and program up to 30 presets. In addition to TuneSelect, you can save up to 10 artist names and song titles for reference the next time you go shopping for music. The receiver also allows you to listen to one station while you preview the programming information on others, displaying five channel numbers and names while you're searching.
The basic package includes the receiver and a wireless remote control only. For the system to work, you'll also need to order a car kit, a home kit, or Delphi's innovative, portable Audio System boombox (or all three, if you'd like to use the receiver in multiple locations without having to get multiple subscriptions). The SKYFi2 works with all existing SKYFi kits and boomboxes.
The kits allow you to hook the receiver up to your car or home stereo system, and include everything you need to receive the XM signal. The Audio System boombox integrates stereo speakers, a high-gain XM antenna, and a dock for the SKYFi™ receiver, and lets you listen to XM everywhere you go.
A subscription to XM Satellite Radio is also required. It brings you digital-quality music, news, sports, and entertainment, anywhere in the lower 48 states. (Service not available in Hawaii, Alaska, and U.S. Territories.)
READ LESS
Product highlights:
package includes tuner and remote control
car kit and/or home kit required for XM reception
built-in FM transmitter (broadcasts to your vehicle's FM radio)
light blue display with adjustable contrast, brightness, and font size
30-minute memory (allows you to pause and review a show)
20-symbol customizable stock ticker, plus scrolling info extras (such as sports scores)
TuneSelect saves the names of up to 20 songs and lets you know when any one of them is playing on XM
five lines of information, including song title, artist, and channel name and number
channel preview — allows you to preview other channels
rotary control
direct numerical key input
30-channel programmable preset memory
10-entry artist name and song title memory
compatible with Delphi's Audio System boombox and CD Audio System AM/FM/CD/MP3 boombox
wireless remote control
4-11/16"W x 2-15/16"H x 1-1/2"D
warranty: 1 year
MFR # SA10101
What's in the box:
SKYFi2 add-on XM Satellite Radio receiver
Wireless remote control
2 "AAA" batteries
Clip for remote
User Guide (English/Spanish)
Quick Guide (English)
Quick Guide (Spanish)
XM Satellite Radio channel guide
Activation/Accessory sheet
Delphi SKYFi2™ reviews
Average review:
Thanks for submitting your review
Most reviews are processed and published within 5 business days. You will receive a confirmation email once your review has been published.
Customer photos
More details on the Delphi SKYFi2™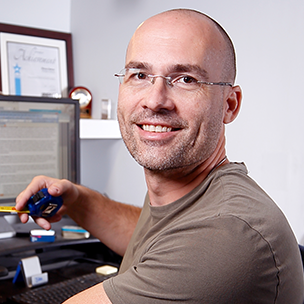 Researched by Crutchfield's

Stacey B.
Product Research
Features
Remote Control
Controls
Connections
Warning Against Aerospace Use
Overview: This Delphi SKYFi2 package includes the tuner and a wireless remote control only. For the system to work, you'll also need a car kit and/or a home kit, or a compatible boombox (see note below). The kits allow you to hook the tuner up to your car or home stereo system, and include everything you need to receive the XM signal. A subscription to XM Satellite Radio is also required.
XM Satellite Radio: XM Satellite Radio programming features over to 130 channels of digital-quality music, news, talk, sports, weather & traffic, entertainment, and children's programming nationwide, many of which are commercial free.
Display: While tuned to an XM channel, the display contains the following information: channel category, channel name and number, artist name, song title, signal strength indicator, and keypad mode (Direct, Preset A, or Preset B). The display has a bright white LED backlight for excellent visibility. The display's brightness and contrast can also be adjusted. In addition to the default display (artist name/song title), you can select the default + stock ticker, default + info extras, and large scrolling artist name/song title display.
FM Modulator: The receiver has a built-in FM modulator that transmits the XM audio signal to any nearby FM radio. You can use the wireless FM modulator in a vehicle, in your home, in an office, or one a boat, using the appropriate kit. The receiver transmits on the following frequencies: 88.1, 88.3, 88.5, 88.7, 88.9, 106.7, 106.9, 107.1, 107.3, 107.5, 107.7 and 107.9 MHz. If you choose not to use the FM transmitter, you can turn it off in the menu.
Adjustable Audio Level: If you find that the default audio level causes distortion, or is too low compared to other sources (CD, Cassette, other FM stations), you can adjust the audio level up or down. Note: This is not a volume control; it should be used to match the level of other audio sources in the system.
30-Minute Replay: The SKYFi2 receiver features a memory buffer which allows you to pause and replay up to 30 minutes of programming. While a song is playing, you can press a button to rewind to the beginning of the current song. Each time the rewind button is pressed, the unit skips backward to the beginning of each song previously played (during the current listening session up to 30 minutes). You can fast forward through songs if you wish to return to the live broadcast. The 30-minute replay feature applies only to the current listening session; the buffer is cleared when the unit is turned off.
Stock Ticker: The SKYFi2 can track up to 20 of your favorite stocks, displaying the price and daily movement on the screen. The unit has an embedded list of more than 9000 regularly traded stock symbols. Any stock symbol and most indices listed on the NYSE, AMEX or NASDAQ can be tracked. The market data is delayed approximately 25 minutes, and is provided by Comstock, Inc.
Info Extras: XM Satellite Radio will broadcast additional information such as sports scores and other useful information from time to time. To view the most recent list of available information, you can press the Menu button on the unit.
Tune Select: The unit's Tune Select feature notifies you when a favorite song or artist is playing on a channel other than the one you are currently listening to. You can choose to search for songs either by song title or by the artist's name. Tune Select can memorize up to 20 songs or artists.
Auto On: Normally the receiver turns on whenever it receives power. If it is wired to a power source that is constantly on, you can disable the Auto On function.
Auto Off: You can set the SKYFi2 to automatically turn off 15 minutes to 3 hours after your last input or action. This feature is helpful if the unit is connected to a constant power source. The Auto Off feature can also be used as a Sleep timer to shut off automatically after a period of time.
Direct Tune: Normally, you can preview artists and song titles on other channels by turning the scroll wheel, and pressing the "XM" button to tune to the desired channel. You can change the tuning method to "Direct Tune", and the receiver will act like a traditional radio or TV dial and change channels as you turn the scroll wheel.
Searching: The SKYFi2 allows you to search channels by category, scan through all the presets, or scan through all the channels.
Direct Entry: Using the numeric buttons on the supplied remote or the face of the receiver, you can directly access XM channels.
Jump: The Jump feature lets you switch between the current channel and the previously tuned channel.
Channel Presets: The receiver can store up to 30 preset channels. They are organized into three different groups, or memory banks, Preset A, Preset B, and Preset C. Each memory bank can store up to 10 channels.
Note On Kit Compatibility: To use the SKYFi2 receiver, you must connect it to the SKYFi2 Vehicle Adapter kit (item # 040SA10102), or the SKYFi2 Home Adapter kit (040SA10103), the Marine Adapter kit or a compatible boombox. The unit can also be connected to the older SKYFi Home Adapter kit (040SA10004 or 040SA50004). It is not recommended for use with the older SKYFi Vehicle Adapter kit (040SA10002 or 040SA50002), because the newer kit was designed to maximize the performance of the SKYFi2.
IR Remote Control: The supplied remote gives you access to all the controls that are on the receiver's front panel, as well as audio mute (except for menu). It is powered by 2 "AAA" batteries (supplied). The package includes a clip that attaches to the remote to allow you to attach the remote to a visor or pocket.
Remote Dimensions: Width=1.589", Length=4.607", Height=0.939"
Receiver Front Panel:
30-Minute Replay Buttons (left arrow, pause, right arrow): use for pausing and replaying up to 30 minutes of live XM broadcast
Scroll Wheel: use the scroll wheel to scroll through and select a channel or a menu option
XM: used to select channels and menu options
Display: displays additional information on screen such as stocks or sports scores
Memory: saves and recalls song information such as artist and song title
Menu: allows you to select and change receiver configuration options
Preset/Direct: switches between Direct Entry, Preset bands A, B, and C
Search: changes search mode between search by category or search by scanning
Jump: switches between current and previous channel
Power: turns the receiver on or off
Number Keys: used to select a channel or channel preset directly
Receiver Bottom Panel:
Cradle/Stand Interface Connection: proprietary connector that interfaces with the vehicle cradle or home stand
Warning: The SKYFi system is not designed for use in airplanes. The receiver produces a level of electromagnetic interference that may negatively affect the instrumentation in planes and cause potentially dangerous situations.
The Delphi SKYFi2™ replaces these items

Adding...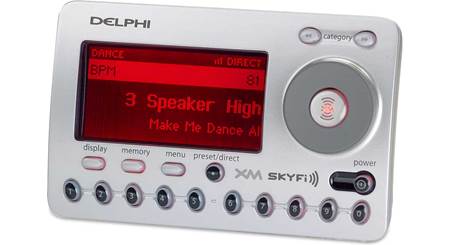 Add-on XM Satellite Radio receiver
Includes XM receiver and remote only
requires car or home kit
five-line display