TEAC NT-505
Dual-monaural DAC/network player/headphone amp with Bluetooth® (Black)
Item # 063NT505B | MFR # NT505B
In Stock

Our VirginiaVA-based experts can help.
Overview
Our take on the TEAC NT-505 by Crutchfield's Jeff Miller
Update to one of my essential listening tools
For the past couple years, I've used a previous generation of the TEAC NT-505 network player as my go-to DAC and headphone amp. My job is to test the latest and greatest headphones, and I've learned that few amps are as compatible with such a wide range of models. The rock-solid NT-505 is even more versatile and powerful than its predecessor.

The TEAC NT-505 features a plethora of connections, including Ethernet for high-res music streaming.
TEAC's all-purpose player is actually several components packed into one compact, full-metal chassis. In addition to the high-end DAC and headphone amp, there's a versatile network player for playing high-res audio formats from a PC or server. You can also stream losless audio, with access to the music services Qobuz and TIDAL — and full MQA support coming soon. The NT-505 can even act as a fully functioning stereo preamp with volume control that can connect to your favorite power amp or active speakers.
Dual-mono design maximizes stereo separation
TEAC upgraded the on-board DAC and used the high-grade VERITA AK4497 DAC chip for this model. These are stereo DAC chips, and TEAC uses two of them to reduce noise and crosstalk. In fact, the NT-505 uses dual-mono circuitry throughout, including beefy twin toroidal power supplies for potent sound and well-defined stereo imaging.
To take advantage of these DACs — and get the absolute best sound quality from the NT-505 — connect its USB input to your computer. This is an asynchronous USB input, which allows the NT-505's DAC to control the timing clock signal instead of your computer. This reduces timing jitter to the lowest levels possible for smoother, more detailed sound. The USB input also supports playback of the widest variety of music files, including high-res PCM up to 768kHz/32-bit and DSD up 22.5MHz.
Several high-fidelity streaming and digital music options
If you choose the convenience of streaming, you won't sacrifice much in the way of sound quality. This player connects to your network via Ethernet. From there you can download the free TEAC HR to your Apple or Android device. It lets you choose music from Tidal or Qobuz on your phone or tablet, while it streams directly through the player's powerful DACs.
The app also gives you access to music stored on your computer or networked hard drive — including your high-resolution files. And with a future firmware update, the NT-505 will be completely compatible with Roon, a service I've called "a music obsessive's virtual playground." This service collects and catalogs your music collection, and serves it up alongside exclusive photos, liner notes, and music recommendations.
Built-in Bluetooth for even more freedom
Want to quickly hear music or another sound from your phone? Not a problem. The TEAC NT-505 also features built-in Bluetooth, so you can play pretty much any audio wirelessly. TEAC included aptX-HD® and LDAC, two advanced forms of Bluetooth audio coding for improved sound quality with devices that support these technologies.
My TEAC headphone amp experience
Here's why I think my experience with the older generation TEAC network player is relevant. First of all, it shares many characteristics with the NT-505. In fact, I use chiefly use it for streaming music, the same way I've described above. It sits right next to my workspace, so I can select pretty much any song on my computer and hear it with grace, warmth, and resolve through the TEAC amp.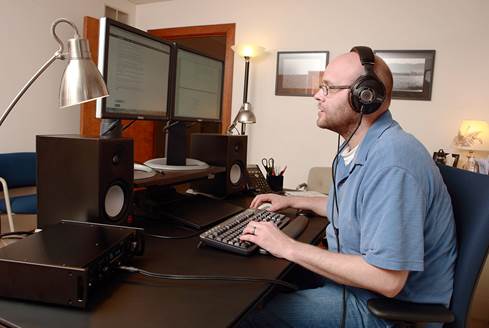 I use an earlier model of the TEAC NT-505 when testing the world's best headphones.
I also wanted to share for another reason. I typically only get a few weeks, days, or moments to form an opinion on a new product. Rarely do I get a chance to give my thoughts on something I've "lived" with for a while.
You could describe TEAC's sound profile as smooth or laid-back, but I consider the network player's signature attribute to be its chameleon-like versatility. It plays to the positives of so many different types of headphones. It works as well with the low-impedance Audeze LCD-4Z as it does with the tough-to-drive Sennheiser HD 800 S 'phones. I've heard it bring the best out of pedestrian headphones, and take truly great headphones to another level.
I'll never forget firing up the MrSpeakers Aeon Flow closed-backs on a lazy sunday morning, and hearing a playlist of 70s Afro-funk just leap out at me. Or the deep-end nuance delivered from the Focal Elegia headphones.
But perhaps the best endorsement I can give for TEAC's heavy-duty workhorse? After 2-1/2 years, I still get excited every time I flick on the front-panel power switch and hear that satisfying snap.
Upconvert your digital music
The sound when playing digital sources "as is" is very clean and spacious, but the NT-505 also has the ability to upconvert digital signals of 96kHz and less to 2X, 4X, or 8X the original sampling rate, to reduce jitter even further. You can even upconvert PCM sources to DSD, which can help take the edge off of many of those harsh-sounding CDs from the 80s. There's also a handful of filter options for fine-tuning the DAC's sound to match your system and listening preferences.
The ins and outs
The NT-505 has six digital audio inputs. In back you'll find the aforementioned Type B USB, an Ethernet port, plus optical and coaxial inputs for connecting a CD/DVD player, game console, or TV. On the front panel there's a Type A USB input for plugging in a thumb drive, and a combo mini coax/mini optical input for use with portable devices.
When it comes to getting music out of the NT-505, you'll find unbalanced RCA and balanced XLR outputs for connecting a wide range of power amplifiers. And you can see in the photo that the connectors are widely spaced to accommodate high-quality interconnect cables. And of course, TEAC included that superbly engineered headphone amplifier.
Product Highlights:
compact all-metal chassis and aluminum panels minimize vibration for clean playback
built-in high-performance fully-balanced drive headphone amplifier with front-panel volume control
plays PCM digital audio sources up to 32-bit/786kHz
plays Direct Stream Digital (DSD) files at 2.8MHz, 5.6MHz, 11.2MHz, and 22.5 resolution natively or via DoP (DSD over PCM)
built-in Bluetooth® for wirelessly streaming music from compatible smartphones, tablets, and computers

aptX® HD, LDAC, and AAC decoding for high-quality music streaming from compatible devices
Network audio player:
requires a wired Ethernet connection to your network router
free TEAC HR Streamer app lets you access music services and control music playback
available for Apple® and Android™
built-in support for CD-quality and high-resolution music services like Tidal® and Quboz (subscription required)

will offer rendering for MQA (Master Quality Authenticated) audio files with future firmware update

full support for Roon software with future firmware update
Audio performance features:
dual AKM VERITA AK4497 32-bit/768kHz digital-to-analog converters for precise playback of digital music files
dual-monaural design to eliminate interference between right and left channels
two high-capacity toroidal core power transformers — one each for the left and right channels
preamp mode with balanced XLR and unbalanced RCA outputs for connection to an outboard power amp or self-amplified speakers
asynchronous USB technology for reduced timing jitter and better sound on USB input
user-selectable upconversion for digital signals of 96kHz or lower (options include 2X, 4X, 8X, and DSD)
Inputs:
rear-panel USB input (Type B) for connecting a computer
front-panel USB input (Type A) for connecting a thumb drive
Toslink optical digital audio input
coaxial digital audio input
front-panel combination mini coax/mini optical audio input for use with portable devices
Ethernet port for wired connection to a home network
Outputs:
unbalanced stereo RCA audio output
full-size 1/4" headphone jack (compatible with headphones with 16-600 ohms impedance)
File compatibility:
Type B USB input supports up to 32-bit/786kHz resolution for PCM; up to 22.5MHz for DSD
Type A USB input supports up to 24-bit/192kHz resolution for WAV and FLAC; up to 5.6MHz for DSD
coaxial input supports up to 24-bit/192kHz resolution for PCM; up to 2.8MHz for DSD
Toslink optical input supports up to 24-bit/192kHz resolution for PCM; up to 2.8MHz for DSD
Ethernet input supports up to 24-bit/192kHz resolution for WAV and FLAC; up to 5.6MHz for DSD
Other info & specs:
TEAC HR Audio Player app required for high-resolution audio playback on Windows and Mac computers (free USB driver download available from TEAC's website)

compatible with Windows® and Mac®

front-panel OLED display shows input signal type and various settings (includes dimmer and off functions)
remote control
frequency response: 5-80,000 Hz (+1 dB/-3 dB)
THD: 0.0015%
signal-to-noise ratio: 110 dB
detachable AC power cable
11-7/16"W x 3-1/4"H x 9-15/16"D
weight: 11.86 lbs.
If connecting to a TV, please make sure you can select "PCM" output in your TV's audio menu. This DAC cannot decode multi-channel Dolby® Digital signals.
warranty: 1 year
What's in the Box:
USB DAC/Network player
6.5' AC power cord
Remote control (RC-1330)
2 "AAA" batteries
4.5" RCA-to-minijack cable
Owner's Manual
Why Shop
With Us?
10 Reasons.
---
Details
Product Research
Audio Section
Variety Of Sources
Convenience Features
Audio Section
Dual-Monaural Circuit & Fully-Balanced Design: A dual monaural circuit configuration is used throughout the TEAC NT-505, from the power supply (including power transformers), to the D/A converters in the digital section and the analogue output stage. From the high-performance VERITA AK4497 D/A converters to the massive toroidal-core power transformers, each element is configured for single channel processing. This prevents mutual interference effects while reproducing a rich acoustic expressiveness. In addition, the analog audio signals of both the left and right channels are processed in full balanced mode soon after the D/A converters all the way to the output terminal, contributing to an improved S/N ratio and extended dynamic range. This allows the fantastic sense of air that Hi-Res formats possess to be processed and conveyed without any loss.
Dual High-Capacity Toroidal-Core Power Transformers: Two over-sized high-capacity toroidal-core power transformers are employed in the NT-505, supplying stable, individual current sources for each of the left and right channels. This means neither channel will be affected by changes in the power consumption of the other during digital processing.
Isolated Digital & Analog Sections: In order to suppress interference between the digital and analog sections, the NT-505 employs an independent power supply and ground circuit, so eliminating cross-interference in the signal path where digital and analog sections connect. A digital isolator is employed at the input section to eliminate noise originating from any connected digital sources, including noise that is generated from the computer via USB, power line and the ground path. This isolation circuit also makes a significant improvement in the signal-to-noise ratio as well as the final sound quality.
Unique TEAC-HCLD Output Buffer Amp Circuits: At the heart of analog section are TEAC-HCLD (High Current Line Driver) buffer amp circuits, designed to enhance current supply. Each channel employs two identical buffer amps that process differential drive for balanced output, and parallel drive for unbalanced output. By increasing the current supply to the buffer amp section, the analog audio signal is passed to the next step without any loss of dynamics.
TEAC-QVCS (Quad Volume Control System): The TEAC-QVCS (Quad Volume Control System) is a precise volume control design incorporated in the pre-amp section. This circuit employs four sets of variable gain-amps controlling volume for left, right, positive and negative (L+, L-, R+, R-). Each variable gain-amp is located on a simplified signal path which helps eliminate interference noise by creating a shorter signal path. In addition, the TEAC-QVCS provides precise volume control in 0.5dB steps in "dB" display mode, or 100 steps in "step" display mode.
Dual High-performance VERITA AK4497 DACs: The NT-505 employs the latest VERITA AK4497 (developed by Asahi Kasei Microdevices) on each of the left and right channels. The AK4497 is the flagship product of the Asahi Kasei Microdevices Audio4pro family, which has been developed for professional audio equipment and high-end digital audio. It is a highly-regarded high-end audio DAC that supports DSD512 (22.5MHz) and 768kHz/32-bit PCM formats, achieving industry-leading ultra low distortion levels. OSRD (Over-sampling Ratio Doubler) technology, meanwhile, significantly reduces out-of-band noise. As a result, the NT-505 has the refinement necessary to make the most of Hi-Res formats, successfully processing information that lies outside the audible range.
DSD & PCM Upconversion: Employing RDOT-NEO (Refined Digital Output Technology NEO), a fluency algorithm that renders digital audio signals smoothly, the NT-505 up-converts PCM digital signals up to 384kHz/32-bit PCM and 24.5MHz DSD. With the up-conversion function activated, you will hear an improvement in quality, even with music that you are familiar with. The relationship between input sampling frequencies and sampling frequencies after upconversion are as follows.
Input Source
Upconversion Setting
Optical/Coaxial
USB
Off
2x Fs
4x Fs
8x Fs
DSD 256
DSD 512
Input Sampling Frequency (PCM)
Sampling Frequency After Conversion
32 kHz
N/A
32 kHz
64 kHz
128 kHz
256 kHz
8.1 MHz
16.3 MHz
44.1 kHz
44.1 kHz
44.1 kHz
88.2 kHz
176.4 kHz
352.8 kHz
11.2 MHz
22.5 MHz
88.2 kHz
88.2 kHz
88.2 kHz
88.2 kHz
176.4 kHz
352.8 kHz
11.2 MHz
22.5 MHz
176.4 kHz
176.4 kHz
176.4 kHz
176.4 kHz
176.4 kHz
352.8 kHz
11.2 MHz
22.5 MHz
N/A
352.8 kHz
352.8 kHz
352.8 kHz
352.8 kHz
352.8 kHz
11.2 MHz
22.5 MHz
N/A
705.6 kHz
705.6 kHz
705.6 kHz
705.6 kHz
705.6 kHz
11.2 MHz
22.5 MHz
48 kHz
48 kHz
48 kHz
96 kHz
192 kHz
384 kHz
12.2 MHz
24.5 MHz
96 kHz
96 kHz
96 kHz
96 kHz
192 kHz
384 kHz
12.2 MHz
24.5 MHz
192 kHz
192 kHz
192 kHz
192 kHz
192 kHz
384 kHz
12.2 MHz
24.5 MHz
N/A
384 kHz
384 kHz
384 kHz
384 kHz
384 kHz
12.2 MHz
24.5 MHz
N/A
768 kHz
768 kHz
768 kHz
768 kHz
768 kHz
12.2 MHz
24.5 MHz
Notes:

The maximum upconversion 8x Fs.
Certain values are not converted which are reflected in the above chart.
Upconversion is not possible when the input is DSD.
During MQA Playback, 4x FS upconversion will be used regardless of setting.
Digital Filters: On the NT-505, there are two types of DSD filters and another five types of PCM digital filters, as well as an Off filter, allowing you to apply the filter that best matches the file format or type of music you're listening to. The filter can be changed at the touch of a button on the remote control, allowing you to enjoy the different sonic nuances of each filter.
PCM Filters:

Sharp Roll Off: FIR filter with a steep roll-off that sharply cuts signals outside the audio band
Slow Roll Off: FIR filter with a slow roll-off that gently cuts signals outside the audio band
Short Delay - Sharp: short delay filter with a steep roll-off that sharply cuts signals outside the audio band
Short Delay - Slow: short delay filter with a slow roll-off that gently cuts signals outside the audio band
Low Dispersion: short delay filter with low dispersion that cuts signals outside the audio band

DSD Filters:

Narrow: cut-off frequency of 39kHz (at 2.8M), 78kHz (at 5.6M), 156kHz (at 11.2M) or 312kHz (at 22.5M)
Wide: cut-off frequency of 76kHz (at 2.8M), 152kHz (at 5.6M), 304kHz (at 11.2M) or 608kHz (at 22.5M)
Note: When receiving signals at 352.8kHz or 384Hz, the digital filter will be disabled during playback regardless of this setting.
Symmetrically Laid Out Balanced (XLR) & Unbalanced (RCA) Output Jacks: The NT-505 is equipped with both balanced XLR and unbalanced RCA analog audio outputs. A pair of balanced XLR connectors and another pair of unbalanced RCA connectors, each gold-plated, are symmetrically laid out, hinting at the dual monaural arrangement inside, and allowing a wide range of possible audio configurations. A wide-spaced pitch layout for the RCA outputs accommodates professional grade plugs with large-diameter shells.
Ground-Separate Headphone Output: Applying TEAC-HCLD (which comprises four output transistors in each of the left and right channels) for headphone amplification, the NT-505 delivers excellent sound quality via a conventional 1/4" stereo TRS jack. Furthermore, by driving these transistors in parallel when a single-ended headphone is connected, stronger driving power than conventional single-ended headphone amps provide can be delivered to the headphones. In conventional headphone listening, it is configured to operate in Class-A, despite nominally being a Class-AB amplifier. The NT-505 allows you to bring out the potential of any type of headphones including 600Ω high-impedances. Moreover, the ground-separate drive mode completely separates the grounds of the left and right channels from the amp section to the output jacks. Channel separation, which is crucial for headphone listening is significantly improved, achieving a clear soundstage with good transparency.
Maximum Output: 500mW + 400 mW (into 32Ω)
Supported Impedances: 16 to 600Ω
Full-Metal Body: The TEAC NT-505's full-metal chassis is wrapped from both sides with 8mm-thick aluminum panels, while a center beam connects the front and rear of the chassis. These features prevent twisting and bending to produce a strong and stable body. The NT-505's full-metal body construction is effective against external noise and suppresses the penetration of electromagnetic noise emitted by computers and other devices. This helps to produce a clean internal environment with low noise even when the surroundings are hostile to audio equipment.
Variety Of Sources
Network Audio: Connecting to your home network via a RJ-45 Ethernet (LAN) cable, the NT-505 allows you to access Hi-Res music libraries on available music servers and computers (via UPnP), as well as hundreds of millions of CD-quality tracks on the Internet via music subscription services like TIDAL and Qobuz. The NT-505 is also a Roon Ready product (requires future firmware update) that enables Hi-Res audio streaming thanks to its high-performance D/A converter. Access, playback, and control of network audio requires the TEAC HR Streamer app (for Apple iOS 8.0+ & Android OS 4.0+).
Note: The NT-505 is only equipped with a hardwired Ethernet jack and not built-in in WiFi for a network connection. However, you will still need a WiFi-enabled router to use the TEAC HR Streamer app.
Asynchronous USB-B Input + TEAC HR Audio Player: Together, the NT-505's asynchronous USB-B 2.0 input and the TEAC HR Audio Player software (for Windows & Mac) supports high-quality audio playback of a variety of music files from your desktop computer or laptop. The NT-505 and TEAC HR Audio Player software supports playback of high resolution audio files such DSD (up to 22.5MHz/1-bit) and PCM (up to 768kHz/32-bit), as well as ALAC (up to 384kHz/32-bit), AIFF (384kHz/32-bit), and MP3 (32-320kbps). Simply download the TEAC HR Audio Player software from TEAC's website onto your compatible Windows PC or Mac computer, connect the NT-505 into your computer via USB, and start enjoying your high resolution music files on your computer through your home audio system.
Onboard Clock: Instead of referencing to an unstable and noisy PC clock during USB audio playback, a more accurate and on-board clock is generated by a high-precision, low phase-noise, audio-grade crystal oscillator for USB asynchronous transfer mode. The NT-505 accommodates two on-board clocks exclusively for 44.1kHz and 48kHz sampling frequencies and applies the appropriate one to incoming digital signals (those that are multiples of 44.1k or 48k) to reproduce identical sound to the original by eliminating jitter effects on the audio signal. In addition, an external 10MHz clock input is also provided, to synchronize with an even higher precision master clock generator, such as the TEAC CG-10M (sold separately), for yet further upgraded audio playback with excellent sound quality.
Bulk Pet Transfer: When transferring large volumes of digital data for Hi-Res audio sources through USB cables using conventional isochronous transfer mode, large variations can occur in the processing loads of the sending computer and the receiving USB DAC. This can cause sound to drop out and other problems to occur. However, with TEAC's new USB transmission technology - dubbed "Bulk Pet" - a fixed amount of data is transmitted constantly, leveling out the processing burden on both devices and contributing to stable data transmission. Changing the processing burden on the computer directly affects audio quality so you can select the setting your prefer (from four transmission modes).
Notes: This unit can be connected with computers running the following operating systems.

Windows: 10 (32-/64-bit), 8.1 (32-/64-bit), 8, (32-/64-bit) or 7 (32-/64-bit) - Before connecting a computer that is running a Windows OS, you must install a dedicated USB driver on the computer.
Macintosh: Mac OS 10.13 or 10.12; OS X 10.11, 10.10, 10.9, 109.8, or 10.7 - Mac computers do not require separate driver to be installed.
MQA (available Future Firmware Update): In order to achieve an analog waveform closer to the original signal, the NT-505 supports MQA decoding while also supporting high sampling rate Hi-Res formats like DSD512 (22.5MHz) and PCM 32-bit/768kHz. The MQA decoder is a totally new technology that controls analog waveforms with excellent precision (as fine as 5 microseconds) and it reproduces sound in a manner that is perceived to be as close as possible to the original as heard by the human ear. Furthermore, MQA's high-efficiency compression algorithm makes huge Hi-Res audio files compact in size, so you will be able to enjoy Hi-Res audio sources regardless of the speed of your Internet connection.
Front-Panel USB Port: The USB-A port on the front-panel allows you to playback Hi-Res audio formats - including DSD128 (5.6MHz) and PCM 24-bit/192kHz - loaded on a USB mass storage device, such as a USB thumbdrive or hard disk drive. A USB hard disk drive will require external AC power. The TEAC HR Streamer app (for Apple iOS 8.0+ & Android OS 4.0+) is required to control playback of music files on your connected USB MSC device.
Optical & Coaxial Digital Inputs: The NT-505 features two rear-panel digital inputs, an Optical (Toslink) input and a Coaxial (RCA) input; plus a front-panel Optical/Coaxial-Mini combination input (a coaxial-to-minijack conversion cable is included). The optical and coaxial digital inputs support up to 24-bit/192kHz PCM audio signal, as well as 2.8MHz DSD (DoP) audio.
Note: This NT-505 does not support Dolby Digital, DTS or AAC through its digital inputs.
Bluetooth Audio Streaming: The TEAC NT-505 offers built-in Bluetooth 4.0 with support for wireless audio streaming (A2DP) and control (AVRCP). In addition to conventional SBC and AAC codecs, the NT-505 also supports LDAC (24-bit/96kHz Hi-Res audio transmission), and Qualcomm aptX HD, a codec that uses 24-bit/48kHz format transmission. These allow you to playback high-resolution and CD quality music playlists on your smartphone and tablet wirelessly through the NT-505. You can pair up to 8 devices with the NT-505, but only one can be used for playback at a time. The unit has a Bluetooth wireless range of approximately 33'.
Convenience Features
TEAC HR Streamer App: To use the network functions and USB flash drive playback functions of this unit, you must also use a compatible smartphone or tablet that has the TEAC HR Streamer app (for Apple iOS 8.0+ & Android OS 4.0+) installed and is connected to the same network as the unit. The TEAC HR Streamer app turns your compatible Apple iOS or Android OS device into a Network & USB music remote controller for the NT-505.
Stream stored music libraries and playlists on your Apple iOS or Android device to the NT-505.
Access music libraries on available music servers and computers via UPnP.
Control music select and playback of a connected USB thumbdrive or hard disk drive.
Note: The NT-505 is only equipped with a hardwired Ethernet jack and not built-in in WiFi for a network connection. However, you will still need a WiFi-enabled router to use the TEAC HR Streamer app.
IR Remote: The TEAC NT-505 comes with an IR remote control for wireless operation of the USB DAC/Network Audio Player. Remote control functions include Power on/off, Input selection, Volume up/down, Mute, OLED dimmer, Upconversion mode, Filter mode, Headphone type, and Menu selection.
Front-Panel Display: A high contrast full-dot OLED (organic EL display) with 4-step dimmer is employed, for excellent visibility. Even better, a highly legible, large font size allows you to easily verify the volume level, input source and other information, even when viewed at a distance.
Automatic Power Saving Function: The unit will automatically enter Standby mode if there is no audio input and operation for approximately 30 minutes.
Firmware & Software Updates: Firmware & software updates are done through TEAC HR Streamer on your compatible Apple iOS or Android device over a network connection. TEAC recommends that you regularly select this unit in TEAC HR Streamer, and update it with the latest firmware & software.
Our Product Research Team
At Crutchfield, you'll get detailed, accurate information that's hard to find elsewhere. That's because we have our own in-house Product Research team. They verify what's in the box, check the owner's manual, and record dimensions, features and specs. We stay on top of new products and technologies to help people make informed choices.
Q & A
Customer Q&A
Crutchfield asked


Why did you buy this?
Reviews of previous model.

[ Scott Nov 19, 2018 ]