Beauty, simplicity, and classic Focal sound
As the name implies, Focal's Easya speakers make it easy to enjoy stunning, room-filling sound. These beautifully designed floor-standing towers might look like a traditional pair of speakers. But their built-in wireless technology and amplification make them a real game-changer. With Easya, there's no need for a separate receiver or amplifier, and no need for speaker cables. Plug them into an AC power source along with the included wireless transmitter hub, and you've got a high-performance audio system.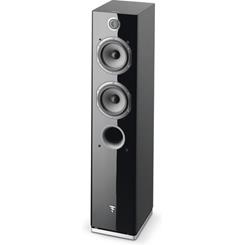 Focal's Easya speakers play your music sources wirelessly, including Bluetooth smartphones, tablets, and PCs.
Beauty, simplicity, and classic Focal sound
As the name implies, Focal's Easya speakers make it easy to enjoy stunning, room-filling sound. These beautifully designed floor-standing towers might look like a traditional pair of speakers. But their built-in wireless technology and amplification make them a real game-changer. With Easya, there's no need for a separate receiver or amplifier, and no need for speaker cables. Plug them into an AC power source along with the included wireless transmitter hub, and you've got a high-performance audio system.
Wireless convenience
The key to the Easya system's simplicity is the included wireless transmitter hub. For starters, it accepts Bluetooth® signals, so you can pair your compatible tablet or smartphone and start listening right away. The hub uses Kleer™ wireless technology to deliver uncompressed CD-quality stereo sound. It also features five inputs for additional sources, including a USB input for your computer and an array of more traditional analog and digital audio inputs. All audio signals are streamed to the speakers using the same great-sounding Kleer wireless technology, to keep your setup looking nice and uncluttered.
Open, transparent Focal sound
These speakers wouldn't bear Focal's name without Focal's renowned performance. These speakers have it in spades, delivering clear detail, subtle dynamics, and a wide-open soundstage. The Easya speakers each use a 1" aluminum/magnesium inverted dome tweeter for smooth, precise highs and a pair of 5" Polyglass mid/bass drivers for dynamic midrange and solid bass. Each speaker's drivers are powered by an 85-watt BASH® Class D amplifier. The drivers, the enclosure, and the amplifier are all dialed in to work superbly together. The end result is gorgeous sound you'll want to listen to all day, from a system that's equally gorgeous-looking.
READ LESS
Product highlights:
system includes two amplified floor-standing speakers, a wireless transmitter hub, and wireless remote
play music wirelessly from Bluetooth-compatible devices
connect up to 5 additional audio sources to the hub for wireless playback through the speakers
Speaker:
1" TNV2 aluminum/magnesium inverted dome tweeter with Poron foam suspension for smooth, detailed highs
two 5" Polyglass mid/bass drivers for dynamic midrange and solid bass
bass-reflex (ported) cabinet
ultra-rigid MDF construction reduces vibration and eliminates unwanted resonance
built in 85-watt RMS BASH® Class D amplifier built into each speaker
frequency response: 50-28,000 Hz (±3 dB)
high-gloss white finish
7-9/16"W x 35-5/8"H x 10-3/8"D
weight: 37.5 lbs. each
warranty: 2 years
Wireless Transmitter Hub:
Kleer™ wireless technology for high-quality, uncompressed stereo transmission over 2.4 GHz frequency band
16-bit/44.1kHz resolution (CD quality) for clear, detailed sound
30-foot wireless range
automatic pairing with speakers
audio input options:

wireless Bluetooth® (with aptX® audio coding technology for better sound with compatible devices)
USB (mini type B) for connection to a computer
one optical digital (Toslink) and one coaxial digital (S/PDIF)
one 3.5mm minijack analog audio and one pair RCA analog audio

THD: less than 0.1% (20-20,000Hz)
frequency response: 0-20,000Hz
5-11/16"W x 2"H x 5-11/16"D
MFR # JMLEASYWH
KEEP READING
READ LESS
What's in the box:
2 Wireless tower powered speakers
Wireless transmitter
Two 6' AC power cords
AC power adapter (w/ attached 6' DC cord)
4 AC plug (US/UK/EU/AU)
Remote control (2010)
CR2032 3V battery (installed in remote)
2 Grilles (pre-installed)
8 Spikes
8 Washer-nuts
8 Rubber caps
User Manual
Scratch & Dent items may be missing non-essential accessories. In some cases the manufacturer's accessories have been replaced with generic equivalents.
Focal Easya reviews
Average review:
Customer photos
Focal easya
Tyler from Washington state on 6/25/2016
Great speakers. Easy to set up. I have a Bose system as well as a klipsch system... Focal speakers are much clearer and fill the room with crisper sound. I would recommend these to someone who wants high quality sound without the hassle of amps, wires, or making the room into a stereo room.
Pros: Beautiful, easy to use, great sound, contacted customer service and got quick feedback, makes listening to music enjoyable again.
Cons: You can't hook up a subwoofer to this hub which I would love to do. The remote only turns down one speaker instead of both. If these two issues were resolved I would give five stars all day long.
11 of 13 found this helpful
Absolutely fantastic. Worth every penny.
James from Washington on 12/4/2015
I don't understand how the other guy gave these speakers 2 stars. I just got these in and the convenience of wireless connectivity plus the incredible sound makes these a much better fit than my Denon set up that it's replacing. I just keep the controller in a nearby closet and have no wires in or along the walls! Definitely recommended!
Pros: Wireless connection, multiple connection source inputs, sound quality is top notch.
Cons: Gloss finish collects dust easily
0 of 2 found this helpful
Focal support is non existent
Bob from Connecticut on 2/15/2015
I purchased a pair of Focal Esay about 6 months ago for use at a vacation home. Setup was easy and overall I am happy with the speakers. I have had one instance where the speakers had to resynced. I also have had issues where the broadcast to my speakers cuts out for 3 to 6 seconds before resuming. I contacted Focal support two times using their website email but never received a response. It appears that with Focal support nobody is home
Pros: Good sound. Wireless feature is great when properly working
Cons: No support response from Focal
23 of 25 found this helpful
More details on the Focal Easya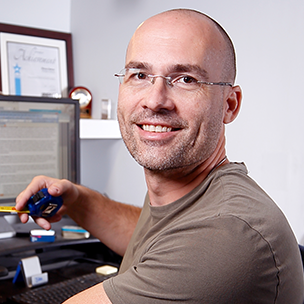 Researched by Crutchfield's

Stacey B.
Product Research
Features
Wireless Sound System: The Focal Easya is a powered wireless sound system consisting of a wireless hub/transmitter and two amplified floor-standing loudspeakers that provide optimal acoustic sound. The Easya combines all the qualities of a classic high-fidelity speaker system with today's wireless and digital music technology. The Focal Easya provides CD-quality (16-bit/44.1kHz) sound over a 2.4GHz wireless transmission thanks to Kleer technology.
Note: Kleer technology offers a 33' range between the hub/transmitter and speakers.
Powered Wireless Towers: The Focal Easya includes Left & Right two-and-a-half-way bass-reflex loudspeakers with built-in 85-watt (RMS) BASH digital amplifiers and CD-quality digital wireless receivers. Each tower speaker features a 1" Aluminum/Magnesium inverted dome TNV2 tweeter with Poron suspension that offers softer treble sound and two 5" Polyglass cone woofers deliver rich midrange, accurate bass, and high power handling. The drivers are housed in a bass reflex enclosure with a front-firing port for greater efficiency and bigger bass. The enclosure is made of ultra rigid MDF construction for excellent inertia and neutrality.
TNV2 Inverted Dome Tweeter: The tweeter developed for the Easya speaker uses Focal's exclusive inverted dome technology, for optimal energy transfer and limited directivity. The aluminum/magnesium makeup guarantees exception performance in terms of stiffness and damping, thus ensuring a subtle blend of softness and dynamics. Performance of the TNV2 tweeter is enhanced by its new Poron suspension material. Poron is a polyurethane micro-cellular foam which has a porous open-cell structure. This memory foam is very light which means that the suspension will not become damaged or compressed with time. It is an essential element of the TNV2 tweeter as the suspension allows the dome to move freely. Its uniform and constant physical properties ensure excellent stability and linearity, along with extreme accuracy and distortion-free sound. The result is a sound which is soft and precise and which offers improved harmonics richness and a more precise soundstage.
Polyglass Cone Woofers: The Polyglass cone woofer has been a Focal tradition for the last 30 years. This cellulose fiber cone woofer offers renowned lightness and damping characteristics. But its Focal's special surface treatment of silica micro-balls which gives the woofer a huge increase in rigidity for a negligible increase in mass. The definition and dynamic capacity of this cone, when combined with a very powerful magnet, generate a very fine reproduction, with an exceptionally rich midrange/midbass.
Note: There is a channel switch on the back of the speakers which allow you to determine which speaker is Left and which speaker is Right.
Digital Wireless Transmitter: The included hub acts as a digital wireless transmitter that connects your digital and analog audio sources to Easya speaker system. Once you have your audio sources connected, the Hub then sends the audio signal wirelessly to the loudspeakers with no loss in quality or compression thanks to 2.4GHz Kleer technology. Thanks to a variety of analog and digital inputs, the hub can be connected to almost any device
Analog Inputs: There is one analog stereo RCA input and one stereo minijack (3.5mm) input for connection of almost any analog audio device with an audio or headphone output.
Digital Inputs: There is one optical (toslink) digital input and one coaxial (RCA) digital input which allows connection of digital components, such as your TV, Blu-ray player, Satellite/Cable box, or Network player. Both digital inputs support PCM audio signal up to 24-bit/96kHz (does not support multichannel audio formats).
Note: The loudspeakers and the hub have been linked at Focal prior to carrying out the final test on your system. The hub can only be linked to a maximum of two speakers. In the event that the link between the hub and one or two speakers is lost, you can re-link the Hub with the speaker or speakers.
USB DAC: The digital wireless hub/transmitter can be used as an external DAC for your Windows or Mac computer. Simply connect the hub/transmitter's miniUSB (type-B) port to a free USB (type-A) port on your computer using a miniUSB-to-USB cable (not provided). This type of connection bypasses the soundcard of your computer and utilizes the 24-bit/96kHz DAC inside the Easya's hub/transmitter. Now you can listen to your music library stored on your Windows PC or Mac computer through the Focal Easya speaker system with incredible detail and sound, just like the artist intended. The included IR remote offers basic playback control, such as Play/Pause and Previous/Next Track. Advanced music navigation and song/artist information will still be done from your computer or laptop.
Built-in aptX Bluetooth: The digital wireless hub/transmitter features built-in Bluetooth which allows you to wirelessly stream audio from your Bluetooth-enabled Apple iPod/iPhone/iPad, Android smartphone/tablet, Blackberry, Windows PC, Mac computer, etc.. You'll be able to stream stored music or music apps from your Bluetooth-enabled device to the Easya speaker system. The Focal Easya even employs aptX decoding for lossless, CD-quality streaming with compatible aptX-compatible smartphones (like Android OS 4.0+ ). The included IR remote provides basic playback control, such as Play/Pause and Previous/Next Track. You will continue to use your Bluetooth-enabled mobile device for advanced music navigation and to view song/artist information.
Note: Due to the differences in Bluetooth technology, some Bluetooth enabled devices may be incompatible, function improperly, or may not support all features when used with the Focal Easya speaker system.
Remote Control: The Focal Easya system comes with an IR remote for wireless operation of the speaker system. The remote provides Power On/Off, Input Selection, Volume Up/Down, and Mute functions; plus basic playback control (Play/Pause and Previous/Next Track) of your USB or Bluetooth connected device.
Spiked Feet: The Focal Easya floor-standing speakers come with spiked feet for carpeted flooring. The feet thread into the bottom of the speaker and are adjustable to level the speaker up with your floors. Also, included are rubber caps for the spiked feet to protect your hardwood and tile floors. The feet add approximately 0.625" to the overall height of the speaker.
AC Power w/ Auto Standby: Each power floor-standing speaker and the wireless hub/transmitter includes a detachable AC power cord which will need to be plugged into an AC wall outlet, power conditioner, or surge protector. The AC cord sits 1.5" from the back of the speaker. If there is no audio signal detected from the hub input for approximately three minutes, both speakers and the hub will move to standby mode. The hub's and speaker's LEDs will light up in red. Once an audio signal is detected on the last input selected, the system will be reactivated. The hub will provide the musical signal to the speakers after a few seconds, the LEDs on the Hub and speakers will light up in white.
Placement: The loudspeakers should be positioned symmetrically, facing the listening area, ideally forming an equilateral triangle with it. It is, however, possible to vary these distances to arrive at the ideal compromise for any particular conditions. The loudspeakers should be positioned at the same height, in the same horizontal plane. Ideally, the tweeter should be positioned at the same height as the listener's ear when listening normally. Do not position your loudspeakers too close to a corner of the room and do not place them too close to a wall. If positioned close to a wall or a corner this has the effect of exciting certain resonances within the room and artificially increasing the bass. Conversely, if the bass level is judged to be insufficient, you could try moving the loudspeakers nearer a wall to re-balance the bass level.
1 question already asked
Q
can they be used as rear speakers in a 5.1 system wireless?
[ Tony Aug 19, 2014 ]
A
Any speaker typically can be used as the surround speakers. Most put the best speaker or speakers in the front, but if you can afford to 'voice match' your speakers, you will really notice a quality jump in the good direction. This is as easy as keeping with one brand with the same tweeter in all the speakers.
[ JAMES P Sep 01, 2014 ]
A
We have not received any answers from other customers on your question. I would recommend reaching out to an Advisor by phone (1-800-324-9695) or online chat. They should be able to help answer your question.
[ Jeff Aug 21, 2014 ]
Staff