Focal Stellia
Premium closed-back headphones
Item # 091STELLIA | MFR # STELLIA/ESTLCAS101
Ship date unknown Pre-Order yours risk-free Email me when available

Our VirginiaVA-based experts can help.
Overview
Our take on the Focal Stellia by Crutchfield's Jeff Miller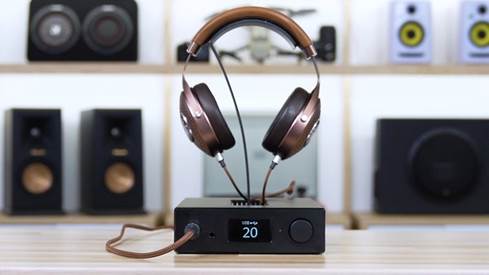 Focal's top-of-the-line closed-back Stellia headphones (pictured with the Focal Arche headphone amp/DAC in Crutchfield's video studio).
The "Utopia" of closed-back headphones
How proud is Focal of their latest, berryllium-driven masterpiece, the Stellia closed-back headphones? Three weeks before their official release, Nicolas Debard, head of Focal's high-end headphone division, traveled to Crutchfield's campus in Central Virginia from his company's North American headquarters in Montreal, Canada. He wanted to personally hand us a sample. Nicolas is responsible for the sound tuning for some of the finest headphones in the world, including the Focal Utopia, Clear, Elegia, and of course the Stellia.
He gave me an inside look at the creation of these headphones while he was here. (You can watch our video interview in the photo carousel above.) Focal's main challenge was delivering a sound and experience similar to their top-of-the-line — but very open-air — Utopia headphones, within the more intimate closed-back design.
Efficient headphones with a perfectly matched amp from Focal
The Stellia's closed-back design offers better noise isolation, so they are more suitable for wearing in public. With that in mind, Focal made sure they were efficient enough to work with a portable music player. Still, these headphones sound even better when driven by a separate headphone amp, like the Focal Arche amplifier/DAC. In fact, the Arche has an amplifier preset designed specifically to squeeze the best performance from these Stellia headphones.
High-grade drivers with beryllium under the hood
You'll find beryllium inside of many top-of-the-line Focal speakers and drivers, so of course they've included it in the Stellia. Focal drivers are known for their fast attack, and it's hard to find a material that's as light and rigid as beryllium. It can start and stop quickly to deliver lifelike, textured dynamics — which Nicolas Debard says is the first sound characteristic that most headphone listeners notice.
Focal formed the beryllium foil into their now-famous, patent-pending "M"-shaped diaphragm domes. This special design gives the Stellia drivers a more fluid movement, which greatly reduces distortion and phase problems. You get incredible sound that spreads across a wide frequency range.
Top-notch sound dampening
Another reason Focal uses beryllium? It has incredible damping characteristics.
"You may have listened to other drivers in the past that give you sound coloration — especially in the mids," Nicolas told me. "That's mainly due to a lack of damping from the cone's raw material."
To show the beryllium advantage, he pulled out a pure beryllium tuning fork, and struck it on our studio desk. We heard the sound from the initial impact, but no change in tone and very little reverberation.
Redesigned drivers for closed-back chambers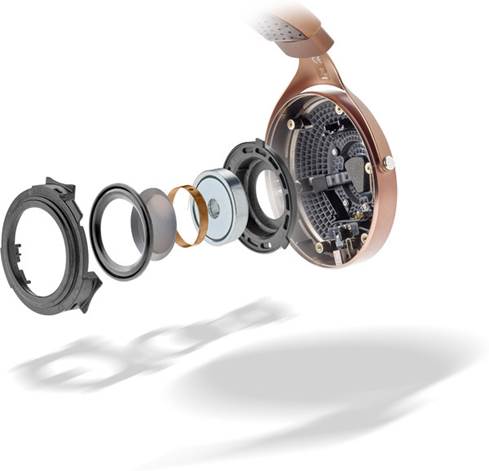 Focal uses pure beryllium domes in their drivers for revealing, dynamic sound with low distortion.
But to get that same Utopia sound signature, Focal couldn't just put the same exact drivers in the Stellia's closed-back earcups. "That would've been great," quipped Nicolas. But, he explained, when designers don't properly account for the closed-back chambers, "you can hear some bass compression, or it sounds a bit muddy in the bass or low mids."
So Nicolas and his team thought of the closed-back chamber as if they were moving speakers to a smaller room — and made design tweaks accordingly. In this case, that meant changing the shape of the magnet array, some careful driver positioning, and adding acoustic diffusers. Carefully placed vents allow the air to flow smoothly through the closed-back chamber. This keeps the powerful bass response tight and linear rather than bloated.
Fashionable and functional design
The design is everything I've come to expect from Focal's high-end headphones — as easy on the eyes as they are pleasant to hold. Sturdy, industrial-styled earcups, punctuated with a splash of silver, and held together by smooth-sliding aluminum headphone yokes.
Focal lined the headband and earcups in designer leather. And they filled each ear pad with over an inch of memory foam. The headphones are large and heavy for sure, but the weight is distributed nicely.
Top-shelf presentation and accessories
Focal packs the Stellia headphones in a form-fitting case that's both attractive and practical for carrying around. The headphones and included cables pack up neatly. You have a choice of three included cables, each sporting a nice patterned cloth cover. One is average length and terminated with a 3.5mm mini plug. The other two are extra-long, so you have some slack to just lean back and listen (one is terminated by a 1/4" unbalanced plug, the other a balanced XLR plug).
Product Highlights:
over-the-ear, closed-back design for focused, precise sound
40mm dynamic drivers made of high-grade materials like strong, lightweight beryllium

specially designed "M-shaped" pure beryllium domes help reproduce a wide frequency range
frameless copper voice coil creates strong magnetic field for greater musical detail

the Focal Arche headphone amplifier/DAC is designed to properly power these headphones for optimum sound quality
drivers positioned in closed-back headphone chamber to emulate the sound of near-field speakers

specially placed air vents help manage the tonal balance of the bass and midbass

leather-lined headband and micro-fiber fabric-lined earcups

generous memory foam padding on the headband and earcups

aluminum headband yokes slide comfortably and sturdily into place
designed, developed, and assembled in Saint-Etienne, France
Accessories and Specs:
3 detachable oxygen-free copper cables:

9.8-foot cable with balanced XLR4 connector
3.9-foot cable with unbalanced 1/4" stereo plug
3.9-foot cable with unbalanced 3.5mm stereo plug

each cable features 3.5mm locking headphone connectors for secure, high-quality connections
1/4" adapter included
rigid, form-fitting storage case with padded interior
frequency response: 5-40,000 Hz
sensitivity: 106 dB
impedance: 35 ohms
weight: 15.7 ounces
warranty: 1 year
Why Shop
With Us?
12 Reasons.
---