Focal Utopia and Questyle QP2R bundle
Premium over-ear headphones with portable high-res music player (Gold)
Item # 091UTQP2RG | MFR # EBUNQUES01-GO
In Stock

Our VirginiaVA-based experts can help.
Overview
Our take on the Focal Utopia and Questyle QP2R bundle by Crutchfield's Jeff Miller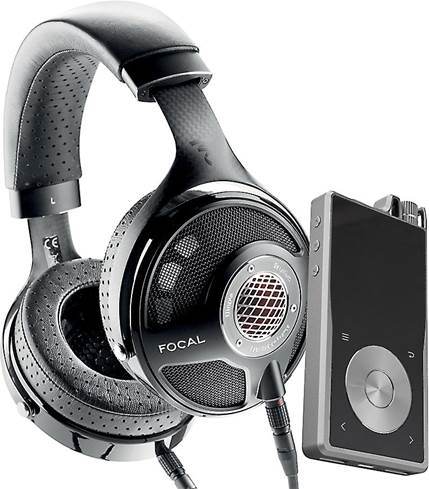 This top-shelf audio fusion produces an ultra-detailed, tightly-focused sonic experience.
A super-premium portable bundle
Why wouldn't you want to take arguably the best headphones in the world with you wherever you go? This bundle from Focal and Questyle lets you do just that, at a special price. It includes the Focal Utopia — among the most impressive headphones I've ever heard — and the Questyle QP2R, an incredible-sounding portable high-resolution audio player.
The Questyle player has a sleek, designer look and substantial feel thanks to its smooth aluminum frame and Gorilla Glass® screen. It offers a snappy interface and good old-fashioned tactile controls for your high-resolution music collection. Plus the built-in Class A current load amplifier has the finesse and power needed to properly drive the stellar Utopia headphones.
Fine materials and state-of-the art design
"Knowing Focal, there's beryllium under the hood," said our longtime home speaker buyer Tim, while discussing the Utopia headphones. He was right. Focal uses beryllium in their Utopia loudspeakers, and includes the precious material here to help emulate the sound of those high-end drivers. Beryllium is much lighter and stiffer than titanium or aluminum, so it can move more smoothly and efficiently.
For the 40mm drivers in the Utopia headphones, Focal formed beryllium foil domes into a unique "M" shape. This patent-pending design allows the drivers to perform with rigid agility. You get incredible sound that spreads across a wide frequency range, even beyond human hearing — all without any built-in crossover. The drivers are suspended in large, open-air chambers to cut down on resonance and create an extremely tight and lifelike stage for your music.
Our special listening session here at Crutchfield
Back when they first introduced the Utopias, Focal stopped by Crutchfield HQ with a sample. We were wowed by the strikingly realistic sound. I can't throw enough superlatives at them.
These headphones were clear and detailed in ways I've never heard. Home A/V editor Jim Richardson pointed out that "Limelight" by Rush — a song we've all heard countless times — has so much more going on in the low-end than we ever realized. You could pick out each instrument like the band was playing right in front of you.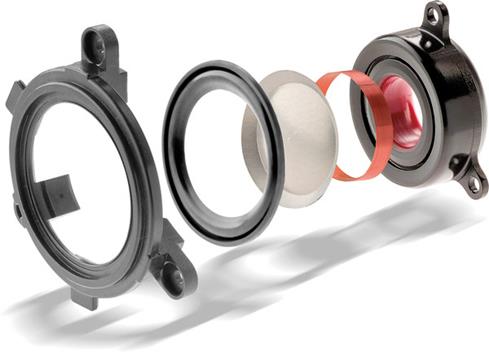 Focal's specially designed driver uses materials like pure beryllium, for accurate sound with speaker-like dynamics.
Sturdy, comfortable fit adds to the experience
Focal's Utopia speakers are prized as much for their one-of-a-kind looks as their stunning sound. I'd say these headphones follow suit. The carbon-fiber headband yoke blends smoothly and symmetrically with the strong open-back earcups and mesh grilles. Both the 'cups and headband slide seamlessly. They're also both padded with 0.8-inch thick memory foam and lined with beautiful, breathable Pittards leather — the same classic material found in quality handbags and fashion accessories. (Dare I say these headphones fit like a glove?)
This solid build dampens vibrations for better sound. It also helps ensure that you'll enjoy the Focal Utopia for years to come. They arrive magnet-sealed in a padded solid storage case that befits a pair of luxury headphones. Inside you'll also find an extra-long oxygen-free copper cable with a Neutrik® stereo 1/4" jack on one end and two shielded, lock-in-place headphone connectors on the other end.
Product Highlights:
Focal Utopia Over-Ear Headphones:
over-the-ear, open-back design for reduced resonance and focused, natural sound
40mm dynamic drivers made of high-grade materials like strong, lightweight beryllium

specially designed "M-shaped" pure beryllium domes help reproduce a wide frequency range

designed, developed, and assembled in Saint-Etienne, France
drivers positioned in open-back headphone chamber to help emulate the sound of loudspeakers
headband and earcups lined with Pittards leather
generous memory foam padding on the headband and earcups
carbon fiber headband yokes slide comfortably and sturdily into place
13-foot oxygen-free cables with Neutrik 1/4" stereo plug
frequency response: 5-50,000 Hz
sensitivity: 104 dB
impedance: 80 ohms
Questyle QP2R Portable High-resolution Music Player:
digital music player — plays MP3, FLAC, WAV, ALAC, AAC, AIFF, and WMA files

native playback for DSD files (up to DSD256, or 11.2MHz)

32-bit/384kHz DAC for bit-perfect playback of high-resolution audio file
built-in current mode headphone amp
class A BIAS control system for driving even the most demanding headphones
outputs:

2.5mm balanced, 4-pole output
3.5mm unbalanced headphone/optical output for connection to headphones, receiver/amp, or an external DAC
USB output for use as an external DAC

64GB internal flash memory

microSD card slot for cards up to 200GB (up to 264GB total memory)

high-speed USB-C interface (cable included) for drag-and-drop file transfer and battery charging
built-in rechargeable battery provides up to 10 hours of playback
machined aluminum frame and Gorilla Glass screen
2.5" color display screen
click-wheel and for controlling music and menu

analog volume wheel for fine level adjustments

2-5/8"W x 5-3/8"H x 5/8"D
General Info and Accesories:
3.5 mm minijack adapter for connecting headphones and player
storage case
warranty: 1 year
Why Shop
With Us?
10 Reasons.
---
Details
Product Research
Bundle Overview
Focal Utopia
Questyle QP2R
Bundle Overview
Overview: This special bundle includes the Focal Utopia reference headphones and the Questyle QP2R high-end digital audio player. The Focal Utopia reference over-ear headphones are the result of innovation, development, and manufacturing of high-end speakers and drivers. These audiophile headphones are designed and manufactured in France, and feature the only full-range, near-field loudspeakers built within a pair of headphones. The Utopia comes includes a rigid carrying case with a magnetic closure. The QP2R digital audio player from Questyle Audio Engineering is a finely crafted, precision-made device that plays back high-resolution audio files up to 384kHz/32-bit, as well as DSD256 (1-bit 11.2MHz) files. With its 64 GB internal memory and microSD card slot (2 TB maximum), you can listen to your favorite music for hours on end.
Focal Utopia
Drivers: The Focal Utopia features large 40mm full-range "M"-shaped dome drivers made of pure Beryllium. Beryllium is 3 times more rigid than Titanium, and 5 times that of Aluminum, while having only 40% of the density of Titanium, and 70% of the density of Aluminum. This combination of low mass, high rigidity, and high damping factor makes Beryllium an ideal material for a speaker driver.
Open Headphone Design: Focal decided that the best way to deliver all of the Utopia's performance was to utilize a fully open headphone design for total decompression of the loudspeakers. The open design provides the lowest possible acoustic impedance to reproducing accurate and detailed bass frequencies, and gives you an extremely natural listening experience.
Ear Cups: The circum-aural ear cups feature 20mm thick memory foam cushions, covered by a bi-material construction made with true lambskin leather and perforated microfiber fabric. This combo provides a balance between a lively room with lots of reverb and a "damp" room with no reflections. The result is a flat frequency response in the upper mid and high frequencies between 1 kHz and 10 kHz.
Cable: The included 13.1' (4-meter) high fidelity cable features 24 AWG conductors with OFC (oxygen-free copper) shielding and an extremely low impedance (<90 mΩ). The 2-sided cable features shielded 9.5mm Lemo connectors with a self-locking bayonet system to plug into the ear cups. The end of the cable has a standard 1/4" plug. A 1/4"-to-3.5mm plug adapter is included with the QP2R digital audio player.
Specifications:
Frequency Response: 5Hz - 50kHz
Impedance: 80 ohms
Sensitivity: 104dB SPL / 1 mW @ 1kHz
THD: <0.2% / 1 kHz / 100dB SPL
Ear Cup Dimensions: 3.597" W, 4.122" H, 2.268" D
Weight: 17.3 ounces (without cable), 24.8 ounces (with cable)
Questyle QP2R
Design: The Questyle QP2R features a precision-crafted chassis made of 6063 Series Aircraft aluminum. It takes over 100 minutes to machine each unit on a Fanuc CNC machine at a tolerance of less than +/-0.02mm. The aluminum chassis is then bead-blasted and anodized to give it an exquisite feel. The top-mounted volume knob (machined at less than +/-0.005mm tolerances) is protected by a protective crown to prevent inadvertent volume changes or damage to the headphone plugs. The front and rear panels are made of Gorilla Glass with a 2.4" front panel display. Dimensions: 2.61" wide, 5.275" high, 0.616" deep. Weight: 7.2 ounces.
Digital-to-Analog Converter: The Questyle QP2R is equipped with an AKM AK4490 Digital-to-Analog Converter (DAC) chip. You can use the device as a USB DAC/headphone amp when it is connected to your computer via a USB cable. Music files on your computer are output through the headphone/line output to a pair of headphones, an amplifier, or a pair of powered speakers. You may need to download a USB DAC driver, found on the Questyle website, before connecting to your Windows computer. No driver installation is needed if connecting to a Mac with OS 10.5.7 or later.
Compatible Music Files: The QP2R is capable of playing back multiple types of music files, including many High-Resolution files:
File Types: WAV, FLAC, WMA, MP3, OGG, AAC, ALAC, AIFF, DFF, DSF, APE (normal/high/fast), and Direct Stream Digital (DSD) files.
Sample Rates:

PCM: 32kHz - 384kHz (16 / 24 / 32-bit)
DSD Native: DSD64 (1 Bit 2.8MHz), DSD128 (1 Bit 5.6MHz), DSD256 (1 Bit 11.2MHz)
DSD Gain Compensation: Because of the difference in levels between PCM recording and DSD recording, the QP2R is designed to automatically adjust the volume when switching between the two formats. In the Settings Menu, you can set the DSD analog output gain between 0 and +6dB. DSD Gain Compensation prevents you from having to frequently adjust the volume when switching between PCM and DSD tracks.
Bias Control: The QP2R offers two levels of Bias Control to optimize the performance of the pure Class A output stage of the analog amplification circuit. The Standard Bias setting is indicated by an orange LED on the side of the unit. High Bias is indicated in red, and increases the power output for quicker response, and increased mid and low frequency sensitivity. Bias Control is available in the Settings Menu.
Current Mode Amplification: The QP2R features Current Mode Amplification for ultra-high sound performance that reproduces music files as close as possible to the original recordings. Current Mode Amplification achieves extremely low THD+N specs (0.0002% and 0.0005%) that are 10-100 times lower than most digital music players.
Gain Settings: In the Settings menu, you can choose from three Gain Settings: Low, Medium, or High. With the wide range of impedances found in dynamic headphones, in-ear monitors, and high impedance monitor headphones, the Gain Settings allow you to better match the output to your particular headphones.
EQ: The device has a built-in 10-band EQ with two adjustable EQ curves. The adjustable frequency bands are at 31Hz, 62Hz, 125Hz, 250Hz, 500Hz, 1kHz, 2kHz, 4kHz, 8kHz, and 16kHz. You can manually adjust each band +/- 6dB in 0.5dB increments.
Controls: The QP2R has the following on-board controls:
Volume: The unit features a top-mounted stepping volume control knob. As you turn the rotary control, the display shows the volume level as it moves from 0 to 120. In the settings, you can set the volume range to 0 to 60, if desired. You can also set the Volume Lock to On in the menu to make the volume control inactive while the screen is off.
Power: The power button is located on the right side of the unit. A long press will turn the QP2R on and off. While the unit is on, a short press will turn the display screen on or off.
Playback Controls: Three music playback control buttons are located on the left side: Previous Track, Next Track, and Play/Pause.
Steering Wheel: The front panel features a circular mechanical "Steering Wheel" control that lets you maneuver through your playlist, tracks, or menu selections. The center button inside the wheel is for confirming your selections. It can also be used to wake up the screen, or play/pause your music.
Touch Controls: On the outside of the "Steering Wheel" are four touch controls: Favorites/Loop/Add to/Delete, Back, Previous/Fast backward, and Next/Fast forward.
Outputs: The Questyle QP2R features a top-mounted 3.5mm headphone output. With the included optical cable adapter, the headphone output doubles as an optical digital output. In addition, a sub-mini 2.5mm balanced headphone jack is provided for plugging in balanced headphones. The pinouts for the balanced output are (tip to sleeve): R-, R+, L+, L-.
USB Type C: On the bottom of the QP2R is a USB Type C port, with an input rating of 5V 2A. This port can be used to connect it to your computer for playing your digital music files, obtaining Firmware updates from Questyle, or to charge the battery. The included USB-Type C cable should be used at all times.
Battery: The Questyle QP2R is equipped with a 3.7-volt, 3100mAh Lithium-Polymer battery. The battery fully charges in approximately 4 hours when connected to a 5V 2A USB power source, longer if charged via computer. The device should not be connected to a fast charger. When fully charged, the device has a battery life of approximately 10 hours.
Sleep Timer: You can set a sleep timer to automatically turn off the device after a set amount of time. The selections include 0 (disable), 10 min, 20 min, 30 min, 40 min, 50 min, or 60 min.
Specifications:
Frequency Response (+/-0.1dB): 20Hz - 20kHz
Signal-to-Noise Ratio (1kHz): 100dB (unbalanced), 102dB (balanced)
THD+N (1kHz): 0.0006% (unbalanced), 0.0005% (balanced)
Output Level: 1.8V RMS (unbalanced), 3.6V RMS (balanced)
Output Impedance: 0.1Ω
Our Product Research Team
At Crutchfield, you'll get detailed, accurate information that's hard to find elsewhere. That's because we have our own in-house Product Research team. They verify what's in the box, check the owner's manual, and record dimensions, features and specs. We stay on top of new products and technologies to help people make informed choices.