A base radio you can count on
The Midland XT511 base camp radio will be a great addition to your workday, weekend, or emergency kit. This GMRS radio packs a lot of features into a portable package, including versatile power options, adjustable power settings, NOAA and AM/FM tuning, a flashlight, and an alarm clock.
A base radio you can count on
The Midland XT511 base camp radio will be a great addition to your workday, weekend, or emergency kit. This GMRS radio packs a lot of features into a portable package, including versatile power options, adjustable power settings, NOAA and AM/FM tuning, a flashlight, and an alarm clock.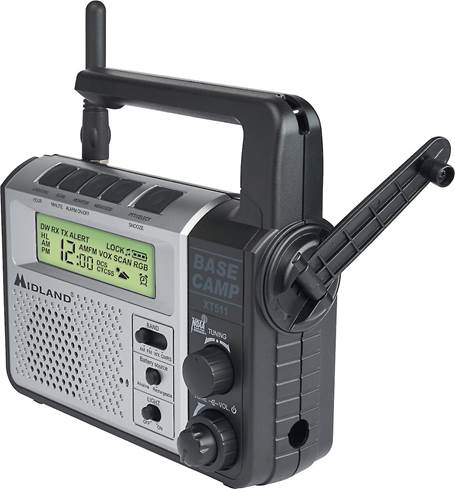 The hand crank will give you power when you need it.
Keep in touch with the team
With 22 GMRS channels, you'll enjoy clear, crisp communication with your whole crew. The buttons are easy to use, you have 121 privacy codes at your disposal, and with 5 watts of power, you'll hear and be heard.
There when you need it
A radio with no power is a paperweight, and that's not something you need in the outdoors. This rugged, water-resistant radio gives you plenty of ways to power up. It comes with a rechargeable battery pack, but you can also drop in four regular AA batteries, hook up an AC or DC adapter, or use the hand crank to generate your own power in an emergency. And you can change the transmit settings to conserve battery power until you need it.
News, sports, and weather
Information is everything, even when you're out in the woods. You can tune into AM or FM radio for news and alerts, or switch over to NOAA Weather Radio for up-to-the-minute forecast information.
More handy features
You can't have enough flashlights, so the XT511 has a built-in Cree® LED light with an SOS function. And it also features a clock with alarm and snooze functions. All in all, this base radio is a handy thing to have around.
READ LESS
Product highlights:
rechargeable GMRS base radio with flashlight
ideal for emergency preparedness, hunting, camping, and work use
multiple sustainable power sources — hand crank, rechargeable battery, AC/DC, AA batteries
adjustable transmit power settings to conserve battery life
AM/FM, plus NOAA Weather Radio
LED flashlight
dimensions: 7-1/4'' x 6-3/8'' x 2-3/4''
warranty: 3 years
MFR # XT511
What's in the box:
Base Camp radio
Handheld microphone w/attached 4' cord
Rechargeable Ni-MH battery pack (6V / 700mAh)
AC Switching power supply w/6' cord (9V / 300mA)
DC Lighter adapter w/5' cord
Adjustable shoulder strap
Owner's manual
Midland XT511 reviews
Average review:
Thanks for submitting your review
Most reviews are processed and published within 5 business days. You will receive a confirmation email once your review has been published.
Customer photos
More details on the Midland XT511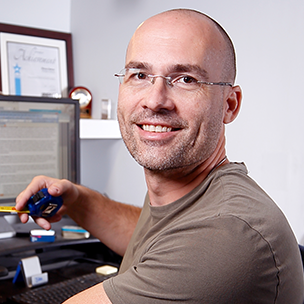 Researched by Crutchfield's

Stacey B.
Product Research
Features
Overview: The Midland XT511 Base Camp is a GMRS/FRS (General Mobile Radio Service/Family Radio Service) two-way radio providing a full 5 watts of power for maximum operational range. Key features include: 22 high power GMRS channels, 121 privacy codes, NOAA Weather Alert Radio, Channel-scan, 5 power options including a built-in hand-crank charger, flashlight, and many other features. The XT511 also includes a hand-held PTT (push to talk) microphone and is compatible with all Midland and most other brands of GMRS radios. Its compact and durable housing is water-resistant for all weather conditions.
Note: Operation of a GMRS radio requires an FCC license.
Channels: The XT511 provides 22 GMRS/FRS channels that can be selected manually or with the Scan mode that continuously scans all 22 available channels for activity. It also includes a Monitor Mode that lets you check for activity on the currently selected channel. This mode also lets you adjust the volume of the radio if you're not receiving a signal from an assigned transmitter. Other key features include:
Call Alert: The radio can transmit a call alert for a fixed length of time and has 10 Call Alert selections.
Keypad Lock: The keypad can be locked to avoid accidental changing of settings.
Transmit (TX) Power Level: The radio has 2 power level settings (Hi / Lo) that can be selected for channels 1-7 and 15-22. Channels 8-14 are set to Low per FCC regulations.
Silent Operation: In this mode, all "beeps" and "tones" are disabled.
Roger Beep (end of transmission tone): When set to On, the radio will beep to confirm to other users that your transmission has finished when the PTT (Push to Talk) button is released.
Dual Watch: This enables the user to scan 2 channels for any activity. The first channel will be the current channel/privacy code setting and the second channel will be the selected channel in the Menu.
Privacy Codes: The XT511 also features Privacy Codes via CTCSS (Continuous Tone Coded Squelch System) and DCS (Digitally Coded Squelch). These systems allow several users to share the same channel without disturbing each other. When CTCSS or DCS is enabled for a selected channel, the channel is muted to all incoming signals unless they carry the correct CTCSS or DCS tone. When a transmission with the correct tone is received, the mute is lifted and the voice audio can be heard. The XT511 has 121 total Privacy Codes, 38 CTCSS and 83 DCS.
NOAA Weather Radio: Also included with the 2-way radio is the NOAA Weather Radio function, which enables the user to receive weather reports from designated NOAA stations. The NOAA Weather Scan function allows you to scan all 10 NOAA Weather Service channels and will lock on to the strongest channel in your area. A Weather Alert function can be set which will beep for 20 seconds when a Weather Alert is received.
Microphone and Speakers: Transmitting and receiving signals can be done through the radio chassis, using the built-in front-panel speaker and microphone along with the PTT/Select button on top of the unit. This can also be done with the included hand-held microphone with PTT button. When plugged into the radio, the hand-held microphone also becomes the receiving speaker, with all audio coming through it and not the radio's speaker.
Power Options: The XT511 is equipped with multiple ways to power and charge the unit:
Batteries: A rear-panel battery compartment holds 4 AA batteries along with the included Ni-MH rechargeable battery pack. A convenient front-panel switch allows the user to switch between the two for powering the radio. Initial charging time for the rechargeable battery is approximately 24 hours, with a charge time of approximately 12 hours afterwards.
AC and DC Adapters: The XT511 includes both AC (home) and DC (vehicle) adapters for charging the Ni-MH battery.

Note: the rechargeable battery must be installed before connecting either power adapter to the radio.

Dynamo Crank: The rechargeable battery can also be charged with the built-in Dynamo Crank on the side of the radio. The Crank can be rotated rapidly in either direction and should be done with the radio turned off. Approximately 2 minutes of cranking can provide up to 5 minutes of radio use (receiving and monitoring only).
SOS Siren: When the Menu/SOS button is held for 5 seconds, the radio will produce a loud siren sound, the display backlight along with the flashlight will flash; spelling out an SOS pattern in Morse Code, and an SOS icon will appear on the display.
AM/FM Tuner: In addition to GMRS/FRS channels, the XT511 can also receive AM and FM channels, which are manually selected with the Tuning knob. During use, if the radio receives a transmission or a Weather Alert, the radio will beep for 20 seconds and the Alert icon will blink on the LCD display.
Clock/Alarm: A 12-hour format clock can be set to display in the LCD screen and includes an Alarm with Snooze option.
Flashlight: The XT511 includes a powerful LED flashlight built into the radio chassis.
Vox (Hands-Free Transmission): Hands-free transmitting can be done using the radio's built-in microphone. Nine level settings are available in the Menu for adjusting the microphone sensitivity. Note: VOX is not possible through the hand-held microphone.
USB Charging: The XT511 includes a side-panel USB port (Type-A, 2.0) for charging a mobile phone or other portable device. Charging is done with either the Dynamo Crank or the AC or DC adapters.
Chassis: The XT511 chassis provides water-resistance and durability with its ABS plastic enclosure, switches, and knobs along with rubberized buttons. The Mic, USB, and Charging ports all include rubber plugs for protection when not in use. The built-in carry handle adds portability and functions to easily aim the flashlight. The 3" antenna, mounted on the rear, folds 90˚ from the protected position against the chassis to the upright position for use. A slotted-mount on the rear allows the hand-held microphone to be attached for carrying. A large back-lit LCD clearly displays all vital information, even in low light and adverse weather conditions.
Specifications:
Transmitting Power: 5 W
GMRS/FRS Channels: 22
Privacy Codes: 121
NOAA Weather Channels: 10
Antenna: Built-in 3" folding
Accessories: AC and DC power adapters, carry-strap
Dimensions: Width - 7.375", Height - 6.50" (7.50" w/antenna extended), Depth - 2.875"
4 questions already asked