About the Kenwood KNA-DV4100
Kenwood's KNA-DV4100 mobile navigation system brings travel into the 21st century! You'll experience expert, turn-by-turn guidance that gets you where you want to go, quickly and safely — without the hassle of conventional maps and atlases.
Kenwood's KNA-DV4100 mobile navigation system brings travel into the 21st century! You'll experience expert, turn-by-turn guidance that gets you where you want to go, quickly and safely — without the hassle of conventional maps and atlases.
The KNA-DV4100 consists of a navigation computer with DVD-ROM drive, a Global Positioning System (GPS) antenna, and two DVD-ROM map discs of the United States and Canada (a video monitor is required for viewing road maps). The system gets its information through GPS satellite communication, an internal gyroscope, and a connection to the car's vehicle speed sensor.
Just slide the DVD-ROM map disc into the drive, enter your destination, and follow the voice and visual directions given (the GPS system plots your position when you turn the system on). Note: The KNA-DV4100 can be controlled by touchscreen operation function on a compatible Kenwood monitor or DVD receiver, or by the optional KNA-RC300 remote control. Or, with the optional KNA-VC300 microphone, you can operate the navigation system with spoken commands.
Destination options include cities, streets, intersections, addresses (you can save up to 100), or points of interest. You can search for your destination by phone number or latitude and longitude, or search for emergency facilities (police, hospital) or landmarks. You can also program up to five "intermediate destinations" (areas you'd like to go through on your way to your final destination) per trip. Route criteria are selectable, such as minimizing time, minimizing distance, areas to avoid, and so on.
You can preview an automated simulation of the route before you travel. As you drive, voice guidance gives you directions as you approach turning points, way points, or destinations. As you approach a junction, an enlarged diagram of the junction appears on a split screen for easy navigation. In the event of a wrong turn, the system alerts you and recalculates the route within two seconds. The built-in trip computer estimates remaining travel time and time of arrival, plus your average speed and elapsed distance.
Note: This unit will not play DVD movies. It will only read compatible DVD-ROM map discs.
READ LESS
Product highlights:
GPS navigation computer
GPS antenna with 16-foot cable and adhesive mounting pad
two DVD-ROM navigation map discs for the U.S. and Canada (optional video monitor required to view maps)
RGB input/output for connection to Kenwood monitor with touchscreen controls
can be controlled by a compatible Kenwood touchscreen monitor, or with the optional KNA-RC300 remote control
optional KNA-VC300 microphone allows operation via voice commands
2D and 3D map views
trip computer functions
navigation to city, street, address, intersections, points of interest, or your home
DVD-ROMs include over 10 million points of interest
up to 5 intermediate destinations can be included in routing
address book stores up to 100 memory points
memory stores up to 100 previous destinations
search option (by telephone number, latitude and longitude, for police or hospitals, or for facilities, landmarks, or intersections)
store up to 10 areas you wish to avoid on your trip
voice prompts (with level control) in 12 languages
4 color settings (Default, Olive, Marine, or Umber) with day/night illumination
dimensions: 6-5/8"W x 2"H x 7-11/16"D (navigation unit); 1-3/8"W x 9/16"H x 1-1/2"D (GPS antenna)
warranty: 1 year
MFR # KNA-DV4100
What's in the box:
Kenwood KNA-DV4100 owner's manual
DVD-ROM navigation unit
KNA-MP414 DVD Navigation Map
18' Maroon I/F cable (has 13-pin male connector on each end)
GPS antenna with attached 16.5' cord
Self-adhesive rubber wire guide
2 Plastic mounting brackets
9.75' White speed-sensor wire (with female bullet connector on one end)
19.5' Wiring harness (has in-line 3A and 5A fuses)
3-1/8" x 3-1/8" Self-adhesive waterproof mounting pad for GPS antenna
4 Self-tapping mounting screws (5mm diameter x 20mm)
4 Machine screws (M5 diameter x 8mm) with flat washers
Instruction Manual (English/French)
Installation Manual (English/French)
Warranty Card
Kenwood KNA-DV4100 reviews
Average review:
Thanks for submitting your review
Most reviews are processed and published within 5 business days. You will receive a confirmation email once your review has been published.
Customer photos
More details on the Kenwood KNA-DV4100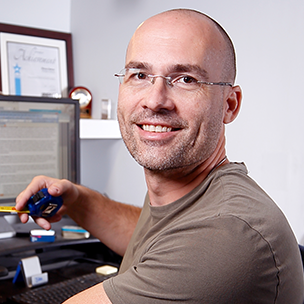 Researched by Crutchfield's

Stacey B.
Product Research
Features
Disc Compatibility: The KNA-DV4100 is compatible with DVD-ROM navigation map discs only and cannot play standard video DVDs.
Touchscreen (or Remote) Control: The KNA-DV4100 was designed to be used along with any Kenwood mobile television that has touchscreen control, including the KVT-915DVD, KVT-715DVD, and DDX7015. The KNA-DV4100's touchscreen menus operate identically on all compatible monitors. With the touchscreen interface, all controls appear as icons on the screen; you simply touch the one you want and the system responds, allowing you to concentrate on driving. With the optional KNA-RC300 remote control (item #113KNARC30), you can use the KNA-DV4100 with any mobile TV monitor.
Voice Recognition: The optional KNA-VC300 Microphone and Talk Switch (item # 113KNAVC30) allows you to control the 'DV4100 Navigation system through voice recognition. You can configure the Voice Recognition system to accept an English (U.S.) male voice, English (U.S.) female voice, English (U.K.), or a number of other languages. With Voice Recognition, you can operate the navigation system totally hands free. Voice commands are sorted into six categories: Shortcut commands, Map Operation commands, POI (Points-of-Interest) Display commands, Destination Operation commands, Guidance commands, and Display commands.
DVD Navigation Map: The navigation system includes the KNA-MP414 DVD Navigation Map of North America on two discs containing different areas (East and West). There is some overlap of the two areas with 13 Midwest states appearing on both discs. Over 6 million map miles and over 10 million points of interest are included on the discs.
Routing Options: Once you have entered a destination, the unit will calculate the route and give you a choice of three options: Normal Route, Shortest Distance, or Quickest Route.
Voice Guidance: In addition to graphical directions, the 'DV4100 Navigation system provides voice guidance and turn-by-turn directions through the connected A/V receiver. The unit has a mono audio preamp output to allow you to connect a dedicated active speaker for voice guidance, if desired. You can select any of 12 available languages for Voice Guidance, including a male or female English (U.S.) voice.
Positioning Methods: The KNA-DV4100 uses a combination of the following three methods of vehicle positioning:
GPS (Global Positioning System): Using the supplied GPS antenna, the vehicle's position is calculated using up to 8 positioning satellites. The GPS updates the vehicle's position two times per second (while the display updates once per second).
Wheel Pulse: The supplied wiring harness contains leads that are connected to the vehicle's speed signal circuit, the reverse detection circuit, and parking brake detection circuit. The unit receives pulse signals from the speed signal circuit to calculate the vehicle's speed to determine the distance traveled.
Gyro Sensor: The unit's built-in Gyro Sensor helps determine the direction the vehicle is traveling. Note: The main unit must be mounted horizontally in order for the gyro sensor to operate properly.
Map Matching: Map Matching combines the vehicle position data provided by the GPS satellites, information from the map data stored on the DVD-ROM, information from the gyroscope and speed sensors with dead reckoning. (Dead reckoning uses the known course and distance traveled from the last previously known position to help determine the vehicle's current position.) Map Matching receives updated GPS information twice per second, and updated DVD map information every second, ensuring that the vehicle's location is accurately displayed.
Map Orientation: You can choose to orient the map in one of two ways. You can select to show North at the top of the screen, or show the direction in which you are heading at the top.
Map Display Scale: You can increase or decrease the scale of the display map. The scale can be changed in 13 gradual steps, or, by using the on-screen scale bar, directly select one of 5 preset map scales between 1/32 mile and 128 miles.
Destination Input: The Destination Entry Menu gives you many different ways to choose your destination. An on-screen "keyboard" appears to allow you to enter your destination from one of the following categories:
Address: You can input your destination's address by house number, street and city.
Memory Point: You can select a destination from any one of 100 addresses that you have stored in memory. Memory points can be selected from one of four categories: Marked Point, Personal, Business, or Entertainment.
Home/Stored Destination: You can store one home location to allow you to calculate your route home from your current location. If a destination is stored in advance, you can select it as your current destination, in a one-touch operation.
Point of Interest: You can select a destination from a database of 10-million locations. You can select by name or category. Note: POIs can be selected as a waypoint or a destination.
Previous Destination: You can choose from one of your 100 most recent destinations or waypoints.
Select from Map: You can find a location on the map that was last displayed and make it your destination.
Freeway Entrance/Exit: You can find the name of a freeway entrance or exit and make it your destination.
Emergency: You can set the nearest police station or hospital as a destination.
Coordinates: Using latitude and longitude, you can enter the coordinates of the location you desire as your destination.
Intersection: You can enter the intersection of two streets and make it your destination.
Phone Number: You can enter the phone number of the business or residence you want as your destination.
Route Guidance: While driving along during route guidance, the directions for the next junction where you have to turn are shown as a Turn Arrow or Turn List. As you approach an upcoming turn, an enlarged diagram of the junction automatically appears on a second screen, making route guidance even clearer. During route guidance, voice guidance will inform you of distances and turning directions as you approach turning points, waypoints, or your destination.
Auto Reroute: Should you miss a turn or make a wrong turn, the high-speed Auto Reroute feature automatically recalculates the route within 2 seconds.
Route Options: During route guidance to your destination, you can change the route options, stop, or check the route. You can select from the following route options:
Search Condition: You can reset the conditions for the route search. For example, if you are currently navigating the shortest route, you can change to the quickest route and the system will recalculate the route.
Detour: If you have to detour off of the calculated route, you can specify the length of the detour and the navigation system will calculate an alternate route.
Route Preferences: The navigation system will calculate a route according to the conditions you set. You can minimize time/distance, use major roads, use toll roads, and use ferries.
Destination/Waypoint Changes: The destination or waypoints used in route calculation can be added or changed, and the new route will be calculated.
Display Whole Route: this function allows you to display the entire route once the destination is set and the guidance route is shown. You can also display a map of the area around the destination and a list of turns along your route.
Route Preview/Simulation Run: The navigation system can show you an automated simulation of the calculated route before you begin traveling.
Navigation Setup: You can alter the map display conditions, the route guidance conditions, and show the system information:
User Settings: The following general user settings can be selected:

Distance Units: You can choose between Metric (kilometers) or Imperial (miles).
Road Restriction Warnings: Turn on or off the display of warnings of traffic restrictions during route guidance.
Audio Mute: Select whether the audio is to be muted during voice guidance.
Keyboard Layout: The layout of input keys can be alphabetical (ABC) or standard keyboard (QWE).
Arrival Time: You can choose an estimated arrival time (clock time) or amount of remaining time to destination (in hours/minutes).
Color Scheme: You can select from four different color schemes for the menu system.
Map Mode: You can set the display for either day or night illumination, or to Auto, which will automatically switch the screen to night illumination when the vehicle's headlights turn on.
Guidance Screen: You can choose whether or not route guidance will be displayed.
Freeway Information: You can select whether or not to display route guidance while on a freeway.

Quick Point of Interest Selection: This function allows you to set the categories that are displayed when the Point of Interest menu is selected.
Volume: Select an audio output level between 1 (minimum) and 7 (maximum). "Off" setting mutes the audio output.
2D/3D View: You can switch between a 2D and 3D display screen. You can also change the viewing angle of the 3D display.
Calibration: This function allows you to correct any error in the position or direction of your vehicle display. You can also correct any error in the display in the current position that might occur after replacing your tires.
Navigation Information: This function allows you to check the condition of all the vehicle sensors and input signals that are connected to the navigation system, plus check to see the version of the map disc you are currently using.
Clock Settings: You can choose a 12-hour or 24-hour clock display. Time zone adjustment is done automatically through GPS signals.
Restore System Defaults: This function replaces all the settings in the navigation system with the initial default settings.
Stored Locations: You can store, edit, or delete any of the following stored locations:
Memory Points: You can designate up to 100 addresses or locations as Memory Points, which stores their location here and puts a marker on the map for each one. Memory Points can be categorized as a marked point, personal, business or entertainment.
Home: Allows you to store your home address so it can be used as a destination
Destination and Way Points: You can store one destination and up to 5 Way Points (stops you wish to make along the route) for the trip. The navigation system will guide you to each Way Point in the order that they are entered, and will then guide you from the last Way Point to your destination.
Previous Destinations: The 100 most recent destinations you have set are automatically stored here, making it easy to return to a location. Every time you set a new destination, it replaces the oldest one on the list.
Preset Destinations: Up to 5 regularly-used destinations can be stored so that, when required, they can be set for the actual destination in a one-touch operation.
Avoid Area: You can store up to 10 areas that you want to avoid on your trip.
Mounting: Using the supplied brackets, the main unit must be mounted parallel to the ground. If the main unit is not mounted parallel to the ground, the built-in gyroscope in the navigation will not operate properly. The supplied brackets allow the unit to be mounted on top of a flat surface, or suspended under a shelf.
Inputs/Outputs: The following inputs and outputs are located on the unit's rear panel:
Active Speaker Port (ASP): female 3.5mm mini-jack for use with optional active speaker
Monitor I/F: female 13-pin interface for supplied monitor I/F cable
EXP: rectangular port not presently used
Remote: female 3.5mm mini-jack for use with infrared sensor accompanying the optional KNA-RC300 remote control
Voice: rectangular Molex connector for optional KNA-VC300 Microphone and Talk Switch for Voice Recognition feature
AV Out: RCA composite video output and mono RCA audio output for use with other brand monitors
GPS ANT: square Molex connector for supplied GPS antenna plug
Power: rectangular Molex connector for supplied power wiring harness
Dimensions:
Main Unit: W=6.618", H=1.968", D=7.655"
Main Unit (with brackets): W=8.292", H=1.968", D=7.655"
GPS Antenna: W=1.328", H=0.513", D=1.483"
The Kenwood KNA-DV4100 replaces these items

Adding...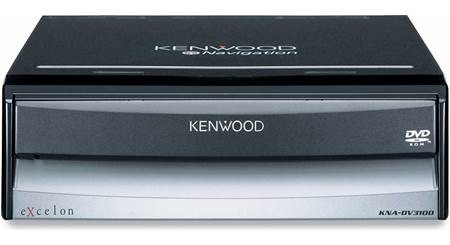 GPS Navigation System
New Stock
GPS navigation system
DVD-ROM navigation maps
amplified speaker