JL Audio Dominion™ d108
Powered subwoofer, wireless adapter optional (Black Ash)
Item # 136D108AS | MFR # 96281
In Stock

Our VirginiaVA-based experts can help.
Overview
Our take on the JL Audio Dominion™ d108 by Crutchfield's Dave Bar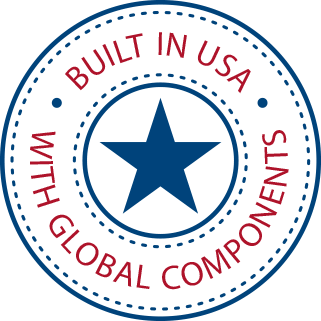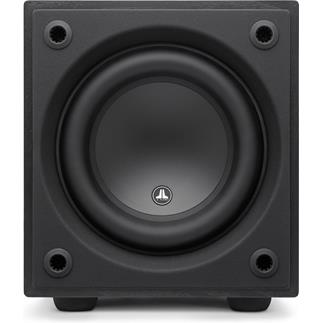 Deep impact and musicality from a compact subwoofer
JL Audio powered subs have a reputation for delivering fantastic performance with high-end two-channel audio systems and home theater setups alike. Judging by all of the five-star reviews they receive on our website, our customers completely agree. With the Dominion d108, JL has managed to fit that winning combination into a compact enclosure that takes up less than a square foot of floor space.
Long-excursion driver and serious power pumps out heavy bass
The d108's excellent performance starts with its beefy 8" driver. This woofer's extremely long, peak-to-peak excursions — well in excess of 2-1/2" — can displace a large amount of air to produce the deepest bass. JL Audio uses sophisticated DMA (Dynamic Motor Analysis) technology which lets them shape, control and stabilize the driver's magnetic field strength to ensure ultra-linear motor force throughout its long excursion range. This allows the woofer to more faithfully track the input signal for greater bass definition and dynamics.
It also takes a special amp to power the d108's driver. Fortunately, the 500-watt powerhouse JL employs is more than up to the task. This advanced Class D amplifier uses a tightly regulated switching power supply to provide enormous amounts of unclipped voltage. This design approach allows the amplifier to be more compact, lightweight, and efficient, yet still deliver abundant low-distortion power to extract peak performance from the sub's driver.
All-American muscle
To top things off, every d108 powered sub is precision-built in JL Audio's U.S. factory in Miramar, Florida using advanced assembly techniques. Each enclosure is carefully engineered and constructed with solid MDF and extensive internal bracing to give you years of listening enjoyment.
Product Highlights:
frequency response: 29-119 Hz (-3dB)
advanced 500-watt RMS Class D amplifier with tightly regulated switching power supply
front-firing, long-throw 8" woofer
sealed (acoustic suspension) enclosure
continuously variable master level volume control
continuously variable crossover (25-130 Hz)
continuously variable phase control (0-280°)
polarity switch (0°, 180°) can help smooth the transition between subwoofer and main speakers
grounded/isolated switch can reduce any low-frequency hum coming through the line-level audio inputs
crossover switch to turn subwoofer's internal crossover on or off
signal-sensing auto-on/standby power modes (this subwoofer does not have a power switch)
RCA line-level/LFE inputs
speaker-level inputs
compatible with the JL Audio JLINK™ TRX wireless audio adapter kit for an easy connection to a sound system
black ash vinyl finish
10"W x 11-3/8"H x 13-15/16"D
weight: 26.4 lbs.
warranty: 3 years
Super fast. Very tight bass. Seameless integration. Very easy to place in a room. It is very musical for audio and very dynamic for video.

Jeff, New York, NY
Why Shop
With Us?
12 Reasons.
---
Reviews
JL Audio Dominion™ d108 Reviews
Average Customer Review(s):
Crutchfield customer from Palmdale, CA on 1/10/2019
Crutchfield Customer Review
(
What's this?
)
Very advanced

Pros:

Cons:
I Should Have Done This Sooner!
Steve from Burbank, CA on 6/9/2018
Crutchfield Customer Review
(
What's this?
)
This sub made all the difference in my 2 channel system. It filled the gap between where my Magnepan .7s ran out of steam in the bottom end and true low end bass response. My audio system is setup in a small listening room (actually an unused bedroom) and the Dominion is perfect for this space. It's small and yet goes all the way down to 31Hz. I'm hearing things in my music that I never knew were there.

Pros: Great clean bass, adjustable crossover, small cabinet

Cons: Can't think of any
Louis from Guymon, OK on 5/21/2018
Crutchfield Customer Review
(
What's this?
)
This is a amazing little sub woofer. I have 2 of the e112 JL subs so i knew what I was getting quality wise. So as far as the d108 go's I am very happy I went with this sub. I am using this in a two channel system with Martin Logan lx16's. This sub has very tight bass and is not boomy. Very good for all different kinds of music.

Pros: Small and a power house

Cons: none
Jeff from New York, NY on 3/25/2018
Crutchfield Customer Review
(
What's this?
)
Super fast. Very tight bass. Seameless integration. Very easy to place in a room. It is very musical for audio and very dynamic for video.

Pros: Very compact. Very dynamic and musical. Easy to set up.

Cons: None. Just enjoy
Crutchfield customer from Toledo, OH on 2/18/2018
Crutchfield Customer Review
(
What's this?
)
Good solid bass, bought to complete my 2.1 setup with kef ls50's. Pairs nicely with them but definitely could use 2 to really get the sound im after. Nice product excellent build quality. Easy to setup and blend with speakers.

Pros: Tight bass for size, easy to setup.

Cons: Not as deep or powerful as expected.
Accurate room filling bass
Rohan from New York, NY on 12/29/2017
Crutchfield Customer Review
(
What's this?
)
This sub is absolutely stunning. Blends perfectly with my MartinLogan ESL. The response is accurate and fast. The cabinet is tiny. Perfect for movies and music. I have 1200 cubic foot room and this sub delivers. I now realize it doesn't matter the size or the watts of the sub, My am using a wired-set-up and I have the sub on a Pyle platform to isolate it from the floor. I have to mention that the sub fuse blew after two months, but was easily replaced. Not a big issue.

Pros: Small size Very accurate Blends well

Cons: Controls on the rear Fuse blew after two months
Lalit from houston, tx on 5/25/2017
Dear all Music and movie lovers, You are reading this review because you are in market for high end subwoofer. Let me tell you a little about myself, I am a hardcore music lover, from top40 songs to Linkin Park and James bond movies. I am not overly critical of the quality but i know it when I hear it. That being said, this is 8 inch, but does not sound like 8 inch. I wanted a tight enclosed subwoofer and 10-12 inch were too boomy for me. So I ordered this and it took a little while for it to break in but OH MY, this tiny sub shakes my 2800 sq feet house. The crossover is at 60 HZ and boost is only 1/3 of the way and last night I was watching skyfall and I had to turn the bass down, because i could not hear anything coming out of my HTD tower speakers. I have heard SVS and JL both, by far I like the quality of JL, the tightness, the accuracy is unmatched. the 8 inch subwoofer sound like a 12 inch beast. Playing music is joy to my ears. It is accurate, tight, and there are times that I feel the beats on my skin. I know the vented boxes are better for movies and I had owned them as well. But by far this beats everything I ever owned. When I got this, immediately I wanted to return this as it sounded muffled, but I gave it about 50 hours of music and I am sure it is still breaking in. Your acoustics, speaker combination has to do with the quality of the material you are listening to. I have HK3490, 2 HTD Level 3 tower speakers and one JL D108.

Pros: TOO LOUD

Cons: TOO LOUD ;)
Crutchfield customer from Montclair, NJ on 3/24/2017
Crutchfield Customer Review
(
What's this?
)
This is the smallest, hardest, hitting 8 inch subwoofer I've owned for my home. The bass is tight due to the sealed enclosure, and Its 300 watt amplifier. Sealed enclosures can hit low, hard, rumbles due to the sealed air aiding in cone suspension. The JL reproduces the smallest rumble with anger. Impressive for what it can reproduce due to Its small size. My Velodyne was bigger but, the slightest rumble I pick up from the JL was non existent with the Velodyne (I understand that thing was old). My phase is set at 180. I find this setting distributes the bass across the room more evenly. The audio signal is coming from a Yamaha YAS-106 soundbar.

Pros:

Cons:
Benjamin from Windsor, CA on 3/11/2017
Crutchfield Customer Review
(
What's this?
)
Beautiful sub and sounds great!

Pros:

Cons:
Anthony from Gaithersburg, MD on 1/29/2017
Crutchfield Customer Review
(
What's this?
)
Low price, super high quality, what else do you need to know??

Pros:

Cons:
Pete Fountain fan from Bear, DE on 6/23/2016
Crutchfield Customer Review
(
What's this?
)
Tight, fast base. I love this subwoofer. It's everything inward hoping for.

Pros: Sound quality, build quality, packing materials.

Cons: None
Good sound + Cosmetic Flaws on the finish
Sean from Philadelphia, PA on 5/18/2016
Crutchfield Customer Review
(
What's this?
)
The JL D108 Glossy is a very compact and great sounding sub. The only thing is cosmetic. Like similar reviewers' findings from JL's own website, their were small scratches on the glossy finish and large uneven marks embedded within the glossy finish so we couldn't even buff it out. This particular sub also came with a shallow dent - from the uneven finish.

Pros: Compact and great for music.

Cons: Cosmetic Flaws
beaveo from columbia, MO on 3/2/2016
Love my new JL Audio D108 subwoofer! This sub rocks! Thanks in part to the 500 watt amp that drives this speaker and also the engeneering that makes it possible to deliver, tight, acurrate, fast musical bass! This speaker is very musical and was easy to incorporate into my 2 channel setup. I was willing to try this small speaker because I liked the 8inch sub JL makes for cars that I installed in my boat. My only regret is I didnt buy 2 of the D108's, but I am very pleased with the one... Crutchfield please make me a deal on a 2nd one!

Pros: Jl Audio are the pros, designed, built and assembled in the USA

Cons: None
Eric B. from Columbus, OH on 2/11/2016
Crutchfield Customer Review
(
What's this?
)
I was hesitant to make the purchase on this sub woofer for my living room. I have a 7.1 system but my kids broke the old subwoofer and my wife really did not like it being a viewable product in the room. I paired this with the JL wireless audio link and hid the speaker. JL audio is a gold standard and remains today. It is awesome and sounds flawless. No delay in the wireless link.

Pros: Compact, sounds amazing, great quality, Made in America

Cons: A bit pricey for everyday TV and movie watching
Details
Product Research
Features
Dominion Series Powered Sub: JL Audio's Dominion series powered subwoofers combine a state-of-the-art subwoofer driver and an advanced Class D amplifier to deliver unmatched performance and value for a wide variety of music and movie applications.
8" Long-Excursion Woofer: The JL Audio Dominion series d108 sub houses an 8" long-excursion woofer. The woofer has been purpose-built to reproduce powerful low-frequencies with stunning impact and precision. The 8" driver employs JL Audio's exclusive DMA (Dynamic Motor Analysis) technology to produce higher output levels with reduced distortion, as well as improved dynamic tracking and resolution. As a result, the 8" woofer is capable of peak-to-peak excursions well in excess of 2.5" (63mm), without distress or audible distortion.
DMA Technology: JL Audio's exclusive DMA technology is applied to shape, control, and stabilize the woofer' motor strength, ensuring linear behavior over a very long excursion range. Unlike typical steady-state modeling systems, JL Audio's approach takes into account the dynamic shifts created by current flow and back EMF under real power conditions, with real program material. The payoff offered by DMA optimization is a subwoofer that more faithfully tracks its input signal at all listening levels, leading to superior bass definition and dynamics.
Floating Cone Attach Method (FCAM): This assembly technique, conceived by JL Audio, ensures proper surround geometry in the assembled speaker for better excursion control and dynamic voice coil alignment.
Vented Reinforcement (VRC): JL Audio's patented Vented Reinforcement Collar (VRC) improves the rigidity and stability of the cone/spider/voice coil junction and directs airflow over the voice coil windings for improved thermal performance. T
Engineered Lead-Wire System: Carefully engineered lead-wire design and attachments ensure controlled, quiet lead-wire behavior under the most extreme excursion demands.
500W Class D Amplifier: The JL Audio d108 powered subwoofer employs an advanced 500W Class D amplifier in order to extract the most from the long-excursion 8" driver. This design features a tightly regulated switching power supply, allowing the amplifier to generate prodigious amounts of unclipped output voltages. These technologies ensure that the Dominion series powered sub remains in its comfort zone, which is well beyond the point where most small subwoofers run out of power or driver capability.
Sealed MDF Cabinet: To contain the immense pressures created by the powered sub's 8" long-excursion driver, the beautifully crafted cabinet is carefully engineered and constructed using solid, CNC-cut, MDF material with extensive internal bracing and advanced assembly techniques. The cabinet utilizes an acoustic suspension (sealed) design for tight, accurate, natural sound bass.
Controls: The JL Audio d108 powered subwoofer provides a variety of controls to fine-tune the sub to your room application and source content. The controls are found on the rear-panel of the powered sub.
Volume Level: The "Master Level" Knob is used to set the output level of the powered sub relative to the rest of your audio system. When rotated fully counter clockwise, the sub's output will be fully muted. When at the "0" or straight up position, the level is at reference gain. When turned fully clockwise, the subwoofer's level is at its maximum sensitivity (loudest).
Crossover: The powered sub's variable low-pass crossover has a Linkwitz-Riley 24dB/octave slope with an adjustable frequency range of 25Hz to 130Hz. The on-board crossover can be defeated for home theater receiver's with an LFE output and its own built-in low-pass crossover.
Polarity & Phase Control: A polarity switch (0/180°) and phase control (0-280°) are provided to aid in achieving an optimal acoustic transition between the powered subwoofer and your main speakers.
Line-Level & Speaker-Level Inputs: Analog inputs are provided for unbalanced line-level (RCA) signals or high-level (speaker) signals. Using a rear-panel switch, the line level inputs can be configured as grounded or isolated, which is very useful in combating ground-related noise problems. For receivers with a mono subwoofer or "LFE" outputs, only one RCA jack will be used (Left or Right). The speaker-level inputs consist of a removable plug with four set-screw terminals that will fit speaker wire up to 14 AWG.
Optional Wireless Connectivity: Connect JL Audio's JLINK TRX system (136TRX, sold separately) to the powered sub's onboard Wireless Link port and enjoy the freedom to position the Dominion series powered subwoofer almost anywhere in your room, up to 100' away from your receiver or preamp/processor. Using a JLINK TRX will eliminate the need to run physical signal cables from your receiver or preamp/processor's line-level outputs to the line-level inputs of the Dominion series powered sub. Instead, the Dominion powered sub will wirelessly receive audio signals through the JLINK TRX system's receiver plugged into the sub's "Wireless Link port" from the JLINK TRX system's transmitter connected to your receiver's or preamp/processor's LFE/sub output.
Auto Power On: The d108 powered subwoofer will power up its internal amplifier when it detects an audio signal at any of its inputs, and will power down the internal amplifier if no signal has been detected at its inputs for approximately 30 minutes. The LED indicator will be Red when dormant and Green when operational.
Placement: JL Audio recommends that you begin by placing the JL Audio d108 powered subwoofer in the front of the room, on the floor, near the front left or right speaker. Placing the Dominion series powered sub near solid walls will reinforce bass response and pulling it away from solid walls will decrease bass. Increasing the distance between the subwoofer and the walls may help to smooth upper bass response in some rooms. JL Audio also recommends that you avoid placing the powered subwoofer near windows to prevent rattling and sound transmission to the outside world.
Our Product Research Team
At Crutchfield, you'll get detailed, accurate information that's hard to find elsewhere. That's because we have our own in-house Product Research team. They verify what's in the box, check the owner's manual, and record dimensions, features and specs. We stay on top of new products and technologies to help people make informed choices.
Q & A
Customer Q&A
Crutchfield asked


Why did you buy this?
I had help from Colt at Crutchfield. I didn't know if I should order the d110 or the d108. He helped me determine that the d108 was a better choice for my very small listening room. Thanks Colt! Steve Arnold

[ Steve May 14, 2018 ]
Crutchfield recommendation

[ Nathan Jan 22, 2018 ]
Positive reviews for both music and movies, and size was a major factor (its for a small home theater). Plus, I had JL's in my car and loved them.

[ Tom Jul 01, 2016 ]
Had one many years ago - JL makes excellent subwoofers

[ Roberto Jun 03, 2016 ]
Looking for more? Check out the next model in this lineup.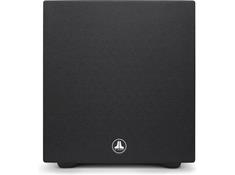 Get more power and deeper bass
The JL Audio Dominion™ d110 offers these features:
a long-throw 10" woofer
a 750-watt amplifier
25-118 Hz frequency response