About the Sennheiser IE 300
Pro-style in-ears tuned for balanced, detailed sound
Quick confession: when I auditioned the Sennheiser IE 300 in-ear headphones, I had moments where it was simply too hard to get work done. These premium earbuds fit neatly and deliver even sound. And there were times when that sound practically begged me to pause, lean back in my chair, and just listen. (But please don't tell my editors.)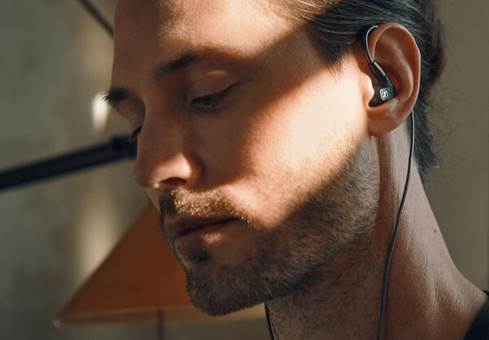 The Sennheiser IE 300 earbuds sport a streamlined, unobtrusive design and a wraparound cable that helps secure them in place.
Pro-style in-ears tuned for balanced, detailed sound
Quick confession: when I auditioned the Sennheiser IE 300 in-ear headphones, I had moments where it was simply too hard to get work done. These premium earbuds fit neatly and deliver even sound. And there were times when that sound practically begged me to pause, lean back in my chair, and just listen. (But please don't tell my editors.)
There's a single driver inside each earbud, and that design can lead to more cohesiveness than multiple driver, multiple crossover earbuds. But the tradeoff is often less detail or distinction between frequencies. That's simply not the case here — I found the IE 300s sounded full, dynamic, and layered.
Sennheiser's high-performance drivers
How did Sennheiser make these single-driver earbuds sound so good? They included their 7mm "extra wide band" dynamic drivers, originally developed for their top-of-the-line IE 800 S in-ear monitors. These tiny full-range transducers are able to cover a wide frequency range with clarity. And they create a nicely sized, just-outside-the-head soundstage that you don't often get from in-ear headphones.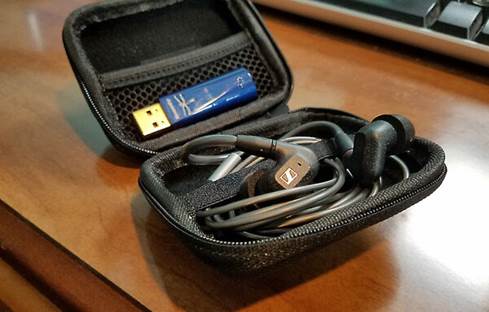 My AudioQuest DragonFly Cobalt fit right in the included case, for an easy-to-grab high-end listening rig I could use with my laptop anywhere in the house.
Efficient design for many ways to play
Sennheiser designed the IE 300s to work with a portable music player — and even a phone or laptop. A detachable cable snaps into each earbud using an MMCX connection and plugs into to your gear with a standard 3.5mm stereo miniplug. But I would suggest using a separate headphone amp to hear them at their best.
I have two go-to recommendations. If you want something compact and portable, the AudioQuest DragonFly plug-in USB DAC/amps work really well with earbuds. If you don't move your listening area around a lot, the stationary iFi ZEN DAC desktop DAC/amp offers a little more control and power.
Smooth, yet detailed highs makes for pleasant listening
I've spoken to Sennheiser engineers in the past, and I know they are particularly concerned with avoiding high-end harshness — even frequencies above the range of human hearing. As they've explained to me, even those super-high frequencies can create gnarly resonances that creep into what we hear. So they've added new damping materials inside each driver and a dual "chamber within a chamber" behind them to control airflow.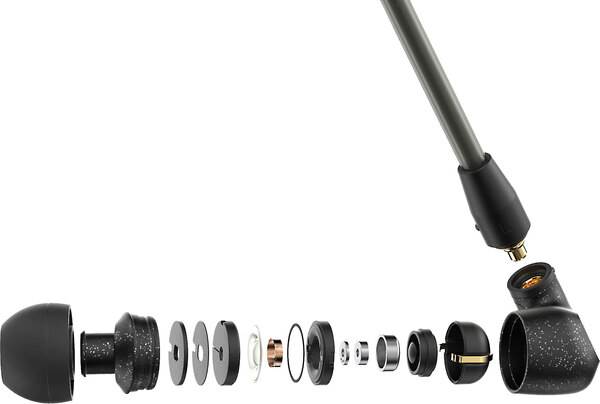 Sennheiser uses an intricately designed series of filters and air chambers to curb unwanted resonances.
The result? I heard plenty of high-end detail, but the treble never sounded grating or uncomfortable over a long period of time. That's one of those balancing acts that can have an effect on both sound and comfort. It doesn't always get a lot of attention, but when it's done this well, it really pays off.
Secure and comfortable with a noise-isolating seal
The most important touchpoint between sound and comfort is how well your earbuds fit. Of course a proper, secure in-ear seal just feels right. But it can also make or break audio performance, including bass extension and imaging.
Sennheiser includes six pairs of ear tips — three sizes of silicone tips, and three sizes of foam tips. For my ears, the largest foam tips squeezed right into place and didn't move. They expanded to create a noise isolating seal that avoided in-ear pressure points — and aligned the drivers correctly with my ears.
My listening impressions
As I noted, these earbuds have a musical presentation that's best enjoyed when reclined — and sipping on a beverage of choice. For me, it was often the first morning cup of strong coffee, which opened my senses and allowed me to sink into the spacious soundstage. It isn't huge, but it is sizeable enough to showcase the pinpoint imaging.
Fit and feel
IEM-style headphones wrap behind your ear — you've probably seen performers and musicians wear them onstage. If the earbuds themselves are too bulky or oddly shaped, I've noticed it can cause some serious strain. But Sennheiser has streamlined the design here, so the IE 300s contoured nicely to my ear. And the earbud design routes the cord in such a way that I often forgot it was there. Not an easy task when the cable is competing with one's glasses for space!
Imaging and separation
In my home office, I have the iFi ZEN DAC and ZEN CAN stacked together as an amp/DAC combo. I keep the volume pretty low because I have headphones on a lot. But even at those lower levels, everything sounded distinct and like it was right where it should be. There was plenty of breathing room between instruments and vocals.
On the Qobuz music service, a 24-bit/192kHz high-res remix of The Band's 1970 album Stage Fright popped up recently. It sounded like it was tailor-made for these in-ear headphones. The title track especially put their smooth musicality on display. On "The Rumor," there's a particularly interesting mix of the three lead vocals, with each having its own distinct place in the presentation. In fact, I heard Levon Helm and some of the instruments to the side and even behind me.
Sound characteristics — bass, mids, and highs
Sennheiser says these are tuned for flat, accurate sound, but I found that they had a slight bass emphasis. Not a bad thing — I like some extra low-end when it's executed correctly. Hip-hop producer Madlib's latest instrumental tape, Sound Ancestors (CD-quality on Qobuz), features some bass knock for sure. But to appreciate the texture of the album, you need to hear the full breadth of the jazz and vocal samples he uses. The IE 300s deliver a quick, deep bass that doesn't overwhelm the other frequencies.
If forced to choose a "weakness," I could say that the mids are not as pronounced as the highs and bass. But I wouldn't call them recessed either. I found that vocals had a nice presence, percussion had bite, and the timbre altogether felt true and accurate.
Finally, I played Sturgill Simpson's Bluegrass version of "Railroad of Sin" from his Cuttin' Grass, Vol. 1 album (24-bit/96kHz on Qobuz). The biting twang of fiddle and banjo mixed with mandolin really put those smooth highs to the test. Especially juxtaposed with the thump of the upright bass. But the special drivers kept their cool, and I didn't hear any harshness. No high-end roll-off either. Instead each instrument came through distinctly and entirely in sync.
READ LESS
Product highlights:
high-performance wired in-ear headphones
sound and fit inspired by professional in-ear monitors (IEMs)

lightweight, streamlined earbud housings for a comfortable fit
over-the-ear cord routing system keeps headphones secure

we recommend a separate headphone amplifier or portable high-res music player for optimum sound quality
Driver details:
extra wide-band 7mm dynamic driver in each earbud

tuned for detailed, cohesive sound across a wide frequency range
clean, realistic bass and pronounced, well-defined mids

dual-chamber absorber for low distortion and improved dynamics

smooths out harsh peaks and high-end resonances while remaining natural and accurate

filters to help manage airflow

helps create an open soundstage with proper imaging
Included cables and ear tips:
detachable 48" cable with 3.5mm stereo miniplug

gold-plated MMCX earpiece connectors on each earpiece

includes 6 pairs of ear tips for a customized, comfortable fit:

3 sizes of silicone ear tips
3 sizes of foam tips for noise-isolating seal

protective screen in earbud nozzle and each ear tip to keep dirt and dust away from premium drivers
General info and specs:
zippered carrying case
cleaning tool included
up to 26dB of noise attenuation
total harmonic distortion: less than 0.08% at 1 kHz/94 dB
frequency response: 6-20,000Hz
sensitivity: 125 dB
impedance: 16 ohms
weight: 0.7 oz. (with cable)
warranty: 2 years
MFR # 509104
What's in the box:
Sennheiser IE 300 owner's manual
In-ear headphones (black)
48" Cable with MMCX connectors (attached) with right-angled 3.5mm plug
3 Pairs of silicone ear tips (1 pair installed)
3 Pairs of memory foam ear tips
Cleaning tool
Zippered storage case
Quick Guide
Safety Guide
Sennheiser IE 300 reviews
Average review:
Thanks for submitting your review
Most reviews are processed and published within 5 business days. You will receive a confirmation email once your review has been published.
Customer photos
More details on the Sennheiser IE 300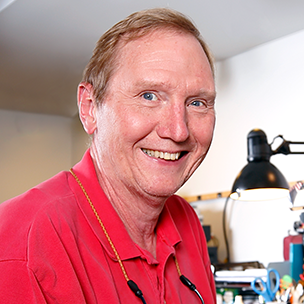 Researched by Crutchfield's

Mark G.
Features & specs
General
Fit Style
In-ear/Earbud
Earcup Type
Closed
Earcup Width x Height
0.855" x 0.635"
Noise-canceling
No
Bluetooth
No
Bluetooth Version
---
Single-earbud Operation
---
Mic For Taking Calls
No
Voice Assistant Access
Amazon Alexa
No
Google Assistant
No
Siri
No
Connectors
3.5mm
Yes
1/4"
No
Lightning
No
4.4mm balanced
No
XLR4 balanced
No
2.5mm
No
Other
None
Specs
Frequency Response
6-20k Hz
Sensitivity
Not Given
Impedance
16 Ohms
Weight
0.7 ounces
Cord Length
48"
Parts Warranty
2 Years
Labor Warranty
2 Years
Product Research
Features
Overview: The Sennheiser IE 300 in-ear headphones deliver lots of performance due to some of the same technology as its big brother, the IE 800 in-ear monitors. From the 7mm XWB transducer to the resonator chamber, the IE 300s provide clear reproduction of your music with minimum distortion and lots of detail. The headphones come with a 4' detachable cable, 6 pairs of ear tips, and a zippered storage case.
Transducers: The IE 300s are equipped with a refined version of the German-made 7mm XWB (extra wide band) dynamic driver found in the high-performance IE 800. A miniature dual-chamber behind the driver controls the airflow through the ear bud to remove masking resonances.
Cables: The 48" Para-aramid reinforced cable features gold-plated Fidelity+ MMCX connectors that let you remove the ear buds if you desire. Flexible and adjustable ear hooks help keep the cable out of your way, and the ear buds securely in your ears. The cable is terminated with a right-angled 3.5mm plug for easy connection to digital audio players, mobile phones, DACs, headphone amplifiers, and laptops.
Ear Tips: The IE 300 in-ear headphones come with two types of ear tips: soft silicone ear tips and memory foam ear tips. The foam ear tips compress between your fingers before inserting, and expand inside your ear canal to provide superb attenuation of external noise. There are three sizes of each type of ear tip: small, medium, and large.
Cleaning: The ear buds are equipped with a protective screen in the nozzle to help prevent a build-up of ear wax. In addition, both types of ear tips have a protective screen as well. A cleaning tool is included for removing wax buildup in the ear tips and nozzles.
Specifications:
Frequency Response (Headphones): 6Hz - 20,000 Hz
Sound Pressure Level (SPL): 124 dB (1 kHz/1Vrms)
Total Harmonic Distortion (THD): < 0.08 % (1 kHz, 94 dB SPL)
Impedance: 16 Ω
Ear Bud Dimensions: Width 0.855" Height 0.635" Depth 0.801"
Cable Length: 48"
Weight: 0.15 ounces (w/o cables), 0.7 ounces (w/cable)