About the Sennheiser Presence™ Basic
It's not enough to have a headset that connects wirelessly to your smartphone. It's vital that you hear — and be heard clearly. Sennheiser's Presence Basic ensures you can communicate effectively, no matter where you are. The headset features three built-in microphones to capture your voice accurately.
It's not enough to have a headset that connects wirelessly to your smartphone. It's vital that you hear — and be heard clearly. Sennheiser's Presence Basic ensures you can communicate effectively, no matter where you are. The headset features three built-in microphones to capture your voice accurately.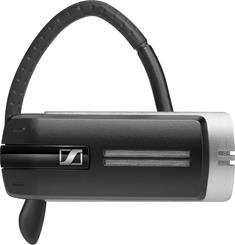 Advanced circuitry counters the interference of the noise around you. WindSafe™ technology compensates for wind noise when you're talking outside. And the ActiveGard™ feature protects your ear from sudden noise surges.
The Presence has a sleek, modern look with functionality to match. Just slide its brushed steel casing out to activate the Presence, and slide it back to turn it off. It comes with four differently sized ear sleeves to ensure a comfortable fit. A detachable ear clip provides additional support to hold the Presence in place. It comes with a USB charging cable, as well as a 12-volt adapter so you can recharge the Presence in your car or boat.
READ LESS
Product highlights:
compatible with Bluetooth-enabled mobile phones
range: up to 82 feet
WindSafe™ technology reduces wind noise
ActiveGard® protects from sudden noise surges
3 ear sleeves and detachable ear clip for comfortable, secure fit
built-in rechargeable lithium ion battery provides up to 10 hours of talk time and up to 14 days of standby time
USB-to-mini-USB charging cable
12-volt car adapter
2"W x 3/4"H x 7/8"D
weight: 0.45 oz.
warranty: 2 years
MFR # 504577
KEEP READING
READ LESS
What's in the box:
Sennheiser Presence™ Basic owner's manual
Black/silver Bluetooth headset with attached ear hook
3 Rubber ear adapters (Small/Medium/Large)
Car charger (5V 500mA)
5" USB charging cable (Type A USB on one end and Micro USB on other end)
Quick Guide
Safety Guide
FCC Statement
Scratch & Dent items may be missing non-essential accessories. In some cases the manufacturer's accessories have been replaced with generic equivalents.
Sennheiser Presence™ Basic Reviews
Average Customer Review(s):
More details on the Sennheiser Presence™ Basic
Researched by Crutchfield's

Mark G.
Product Research
Features
Overview: The Sennheiser Presence Bluetooth Headset allows you to carry on a conversation hands-free using your Bluetooth-compatible cell phone. Exclusive Sennheiser technologies, such as WindSafe and SpeakFocus, make it easier for you to hear and be heard. This lightweight headset weighs approximately half an ounce, and includes a car charger and 3 different sized ear sleeves for best fit.
Compatibility: Presence is compatible with Bluetooth version 4.0/class 1 with an extended range of up to 82 feet (25 meters). It is backwards compatible with all Bluetooth 1.1, 1.2, 2.0, 2.1, and 3.0 devices. Bluetooth Profiles include HSP "headset profile" (v.1.2), HFP "hands-free profile" (v1.6), and A2DP "advanced audio distribution profile" (v1.2).
WindSafe Technology: The headset is equipped with WindSafe, which uses three digital microphones and intelligent wind noise reduction to filter out unwanted wind noise. Two microphones on the side and one in the front work together to pick up your voice and to reject annoying wind noise when in outdoor situations.
SpeakFocus Technology: Similar to WindSafe, SpeakFocus technology is an adaptive noise reduction system which is optimized for noisy environments. The device's three microphones work in concert to reject office noise, traffic, and other environmental noise, and to enhance your end of the conversation.
Echo Cancellation: Presence utilizes digital echo cancellation to eliminate all those annoying echoes while you're speaking.
HD Quality Sound: Presence delivers the clearest and best sound in its class with Sennheiser's HD Sound and HD Voice. The earpiece has a wide frequency response of 100Hz-15kHz (A2DP/music), and the microphone's response is 150-6,800 Hz (Wide band). The device's high 118 dB maximum sound pressure level assures you'll be able to hear the other party, while ActiveGard technology protects your hearing by blocking sudden sound surges.
Wearing Flexibility: The unit is worn in one ear, either the left or right. You can wear it with or without the adjustable ear hook. Three sizes of rubber ear adapters are included to help you find the perfect fit.
Two Phone Connectivity: You can pair up to eight Bluetooth devices to the Presence, but connect to only two of them simultaneously. When switched on, the headset tries to connect to the last two connected Bluetooth devices. You can use the unit to accept calls on the two connected phones, or two calls on one phone, and toggle between them.
Controls/Indicator: Presence has simple-to-use controls. To power the unit on or off, you simply move the silver slide control forward or backward. The Sennheiser logo in the center of the device serves as a multi-function button. On either side of the multi-function button are the Volume + and Volume - buttons. An LED on the rear of the unit glows blue or red to indicate it is paired or in the process of pairing with your phone. It also flashes to indicate the level of battery charge.
Voice/Beep Prompts: The device features both voice and beep prompts to provide confirmation of actions taken or status.
Power Requirements: The Presence Bluetooth headset is powered by a 5-volt Lithium Polymer rechargeable battery, which gives you up to 10 hours talk time (narrowband), 8 hours (wideband), and 14 days standby time between charges. The battery charges in approximately 1 hour 20 minutes using the supplied car charger or using the USB port on your computer. You can partially charge the device for reduced talk time:
| | | |
| --- | --- | --- |
| Charging Time (approx.) | Talk Time | LED Flashes |
| 10 minutes | less than 1 hour | 1x (red) |
| 20 minutes | 1 to 2 hours | 1x (blue) |
| 40 minutes | 2 to 4 hours | 2x (blue) |
| 80 minutes | 4 to 10 hours | 3x (blue) |
Battery Level Indicator: During usage, you can press the multi-function button to check the battery charge level. The LED will flash at the same rate as during charging. When using the Presence with an iPhone, the iPhone screen will show an additional battery level indicator for the headset on the screen.
Q
Crutchfield asked: Why did you buy this?
A
Bought one for myself like it so much getting one for my wife
[ David Feb 20, 2016 ]
1 question already asked