About the Garmin vivosmart 5
You're in charge
If you want an easy-to-use fitness tracker that doesn't skimp on features, check out Garmin's vivosmart 5. You'll enjoy a full complement of useful fitness and health tracking tools, plus connectivity to your smartphone for smart notifications of texts, emails, and more. Plus, the watch offers incident detection and assistance features that'll send for help if an accident is detected.
You're in charge
If you want an easy-to-use fitness tracker that doesn't skimp on features, check out Garmin's vivosmart 5. You'll enjoy a full complement of useful fitness and health tracking tools, plus connectivity to your smartphone for smart notifications of texts, emails, and more. Plus, the watch offers incident detection and assistance features that'll send for help if an accident is detected.
Stylish and connected
The crystal-clear OLED display is 66% bigger than previous models for improved visibility, and you'll enjoy easy control through a combination of buttons and the touchscreen. You can choose from a variety of different band colors to match your taste.
This Garmin's smart notifications feature will alert you with a gentle vibration when you receive a text, email, or phone call. If you've got an Android phone, you can even set up preset text responses so you can answer without interrupting your workout. You can also control select music players on your smartphone, so you can keep that favorite playlist rocking during your workout.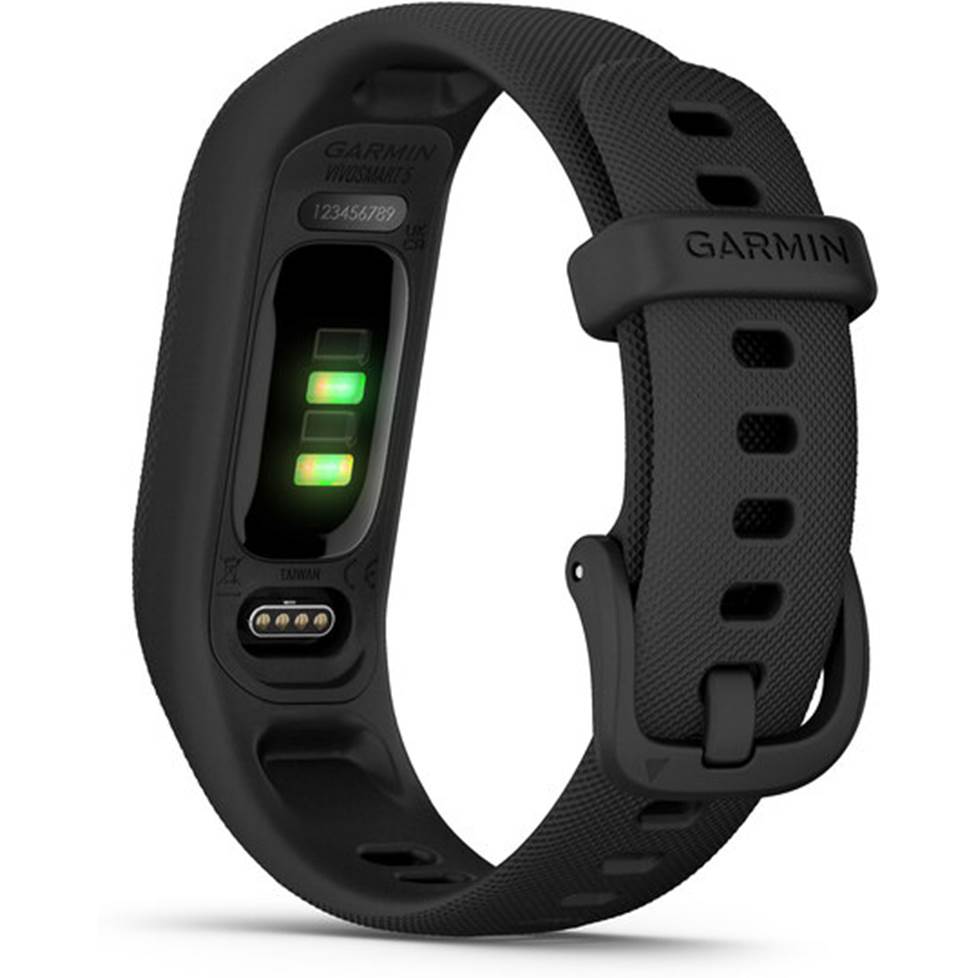 Wrist-based heart rate measurements help you gauge your effort.
Track your workouts
This Garmin does a lot of the nuts-and-bolts things you expect from a fitness tracker, like counting steps, floors climbed, and calories burned. But there's a lot more it can do as well:
Built-in sports apps for running, cardio, walking, and more (15 activities in all) will track your workout.
Wrist-based heart rate measurements provide you with a true indication of your effort level.
Pulse OX monitoring helps you monitor how well you're absorbing oxygen, both at rest and during exercise.
vivosmart 5 connects to your smartphone for GPS tracking, so you'll know exactly how far your traveled during runs, rides, and walks.
When you've finished your workouts, the data gets automatically uploaded to the free Garmin Connect™ app so you can review or share it on your favorite activity tracker, like Strava.
Up your downtime
vivosmart 5 utilizes your heart rate variability to gauge the level of stress your body is experiencing. And the Relax Reminder feature will track your stress and send an alert to let you know it's time to chill and take a few deep breaths with the built-in relaxation breathing timer. At night, vivosmart 5 tracks your sleep, assigns a Sleep Score, and provides additional sleep insights in the Garmin Connect app.
Stay charged up
Garmin uses a combo of measurements — sleep, heart rate variability, activity, and stress — to keep track of your energy reserves, so you'll know when it's the right time to hit the gym, or the right time to hit the sack. Body Battery energy monitoring will help you optimize your workouts to get the most out of your activities.
READ LESS
Product highlights:
General features:
smart activity tracker with HR monitor
built-in heart rate monitor with heart rate based calorie computation
OLED touchscreen display (0.73" x 0.41")
88 x 154-pixel display resolution
interchangeable optional silicone bands
includes charging/data cable
Fitness and health features:
15 built-in sport tracking profiles
fitness monitoring tools, including all-day stress tracking, relaxation breathing timer, VO2 max, Body Battery energy monitor
sleep monitoring with Sleep Score calculation
measures steps, stairs climbed, activity intensity, calories, and distance
Pulse Ox sensor gauges blood oxygen saturation levels
inactivity alert
Smart features:
incident detection and assistance in conjunction with paired smartphone
vibration alerts for texts, emails, and phone calls from paired Bluetooth devices
music control of select smartphone music players
wirelessly syncs with Garmin Connect online community
calendar
Other features:
band size: fits 4.8"-7.4" (small/medium); 5.8"-9" (large)
dimensions:

.8"W x .4"H x 8.5"D (small/medium)
.8"W x .4"H x 10"D (large)

rechargeable lithium battery, up to 7 days between charges
safe for swimming
weight: 24.5 grams (small/medium); 26.5 grams (large)
warranty: 1 year
MFR # 010-02645-04
What's in the box:
Garmin vivosmart 5 owner's manual
Smart activity tracker (Black/Large)
20" Charging/data cable (Type A USB on one end and proprietary connector on other end)
Quick Start Manual
Important Safety and Product Information
We don't have any reviews, yet.
Submit a review and then enter to win a $350 gift card.
Be the first to review this product
Thanks for submitting your review
Most reviews are processed and published within 5 business days. You will receive a confirmation email once your review has been published.
Customer photos
More details on the Garmin vivosmart 5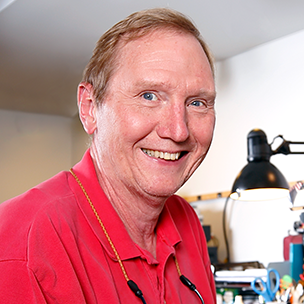 Researched by Crutchfield's

Mark G.
Product Research
Features
Overview: The Garmin vívosmart® 5 is a water-resistant smart activity tracker with a built-in heart rate monitor that helps you reach your personalized daily fitness goals. The slender, lightweight device is worn on the wrist, and has an OLED touchscreen display. On the display, you can view your steps, calories burned, distances traveled, heart rate, floors climbed, reps completed, and activity intensity. vívosmart 5 also alerts you when it's time to move, or when you receive an email, text, or a call on your smartphone, or a social media alert. It can even monitor your sleep.
Physical Attributes: The vívosmart 5 activity tracker features a polycarbonate case with an acrylic lens. It snaps into a black silicone band, and is available in two sizes: large and small/medium. This model (large) has an adjustable band that fits wrists that are 5.8" to 8.98" in circumference. It weighs 0.95 ounces. The small/medium version, available in black, white, and cool mint, is designed for wrists between 4.8" and 7.4" in circumference.
OLED Display: The OLED display is 0.41" x 0.73" with a resolution of 88 x 154 pixels. The bright, high contrast black/white display is easy to read in direct sunlight.
User Interface: The vívosmart 5 offers several ways to activate and control the device:
Button: The single button near the bottom of the display can be used to wake the watch (single press). When it's active, a single press can open or close the menu, or return to the previous screen. During a timed activity, pressing and holding the button stops the timer. If you have emergency contacts set up on your device, you can request assistance by pressing and holding the button until you feel three vibrations.
Wrist Gestures: You can turn the screen on and off using wrist gestures. Lifting and rotating your wrist toward your face will turn the screen on. Lowering and rotating your wrist away from you will turn the screen off.
Touchscreen: The touchscreen responds to tap, double-tap, and swipe actions for various controls. A double-tap of the screen will wake the watch. Swiping the touchscreen up or down lets you scroll through widgets or menu options. Swiping toward the right lets you view the controls menu. A single tap will confirm the action/selection on the screen.
Water Resistance: The vívosmart 5 has a 5 ATM (Swim) water resistance rating, allowing you to wear the device in the rain and wet weather, as well as in the shower or while swimming.
Elevate: The vívosmart 5 is equipped with Elevate wrist-based heart rate technology. A Pulse Ox sensor, located on the bottom of the activity tracker, continuously measures your heart rate and blood oxygen saturation levels at the wrist. There is no need to wear a separate heart rate strap. You can read your heart rate and pulse oximeter readings on the display during your activity. The vívosmart 5 can broadcast your heart rate (in beats per minute) to other compatible Garmin devices, such an Edge cycling device or VIRB action camera, during an activity.
Fitness Age: The vívosmart 5 can calculate your Fitness Age, which gives you an idea how your fitness level compares with a person of the same gender. The watch calculates your Fitness Age by using information such as your age, body mass index (BMI), resting heart rate data, and vigorous activity history.
Body Battery: The device can gauge your body's energy reserves at any moment. Your Body Battery reading is calculated using a combination of stress, heart rate variability, sleep, and activity data. Knowing your energy reserve level helps you to know when it's best to be active, and when you should rest. The Body Energy reading is expressed numerically between 0 and 100, with a trending arrow indicating if your energy reserve is increasing, decreasing, or holding steady.
Garmin Connect: The vívosmart 5 has built-in Bluetooth Smart technology so you can automatically pair it to your smartphone or mobile device. With the Garmin Connect app on your smartphone or computer, you can keep track of your activities, your daily goals, the calories you've burned, and help motivate you to keep active. You can also share your activities and goals with your friends on social media. The vívosmart 5 settings are configured on Garmin Connect, including Time Format (12-hour or 24-hour), Measurement Units (miles or kilometers), Visible Screens, and Auto Goal. Garmin Connect Mobile works with Bluetooth 4.0-enabled devices running Android 7.0 and up, or iOS 13.0 or later. To get Garmin Connect for your PC or Mac, you must first download Garmin Express (Windows 7 SP1 or newer, Mac OS X 10.11 or later).
Widgets: The Garmin vívosmart 5's on-screen widgets provide feedback on many activities. You can keep track of your activity level throughout the day and view the results on the screen at any time. Additional sensors, such as a bike speed sensor, can be paired to the device. You can swipe the touchscreen display left or right to scroll through the widgets. Some of the activities and display screens include:
Time/Date: Displays the current time, day, and date (can be set manually, or automatically when it syncs up to your mobile device)
My Day: A dynamic summary of your activity today, including steps, intensity minutes, and calories burned.
Steps: Provides a count of the steps you take, and you daily step goal. As you progress, the device will propose a new step goal each day.
Health Stats: A dynamic summary of your health statistics, including heart rate, stress, and Body Battery level.
Health Stats 2: A dynamic summary of your health statistics, including sleep, pulse oximeter reading, and respiration rate.
Calendar: Displays an upcoming appointment from your phone's calendar.
Temperature/Weather: Displays the current temperature and weather forecast. Requires connection to a smartphone.
Hydration: Keeps track of the total amount of water consumed, and your goal for the day.
Intensity Minutes: The vívosmart 5 counts the number of minutes spent in vigorous activity, plus your goal for the week.
Distance Traveled: Keeps track of the total distance traveled for the day, expressed in miles or kilometers.
Calories Burned: Keeps track of the number of total calories burned for the day, including active and resting calories.
Heart Rate: Shows your current heart rate and 7-day average resting heart rate in beats per minute (BPM).
Stress Level: Displays your current stress level, based on your heart rate variability while you are inactive. The lower the number, the lower your stress level.
Body Battery: Displays your current Body Battery energy reserve, based on sleep, stress, and activity data. The higher number indicates a higher energy reserve.
Pulse Ox: Allows you to take a manual pulse oximeter reading.
Notifications: Displays notification of new texts, emails, social network updates, and phone calls received from the paired mobile device. The notifications include visual alerts, as well as vibrations.
Music Controls: Music controls for the music player on a paired mobile device.
Respiration Rate: Displays your current respiration rate in breaths per minute, and a seven-day average. The device measures your breathing while you are inactive to detect any unusual breathing activity, as well as how it changes in relation to stress.
Sleep Data: Shows your sleep data for the previous night, including total sleep time.
Women's Health: Displays status of your current monthly menstrual cycle. You can view and log your daily symptoms. You can also track your pregnancy with weekly updates and health information.
Advanced Sleep Monitoring: The vívosmart 5 can help you analyze your sleep, by monitoring your movement, heart rate, and blood oxygen levels. The device tracks your light, deep, and REM stages of sleep, and allows you to view your sleep stats in the Garmin Connect mobile app.
Note: Pulse Ox monitoring during sleep can greatly reduce the battery life.
Stress Tracking: The device can analyze your heart rate variability while you are inactive to determine your overall stress. Your stress level is expressed within a range of 0 to 100: 0-25 resting state, 26-50 low stress, 51-75 medium stress, and 76-100 high stress. When stress levels are high, you can use the relaxation-based breathing timer (a 1 to 5 minute breathing exercise) on the stress widget to help lower your stress level. Syncing your device to your Garmin Connect account lets you see your stress level throughout the day, stress trends, and which parts of the day are the most stressful. For best results, you should wear the device while sleeping.
Move IQ: The vívosmart 5's Move IQ feature automatically detects activity patterns, such as biking, swimming, walking, or running, for at least 10 minutes. This eliminates the need to start or stop the activity timer each time you begin a new activity. You can view the event type and duration on the Garmin Connect timeline, but they do not appear in your activities list, snapshots, or newsfeed.
Incident Detection: For certain outdoor activities, incident detection is a supplemental feature that automatically alerts someone on your emergency contact list. If the vívosmart 5 detects an incident during an outdoor activity, the watch sends an automated message, Live Track link, and GPS location (if available) to your emergency contacts. Your paired phone must have a data plan and be in an area of network coverage, your emergency contacts must be able to receive emails or text messages. Once the automatic message has been sent out, you have 15 seconds to cancel, in case there is no emergency or you no longer require assistance.
Find My...: While the watch is connected to your mobile device via Bluetooth, and within range, you can locate a lost phone using the Find My Phone feature on the vívosmart 5. Conversely, you can use your phone to find a lost vívosmart 5 watch using the Find My Watch feature.
History: The device can store up to 14 days of activity data (daily steps, calories burned, sleep statistics), heart rate monitoring data, and up to 7 timed activities. Data storage capability depends upon how often you upload the data to your computer.
Battery: The vívosmart 5 is powered by a built-in rechargeable Lithium-Polymer battery with a battery life of up to 7 days, excluding pulse ox sleep tracking. A 20" charging/data cable is included with the device.
The Garmin vivosmart 5 replaces these items

Adding...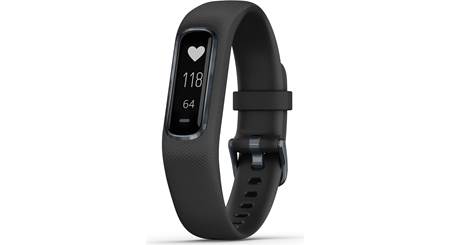 Activity tracker with heart rate monitor
Large - Black/Midnight
built-in heart rate monitor with heart rate based calorie computation
Pulse Ox² sensor gauges blood oxygen saturation levels
fitness monitoring tools, including all-day stress tracking, relaxation breathing timer, VO2 max, Body Battery energy monitor