About the Garmin Approach® S20 Bundle
Garmin's golf watch/club monitor combo helps you on the course
This handy package combines
Garmin's Approach S20 golf GPS watch
with three
Garmin Approach CT10 automatic golf club tracking monitors
. You'll not only get a great view of the course on your wrist so you can choose your next shot with confidence, but you'll also have an automatic view of the average distance you hit for each club right on the watch's face. Each swing lets you develop a deeper understanding of how your clubs might be more useful within certain situations. With over 41,000 preloaded international courses at your disposal, you can take Garmin's expert guidance with you just about anywhere.
Garmin's golf watch/club monitor combo helps you on the course
This handy package combines Garmin's Approach S20 golf GPS watch with three Garmin Approach CT10 automatic golf club tracking monitors. You'll not only get a great view of the course on your wrist so you can choose your next shot with confidence, but you'll also have an automatic view of the average distance you hit for each club right on the watch's face. Each swing lets you develop a deeper understanding of how your clubs might be more useful within certain situations. With over 41,000 preloaded international courses at your disposal, you can take Garmin's expert guidance with you just about anywhere.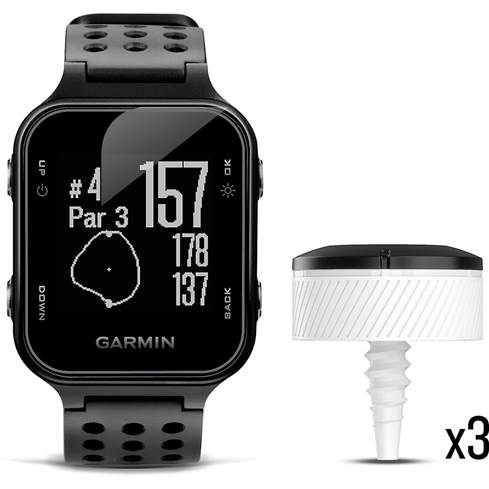 Keeps up with your active lifestyle
The watch's built-in GPS receiver finds you automatically and stays dialed in to your location. When it's taking forever to get to the 18th hole, you don't want your device to run out of steam before you do. The Approach S20's built-in rechargeable battery offers up to 15 hours of juice in GPS mode, or 8 weeks as a regular watch.
More than just a golf watch
The watch's waterproof construction lets you enjoy it in rough weather. You can even take it for a swim, as it'll handle depths of up to 50 meters. Use it as a fitness tracker by employing its built-in odometer to help you set everyday activity goals based on your prior movement level. It'll even remind you to get moving if you've been sedentary for too long.
Small but mighty monitors
To install a Approach CT10 monitor, simply screw into the pinhole at the top of the grip. Each monitor measures 9/16" tall, weighs 0.3 ounces, and includes a user-replaceable, coin-style 3-volt battery. Garmin's design ensures the monitors won't activate until you take your club out of the bag, so you can expect an average life expectancy of 4 years per battery. And the monitors are waterproof so you can play without fear in inclement conditions (or if you're the type who throws their clubs into the nearest water hazard when frustrated).
Start tracking immediately
Once you've installed the Approach CT10 monitors on your clubs, pair them with your Approach S20 to register the type of club (putter, 9-iron, pitching wedge, etc.) before you start taking shots. Your S20 can pair with up to three monitors at one time if you need to compare clubs before making your selection. The monitors will automatically record the distance shot, locations, and club types to the watch as you progress through the game, so you can concentrate on the next move. Gimme putts, missed shots, and penalty strokes are not recorded, so you'll need to manually enter them. Don't worry: the monitors even know when you're taking practice shots, so they won't get recorded either.
Yards, feet, and more
The Approach S20 gives you distances to the front, back, and center of the green, plus distances to doglegs and layups. You can even get a closer look at the green and move the pin to suit your location. One glance at your wrist offers you a wealth of information with clear, easy-to-read numbering.
AutoShot round analyzer
The Approach S20 tracks your shots and records shot locations as you move through the course. It'll accurately determine the distance of each shot so you don't have to guess. Once you've completed your game, you can see your results online using Garmin Connect.
Track your stats
Want to analyze your game for future improvement? The Approach S20 lets you track your putts per round, greens and fairways hit, and average distance of your strokes. It also offers digital scorecard options for individual players, including Stroke Play and Stableford. You can save, review, and print scorecards from your computer.

Smart Notification for smartphone users
If you're worried about missing important texts, calls, alerts, and emails on the course, you can pair the Approach S20 with most recent iPhone® models and select Android™ models through Bluetooth® low energy, then receive notifications directly on the watch's face, so you can safely leave your phone in your bag.
Compatible with Garmin TruSwing™
The Approach S20 works with Garmin's TruSwing sensor to provide detailed metrics that'll help you make your swing consistent and accurate. You'll get feedback on crucial components of your movements to keep you on target, including 3-D animations when using the Garmin Connect online platform.
Go deeper with the free Garmin Golf and Connect apps
For an even more thorough statistical analysis, the Golf and Connect smartphone apps from Garmin keep track of your performance over time in a number of ways, so you can pull up past games on your phone and see where you need more work and where you're improving. The Golf app covers accuracy to the fairway or green and for drives, approach shots, chip shots and putting, and allows you to set baselines to see how you're faring relative to other players in your group. You can share your stats and results with other users locally and around the world with the Garmin Connect app, and it'll enable automatic course updates for your favorite spots to the Approach S20 when the devices are paired.
READ LESS
Product highlights:
package includes black S20 golf GPS watch and set of 3 automatic golf club tracking monitors
Garmin Approach S20 Golf GPS Watch:
USB charging/data cradle included
1.3" monochrome display (128 x 128 pixels)
preloaded with over 41,000 courses worldwide
allows free course updates from Garmin website
waterproof up to 50 meters
odometer and fitness/sleep tracker
built-in rechargeable battery allows up to 8 weeks of use in watch mode and 15 hours in GPS mode
Smart Notification of incoming smartphone texts, calls, emails, and alerts
Green View display with manual pin positioning
AutoShot round analyzer provides in-depth analysis
compatible with Garmin TruSwing sensor
digital scorecard with stat tracker
dimensions: 1-1/2"W x 1-7/8"H x 3/8"D, with 9-3/4" strap
weight: 1.5 oz. (with battery)
warranty: 1 year
Garmin Approach CT10 Golf Club Tracking Monitor:
Garmin recommends attaching the 3 sensors to your wedges and putter
user-replaceable coin-style CR2032 battery (up to 4 years of life) for each monitor
waterproof up to 50 meters
each monitor automatically measures distance shot and locations with each club, displays average distances for each club, and keeps score
compatible with Garmin Golf app for competition with others and real-time scoring
dimensions: 1-1/8" diameter x 9/16"H (without screw shaft)
weight: 0.3 oz.
warranty: 1 year
MFR # 010- 03723-13
What's in the box:
Garmin Approach® S20 Bundle owner's manual
Golf GPS watch (black)
3 Golf club sensors
USB charging/data clip and 24" cable
Quick Start Manual (Approach S20)
Quick Start Manual (CT10)
Important Safety and Product Information
We don't have any reviews, yet.
Submit a review and then enter to win a $350 rewards card.
Be the first to review this product
Thanks for submitting your review
Most reviews are processed and published within 5 business days. You will receive a confirmation email once your review has been published.
Customer photos
More details on the Garmin Approach® S20 Bundle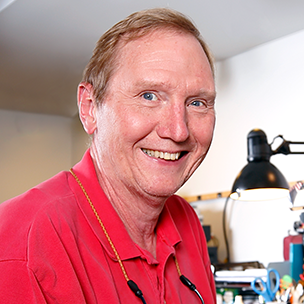 Researched by Crutchfield's

Mark G.
Product Research
S20 Features
Bundle Overview: The Garmin Approach S20/CT10 bundle features the S20 GPS Golf Watch with the CT10 3-club Tracking Sensors.
Approach S20: The Approach S20 is a wrist-worn golf GPS unit with over 41,000 pre-loaded worldwide golf courses. It features a slim, fully-hinged design that weighs only 1.5 ounces for a comfortable fit. The Approach S20 uses a high-sensitivity GPS receiver to measure individual shot distances and show the exact yardage to fairways, hazards, and greens. No subscriptions or setup fees are required. Approach S20 is compliant with USGA rules.
Display: The Approach S20 has a 0.9" x 0.9" high-resolution monochrome display with a resolution of 128 x 128 pixels. The high-contrast selectable (positive or negative) display is easily readable in bright sunlight.
Course Data: The Approach S20 has data for over 41,000 select golf courses worldwide. New golf courses, and updates to existing courses are available through a free download of the Approach CourseView database on the Garmin Express website. Garmin Express is compatible with Windows (7 SP1 and newer) and Mac OS X 10.11 and newer).
Water Resistance: The S20 has a 5 ATM rating, which means that the case can withstand accidental immersion in 50 meters of water for up to 30 minutes.
Play Mode: As you play, the Approach S20's Hole View automatically updates your position, giving you the exact yardage to the front, center, and back of the green. The Green View shows the shape of the green, and allows you to set a more accurate pin position by manually moving the flag to its location.
Hazards, Layups, and Doglegs: The S20 lets you view hole characteristics that affect shot selection along the fairways on Par 4 and Par 5 holes. Hazards are identified at the top of the screen (bunker, water, etc.), and the distances to the front and back of the hazard are given. You can view a list of layup and dogleg distances for Par 4 and 5 holes, and the distance to reach each layup.
Measuring a Shot: The Approach S20 can measure the distance of a particular shot. After hitting the shot, you can select "Measure Shot" in the menu and walk to your ball to calculate the distance.
Smartphone Compatible: The Garmin Approach S20 can be paired to your smartphone (via Bluetooth) through the Garmin Connect mobile app. Once your phone is paired, you can receive notifications of phone calls and text messages during your round.
TruSwing: The optional Garmin TruSwing golf swing sensor mounts to your club, and pairs to the S20 via Bluetooth Low Energy (BLE). TruSwing provides swing metrics to see how your mechanics affect ball flight and shot results. It measures your swing tempo and speed, face to target, dynamic loft, shaft angle, club path and coordinates, and shaft lean. After your shot, the swing measurements are displayed on the S20 so you can instantly analyze the shot.
AutoShot Round Analyzer: The AutoShot round analyzer tracks your shots, measures distance, and records shot locations throughout the round. Once you have uploaded your round to your Garmin Connect account, you can review your round, shot-by-shot, on your computer.
Digital Scorecard: The Approach S20 doubles as a digital scorecard, helping you keep your score and other statistics. When scoring is enabled, you will be prompted to enter your score when your are on the green. If you also enable statistics tracking, you will be prompted to enter other stats such as number of putts, and fairways hit (or whether you missed left or right). When your round is completed, you can upload your scorecard to Garmin Connect using the Garmin Express application.
Garmin Connect: You can keep track of your golf game using Garmin Connect, an online community created for users of Garmin sports devices. You can upload all of the stats from the Approach S20 and analyze them over time. You can share your scorecards with friends, and compare your rounds to other people you've played against. You can also view your longest shots, average score, average putts, average score by par, and overall fairways hit.
Other Functions: When you're not on the links, you can use the Approach S20 as a watch, alarm clock, and activity tracker. The activity tracking feature records your daily step count, step goal, distance traveled, and calories burned for each recorded day. It also has a Move Alert feature that reminds you to get up and move about after one hour of inactivity. The S20 can also monitor your sleep, with measurements of total sleep, periods of movement, and restful sleep.
Power Requirements: The Approach S20 operates on a built-in Lithium-Ion rechargeable battery. A fully charged battery lasts for up 15 hours (in GPS mode), and up to 8 weeks in activity mode. The unit has four small metal contacts on the back of the device for connecting the supplied clip-on charger/data cable. The cable can be used to connect to your computer for downloading course and firmware updates, uploading scorecards, and charging the battery.
CT10 Features
Club Tracking System: The CT10 Automatic Club Tracking System lets you track every shot on any club. The sensors attach to the grip of your clubs, and collects data from each shot to help improve your game. You must pair the sensors to a compatible Garmin golf watch (Approach S20 or S60) to use the tracking system. This 3-piece Starter Pack lets you keep track of your wedge shots and putts, while your golf watch tracks your other shots. A full set is also available to track the shots from all 14 clubs in your bag. Each sensor is slightly over 1" in diameter and extends about 1/2" beyond the grip. The sensors weigh 0.3 ounces each.
Sensors: The Approach CT10 sensors screw into the hole at the end of the golf club grip. When you take the club out of your bag, the sensor wakes up and connects to your paired watch. The watch displays the name of the connected club and your typical shot distance with that club. When you hit the shot, the sensor records your shot and uploads data to your paired watch automatically.
Note: The typical shot distance is calculated after you have taken at least four shots with the club, and have uploaded your scorecards to the Garmin Golf app. The typical shot distance is not displayed for the putter.
Saved Data: Data from each shot and club is collected to help you analyze your strokes. Each time you hit a shot, distance and accuracy data is calculated through your paired Garmin golf watch and registered to the club used. The watch can also keep score automatically, based on the detected shots, and displays your score at the end of each hole. "Gimme" putts, penalty shots, and missed shots are not detected, and must be entered manually.
Battery Powered: The Approach CT10 sensors are powered by user-replaceable 3-volt CR2032 batteries (included). With the sensor's automatic on/off feature, the battery has a typical life of up to 4 years. Because the sensors turn on/off based on ambient light and orientation, you should store your clubs upside down in your golf bag when not in use.
Garmin Golf App: The free Garmin Golf App helps you enjoy your golf game more by adding shot statistics, competition, and fun. You can compete with friends and other golfers on more than 41,000 courses worldwide. By uploading your results from your Garmin watch to the app, you can keep track of your improvement and strokes gained. The Garmin Golf app is available for iPhone, iPad, or iPod touch with iOS 9.0 or later, as well as Android devices running version 4.4 and up.