About the Garmin Approach® S60
Add precision and connectivity to your golf game
Garmin's Approach S60 golf GPS watch brings much more to the table than a high-resolution, glove-friendly touchscreen with a glorious color display. It tracks your swing and offers tools for improvement, so you can play with more consistency. And of course you get accurate course shapes and layouts, plus the ability to map pin locations with your fingertip. It'll also help you track your stats and keep you abreast of incoming texts and emails. And you can tee up nearly anywhere around the globe with the S60's 41,000-plus preloaded international courses at your disposal.
Add precision and connectivity to your golf game
Garmin's Approach S60 golf GPS watch brings much more to the table than a high-resolution, glove-friendly touchscreen with a glorious color display. It tracks your swing and offers tools for improvement, so you can play with more consistency. And of course you get accurate course shapes and layouts, plus the ability to map pin locations with your fingertip. It'll also help you track your stats and keep you abreast of incoming texts and emails. And you can tee up nearly anywhere around the globe with the S60's 41,000-plus preloaded international courses at your disposal.
Works with Garmin Connect IQ for a wide range of apps
The Approach S60's compatible with Garmin's Connect IQ platform, which allows you to use a plethora of cool smartphone apps through the watch's face. Whether you want to hail a car through a rideshare service or engage with smart appliances at your house, your Approach will feel like an extension of your smartphone, while your phone stays safe in your pocket or bag as you're golfing. You can also use apps and widgets to customize your watch's display to show specific fitness information or a cool new face which reflects your personal style.
The Garmin Golf app connects you and your friends
Garmin's new golf app lets you compete against your friends on different courses, with weekly leaderboards show rankings, scores, handicaps, and more. You can create tournaments, submit your own scores and stats to the leaderboard, and get live scoring in real time while using the app on the course.
Track your activity
The Approach S60 doesn't just help you on the course — it also includes activity profiles for running, swimming, cycling, and more exercises. And it can act as a fitness tracker, counting your calories, measuring your steps, and reminding you to move if you've been sitting still for too long.
Thin, stylish, and reliable
The Approach S60 boasts a slim profile and won't weigh your wrist down. It works with Garmin's QuickFit bands in silicone, leather, or metal so you can swap out styles and colors to suit your mood without tools. Its waterproof construction lets you enjoy it in rough weather and around pools, lakes, and rivers. You get an odometer to track how far you've walked and a round timer to monitor how long it takes to get through 18 holes. Got an early tee time? Put the watch's alarm clock feature to work for you.
Ready to go the distance
The watch's built-in GPS receiver finds you automatically and stays dialed in to your location, even while you're under trees and heavy cover. When you're having a long day on the course, you don't want your device to call it quits before you do. The Approach S60's built-in rechargeable battery offers up to 10 hours of life in GPS mode, or 10 days as a regular watch.
Dial in your swing
You can make the Approach S60 your secret weapon on the links by utilizing its built-in swing assistants:
TempoTraining: The watch emits audible tones as you begin your swing — use the tones to synchronize your swing mechanics in the optimal 3:1 swing ratio (your backswing should take 3 times longer than your downswing) and get your swing tempo down pat.
SwingTempo: The watch calculates the relationship between your backswing (also called upswing) and downswing and displays the results as a ratio.
SwingStrength: The watch measures how hard you swing your clubs so you can work on consistent delivery for your shots.
Works with the Garmin TruSwing™ sensor
Pair the Approach S60 with Garmin's TruSwing golf sensor for even more helpful guidance on the links. The TruSwing mounts on your club and tracks the following measurements:
Swing speed: the speed of the club head when it strikes the ball.
Club path: the measurement of your club's horizontal motion in relation to the target line as it strikes the ball. This determines if you've hit the ball in-to-out or out-to-in.
Face-to-target: the angle you open or close the clubface, compared to the target line at the point of impact.
Dynamic loft: the loft angle of the selected club plus or minus the club offset created by the shaft lean and clubface angle at the point of impact.
Shaft angle: the angle between the shaft and the ground as measured from the center of the shaft. This is measured at address and again at impact, and you want these measurements to be as close as possible.
Shaft lean: the forward or backward angle at which you are holding the club when hitting the ball, measured from a 90º vertical angle. This is measured at address and again at impact.
Not only that, but since the Approach S60 measures your wrist-path data, you'll be able to see 3D animation of your wrist action through the Garmin Connect app on your computer or device, so you can make adjustments as necessary.
Courseview button at your service
Don't waste time scrolling through the menus — just tap the Approach S60's dedicated Courseview button, and you're right there. You'll see the true shape and layout of the entire hole from wherever you are on the course, including tee box, fairway, and green.
Green View display
Garmin's highly regarded Green View display is also available with a finger tap from the Courseview screen, giving you an accurate view of the green — even if you're behind it or have an obstructed view. You can even touch and drag the pin to the day's location to make things easier on those difficult par 3 holes.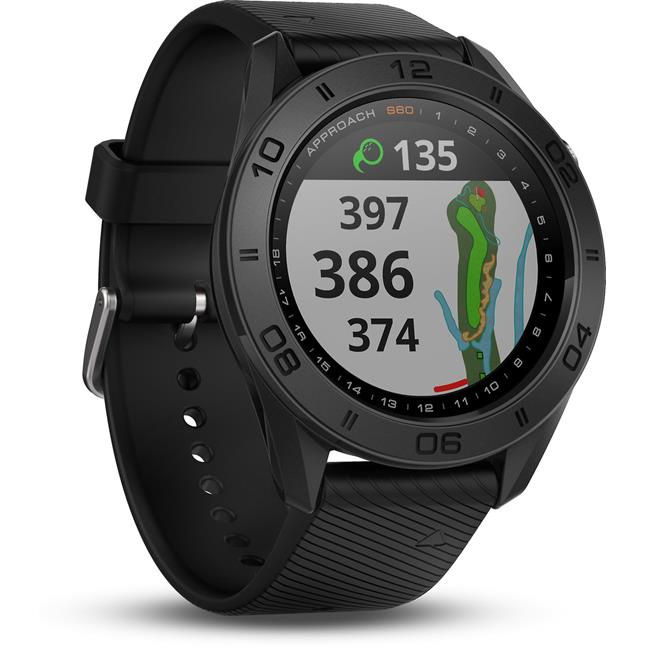 Verify your distance
The Approach S60 gives you distances to the front, back, and center of the green, plus distances to doglegs and layups. You can even add and save customizable yardages for bunkers and hazards from anywhere on the course. One glance at your wrist offers you a wealth of information with clear, easy-to-read numbering.
Touch-targeting lets you quickly determine how far it is to any point on the green. Getting ready for a layup? You'll see distance arcs on the S60's screen at 50-yard increments to help you decide your next shot. Green View lets you target the pin more accurately and gives you exact measurements when you're ready to putt.
Swinging blind? PinPointer can help
The Approach S60's PinPointer comes in especially handy when you're way off course. It lets you know exactly where the pin is, even when you can't see it. You can tee off with confidence, even when deep in a trap or the woods.
Manage your stats and scoring
Want to analyze your game for future improvement? The Approach S60 lets you track your putts per round, greens and fairways hit, and average distance of your strokes. It also offers digital scorecard options for individual players, including Stroke Play and Stableford. It even gives you options for handicap scoring for individual holes, player's local handicap, or index/slope methods. You can save, review, and print scorecards from your computer. Use the Measure Shot feature to tell you exactly how far the ball went next time you hit a really big one.
Know when you've got incoming messages
If you're worried about missing urgent texts, calls, alerts, and emails on the course, Garmin's got you covered. You can pair the Approach S60 with your compatible Android™ smartphone or iPhone® (4S or newer) and receive notifications directly on the watch's face. Leave your phone in your bag and concentrate on the task at hand.
READ LESS
Product highlights:
golf GPS watch with touchscreen display and black leather band
USB charging/data cradle included
1.2" color TFT touchscreen display (240 x 240 pixels)
premium scratch-resistant ceramic bezel
preloaded with over 41,000 courses worldwide
allows free course updates from Garmin website
waterproof up to 50 meters
built-in rechargeable battery allows up to 10 days of use in watch mode and 10 hours in GPS mode
compatible with Garmin Connect IQ platform for smartphone apps through the watch's face
compatible with Garmin Connect online for stat tracking
compatible with Garmin Golf app for competition with others and real-time scoring
Features:
Smart Notification of incoming smartphone texts, calls, emails, and alerts
swing and tempo improvement tools: TempoTraining, SwingTempo, and SwingStrength
dedicated Courseview button
touch-targeting gives precise distance to any point on display
PinPointer shows exact direction of pin from anywhere
digital scorecard with handicap scoring and stat tracker
compatible with Garmin TruSwing sensor for instant swing analysis
Other Information:
1-7/8"W x 2-3/16"H x 5/8"D
weight: 1.6 oz. (with battery)
warranty: 1 year
MFR # 010-01702-03
Garmin Approach® S60 reviews
Average review:
Thanks for submitting your review
Most reviews are processed and published within 5 business days. You will receive a confirmation email once your review has been published.
Customer photos
More details on the Garmin Approach® S60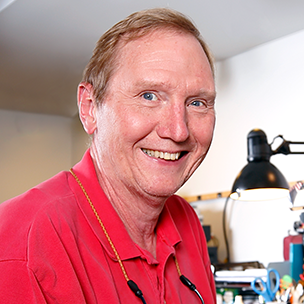 Researched by Crutchfield's

Mark G.
Product Research
Features
Overview: The Garmin Approach S60 is a wrist-worn golf GPS watch that includes smart features and other activity tracking features. Its memory is loaded with distance information for more than 41,000 pre-loaded golf courses worldwide. The S60 uses a high-sensitivity GPS receiver to measure individual shot distances and track how far you walk on the course. It also helps you analyze your swing and trains you how to take a more consistent swing. When paired to your smartphone (via Bluetooth), you can receive notifications on calls, texts, and emails. No subscriptions or setup fees are required.
General Description: The Garmin Approach S60 features a sleek design that looks good on or off the course. It features a black, scratch-resistant ceramic bezel with a 22mm black leather band. Optional "QuickFit 22" interchangeable bands come in a variety of colors and materials, and can be changed without special tools. The Approach S60 has a 5 ATM water rating, meaning it can withstand pressures equivalent to a depth of 50 meters. You can wear the watch in the rain or snow without worries.
Display: The Approach S60 has a 1.2" diameter high-resolution color touchscreen LCD with a resolution of 240 x 240 pixels. The display's Hole View gives you full-color details of every hole, even before you play them. You can see where the hazards are, the direction of the doglegs, and the shapes of the greens from wherever you are. The PinPointer is a compass that provides directional assistance by pointing to the pin location, even when you can't see the green. The Hole Information pages indicate the number of the hole being played, the distance to the back, center, and front of the green, and the par for the hole. Another page gives you layup and dogleg distances on par 4 and par 5 holes. The touchscreen lets you swipe to scroll through widgets, features, and menus. As you play, you can enter your score for each hole. On-screen icons display a low battery warning, GPS use, Bluetooth status, and alarm active indication.
Included Maps: The Approach S60 has CourseView map data loaded into its built-in flash memory. The data contains distance information to the front, back, and center of the greens for more than 41,000 golf courses worldwide. Lifetime free course updates are available from the Garmin website, and can be downloaded from your PC to the Approach S60 using the supplied USB charging/data cable. Installed CourseView maps include:
CourseView Intermediate Americas 5.30
CourseView Intermediate Europe, Middle East & Africa 4.90
CourseView Intermediate Pacific 4.40
CourseView Worldwide DEM 2.10
Functionality: The Approach S60 initially takes 30-60 seconds to acquire satellite signals and determine your location. As you play, the unit automatically updates your position, and automatically transitions to the next hole as you approach the next tee. To look ahead or back, you can swipe up or down, or move the hole indicator around the edge of the screen to change holes. The S60 gives you the exact yardage to the front, center, and back of the green for each hole. Because pin placement varies, you can touch and drag the pin to the day's location. You can also measure the distance of a particular shot. For Par 4 and 5 holes, you can view a list of layup and dogleg distances. During the round, you can save and label up to five locations, such as water hazards or bunkers, on each hole. Distance units can be set to yards or meters.
Digital Scorecard: During your round, you can enter your score by entering + or - the number of strokes over or under par. Your total score (relative to par) is updated as each hole's score is entered. If necessary, you can select any previously played hole to change the score for that hole. You can also record statistics, such as number of putts taken, greens in regulation (GIR), and number of fairways hit (or which direction you missed), during the round. Before you start the round, you can select Stroke Play or Stableford scoring. (Stableford points are awarded as specified by the USGA.) At the end of your round, you can connect the Approach S60 to your computer to view and save your scorecard.
Touchscreen and Button Controls: The S60 lets you maneuver through the menus and settings by touching the screen. Different than most mobile devices, the touchscreen is designed so you can operate it with your fingertip or while wearing gloves. You can lock the touchscreen to prevent accidental touches while you play.
Training/Swing Analysis: The Garmin Approach S60 has some features designed to help you play better golf. With the optional Garmin TruSwing golf sensor, you can get instant feedback and swing training to help improve your consistency on the golf course. The sensor, which attaches to the shaft of your club, measures the tempo, speed, swing path, club face angle, and other metrics of your swing, and provides training to help you improve your game. In addition, the Swing Tempo app on the Approach S60 measures and displays your swing tempo (backswing time divided by the downswing time, expressed in a ratio). The device provides six different timings to choose from. As you practice, the display shows a graph that indicates if your backswing or downswing times are too fast, too slow, or just right for the selected timing.
Watch: In addition to its GPS functions, the Approach S60 is a digital watch. Using Connect IQ (must be paired to your smartphone), you can customize the watch face by selecting from a wide variety of faces. By default, the watch time is set automatically when the device acquires satellite signals. You can also set the time manually. If enabled, the watch can automatically switch between standard time and daylight saving time. The watch also has an alarm, countdown timer, and can display 12-hour or 24-hour time formats.
Widgets: The Approach S60 comes with preloaded Widgets that provide a variety of information and functionality. Some Widgets require connecting to your smartphone via Bluetooth. Some of the available Widgets include: Smartphone notifications, Calendar, Music Control, Weather, Step Counter, and Calories Burned.
Activities: In addition to golf, the Approach S60 uses the GPS data, and data from a built-in gyroscope and accelerometer to help you keep track of and analyze other indoor or outdoor activities. Using optional ANT+ sensors (bike speed/cadence, foot pod, heart rate, etc.), you can send detailed data of your activity and performance levels. Indoor and outdoor activities you can track include: running, swimming, cycling, skiing, snowboarding, XC skiing, stand-up paddleboarding, and rowing.
Power Requirements: The Approach S60 operates on a rechargeable Lithium-ion, coin cell battery. A fully depleted battery charges completely in approximately four hours using the proprietary USB charging/data cable. In the GPS mode, a fully charged battery should give you up to 10 hours of continuous use as you play golf or perform other activities. The Power Save mode turns off the GPS receiver after a period of inactivity, and displays only the time and date. If you are using the unit continuously as a watch, a fully charged battery should provide up to 10 days of battery life.