About the Garmin dēzl™ 780 LMT-S
Smart, helpful guidance from Garmin on a big 7" screen
The highway can be a beautiful but lonely place; just ask any long-distance trucker. Also ask any trucker who they trust for guidance, and chances are they'll tell you Garmin's the way to go. That's because Garmin's dezl navigators boast timely info and clear, easy-to-follow directions specifically for rigs. The dezl 780 LMT-S portable GPS navigator offers a gigantic 7" screen (perfect for large truck dashboards and windshields), road-worthy points of interest, built-in Wi-Fi®, and custom settings for any kind of truck setup. Free lifetime map and traffic updates ensure drivers that they'll always know about important road changes and congestion along their routes.
Smart, helpful guidance from Garmin on a big 7" screen
The highway can be a beautiful but lonely place; just ask any long-distance trucker. Also ask any trucker who they trust for guidance, and chances are they'll tell you Garmin's the way to go. That's because Garmin's dezl navigators boast timely info and clear, easy-to-follow directions specifically for rigs. The dezl 780 LMT-S portable GPS navigator offers a gigantic 7" screen (perfect for large truck dashboards and windshields), road-worthy points of interest, built-in Wi-Fi®, and custom settings for any kind of truck setup. Free lifetime map and traffic updates ensure drivers that they'll always know about important road changes and congestion along their routes.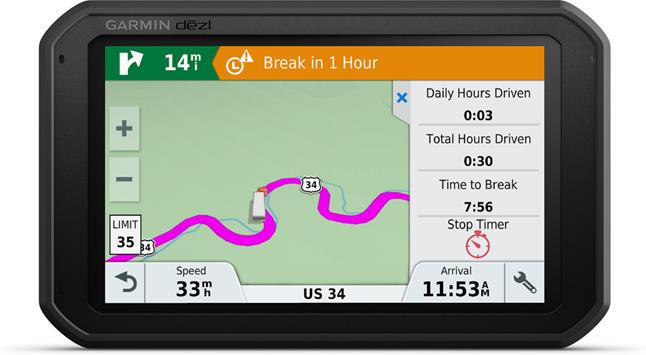 A monster 7" display for squint-free guidance
The trucker-friendly 7" display gives you easy access to preloaded maps of the U.S., Canada, and much of Mexico, plus Puerto Rico and U.S. Virgin Islands. Truck-specific points of interest will come in handy when it's time to find a shower, weigh station, or Wi-Fi — you can even add your own favorite destinations. And with one tap of the screen, Garmin's Up Ahead feature pulls up details for services that lie ahead on your route, including restaurants, gas stations, and more. You also get up to four free map updates per year to keep you current on road changes.
Stay up-to-date on upcoming road issues
Worried about possible dangerous road conditions? The dezl 780 LMT-S provides upcoming highway info, such as sharp curves, high winds, weight limits, and hazardous materials. You'll also get a heads-up for steep grades so you can downshift accordingly. If you're in an area with a lower speed limit for trucks, this Garmin will alert you on the screen to help you avoid an encounter with Smokey. The navigator also provides mile marker locations, along with border notices five miles before you reach a new state line or the border to a different country.
Speak to your Garmin
You can activate guidance by using your voice — simply speak one of its recognizable commands and it'll get started. Hit the road without using your hands for safer hauling.
Rig-friendly routing
Road restrictions info enables this navigator to find the perfect route for your truck. You can build a custom profile with height, weight, length, width, and hazmat details, and the navigator will deliver the best, safest route to your destination on most roadways in the contiguous 48 states and Canada. If you're in a hurry, Garmin includes standard trailer sizes which allow you to change your vehicle profile with the push of button. And you can plan trips with multiple stops and save routes for future reference with ease.
TruckDown Directory
The dezl 780 LMT-S includes a preloaded TruckDown Directory so you can find a truck repair shop nearby in case of rig trouble. It even provides 24-hour road service listings for late-night truck emergencies. You can track your service history, HOS (Hours of Service), plus log your mileage by state for IFTA purposes. You can even search for available parking spots at nearby truck stops and rest areas.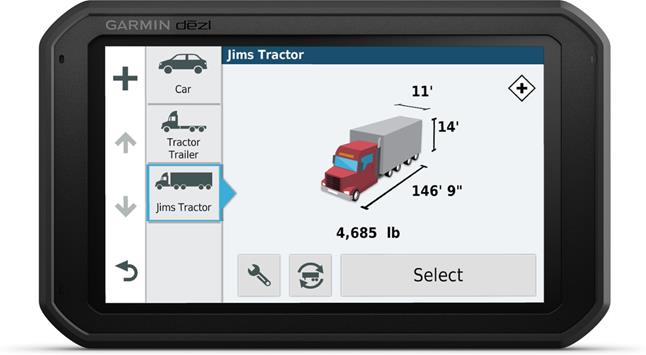 Build a profile for your rig to get the best possible route to your destination.
Schedule your respites
It's especially important for truckers to maintain their alertness, so this Garmin can help with planning driving breaks. It can provide periodic reminders for you to take a few minutes to power up, including nearby stops with services for truckers. The navigator's also compatible with Garmin's eLog™ electronic logging device, which plugs into your truck's diagnostic port and automatically records your driving hours to help maintain accurate logs.
Smartphone compatibility
You can pair the dezl 780 LMT-S with your iPhone® or Android™ smartphone to take advantage of Garmin's Smartphone Link app, which allows the two devices to share information, such as live traffic reports, saved and recently found locations, where you parked, and your current destination. You can also subscribe to dynamic services from Garmin for more road-friendly content like weather reports, road conditions, and fuel prices for an additional fee.
Don't let traffic cut into your paycheck
Garmin Traffic updates come courtesy of the Smartphone Link app, giving you a comprehensive view of congestion along your route and how long potential delays might be. It'll even suggest alternate routes to get you to your destination faster. And you won't have to pay a penny more for this service over the life of your navigator.
Points of interest via Foursquare® and TripAdvisor®
This Garmin comes with crowd-sourced points of interest from TripAdvisor and Foursquare, giving you user-verified info for millions of stops along America's roadways. You'll find the most relevant and popular hotels, restaurants, and roadside attractions within seconds, many with TripAdvisor ratings. If you've got your dezl paired with Garmin's Smartphone Link, you'll also see helpful Foursquare info such as ratings, hours, and price range displayed on its screen.
Powerful speaker and ear-friendly voice prompts
A powerful built-in speaker overcomes engine noise so you can hear about upcoming maneuvers. The navigator offers Garmin Real Directions with Garmin Real Voice, a combination that helps keep you relaxed as you drive. Real Directions voice prompts speak the instructions to you like a friend would, using easy-to-see landmarks, buildings and businesses, and traffic lights, rather than streets with tiny signs that you might not see in time. With Real Voice technology, you'll hear directions spoken in a personable, human-sounding voice that you'll comprehend readily.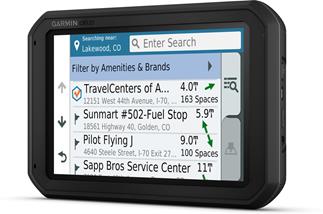 Stay on the right road
Garmin also incorporates several other helpful visual tools to keep you on the correct path:
Active Lane Guidance shows you colored arrows for the correct lane for an upcoming turn.
Bird's Eye junction view gives you a detailed look at complicated interchanges from above, to give you a better perspective.
photoReal junction view displays realistic images of intersections, including signs and surrounding terrain, along with colored arrows for the correct lane.
You'll see all three visual features in a split-screen with your overall route so you won't lose sight of what's further down the road. This Garmin's also compatible with the optional Garmin BC 35 wireless rear-view camera, so you can add an extra layer of safety when you're backing up.
Connect with Bluetooth®
The built-in Bluetooth connectivity allows you to conduct phone calls hands-free with your compatible phone. You can keep in touch with friends and family without diverting your attention from the road ahead. Most points of interest in Garmin's database include the phone numbers, so you can call ahead with the one tap of the screen to make reservations at hotels or check parking availability at truck stops. If you get an incoming text message or phone call, an alert will pop up on the dezl's screen so you won't miss anything important.
Built-in Wi-Fi for hassle-free updates
Nobody wants to hook their navigator up to their computer when it's time to get a map update or other software change. The dezl 780 LMT-S features built-in Wi-Fi connectivity so you can perform updates from your truck, so long as you're parked near a Wi-Fi hotspot. Or bring your dezl inside a nearby truck stop with a Wi-Fi network and update while you're eating dinner, showering, or sleeping.
READ LESS
Product highlights:
portable GPS navigator for over-the-road trucks
nüMaps Lifetime subscription (receive up to 4 map updates per year without additional fees)
suction-cup windshield mount with powered magnetic mount
car power adapter, micro-USB cable, and built-in rechargeable battery with over 1 hour of life
Navigation Features:
7" (1024 x 600 pixels) touchscreen display
accepts spoken commands and voice address entry
customized truck routing for size, weight, and load type of your vehicle
millions of points of interest (allows custom points of interest)
includes TripAdvisor and Foursquare points of interest (with Foursquare ratings when connected to smartphone via Smartphone Link)
preloaded with maps for the United States, Canada, Mexico, and Puerto Rico, plus U.S. Virgin Islands, Cayman Islands, Jamaica, and Bahamas
text-to-speech voice prompts announce actual road names at turns
Real Directions gives instructions using landmarks, buildings, and traffic signals
Real Voice announces directions in human-like voice
Up Ahead feature informs of nearby services
Active Lane Guidance with voice prompts
Bird's Eye and photoReal junction views
speed limit indicators
trip computer
periodic break reminders
compatible with Garmin eLog ELD (electronic logging device) for keeping records
multi-destination routing: route optimization
transport modes: auto, truck, RV
Connectivity:
Bluetooth for making and receiving hands-free calls with your compatible cell phone
Wi-Fi for wireless software and map updates
allows Foursquare check-ins via connected smartphone
works with Garmin Smartphone Link app for iPhone and Android phones — includes Garmin Traffic
Expandability:
Other Features and Specs:
dimensions: 7-7/8"W x 4-13/16"H x 1"D
weight: 15.4 oz.
warranty: 1 year
MFR # 010-01855-00
KEEP READING
READ LESS
What's in the box:
Garmin dēzl™ 780 LMT-S owner's manual
Portable GPS navigation device for truckers (with 7" LCD)
Powered magnetic mount
Suction cup mount (2.9" diameter)
Car charger with attached 68" cable (Right-angle Mini-B 2.0 USB plug)
20" USB cable (Type A USB on one end and Mini B 2.0 USB on the other end)
Setup and Configuration sheet
Important Safety and Product Information
Garmin dēzl™ 780 LMT-S reviews
Average review:
Customer photos
Garmin dzl 780 LMT-S
Guest from Charlottesville, VA on 5/21/2019
Good GPS working very good I don't have any problem with it,
0 of 0 found this helpful
Great GPS for Truck or RV use
Jef from Savannah, GA on 1/2/2019
The screen is large and easy to see. It gives you the verbal directions early enough to make lane changes. Being given the upcoming Rail Road tracks, school zones, and weigh stations is extremely informative. Especially when you are carrying hazardous chemicals! You can customize the information shown to a certain extent, but more customization would be better.
Pros: Large screen! Rail Road, School Zone & Weigh Station advance warning!
Cons: Not enough screen customization
0 of 0 found this helpful
Garmin dzl 780 LMT-S
Mantas from Plainfield, IL on 10/22/2018
0 of 1 found this helpful
More details on the Garmin dēzl™ 780 LMT-S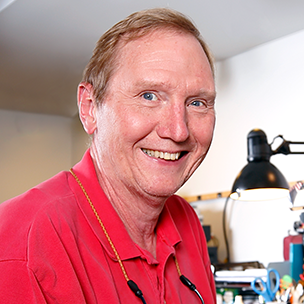 Researched by Crutchfield's

Mark G.
Product Research
GPS for Truckers
Navigation Features
General Features
GPS for Truckers
OTR Navigation: The Garmin dēzl 780 LMT-S was designed by truckers for truckers, with features that are tailored to the OTR (Over-The-Road) trucking industry, including a large 7" high-resolution display and extra loud speakers. The dēzl 780 LMT-S is compatible with the Garmin eLog Compliant ELD (electronic logging device) which automatically tracks and records your HOS (hours of service).
Custom Truck Profiles: When setting up the device, you will enter data about the rig you're driving (such as width, overall length, height, gross weight, maximum weight per axle, and number of trailers) or what you're hauling (hazardous materials like explosives, compressed gases, flammable liquids or solids, corrosives, etc.). Multiple truck profiles can be stored in the memory. When you're not driving your rig, you can select a "car" profile, which does not include most of the truck-related features.
Warning Icons: With your truck profile entered, the dēzl 780 LMT-S will display warning icons along your route that affect your travel. Warnings include size/weight restrictions, hazmat restrictions, road conditions (grounding risk, lateral wind, narrow road, sharp curves, steep grades), and upcoming weigh stations.
Truck Speed Limits: Trucking speed limits appear on the screen if they are lower than the posted automotive speed limit. The device sounds a tone and displays a warning when the posted speed limit is exceeded, or if there are upcoming speed limit reductions.
Truck-specific POIs: The dēzl 780 LMT-S offers numerous points-of-interest that are specifically geared toward truckers, such as truck stops, lodging, weigh stations, parking, and rest areas. You can search and filter truck stops by brand name or for specific amenities, such as showers, scales, Wi-Fi, and truck washes. The unit also includes a directory from Truckdown with over 30,000 truck repair and service locations in the United States and Canada, including those offering after-hours road service.
Exit Services: The Exit Services function lets you search roadway exits for truck stops, food, lodging, rest areas, and weigh stations so you are never left guessing what is around the bend.
IFTA Logging: You can use IFTA (International Fuel Tax Agreement Documentation) logging to archive data needed for International Fuel Tax Agreement documentation, such as fuel-purchase data and miles driven.
eLogging: The dēzl 780 LMT-S, on its own, cannot be used as a substitute for logging requirements under the Federal Motor Carrier Safety Administration (FMCSA). With the optional Garmin eLog compliant Electronic Logging Device (ELD), you can comply with Hours of Service logging and break requirements. The device notifies you one hour before your suggested break times and drive hour limits, and suggests locations to take your break. You can also keep track of your working hours.
Dispatch and Track: The device's Dispatch and Track feature lets you share details of your trip with a dispatcher or contacts from your smartphone or social networking accounts. For this feature, you will need to run the Smartphone Link app on your smartphone. When you are sharing, viewers can track your current location, your next destination, and the routes you have recently taken. This is a helpful feature for trucking companies because it allows dispatchers to track drivers and send messages containing delivery addresses directly to a dēzl device.
Service History: As you service and make repairs to your rig, you can keep track of the details. Each time you perform a service, the mileage can be entered into the device. Maintenance and repair examples include: Air Conditioner repair, Battery change, Brake Pads change, Engine Oil change, Fuel Vent change, Heater repair, Power Steering Fluid change, Radiator Fluid change, Rear Differential Fluid change, Tire change, Tire rotation, and Transmission Fluid change.
Jurisdiction Summary: The jurisdiction summary lists data for each state or province in which your vehicle has operated during each quarter. The jurisdiction summary is only available in some areas.
Trip Reports: You can conveniently export all the device's trucking logs for improved reporting and tracking of each trip. The unit's trucking logs can be stored on the unit's internal memory or external microSD card (sold separately).
Optional Backup Camera: You can add up to 4 optional Garmin BC35 wireless backup cameras to the dēzl 780 LMT-S, allowing you to have multiple views of your rig while backing up. You can also connect the camera to a continuous power source for full time camera views whenever you want.
Navigation Features
Built-in GPS Antenna: The unit has a built-in antenna in its top panel. In order to obtain an optimal signal, the unit must have a clear, unobstructed view of the sky. If the unit is mounted in a truck with a coated windshield or an in-screen heating system, there may be difficulty in obtaining a good signal.
Pre-loaded HERE Maps: The dēzl 780 LMT-S comes with HERE's City Navigator street maps for the entire United States (including Alaska & Hawaii), Puerto Rico, Virgin Islands, Canada, and Mexico. The maps features millions of points of interest (POIs), such as hotels, restaurants, gas stations, ATMs and attractions.
Free Lifetime Map Updates: The dēzl 780 LMT-S offers free lifetime map updates (of the preloaded map software) so you'll always have the most up-to-date maps, POIs, and navigation information. Map updates are available for download up to 4 times a year with no subscription or update fees and no expiration dates. Free Lifetime Map Updates are subject to Terms & Conditions.
Live Traffic: Live Traffic helps you avoid traffic tie-ups that may delay your travel. Here (formerly NAVTEQ) collects, processes, and distributes real-time traffic conditions. Live Traffic requires the use of a Bluetooth-enabled smartphone loaded with the Garmin Smartphone Link app. Traffic data is refreshed every 60 seconds, with more than 1000 messages received with every update. Updates appear to the side of the map, so your driving map remains onscreen at all times. The updates can give you details about the situation, including the estimated length of the delay. Free Lifetime Live Traffic requires no subscription or activation, and is subject to Terms & Conditions.
Avoidances: You can program the unit to avoid certain things that may be undesirable on your route. The device can avoid areas with environmental or emissions restrictions that may apply to your vehicle. Other examples of things that can be avoided include U-Turns, Highways, Carpool Lanes, Unpaved Roads, and Ferries. You can also add Custom Avoidances for certain areas and roads.
Text-to-Speech Audible Directions: In addition to the visual map, you get voice-prompted, turn-by-turn directions that speak street names to your destination; allowing you to keep your eyes more comfortably on the road. The dēzl 780 LMT-S offers male and female voices of various languages.
Note: Only those voices marked "Speaks Garmin Real Directions" will speak specific street names.
Next Turn: When you are navigating a route, you can view the next turn on the map and the distance and time left before you reach the turn. You can also view a list of all of the upcoming turns for your entire route, with the distance between turns.
Active Lane Guidance: As you approach complex interchanges, the Active Lane Guidance feature indicates with voice prompts and brightly colored arrows the proper lane needed for your route. You can also view the interchange in detail from an overhead perspective with the Bird's Eye Junction View, when available.
Where Am I?: The "Where Am I?" feature gives you instant access to important information in case of an emergency. When you select "Where Am I?" from the menu, you get the coordinates (including elevation) of your current position, plus the nearest address and intersections. There are also buttons to help you locate the nearest hospitals, police stations, gas stations, and roadside assistance. You can also save the location for future reference.
Vehicle Profiles: The dēzl 780 LMT-S offers four Vehicle Profiles for calculating your navigation route. You can select Car, Straight Truck, Tractor Trailer, or Bus, and the device will calculate your route depending upon the type of vehicle you're driving, taking into account vehicle weight and size restrictions.
Vehicle Icons: The unit offers your choice of 20 standard icons to represent your vehicle, including tractor trailers, straight trucks, RVs, cars, and pickup trucks. The online Garmin Garage offers dozens more vehicle icons, voices, and dashboards that you can download for free. With the Garmin Voice Studio, you can record your own voice prompts.
General Features
Touchscreen Display: The unit is equipped with a large 7" color TFT touchscreen LCD with a high resolution display with 1024 x 600 pixels.
Memory: The dēzl 780 LMT-S has a built-in 16 GB memory, plus a microSD card slot for external memory. The device is compatible with microSD memory cards from 4 to 64 GB.
Voice Command: You can use your voice to activate and operate the dēzl 780 LMT-S. Voice Command allows you to use the device by speaking words and commands and following the voice prompts. After speaking a predetermined Wakeup Phrase, you can enter the names and/or address of popular, well-known locations. If necessary, you can disable voice prompts without muting the device, so you'll still hear the audible directions as you travel.
Wi-Fi Compatible: You can keep the device updated with the latest maps and software without connecting it to a computer. When connected to a Wi-Fi network, the device checks for available updates, and displays an icon on the screen. The connected network is added to the list of saved networks, and will reconnect automatically when it is within range.
Garmin Express: You can connect the unit to your computer with the supplied USB cable for downloading map updates, custom POIs, voices, and vehicles. You will need to download the Garmin Express software to update your maps and register the unit. Garmin Express requires Windows 7 SP1 or newer or Mac OS X 10.10 or higher.
Bluetooth Technology: The Garmin dēzl 780 LMT-S has built-in Bluetooth technology. This allows you to sync the unit with a Bluetooth-enabled device for hands-free calling through its integrated microphone and speaker. It can also be paired with a Bluetooth-compatible headset to make and take calls, including conference calls. You can make and receive phone calls as long as the devices are within 33 feet and paired. For a complete list of Bluetooth compatible mobile phones, check the Garmin website.
Smartphone Link: Smartphone Link is a phone application that allows the device to download live data using your phone's data connection, and transferring the data wirelessly via Bluetooth. You can also receive notifications (emails, texts, etc.) on the device. The free Garmin Smartphone Link app provides access to Garmin Live Services, which includes free and subscription-based plans for viewing traffic data, weather, dynamic parking, and fuel prices. Garmin Smartphone Link is available for iPhone (4S and later) in the App Store and for some Android devices in the Google Play store.
Indoor Use: When indoors, you can activate the built-in simulator and practice using the unit. This turns off the GPS receiver so it's not searching for satellites.
Universal Windshield Mount: The unit comes with the Garmin Universal Bracket mount with a suction cup that holds the unit securely in place on the windshield. If you wish to mount the unit elsewhere in the cab, a number of optional mounts are available, including a friction dash mount.
Power Source: The Garmin dēzl 780 LMT-S operates on a 12-volt power source, and includes a cigarette lighter power adapter to charge the built-in Lithium-Ion battery. The battery provide up to 1+ hour of use when fully charged.
Q
Crutchfield asked: Why did you buy this?
A
You beat Amazons delivery by 3 days!
[ John Mar 20, 2019 ]
A
I drive a commercial truck with multiple stops and i like the idea of optimization.
[ rick Nov 12, 2018 ]
A
I'm a new truck driver, I need something to make my job a little easy
[ cayemitte Aug 11, 2018 ]
A
features
[ Moises Aug 09, 2018 ]
SHOW MORE
SHOW LESS