Garmin Speak™ with Amazon Alexa
Enjoy voice access to Amazon Alexa in your car, plus get turn-by-turn directions
Overview
Our take on the Garmin Speak™ with Amazon Alexa by Crutchfield's Dominic DeVito
Get Amazon Alexa help — and directions — while you drive
Garmin's Speak in-vehicle controller puts the world of Amazon Alexa Voice Services into your vehicle, so you can drive while keeping your eyes on the road and hands on the wheel. Simply mount this compact device on your windshield, pair it with the free Garmin Speak smartphone app, and you'll be able to use the Amazon Alexa Voice Services you enjoy the most just by speaking aloud. Turn-by-turn directions from the navigation experts at Garmin are part of this device's suite of capabilities, so you'll find the best route to a destination across the state or just around the corner, simply by asking the Speak where to go.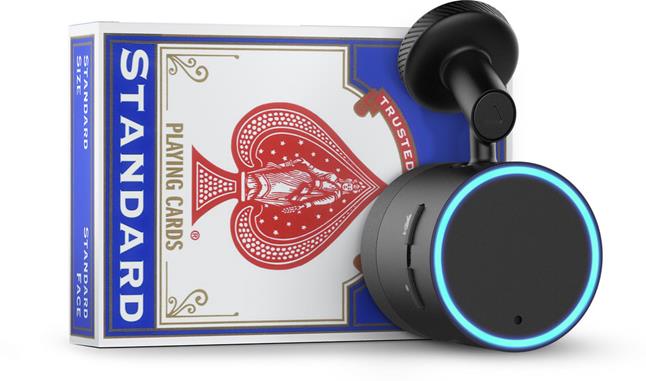 The Garmin Speak with Amazon Alexa takes up hardly any room on your windshield but offers voice access to many helpful services, including GPS directions.
Compact and convenient
The Garmin Speak doesn't need to be big to provide assistance — it just requires Bluetooth® connection to your smartphone (and a robust phone signal) to access Amazon Alexa Voice Services. The Speak acts primarily as a conduit between your voice and the Speak and Alexa apps, but it does a lot more. It offers a small display for help in following turn-by-turn directions, and it's designed to add more features and skills as Alexa capabilities improve over time. It also works as a microphone and speaker for hands-free phone calls. It doesn't take up much room, but you will need to run a power cable to run it, probably along the top of your windshield.
Get stuff done while driving
Amazon Alexa Skills let you connect with your life, and the Speak connects you to Alexa while you're driving. You can add stuff to your to-do list, Amazon cart, or calendar just by speaking out loud. You can also ask Alexa to give you local movie times, tell you the weather forecast, or provide an update on your favorite stock prices. Need to consult some random trivia on Wikipedia? Alexa's got you covered there, too.
Alexa also works with your home's smart devices. If you want to come home to a comfortable temperature and bright lighting, you can ask Alexa to activate the thermostat and smart lights when you're behind the wheel. Forget to lock the door on your way out in the morning? Alexa can take care of your smart lock for you while you're stuck in traffic.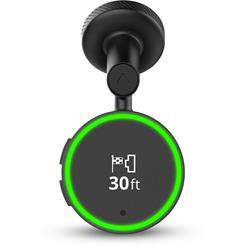 Garmin GPS guidance
When you're lost, your stress level can skyrocket, so avoid the worry with Garmin GPS directions leading the way. Just say, "Alexa, ask Garmin," and follow that with a request to find a specific destination or locate a nearby type of destination (coffee shop, gas station, hospital, etc.). Alexa will give you spoken turn-by-turn directions provided by the experts at Garmin, including actual street names and which lane you need to be in for the next move. You can see arrows and distances for upcoming maneuvers on the Speak's small display to help you find your way.
Works with streaming audio services
Your Amazon Alexa account provides hands-free access to streaming tunes from Amazon Music, Pandora, and more. With the Garmin Speak, you can just ask Alexa to fire up your favorite playlists and stations, or search for a particular artist, album, or song to stream from your phone. You can also listen to podcasts, audio books, news briefs, and other sources without looking at your phone.
Hearing is believing
The Garmin Speak can work as a standalone device with its built-in speaker, but it really shines when it works with your car stereo. If your stereo has built-in Bluetooth, you get wireless music, answers, and directions when it's paired with the Speak. You can also connect the Speak to your radio's auxiliary input with a basic 3.5mm cable connection for the same performance.
Product Highlights:
microphone/speaker device for use with Amazon Alexa Voice Services and GPS directions
0.78" (114 x 64 pixels) OLED display with light ring
USB power cable and magnetic windshield mount
built-in Bluetooth for hands-free calling and pairing with Garmin Speak smartphone app
Navigation Features:
cloud-based navigation with spoken turn-by-turn directions
save locations (home, work, school, etc.)
text-to-speech voice prompts announce actual road names at turns
lane guidance
automatic map updates
next maneuver arrows and numeric distances appear on the OLED display
Voice Control Features:
works with Amazon Alexa Skills and time management functions (calendar, shopping, etc.)
allows hands-free calling through compatible smartphones
music streaming from many major services
control smart home devices remotely
Other Features and Specs:
dimensions: 1-1/2" W x 2-9/16"H (with mount) x 1-1/2"D
weight: 1.32 oz.
warranty: 1 year
What's in the Box:
Garmin Speak™ with Amazon Alexa Owner's manual
Garmin Speak with magnetic mount
Adhesive metal disc (for windshield mount)
Spare mounting pad (adhesive on both sides)
DC power supply with 13' cord (cigarette lighter adapter)
Quick Start Guide
Alexa tips
Important Safety and Product Information
Why Shop
With Us?
12 Reasons.
---
Details
Product Research
Features
Overview: Garmin Speak with Amazon Alexa brings what you love about the digital voice assistant to your vehicle. This small device mounts to the windshield of your vehicle, and, at your verbal request, can perform many helpful functions to enhance your travels. Garmin Speak comes with an adhesive disk for mounting, and a power cable that plugs into the nearest DC power port in your vehicle.
Note: The device is designed to be mounted to your vehicle's windshield, which is prohibited in many states. You should check the law in the states you plan to travel.
Amazon Alexa: The cloud-based Amazon Alexa Voice Service is available on millions of devices to help you more intuitively interact with the technology you use. Alexa uses voice interaction to play music or audiobooks, and provide weather, traffic, and news in real time. It can also control numerous "smart" devices in your home, including lights and the thermostat. New Alexa skills are added daily.
Connection to Vehicle Stereo: The device connects to your car stereo through a wireless or wired connection. You can send the Garmin Speak audio signal to your vehicle's stereo via a wireless Bluetooth connection. This allows you to listen to Alexa responses, as well as media and phone calls without a wired connection. If your stereo isn't Bluetooth compatible, you can connect a 3.5mm auxiliary audio cable between your stereo and the device's power cable plug.
Garmin Speak: Garmin Speak with Amazon Alexa can be a helpful companion in your vehicle as you travel. Using voice commands, you can direct Alexa to perform the following functions:
Audio Functions: When paired to the free Garmin Speak app, the device lets you stream music through your vehicle's sound system. You can access your music playlists or podcasts, play audiobooks, check the weather, and listen to news and sports updates. Alexa will play music from Amazon Music (including Amazon Prime), Pandora, and Sirius XM.
Navigation: By saying "Alexa, ask Garmin...", you can get turn-by-turn directions to your destination. The Garmin skill can search for specific addresses or a point-of-interest, giving you spoken directions, as well as simple visual directions on its display (arrows and distance to the maneuver). Navigation symbols include turn directions, highway exits, lane guidance, and destination arrival. You can ask Alexa for information about the route along the way, such as traffic conditions, or time and distance to the next turn or your destination.
Remote Control: If you have "smart" device in your home, you can control them through Garmin Speak with Amazon Alexa. With a simple voice command, you can turn your lights on or off, adjust your thermostat, or make sure you've locked your front door.
Convenience Features: Garmin Speak can perform many tasks as you drive down the road, letting you keep your hands on the wheel. Alexa helps you create shopping, grocery, and to-do lists, and allow you to add to those lists at any time. You can check your calendar, or look up something in Wikipedia.
Entertainment: Alexa can help keep you and your passengers entertained as you travel. You can play interactive games or trivia. Alexa can "pick a card" or "flip a coin" if you desire.
Garmin Speak App: You will need the Garmin Speak app on your smartphone to perform the device's many functions. The Garmin Speak app requires iOS 10 or later on iPhones and iPads, and Android v5.0 (Lollipop) and higher on Android devices.
Design: The cylindrical device is only about 1-1/2" in diameter and depth, and has an integrated adjustable windshield mount. It has an 11/16" x 3/8" OLED display (114 x 64 pixels) on the front, with Alexa's signature LED light ring around the outside. It has a built-in speaker on the back panel. Two microphones, with beamforming technology, are placed on the front and bottom of the device. There are two buttons in the side: one to mute/unmute the microphone, and the other to activate the device, accept an incoming call, dismiss an alarm or timer, or to turn off (pressing and holding for two seconds). The Garmin Speak device weighs only 1.33 ounces.
Mounting: Garmin Speak with Amazon Alexa is designed to be mounted your windshield via its magnetic mount. The mount includes a metal disc with a strong adhesive which is attached to the windshield. The Garmin Speak device attaches magnetically to the disc, making it easy to remove when needed. It should be mounted in a location where it can clearly hear your voice, and within easy reach of the device's buttons. You should avoid placing it in a location that obscures your view of the road. The device is powered by the supplied 12-volt power cord, which plugs into a DC power port (cigarette lighter plug).
Our Product Research Team
At Crutchfield, you'll get detailed, accurate information that's hard to find elsewhere. That's because we have our own in-house Product Research team. They verify what's in the box, check the owner's manual, and record dimensions, features and specs. We stay on top of new products and technologies to help people make informed choices.