About the Garmin Speak™ Plus with Amazon Alexa
Meet your co-pilot, Alexa
I was slow on the uptake when it came to using voice control in my car, but now that I've wrapped my head around the convenience, I use it every day. Garmin's Speak Plus dash cam steps up in-car voice control by harnessing the convenience of Amazon's Alexa virtual assistant for use while you drive. Just ask Alexa for turn-by-turn Garmin navigation, traffic info, music suggestions, and more, plus receive helpful Garmin driver alerts. With so many features packed into this sleek camera, it's hard to even call it a dash cam.
Meet your co-pilot, Alexa
I was slow on the uptake when it came to using voice control in my car, but now that I've wrapped my head around the convenience, I use it every day. Garmin's Speak Plus dash cam steps up in-car voice control by harnessing the convenience of Amazon's Alexa virtual assistant for use while you drive. Just ask Alexa for turn-by-turn Garmin navigation, traffic info, music suggestions, and more, plus receive helpful Garmin driver alerts. With so many features packed into this sleek camera, it's hard to even call it a dash cam.
The security of a dash cam
Garmin's Speak Plus dash cam watches the road through a wide-angle lens, capturing everything ahead of you in HD for a sharp picture in bright or low light. It's also keeping an eye on the road ahead to give you an audible Forward Collision warning if you approach a car too rapidly, a Lane Departure warning if you veer from your lane, or a Go alert if you're stopped and traffic ahead starts moving. Along with Garmin's turn-by-turn navigation, you'll see the cam's visual prompts on an OLED display.
If you're involved in an accident, Garmin's Incident Detection feature uses a built-in G-Sensor to detect hard braking or a collision, and then saves vital video files for a complete record of the event. All video files are saved to an included microSD card, but you can upgrade for up to 64 GB of storage.
All of what Alexa offers
Whether it's your reminder list, the latest headlines, an update on the weather, or access to your subscription-based music service, Alexa makes getting what you need so simple — all you have to do is ask. It also controls Smart Home lights, switches, and thermostats from companies like WeMo, Philips Hue, Samsung SmartThings, INSTEON, Nest, and more. So, you can have the house warm and lit up when you roll into the drive.
Best of all, you'll be able to hear everything Alexa says or plays for you through your vehicle's stereo system. Just pair your smartphone using the free Speak™ app, then connect to your car stereo via Bluetooth or using an aux input — the Speak's built-in speaker will provide sound if your car stereo doesn't have those features.
Always getting smarter
The Alexa service learns how to do new things all the time. Amazon refers to these abilities as "skills." Recent skills updates have allowed users to call for a car service, order takeout food, and place online shopping orders. You can track packages and set daily reminders. All updates are made using cellular data via a Bluetooth connection with your smartphone.
READ LESS
Product highlights:
voice-controlled dash cam equipped with Amazon Alexa
stream music, perform tasks, and control compatible smart devices with your voice
use the word "Alexa" to start a voice-activated command
includes Garmin turn-by-turn navigation
play audio through your vehicle's stereo system using Bluetooth or aux input
Dash cam:
records up to 1080p video files
built-in speaker
alerts driver with warnings of speed cameras, red light cameras, Forward Collision, Lane Departure, and Go alert
also includes vehicle power cable, adhesive-backed magnetic mount, and microSD card
built-in Wi-Fi for wireless sharing with mobile devices via VIRB Mobile app
G-sensor Incident Detection
Alexa Voice Control:
make hands-free calls and dictate messages
wirelessly stream from subscription-based music services like Pandora, TuneIn, IHeartRadio, and Amazon Music
access to Alexa skills, such as news updates, weather reports, smart home commands, and more
General Info and Specs:
must be connected to smartphone for Alexa voice control
OLED display with LED light ring
compatible with iOS and Android devices
warranty: 1 year
MFR # 010-01862-00
What's in the box:
Garmin Speak™ Plus with Amazon Alexa owner's manual
Garmin Speak Plus with dash cam and magnetic mount
8 GB microSD card (installed)
Adhesive metal disc (for windshield mount)
Spare mounting pad (adhesive on both sides)
DC power supply with 13' cord (cigarette lighter adapter)
Quick Start Guide
Things to Try
Important Safety and Product Information
Garmin Speak™ Plus with Amazon Alexa reviews
Average review:
Thanks for submitting your review
Most reviews are processed and published within 5 business days. You will receive a confirmation email once your review has been published.
Customer photos
More details on the Garmin Speak™ Plus with Amazon Alexa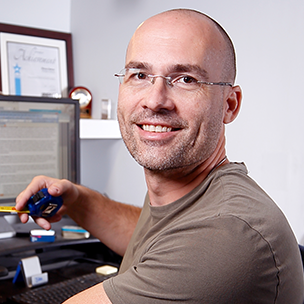 Researched by Crutchfield's

Stacey B.
Product Research
Features
Overview: Garmin Speak Plus with Amazon Alexa brings what you love about the digital voice assistant to your vehicle. This small device mounts to the windshield of your vehicle, and, at your verbal request, can perform many helpful functions to enhance your travels. In addition, Garmin Speak Plus adds a built-in dash cam that records video as you travel, and provides driver assistance features. Garmin Speak Plus comes with an adhesive disk for mounting, and a power cable that plugs into the nearest DC power port in your vehicle.
Note: The device is designed to be mounted to your vehicle's windshield, which is prohibited in many states. You should check the law in the states you plan to travel.
Amazon Alexa: The cloud-based Amazon Alexa Voice Service is available on millions of devices to help you more intuitively interact with the technology you use. Alexa uses voice interaction to play music or audiobooks, and provide weather, traffic, and news in real time. It can also control numerous "smart" devices in your home, including lights and the thermostat. New Alexa skills are added daily.
Connection to Vehicle Stereo: The device connects to your car stereo through a wireless or wired connection. You can send the Garmin Speak Plus audio signal to your vehicle's stereo via a wireless Bluetooth connection. This allows you to listen to Alexa responses, as well as media and phone calls without a wired connection. If your stereo isn't Bluetooth compatible, you can connect a 3.5mm auxiliary audio cable between your stereo and the device's power cable plug.
Garmin Speak Plus: Garmin Speak Plus with Amazon Alexa can be a helpful companion in your vehicle as you travel. Using voice commands, you can direct Alexa to perform the following functions:
Audio Functions: When paired to the free Garmin Speak app, the device lets you stream music through your vehicle's sound system. You can access your music playlists or podcasts, play audiobooks, check the weather, and listen to news and sports updates. Alexa will play music from Amazon Music (including Amazon Prime), Pandora, and Sirius XM.
Navigation: By saying "Alexa, ask Garmin...", you can get turn-by-turn directions to your destination. The Garmin skill can search for specific addresses or a point-of-interest, giving you spoken directions, as well as simple visual directions on its display (arrows and distance to the maneuver). Navigation symbols include turn directions, highway exits, lane guidance, and destination arrival. You can ask Alexa for information about the route along the way, such as traffic conditions, or time and distance to the next turn or your destination.
Remote Control: If you have "smart" device in your home, you can control them through Garmin Speak Plus with Amazon Alexa. With a simple voice command, you can turn your lights on or off, adjust your thermostat, or make sure you've locked your front door.
Convenience Features: Garmin Speak Plus can perform many tasks as you drive down the road, letting you keep your hands on the wheel. Alexa helps you create shopping, grocery, and to-do lists, and allow you to add to those lists at any time. You can check your calendar, or look up something in Wikipedia.
Entertainment: Alexa can help keep you and your passengers entertained as you travel. You can play interactive games or trivia. Alexa can "pick a card" or "flip a coin" if you desire.
Garmin Speak App: You will need the Garmin Speak app on your smartphone to perform the device's many functions. The Garmin Speak app requires iOS 10 or later on iPhones and iPads, and Android v5.0 (Lollipop) and higher on Android devices.
Design: The cylindrical device is only about 1-1/2" in diameter and depth, and has an integrated adjustable windshield mount. It has an 11/16" x 3/8" OLED display (114 x 64 pixels) on the front, with Alexa's signature LED light ring around the outside. It has a built-in speaker on the back panel. Two microphones, with beamforming technology, are placed on the front and bottom of the device. There are two buttons in the side: one to mute/unmute the microphone, and the other to activate the device, accept an incoming call, dismiss an alarm or timer, or to turn off (pressing and holding for two seconds). The Garmin Speak Plus device weighs only 1.33 ounces.
Mounting: Garmin Speak Plus with Amazon Alexa is designed to be mounted your windshield via its magnetic mount. The mount includes a metal disc with a strong adhesive which is attached to the windshield. The Garmin Speak Plus device attaches magnetically to the disc, making it easy to remove when needed. It should be mounted in a location where it can clearly hear your voice, and within easy reach of the device's buttons. You should avoid placing it in a location that obscures your view of the road. The device is powered by the supplied 12-volt power cord, which plugs into a DC power port (cigarette lighter plug).
Dash Cam Features
Dash Camera: Garmin Speak Plus features a built-in dash camera that records video of the road ahead as you travel. Video is saved onto an inserted microSD card. The device will accept microSD cards from 4 GB to 64 GB. An 8 GB card is included.
Voice Commands: The dash cam starts recording video as soon as it's powered on. To save a video clip, or to take a photo, you will need to use a voice command: "Alexa, ask Garmin to save video." or "Alexa, ask Garmin to take a picture." Saved video clips are approximately three minutes in length, and include video footage recorded before, during, and after you asked the device to save video.
Audio Recording: The built-in microphones are used for capturing audio for the dash camera recordings, as well as for Alexa voice commands. You can mute the microphones for both activities by pressing the mic mute button on the device. You can disable audio recording, but keep the microphones on for voice commands through the Garmin Speak app.
Garmin VIRB App: You can view and share recorded dash cam videos and photos on your smartphone through the Garmin VIRB app. The Garmin VIRB app allows you to view the live dash cam view, which can be used to properly aim and set up the dash camera.
Advanced Driver Assistance System (ADAS): The Garmin Speak Plus includes the Advanced Driver Assistance System using the integrated dash camera. ADAS provides the following warnings and alerts about your driving environment:
Go Alert: The Go Alert can alert you at a stop light or during traffic delays when the vehicle in front of you has started moving. When the road ahead of you is clearing, the dash camera plays a tone and displays an alert.
Forward Collision Warning System (FCWS): As you drive, Garmin Speak Plus' dash camera continuously records the view in front of your vehicle. The Forward Collision Warning feature alerts you if you are driving too close to the vehicle ahead of you. The FCWS feature automatically activates when your vehicle exceeds 30 mph. The device determines your speed using GPS, and calculates a safe following distance to the vehicle ahead of you, based on your speed. If the device detects that you are following too closely, a warning appears on the screen and an audible alert will sound.
Lane Departure Warning System: The Lane Departure Warning System (LDWS) alerts you when you may be drifting over into oncoming traffic or in danger of running off the road. The LDWS provides alerts only when your vehicle exceeds 40 mph. The alert appears on the left or right side of the screen to indicate which lane boundary you crossed.
The Garmin Speak™ Plus with Amazon Alexa replaces these items

Adding...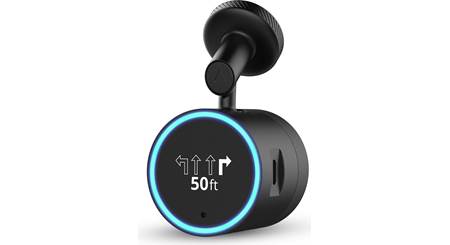 Enjoy voice access to Amazon Alexa in your car, plus get turn-by-turn directions
integrated microphone/speaker device for hands-free calling, Alexa help, and GPS directions
music streaming from many major services
control smart home devices remotely