About the Garmin STRIKER Plus 4
Go where the fish are
Catching them is the fun part, but you have to find 'em first. Garmin's STRIKER Plus 4 fishfinder makes it easier than ever to figure out where they're hiding. The Garmin dual-beam transducer gives you remarkably clear views of fish and underwater structures, and you can see it all on a 4.3" screen that's designed to work in bright sunlight.
Go where the fish are
Catching them is the fun part, but you have to find 'em first. Garmin's STRIKER Plus 4 fishfinder makes it easier than ever to figure out where they're hiding. The Garmin dual-beam transducer gives you remarkably clear views of fish and underwater structures, and you can see it all on a 4.3" screen that's designed to work in bright sunlight.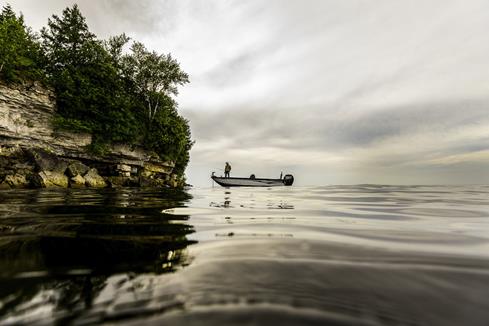 Map your lake the way you like
CHIRP means clarity
The STRIKER Plus 4 includes a Garmin CHIRP (77/200 kHz) transducer, which provides the clarity and detail you need to distinguish fish and structure. Instead of sending just one frequency, CHIRP sonar sends out a continual sweep of both low and high frequencies. The wider range of information means you'll see crisper fish arches and better target separation.
Mark your favorite spots
This isn't an ordinary one-trick fishfinder. The STRIKER Plus 4 also includes high-sensitivity GPS that helps you locate your current position quickly and Quickdraw Countours mapping software that lets you instantly create your own unique HD fishing maps with 1' contours You can store up to 2 million acres, so if you find a spot where they're biting, you can mark it and come back later. You can also mark important waypoints like docks and ramps, or even brush piles and stumps.
See what's down there
The STRIKER Plus 4 sports a built-in flasher, so any time you're fishing from a stationary position, you'll get a good view of the bottom, whether it's solid or muddy. You can track your jig or weighted bait, plus the depth of the fish as they swim into the beam. You can even see whether fish move toward or away from your jig.
Watch your speed
When you're trolling (or when you're in a wake-controlled area), you want to maintain just the right speed. With the STRIKER Plus 4, it's right there on the screen where you need it.
READ LESS
Product highlights:
4.3" color display
CHIRP (77/200 kHz) sonar transducer
Quickdraw Countours mapping software
built-in, high-sensitivity Garmin GPS
power: 200 watts RMS (1600 watts peak-to-peak)
find fish; mark and return to hot spots, docks and ramps
Ultrascroll displays fish targets at higher boat speeds
AutoGain minimizes clutter, maximizes targets
adjustable depth line measures depth of underwater objects
fish symbol ID helps identify targets
convenient keypad operation
accurate to 1600 feet deep in fresh water (750 salt)
see fish passing through transducer beam in real time
water temperature sensor included
dimensions: 3-7/8'' x 7' x 1-7/8''
tilt/swivel mount, transducer, trolling motor clamp and transom mount
warranty: 1 year
MFR # 010-01870-00
What's in the box:
Garmin STRIKER Plus 4 owner's manual
Striker Plus 4 fishfinder display/control unit
Tilt/swivel mount
Three 1" screws (for tilt/swivel mount)
6' Power cable
Dual-beam transducer with 20' attached cable
Transducer mounting bracket
Three M4 x 25mm screws (for transducer mounting bracket)
20" x 0.5" Cable tie
Four 5-1/2" cable ties
Transducer mount bolt (1.75" length)
Plastic spacer
Nylock nut
Two M5 x 30mm screws
Two 5mm flat washers
Rubber washer
Cable-entry cover
2 Cable clamps
Four M4 x 12mm screws
2-3/4" x 2" Mount gasket (rubber pad)
Quick Start Manual
Transom-mount Transducer Installation Instructions
Compass Safe Distance sheet
Garmin Support sheet
Important Safety and Product Information
Garmin STRIKER Plus 4 reviews
Average review:
Thanks for submitting your review
Most reviews are processed and published within 5 business days. You will receive a confirmation email once your review has been published.
Customer photos
More details on the Garmin STRIKER Plus 4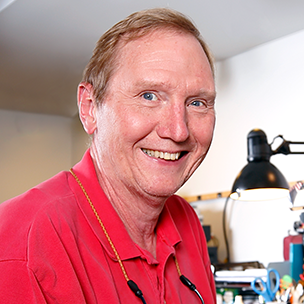 Researched by Crutchfield's

Mark G.
Product Research
Fishfinder Features
Navigation Features
Fishfinder Features
Overview: The Garmin Striker Plus 4 is a compact fishfinder/GPS navigator designed for small boats. It features a bright 4.3" QSVGA color display and a 200-watt dual-beam sonar transducer with CHIRP to help you locate fish. The Striker Plus 4 also has an integrated GPS to help you locate and navigate to your favorite fishing holes, docks, and boat ramps.
CHIRP Sonar: The Striker Plus 4 is equipped with CHIRP sonar, one of the most sophisticated sonar technologies available for boaters and fishermen. Compared to standard sonar, which sends one frequency at a time, CHIRP (Compressed High-Intensity Radiated Pulse) sends a continuous sweep of frequencies within a range from low to high. As a result, CHIRP sonar creates much greater target separation and crisper fish arches.
Display: The Striker Plus 4 features a 4.3" (diagonal) QSVGA color display with a resolution of 272 x 480 pixels. The display has a vertical orientation with 10-level backlighting (0% to 100%). The sunlight-readable display has selectable color modes (day, night, auto) with colors to represent the strength of the sonar returns. The unit comes with a 3" diameter 360° swiveling base with 10 tilt positions.
Keypad: The Striker Plus 4 features a convenient keypad for operating the device, located just below the display. The keypad consists of five buttons and a 4-way control for navigating the menu options.
Transducer: The dual-frequency CHIRP transducer provides a higher level of clarity and detail than traditional 77kHz/200kHz transducers. The transducer transmits sound waves through the water and receives them to relay information to the display. The 200 kHz frequency shows better detail, has a narrower beam (60°) and is typically used in shallower waters. The 77 kHz frequency penetrates deep water more effectively, and has a wider beam (120°), so it can be used to cover a larger area. The transducer has an attached 20' cable to accommodate large or small boats. The transducer can be mounted either to the transom of the boat, or to the bottom of your trolling motor. Mounting hardware for both locations is included.
Transducer dimensions (with mount): Width 2.478", Height 3.628", Depth 3.128".
Flasher: The Striker Plus 4 also includes a Flasher, which shows sonar information on a circular depth scale to indicate what is directly beneath your boat. The Flasher display page shows the depth and device voltage.
Viewing Pages: The Striker Plus 4's display scrolls from right to left to show the sonar readings from the transducer. The bottom depth is displayed in large numerals, along with the water speed, device voltage, and the current time. The unit has an adjustable depth range (Auto or Manual), and the depth scale is shown at the bottom of the screen, along with the transducer frequency. You can choose from a full screen page or split pages:
Full Screen Page: The Full Screen page shows a full-view graph of the sonar readings from the transducer.
Split Zoom Page: The Split Zoom page shows a full-view graph of the sonar readings on the right side of the screen, and a magnified portion of that graph on the left side.
Split Frequency Page: The Split Frequency page shows the 77 kHz frequency sonar data on one side, while the other side shows the 200 kHz frequency sonar data.
A-Scope: The A-Scope is a vertical flasher along the right side of the Full Screen page that shows the range to targets in real time along a scale. This view expands the most recently received sonar data so that it is easier to see. It can also be helpful in detecting fish that are located close to the bottom.
Beeper/Alarms: The Striker Plus 4 has a beeper that will sound to confirm each button press, or can be set to sound only for alarms, or turned off completely. There are several audible alarms that can be independently set in the menu:
Navigation:

Arrival: The unit's alarm will sound when you are within a specified distance or time from a turn or destination.
Anchor Drag: Sets an alarm to sound when you exceed a specified drift distance while anchored.
Off Course: When you are off course by a specified distance, the alarm will sound.

System:

Alarm Clock: You can set an alarm clock to sound at a specific time.
Device Voltage: The alarm will sound when the battery voltage reaches a specified low voltage.
GPS Accuracy: The alarm will sound when the GPS location accuracy falls outside a user-defined value.

Sonar:

Shallow: The unit will alarm when the water depth is shallower that the set value.
Deep: The unit will alarm when the water depth is deeper than the set value.
Fish: The unit will alarm when the device detects a suspended target. You can set the alarm for all fish, medium and large fish, or large fish only.
Water Temperature: The unit will alarm when the water temperature varies more than +/- 2°F. (Temperature-capable transducer required)
Quickdraw Contours Mapping: The Striker Plus 4 contains Quickdraw Contours software that will create maps of places you navigate. As you troll along the shorelines and the depths, the device is recording data about the body of water you're traveling. The software draws a map of the area as you pass, recording the contours and depth labels. The device's memory lets you store maps with 1' contours for up to 2-million acres. You can share your Quickdraw Contours maps with others, or download maps from other users on the online Garmin Quickdraw Community.
Navigation Features
Built-in GPS: The Garmin Striker Plus 4 has a built-in GPS receiver in the display unit that collects satellite data to establish your current location. The display unit should be mounted in a location that has a clear view of the sky for the best and most accurate results. A 5-bar signal strength meter indicates the quality of the satellite signal being received.
Waypoints: Waypoints are locations that you record and store in the device's memory. Waypoints can be marked at your present locations, or you can enter the coordinates to a waypoint at a different location. Each waypoint can be saved with a name, symbol, depth, water temperature, and comments. Once a waypoint has been saved, you can select and navigate to its location. You can also measure the distance to the waypoint on the Waypoint Map.
Man Overboard: From any screen, you can press the Waypoint button to mark your present location, and designate it as a Man Overboard (MOB) location. The Striker Plus 4 will then provide a direct route back to the location. MOBs and other waypoints can be deleted one at a time, or all at once, in the menu.
Routes: A route is a sequence of waypoints or locations that leads you to your final destination. To create a route, you can pick a starting point, add additional waypoints or locations, add turns, and save. Saved routes can be edited by changing the name, waypoints, or turns. Routes can be deleted one at a time, or all at once, in the menu.
Tracks: A track is a recording of the current path of your boat. You can designate a color for each track to differentiate them from each other. Tracks are created by automatically marking the current location at a set interval. The interval can be adjusted--recording more frequent plots increases accuracy, but fills up the track log quicker. You can also record tracks by the distance between points, or the variance from your course.
4 questions already asked