About the Garmin zūmo® 595LM
Garmin's top-of-the-line motorcycle GPS navigator
Garmin's known for combining outstanding guidance and exceptional features in reliable packages, and the zumo 595LM motorcycle navigator's no exception. One look tells you that you can take it out in any kind of weather and you'll still be able to see the maps on its impressive 5" display. With free lifetime map updates, you're ready for future road changes, and built-in Bluetooth® lets you stay in touch with your fellow riders. Add in a built-in music player and motorcycle maintenance tools, and you've got a device that's worthy of your prized bike.
Garmin's top-of-the-line motorcycle GPS navigator
Garmin's known for combining outstanding guidance and exceptional features in reliable packages, and the zumo 595LM motorcycle navigator's no exception. One look tells you that you can take it out in any kind of weather and you'll still be able to see the maps on its impressive 5" display. With free lifetime map updates, you're ready for future road changes, and built-in Bluetooth® lets you stay in touch with your fellow riders. Add in a built-in music player and motorcycle maintenance tools, and you've got a device that's worthy of your prized bike.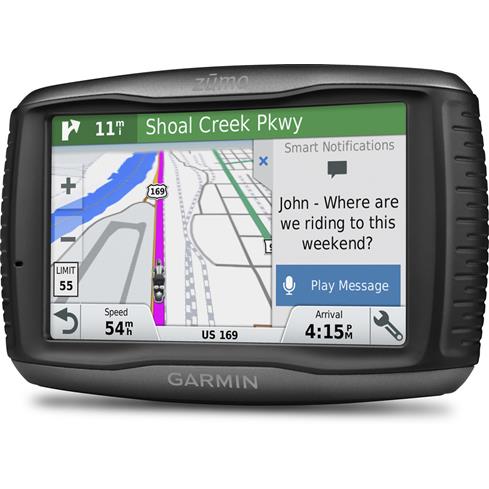 Rugged and ready
The zumo 595LM's 5" touchscreen display comes in handy when you're rolling down the road and need to figure out where you are. The navigator's tough waterproof housing keeps it working during inclement weather, and protects your investment against damage from ultraviolet rays and fuel spills. You'll find meticulous maps of the U.S., Canada, Mexico, and Puerto Rico on board, plus millions of points of interest for your down time.
Get where you need to go
Active Lane Guidance not only shows you the proper lane for the next turn, but gives you a split-screen view with lane animation that's easier to follow so you don't pass by your intended destination. You'll also see realistic views of complicated interchanges — including highway signs — to help you stay on track. And the zumo will let you know which accommodations and services are right by the nearest exit up ahead. Garmin's TracBack routing takes you back to your starting point along the exact same route you traveled, so you can revisit particularly cool locations.
Directions you can count on
As with most Garmin navigators, you'll get text-to-speech voice prompts at turns, so you'll hear "turn right on Monument Avenue," instead of "take the next right." Garmin's Real Directions give you turn-by-turn directions using recognizable landmarks, buildings, and traffic lights, which can make upcoming maneuvers even more intuitive. Garmin Direct Access directions direct you to specific points within complex destinations, such as malls, airports, and campuses.
Different views for different folks
To see things a little differently, rotate the zumo 595LM to enjoy the vertical map display view. The zumo also supports 3D terrain graphics, so you'll have a better idea of the road ahead. You can also upload optional custom or topographic maps to the navigator for unique adventures on or off the road.
Comes with what you need
Garmin includes mounting gear with an integrated power cable and headphone jack that'll let you securely attach the zumo 595LM to your bike's handlebars. You also get additional windshield mounting platforms and a 12-volt cable for your car or truck when you want to leave the bike at home. For an all-day ride, take along a couple of extra batteries for the trip — just remove the zumo 595LM's rechargeable battery and swap it out.
Take the fun road
The experts at Garmin know how the exhilaration of taking a particularly curvy section of road can really solidify your relationship with your motorcycle, so they've developed Adventurous Routing options to guide you through routes which let you really hug the terrain. Simply adjust your preferences for hills and curves, and the zumo will take care of the rest. It'll even help you avoid major highways if you prefer to take the scenic route whenever possible.
Alerts to keep you in the know
The zumo 595LM provides alerts for sharp curves ahead, speed changes, railroad and animal crossings, school zones, and more. You'll also get a heads-up when you need to check state helmet laws, or when you're about to head the wrong way down a one-way street. The zumo 595LM will point out nearby red light and speed cameras in select areas. And it can even recommend a pit stop when you've been driving for too long without a break.
More routing options
Easy Route Shaping lets you add a point on the map to adjust your route, so you can ride through preferred areas or follow specific roads. The zumo 595LM lets you add your own favorite stops and create personalized routes for exciting rides you won't forget. Trip planner and trip log features help you record your journeys and plan for future rides. The zumo's "Where Am I" emergency locator provides your exact location in an instant, displaying nearby emergency services if help is needed.
Safety first
A built-in digital fuel gauge keeps you aware of how much you've got left in the tank. You'll even get fuel stop alerts to prompt you when you're due to top off the tank, along with a list of nearby gas stations. The speed limit indicator can help you stay on the right side of the law. The included Service History Log lets you record date, mileage, and performed maintenance on your bike's tires, chain, oil, spark plugs, and more.
Don't let low tire pressure ruin your next ride
With an optional Garmin sensor, you can see your bike's tire pressure on the zumo 595LM's screen. You can monitor up to four tires in any configuration, with one tire pressure monitor sensor required per tire.
Works with your Bluetooth headset or helmet
The zumo 595LM's built-in Bluetooth wireless technology connects with your Bluetooth enabled headset or helmet so you can hear the navigator's spoken directions over road noise. And if your helmet or headset's paired with a compatible phone, you can use the zumo to place and receive calls without touching your phone. You'll be able to call up destinations like hotels or restaurants from the road to make reservations without stopping.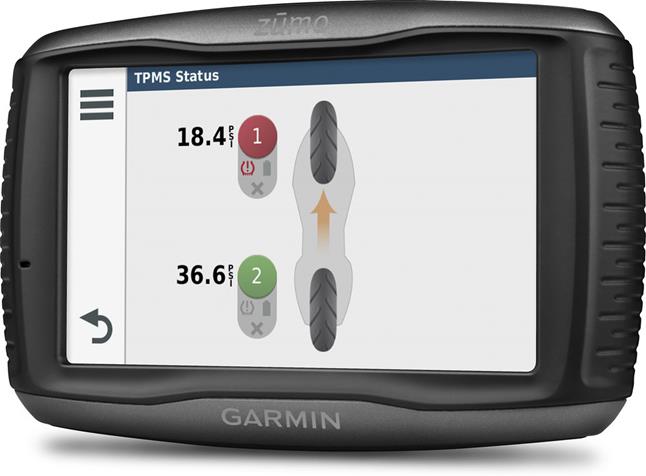 Smartphone notifications
Worried you might miss an important text or call while you're breezing along? When you pair select smartphones with the zumo 595LM via Bluetooth, you'll be able to see incoming texts, calls, and other alerts right on the navigator's screen. In some cases, the navigator will even read the alert aloud to you so you don't even have to take your eyes off the road. You'll need the Smartphone Link app on your phone (see below) to enjoy this service.
Music control to go
If you've got a newer iPhone or iPod touch, you can pair with the zumo 595LM to control your digital tunes and hear them through your Bluetooth helmet or headset. You can also connect your portable music player through the zumo mount's USB port and enjoy your tunes through the navigator. Or you can add MP3s directly to the zumo and play them as you ride. The zumo's built-in music player's controls can appear right on your map screen for convenience.
Add Pandora® and Spotify to the mix
If your iPhone or select Android device has the Pandora or Spotify app, you can pull up your favorite songs or stations and control them on the zumo's screen through a Bluetooth connection with your phone. You'll be able to see album artwork and artist and title information right on the zumo's display.
More smartphone integration
You can pair the zumo 595LM with your iPhone or Android smartphone to take advantage of Garmin's Smartphone Link app, which allows the two devices to share information, such as saved and recently found locations, where you parked, and your current destination. You can also subscribe to dynamic services from Garmin for more road-friendly content like traffic updates, weather reports, and traffic camera locations for an additional fee.
READ LESS
Product highlights:
portable motorcycle GPS navigator
5" color (800 x 480 pixels) display with dual-orientation capability and touchscreen control
nüMaps Lifetime download card (receive up to 4 map updates per year without additional fees)
motorcycle mounting kit with power cable and hardware
removable, rechargeable battery pack with up to 4 hours of life
suction-cup windshield mount, automotive power cable, and USB cable
Bluetooth for receiving directions through compatible helmet or headset and hands-free calling through phone paired with helmet or headset
MP3 player with Pandora and Spotify control (when paired with smartphone app)
headphone jack (on motorcycle mount)
Navigation Features:
millions of points of interest (allows custom points of interest)
includes Foursquare points of interest
preloaded with maps for the United States, Canada, and Mexico, plus U.S. Virgin Islands and Puerto Rico
text-to-speech voice prompts announce road names at turns
Direct Access provides door-to-door directions to destinations within select malls, airports, and universities
Real Directions gives instructions using landmarks, buildings, and traffic signals, with human-like voice announcements
Up Ahead feature informs of nearby services and milestones along route
Advanced Lane Guidance and junction view
driver alerts for upcoming sharp curves, red-light and speed cameras, and fatigue warnings
speed limit indicator
state helmet law notifications
TracBack and Adventurous Routing
supports custom maps and 3D terrain display
trip computer, trip planning tools, and service history log
digital fuel gauge and electronic compass
multi-destination routing: route optimization
transport modes: auto, motorcycle, off-road
Connectivity:
compatible with Garmin Smartphone Link smartphone app for Garmin Live Services including fuel prices, traffic reports, and weather reports
onscreen notifications of incoming calls, texts, calendar reminders, and app updates via connected smartphone
compatible with newer iPhone and iPod touch models for music playback and control when paired
Expandability:
microSD™ card slot
compatible with optional Garmin tire pressure monitor sensors
Other Features and Specs:
certified IPX-7 waterproof housing (submersible in one meter of water for up to 30 minutes)
dimensions: 5-3/16"W x 3-3/4"H x 1-3/16"D
weight: 13.2 oz.
warranty: 1 year
MFR # 010-01603-00
KEEP READING
READ LESS
What's in the box:
Garmin zūmo® 595LM owner's manual
zumo 595LM GPS navigation device for motorcycles
Mounting cradle
Mounting cradle cover
Suction cup windshield mount
Lithium-Ion Rechargeable Battery Pack (3.7V 1880mA 7.0Wh)
Cigarette lighter adapter car charger with attached 60" cable (terminated by a right-angle Micro USB connector)
20" USB cable (Type A USB on one end and Micro USB connector on other end)
Motorcycle mounting cradle with attached power / signal / and USB cables (max length=98")
Base plate (with large ball mount)
Double-socket arm
Handlebar Base (with large ball mount)
U-bolt
2 Nylock nuts
2 Rubber bolt tips
2 M6 x 50mm bolts
Two 1/4" x 2-1/8" bolts
2 Plastic spacers
2 Split-lock washers
4 M4 x 20mm pan-head screws
4 Flat washers
4 Small spacers
4 M4 Nylock nuts
zumo 500 Series Installation Instructions
Quick Start Manual
Important Safety and Product Information
Garmin zūmo® 595LM Reviews
Average Customer Review(s):
More details on the Garmin zūmo® 595LM
Researched by Crutchfield's

Mark G.
Product Research
Features
Overview: The Garmin zūmo 595LM is a premium GPS navigation device designed specifically for motorcycle use. It has a large, glove-friendly 5" touchscreen display that can be set to portrait or landscape orientation. With built-in Bluetooth wireless technology, you have hands-free phone control, as well as turn-by-turn directions that can be heard in your Bluetooth-equipped helmet or headset. The zūmo 595LM includes an smartphone-compatible MP3 player with Pandora and Spotify controls on the display.
Rugged Design: The zūmo 595LM has a vibration-damping mounting system, and is resistant to fuel spills and UV rays, as well as rain and snow, to give you years of reliable service. Designed to be used in the open, the zūmo meets IPX7 standards, meaning the GPS case can withstand incidental immersion in one meter of water for up to 30 minutes.
Pre-loaded Maps: The zūmo 595LM comes pre-programmed with City Navigator North America NT maps. Detailed road maps of the entire United States, Canada, Puerto Rico, and the U.S. Virgin Islands are included, as well as basic maps of Mexico. The unit features pre-loaded points of interest, such as hotels, restaurants, gas stations, attractions, and ATMs from Foursquare, a location-based social network. The zūmo 595LM also features Active Lane Guidance to guide you into the proper lane at busy interchanges.
Free Lifetime Map Updates: The zūmo 595LM offers free lifetime map updates so you'll always have the most up-to-date maps, POIs, and navigation information. Map updates are available for download up to 4 times a year with no subscription or update fees and no expiration dates. Free Lifetime Map Updates are subject to Terms & Conditions.
nüMaps Guarantee: If you register your device on Garmin's website within 90 days of acquiring satellites while driving, you can check to see if a free map update is available. You must be able to connect your device via a high-speed internet connection in order to check the loaded map version and download the map update.
microSD Memory Card Slot: On the back of the device, in the battery compartment, is a slot for a microSD Memory card for inserting optional maps. You can also create custom routes or download custom points of interest on your computer and load it onto an optional microSD card. You can also store geocaches and waypoints on the memory card as well.
Smartphone Link: The free Smartphone Link app for iOS (8.0 or later) and Android (4.0 and up) lets you sync your phone with the zūmo 595LM to access live information and services. Garmin Live Services provides free and subscription-based plans to view live data on your device, such as Advanced Weather, Garmin Live Traffic, PhotoLive traffic cameras, Dynamic Parking, and Safety Cameras. The app also enables LiveTrack, which lets your friends track your whereabouts when you're out riding your motorcycle.
Mounting Options: The unit can be mounted to your motorcycle's handlebar or to the clutch/brake clamp bracket using the supplied mounting hardware. For additional flexibility, a standard windshield or dash suction-cup mount is included so you can mount it your 4-wheeled vehicle as well.
Power Options: The zūmo 595LM's Lithium-Ion rechargeable battery can power the unit for approximately 4 hours on a full charge. The battery stores in a water-resistant compartment in the back, and is user-replaceable. The unit comes with a mounting cradle and harness for permanently mounting and hardwiring to your motorcycle's electrical system. When you're not using the GPS system, you can keep the cradle's contacts dry with the supplied snap-on terminal cover. If you choose to put the zūmo in your car, you can use the suction cup mount and cigarette lighter adapter to power the unit.
Touchscreen Display: The zūmo 595LM features a bright, 5" (diagonal) LCD screen with glove-friendly touchscreen controls. The bright, sunlight-readable, UV-resistant display makes it easy to view the screen in sunlight, as well as at night. The display has a resolution of 800 x 480 pixels and an aspect ratio of 16:9. The display can be mounted horizontally in "landscape" orientation, or switched in the menu to a vertical "portrait" orientation.
Rider Alerts: The device features rider alerts and speed limit features for safer riding. When you approach an area of concern, an audible tone or message is displayed for each type of alert. Alert types include: School Zones, Speed Limit Reduction, Speed Limit Exceeded, Railroad Crossing, Animal Crossing, Curve, Slower Traffic, and Fatigue Warning.
Route Calculations: You can choose the type of route for the zūmo 395LM to calculate: Faster Time, Shorter Distance, Adventurous Route, or Off Road. When using Garmin Adventurous Routing, three sliding scales appear that let you select more or fewer curves, more or fewer hills, or to use or avoid major highways.
Media Player: The zūmo 595LM has a built-in media player that can play digital music files stored on your smartphone. In addition, the unit can control Pandora and Spotify when the app is installed on your smartphone. This allows you to enjoy your favorite music files while still receiving navigation prompts from the zūmo 595LM.
Keyboard Options: The built-in virtual keyboard can be configured a number of ways. The layout can be set to QWERTY (like a traditional keyboard) or ABCDE (an alphabetical layout), and Large Mode for easier data input while wearing gloves.
TracBack: After you have completed your trip, you can use the new TracBack feature to navigate right back to where you started along the same route.
Service History: You can keep up with your bike's maintenance on your zūmo. The Service History app lets you enter the dates and status of your air filter, brakes, battery, rear end drive, tires, clutch, engine oil, fuel and oil filters, fasteners, chain, and spark plugs.
Tire Pressure Monitoring: The zūmo 595LM is compatible with optional Tire Pressure Monitor Sensors (TPMS). When you install a TPMS on each tire, you can monitor the tire pressure on the screen for up to 4 tires in any configuration. The TPMS system is not intended for automotive use.
VIRB Compatible: You can add a Garmin VIRB action camera to record your adventures, and control it with the zūmo 595LM. The device has touch screen controls to start and stop recording, and to shoot still images. Both the Tire Pressure Sensors and the VIRB communicate with the zūmo 595LM via 2.4 GHz ANT+ wireless communication protocol.
Q
Crutchfield asked: Why did you buy this?
A
Had to replace my Zumo 665 (HD model). After 8 years of great service the power switch didn't work any more. Garmin could not repair it.
[ Nardo Mar 07, 2018 ]
A
Need to replace my 10 year old garmin gps
[ Steven Jul 20, 2017 ]
A
trip nevada off road motorcycle
[ OLIVIER Feb 24, 2017 ]
A
For use on my motorcycle and vehicles. I have owned lots of gram ins and happy with them
[ ARTIE Aug 07, 2016 ]
2 questions already asked
Q
does Zumo 595LM use the same mount as a Zumo 395LM??
[ jim Jun 03, 2017 ]
A
Sorry, I do not know. I do not have the 395LM
[ Russell Jun 04, 2017 ]
A
Are you referring to their respective cradles attached to a RAM mount? The answer is no, besides the differences in size there are differences in how each unit connects to it's cradle. Now if you are talking about RAM mounts, they can use the same.
[ Richard Jun 03, 2017 ]