Sony's DVD-friendly 36" KV-36FV27 will make a dramatic addition to your home theater. If you're having trouble deciding between a 32" and a 36" model, keep in mind that a 36" screen offers 25% more screen to enjoy!
Sony's DVD-friendly 36" KV-36FV27 will make a dramatic addition to your home theater. If you're having trouble deciding between a 32" and a 36" model, keep in mind that a 36" screen offers 25% more screen to enjoy!
The totally flat Wega screen displays images with vibrant realism and three-dimensionality. Sony's 3D digital comb filter is considered to be one of the industry's finest, and this latest version employs 10-bit signal processing for even greater picture purity. A component video input lets you maximize color accuracy with compatible DVD players (Sony and other brands now include component video jacks as standard equipment on nearly all non-portable DVD players).
Although the screen has the standard 4:3 aspect ratio, Sony's 16:9 Enhanced mode makes the most of "anamorphic" widescreen DVDs by automatically displaying them in a 16:9 widescreen "window." Where most TVs reduce the number of scanning lines — and resolution — of anamorphic DVDs by 25%, 16:9 Enhanced mode slightly compresses the height of each line, concentrating the full 480 scanning lines in the 16:9 window. Because no scanning lines are wasted on the black bars above and below the picture area, you'll enjoy images in full detail.
Of course, this impressive Sony is packed with lots of cool extras, like an illuminated Flip/joystick multibrand remote, and wireless headphones — perfect for late-night viewing!
Details:
FD Trinitron picture tube
4:3 screen aspect ratio
auto/manual 16:9 Enhanced viewing mode for anamorphic DVDs
10-bit 3D digital comb filter
Velocity Modulation Scanning (selectable)
MTS stereo reception
SteadySound™ automatic volume control
wireless headphones (infrared)
181-channel tuner
2-tuner PIP
on-screen menus in English, Spanish or French
illuminated Flip/joystick multibrand remote
4 A/V inputs, including:

3 composite video (2 rear, 1 front)
2 S-video (1 rear, 1 front)
1 component video (rear)

2 RF inputs for antenna/cable
15 watts x 2
38-3/8"W x 29-3/4"H x 24-7/8"D
warranty: 1 year parts, 90 days labor, 2 years parts on the picture tube
About delivery: Because of its large size, the KV-36FV27 will be delivered and placed in any accessible room in your home. Delivery is available to physical addresses in the lower 48 states. (Sorry, no P.O. Boxes or freight forwarders.) Transit time is 5-7 business days once your order has been processed. In-home delivery for this model costs $19.99 each. Extra charges may apply for delivery after business hours or on a weekend, or if the TV must be carried up more than 5 flights of stairs.
Note: Free return shipping not available with this model.
What's in the box:
36" Stereo television
RM-Y182 Wireless remote
MDR-IF0230 Wireless stereo headphones
3 "AA" batteries
Operating Instructions
Owner Registration Card
Warranty card
MFR #KV36FV27GRAY
We don't have any reviews, yet.
Submit a review and then enter to win a $350 rewards card.
Be the first to review this product
Thanks for submitting your review
Most reviews are processed and published within 5 business days. You will receive a confirmation email once your review has been published.
Customer photos
More details on the Sony KV-36FV27
Features & specs
The Sony KV-36FV27 replaces these items:
Product Research
Features
Remote Control
Inputs and Outputs
Warranty Note
Flat Screen: Sony's flat glass panel delivers images that are virtually distortion free and helps to eliminate screen glare.
16:9 Enhanced Mode (V-Compression): This set uses a special technique that gives you maximum picture quality when using anamorphic sources, such as some DVDs. When using an anamorphic source, the height of each scanning line is compressed for 33% better resolution, giving you the benefit of all 480 scanning lines.
3D Digital Comb Filter: Sony's new comb filter analyzes picture information horizontally, vertically and over time. You will get high resolution under most picture conditions. New 10-bit signal processing renders superb gray-scale gradation, resulting in superior picture detail.
Velocity Modulation Scanning: This system varies the electron beam speed to render high-contrast picture edges more effectively. You can select High, Low, or Off.
Dynamic Focus Circuitry: This system adjusts the picture during each scanning line for consistent corner-to-corner sharpness.
2-Tuner Picture-in-Picture: This feature allows you to watch two programs at once using the television's internal tuners. One program is displayed in the main window, while the second program is displayed in a secondary PIP window. The secondary PIP window size can be set to 1/9, 1/16, or Off. You can move the location of the secondary PIP window to any of the four corners on the screen. In addition, you can alternate sound between the main program and the program in the secondary PIP window. Using the Swap function, you can instantly switch the main program with the secondary program. The Freeze function allows you to freeze the program in the secondary PIP window, while the main program continues to play.
Favorite Preview: This feature lets you preview programming on up to eight favorite channels in the secondary PIP window, while the main program continues to play.
Video Mode: You can select Vivid, Standard, Movie, or Sports. The Vivid setting enhances picture contrast and sharpness. The Standard setting displays a standard picture for normal viewing environments. The Movie setting displays a finely detailed picture for low light environments. The Sports setting displays a brighter, more intense picture.
Dynamic Acoustic Chamber Speaker System (DAC): This system has a loudspeaker enclosure that uses the shape of the television for clear, high-output bass.
Steady Sound:
This feature stabilizes the volume level, preventing unwanted blasts of sound during commercials.
BBE Audio Enhancement: This feature restores audio phase to improve sound quality.
Sound Effects: To enhance the sound, you can select SRS, which adds a dynamic three-dimensional sound to stereo programs, or Simulated, which adds a surround-like effect to mono-channel programs. The sound effects can be turned off.
V-Chip Parental Control: This allows you to limit the shows that can be viewed based on the television rating system. This system uses a user selected 4-digit password to block programs from children based on TV Ratings and contents; Movie Ratings and Unrated programs. Note that the unit has three pre-selected categories (Child, Youth, and Young Adult), or you can select the exact restrictions you want by using a Custom setting. After setting Parental Control "On", you must enter the password to view blocked programs. Note that if you forget the password you can enter the master password found in the owner's manual, which allows you to create a new password.
Sleep Timer: The sleep timer switches the television off after a specified amount of time. The sleep timer can be set to 15, 30, 45, 60, or 90 minutes.
Timers: This unit has two timers that can be set by day, time, duration, and channel.
Wireless Headphones: This television includes a pair of Sony wireless stereo headphones that allow you to listen to audio from the main picture or from the secondary PIP window. They are on-the-ear, open-air headphones with a plastic adjustable headband and black foam ear pads. The ear cup size is 2.8" wide and 3.5" high. The headphones require one "AA" battery (supplied). You will get up to 40 hours of use with alkaline batteries and 20 hours of use with manganese batteries. The left ear cup holds the battery compartment. The right ear cup has a red LED, which illuminates when powered, and a rotary volume knob. To turn the headphones on, you simply press the headset button on the remote and place the headphones over your ears. The infrared transmitter is located on the bottom front of the television. Since these headphones are infrared, they must be used within line of sight of the television. The maximum range is approximately 19.7' from the television.
RM-Y182 Remote: The supplied remote is pre-programmed to operate this unit and a number of functions on other brands of A/V components, including VCRs, Laserdisc players, DVD players, cable boxes, and satellite receivers. Several controls are located under a lid that covers the top half of the remote. A joystick allows you to move the on-screen selector, making menu navigation simple and efficient. The jump, enter, volume, channel, and numeric keypad buttons glow in the dark (blue).
Front Panel Inputs (under lid):
Video 2 Input: Stereo RCA jacks, RCA composite video jack and S-video jack
Rear Panel Inputs and Outputs:
Video 1 Input: Stereo RCA jacks, RCA composite video jack and S-video jack
Video 3 Input: Stereo RCA jacks and RCA composite video jack
Video 4 Input: Stereo RCA jacks and component video jacks (Y/Pb/Pr)
Monitor Out: Stereo RCA jacks and RCA composite video jack
Audio Output: Stereo RCA jacks that can be set to fixed or variable
Aux Coax Input: Female RF coax input
VHF/UHF Coax Input: Female RF coax input
To Converter Coax Output: Female RF coax output
Control S: Mono mini-jack input and output
Warranty Note: The picture tube has a 2 year parts warranty.
The Sony KV-36FV27 replaces these items

Adding...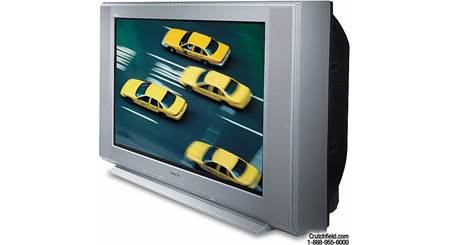 36" FD Trinitron® Wega™ TV
FD Trinitron® tube with Wega® flat screen
silver cabinet
3D digital comb filter

Adding...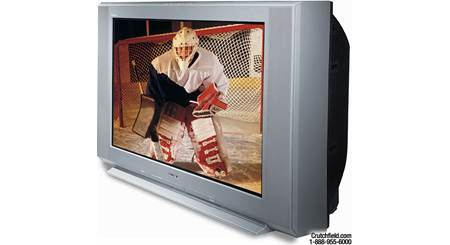 36" FD Trinitron® Wega™ TV