About the Sony DMP-Z1 Signature Series
A powerful high-res player that defies portable audio convention
I've held, operated, heard, and even looked under the hood of the rock-solid Sony DMP-Z1 digital music player — and I'm still not quite sure how to classify it. It sports the look and feel of a high-performance desktop
headphone amp/DAC
. Yet it runs on rechargeable batteries and stores high-resolution digital audio files, so you can more easily take it from place to place.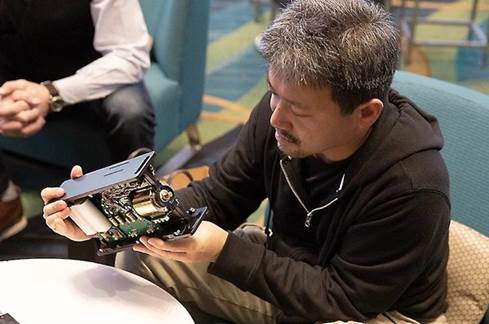 Sony's Tomoaki "Tomo" Sato gave me an inside look at his latest masterpiece, the DMP-Z1 digital music player.
A powerful high-res player that defies portable audio convention
I've held, operated, heard, and even looked under the hood of the rock-solid Sony DMP-Z1 digital music player — and I'm still not quite sure how to classify it. It sports the look and feel of a high-performance desktop headphone amp/DAC. Yet it runs on rechargeable batteries and stores high-resolution digital audio files, so you can more easily take it from place to place.
"It operates just like our Walkman® players," Sony's Tomoaki "Tomo" Sato told me, "but it has almost six times the headphone output power as our next-largest player."
Tomo has been in charge of Sony's Walkman division in Tokyo since 2013, and he was project manager for the DMP-Z1. I caught up with him before this year's CanJam event in New York City, and he gave me my first glimpse of this special player. "Due to its large size," Tomo said, as he unlatched the DMP-Z1 from the protective case, "we call it transportable instead of portable."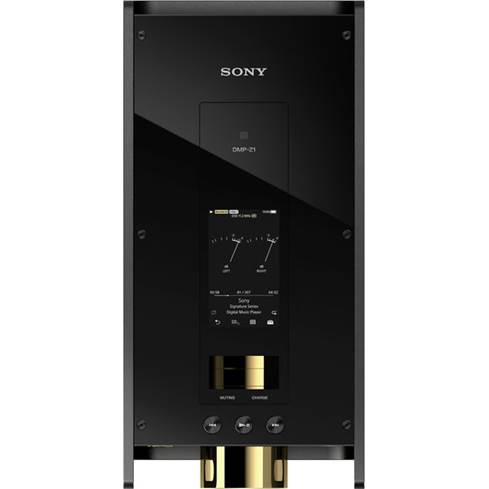 Solid aluminum frame with polished top panel and touchscreen.
Pure, pristine battery power
This heavy-duty player's built-in rechargeable battery array will provide up to 10 hours of music playback on a full charge. But Tomo told me the DC power supply offers a sonic advantage, too. Particularly in Japan, some audiophiles will go to great lengths to keep their high-end audio gear off the dirty AC power grid.
Some use motorcycle batteries, and some even buy their own power utility poles! "You don't need to buy your own power pole here," quipped Tomo. He then pointed out the five battery cells, with dedicated cells powering the digital circuitry and analog circuitry separately. This keeps the power as clean and consistent as possible, resulting in rich, dynamic sound.
You can listen when connected to AC power to save battery, but Sony wants you to avoid line noise and dirty power as much as possible. In "battery mode," you can recharge the DMP-Z1 while you simultaneously play music using your remaining battery power.
Solid build, familiar controls
The DMP-Z1 has a thick aluminum outer shell, with the top and bottom polished to a fine, mirror-like sheen. A 3.1-inch glass touchscreen display sits in the middle of the top panel, with the same snappy interface I'm used to with the Sony NW-ZX300 Walkman. I tapped and scrolled through music selections and menu options with ease.
Plating the traditionally all-brass Alps Electric RK501 volume dial with gold helped provide additional grounding to the power supply.
But the volume control was something else completely! Tomo handed me a model version of the can-sized, gold-plated volume dial. "This is very important to the sound quality." Tomo said, "We started with the Alps Electric RK501 analog volume dial — used in high-end home audio gear for over 20 years— and customized it for the analog circuitry in this player."
A look inside
Next, Tomo pulled out a display version of the DMP-Z1 player. Pride beamed from his face as he removed the top panel to unveil the player's technical wizardry. He pointed out all the thoughtful circuitry and spacing inside, and he shared some of the trials, errors, and stress behind each design decision.
A solid aluminum frame separates the three main sections to prevent signal interference: analog, digital, and power supply. To cut down on weight, Sony milled the aluminum into an "H" shape and nestled the circuit boards inside.
Sony's sound philosophy
I asked Tomo why Sony decided to make a player so physically large. He started with some back story. "Our sound policy has always been the same," he said. "We deliver a very wide soundfield, with clear sound position."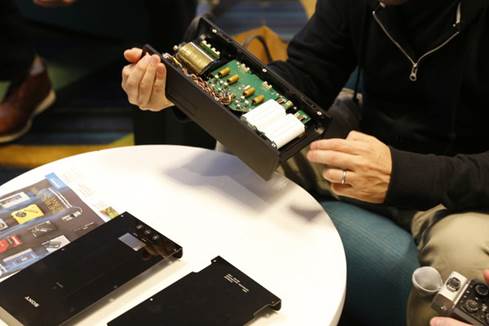 Tomo shows off the beefy 5-cell battery array (in white) and digital circuit board with dual DACs and high-grade KIMBER KABLE wiring.
For their smaller Walkman models, they developed the formidable S-Master HX digital headphone amplifier. "That amp completely separates every channel, just before the headphone output," said Tomo, noting the spot-on stereo imaging. "You could have three violins playing at once, and with that amp you can pick out in your mind where each sound is coming from — you can practically 'see' the three instruments."
But for a player the size of the DMP-Z1, using such a small digital amp didn't make sense.
An analog amplifier to drive power-hungry headphones
Tomo and team wanted to bump up the headphone output, but they were unwilling to steer away from the company's tried and true sound signature. So they had to use an analog amp, which required more real estate on its own. On top of that, they needed more power to get the sonic punch they were used to — hence the larger battery array.
So why did Sony feel they needed more headphone output power in the first place? "Two years ago, I brought the NW-WM1Z Walkman player here to CanJam NYC, and it was a big hit," Tomo said. "But several listeners would max out the volume — and wanted more!"
He noticed that audiophiles here in the U.S. prefer large, high-impedance over-ear headphones for serious listening — rather than the easier-to-drive in-ear monitors more popular in Asia. We also seem to listen at louder volumes, for better or for worse. So to satisfy our muscle-car mentality, the DMP-Z1's analog amp has the output power of 1,500mW in balanced mode (versus the NW-WM1Z's output of 250mW).
My listening impressions at CanJam NYC 2019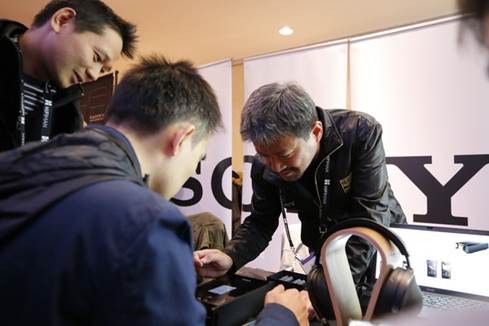 Sony's Tomo Sato holds court at CanJam NYC 2019.
Tomo also showed off the insides of the DMP-Z1 to CanJam attendees. When I walked up to the Sony booth, he was pointing out all the audio goodies to a huddled group of headphone aficionados. The sheer confidence wasn't lost on me. Here was Sony — in an unboastful way — opening up and showing their work. On a showroom floor full of competitors, no less.
In fact, I later asked a hardware expert from another company about what he saw. He marveled at the wiring and Sony's intelligent use of high-grade KIMBER KABLE — a longtime cable manufacturer from Utah who specializes in high-end audio. So I certainly wasn't the only one impressed.
As for the sonic results? I listened to Erykah Badu's "The Cell" through the Sony MDR-Z1R over-ears connected to this player. I'm familiar with these headphones, and I've always been impressed by their spaciousness and clarity. But through the DMP-Z1, they sounded even tighter with more muscle.
This track can sound a bit confusing through lesser listening rigs – as if all the instruments and vocals are competing with each other. But through this deluxe setup, everything was delivered with properly separated precision. Sony was in full control of the moving chaos.
Dual high-performance DAC chips
On the digital side, Sony chose AKM's AK4497EQ DAC chip. It's one of the best chips available on the market, known for its gripping dynamics. Now these are stereo DAC chips, meaning that one chip would be more than capable of handling both the left and right channel of sound.
But Tomo and team were obsessed with getting the cleanest, most detailed sound possible. So they've included two of these high-grade DAC chips, each dedicated to a single channel. This avoids any bit of noise or crosstalk that could sneak in and foil that realistic, spacious sound signature.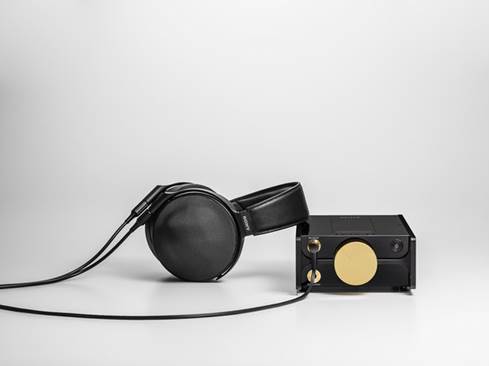 Built to drive high-performance headphones like the Sony MDR-Z1R (sold separately).
Stores your digital files and streams from your phone
The DMP-Z1 is compatible with high-res DSD files up to 11.2MHz and PCM-based files up to 32-bit/384kHz. It can handle Apple Lossless, FLAC, WAV, and other high-res formats. And for compressed formats, such as MP3s, Sony's Digital Sound Enhancement Engine can help them sound fuller.
You can also play music wirelessly from your phone via Bluetooth. The player features Sony's LDAC technology, which allows the wireless signal to retain more musical detail with compatible devices. My Samsung phone also has LDAC, so I was able to pick any song from Spotify and play it through this powerful beast with a higher-quality Bluetooth connection.
Ins and outs
Along with its storage and streaming capabilities, the DMP-Z1 can also be used as a DAC. Use the included USB cable to connect your computer to the player, and it will bypass your computer's built-in audio processing. The audio signals will run through the player's incredible circuitry.
There are two headphone outputs, an unbalanced 3.5mm stereo mini output and a balanced 4.4mm headphone output. Sony developed this new industry standard balanced connection to help cut down on signal noise and distortion. Most of their top-of-the-line headphones can take advantage of this special connection.
READ LESS
Product highlights:
battery-operated high-resolution music player with built-in premium DACs and high-powered headphone amplifier

component sized aluminum housing with with mirror finish

3.1" polished glass LCD display (800 x 480 pixels)

touchscreen control over menu and music selection

plays MP3, FLAC, APE, AAC, ALAC, AIFF, WMA, WAV, MQA, DSD, and LPCM audio files
built-in Bluetooth® 4.2 receiver for wirelessly streaming music from compatible smartphones, tablets, and computer

LDAC, aptX® HD, and AAC decoding for high-quality music streaming from compatible devices
Build Quality:
aluminum side panels with polished aluminum top and bottom panels
large, gold-plated Alps Electric RK501 analog volume knob

customized for this player to provide precision volume control and extra electrical grounding

rigid milled aluminum frame separates analog, digital, and power supply sections

lowers noise floor and provides a solid ground
H-shaped chassis helps reduce weight

4-wire braided, handcrafted KIMBER KABLE® connections for superb sound quality
spacious circuit board layouts to avoid crosstalk between internal components and chips
lead-free solder includes traces of gold for minimum signal loss and full dynamic range delivery
Built-in DC Power Supply:
built-in rechargeable lithium-ion battery with up to 10 hours of operation

dedicated battery cells power analog and digital circuitry separately
five total battery cells

battery array isolates the player from AC power supply

completely avoids dirty power and line noise from power grid

premium electric double-layer capacitors for stable power supply with no spikes or sudden drops
recharges via included AC adapter

while recharging in "battery mode," player will draw from remaining battery power for operation
can also operate using AC power
Audio Performance Features:
dual AKM AK4497EQ digital-to-analog converters for bit-perfect playback of high-resolution audio files

up to 32-bit/384Khz for PCM and 11.2MHz for DSD
one DAC each for the left and right channels for proper stereo separation

built-in 1,500 mW headphone amplifier
low-noise voltage regulator and DC/DC converter delivers battery power to analog audio circuit board

ensures clean power with enough headroom to drive high-impedance headphones

DSEE HX audio upscaling restores appropriate high-frequency signals to compressed digital formats by identifying genres and instrumentation
Vinyl Processor simulates low-frequency resonance, tonearm resistance, and discrete surface noise
Storage and Inputs:
256GB internal flash memory
2 microSD card slots accept microSD, microSDHC, or microSDXC cards (available separately)
high-speed USB Type-C port (USB-A to USB-C cable included for file transfer and battery charging)

connect cable to your computer to use player as a USB DAC
Headphone Outputs:
3.5mm stereo minijack
balanced 4.4mm output
Accessories and General Info:
AC adapter with detachable power cord
padded, suitcase-style carrying case
cleaning cloth included
frequency response: 20-40,000 Hz
5-7/16"W x 2-11/16"H x 10-15/16"D
weight: 5.49 lbs.
warranty: 1 year parts, 90 days labor
MFR # DMPZ1
We don't have any reviews, yet.
Submit a review and then enter to win a $350 rewards card.
Be the first to review this product
Thanks for submitting your review
Most reviews are processed and published within 5 business days. You will receive a confirmation email once your review has been published.
Customer photos
More details on the Sony DMP-Z1 Signature Series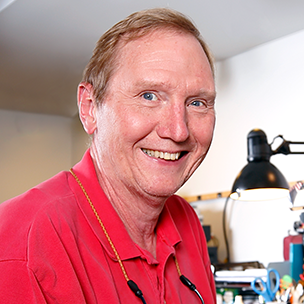 Researched by Crutchfield's

Mark G.