Sharp close-ups
When you want to zoom in on the best part of a scene, the Sony DSC-H400 can bring you 63X closer. That's the difference between a wide-angle view of a stage with tiny dots on it and a sharp close-up of the look of concentration on the lead violinist's face.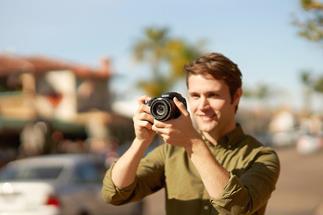 The Sony DSC-H400 sports a powerful zoom lens and molded body that's comfortable to hold.
Sharp close-ups
When you want to zoom in on the best part of a scene, the Sony DSC-H400 can bring you 63X closer. That's the difference between a wide-angle view of a stage with tiny dots on it and a sharp close-up of the look of concentration on the lead violinist's face.
Take it all in with a 360-degree panorama
Sometimes, you want the opposite of zoom. When you're in the middle of an incredible landscape, you want to stand back and capture the grandeur somehow. The DSC-H400 can create panoramic shots up to 360 degrees around you: just press the shutter and sweep the camera in a circle. The camera handles the rest, shooting multiple images at high speeds then seamlessly stitching them together to create one continuous image.
Image stabilization keeps it rock steady
When you use a camera phone, you probably end up with blurry portraits all the time. The 'H400 is equipped with Optical SteadyShot™ image stabilization with Intelligent Active mode. It compensates for camera shake by countering horizontal and vertical camera movements. It works to keep hand shake from introducing blur to your still photos, and counteracts the effects of walking or sitting in a moving vehicle when shooting video.
READ LESS
Highlights:
Specifications:
20.1-megapixel effective recording
63X optical zoom
records photos and video onto optional SD, SDXC and SDHC memory cards, and Memory Stick® media
3" LCD screen (460,000 dots)
35mm equivalent lens focal length: 24.5-1550mm
Special Features:
Optical SteadyShot™ image stabilization for blur-free photos and video
Sweep Panorama mode lets your capture 360-degree panoramic shots
high-definition movie mode (up to 720p at 30fps)
face detection controls focus and exposure for accurate portraits
smile recognition holds shutter response until the camera detects that your subject is smiling
in-camera red-eye reduction
built-in flash
Connections and Dimensions:
high-speed USB interface
5-3/16"W x 3-3/4"H x 4-7/8"D
weight: 23.1 oz.
warranty: 1 year
MFR # DSCH400/B
What's in the box:
Digital camera (black)
55mm Lens cap
NP-BX1 Lithium-Ion rechargeable battery (3.6V 1240mAh 4.5Wh)
AC-UB10C AC adapter (DC output: 5V 0.5A)
2' USB cable (Type A USB on one end and proprietary USB on other end)
Neck strap
Instruction Manual
Warranty sheet
Online registration sheet
Sony DSC-H400 reviews
Average review:
Thanks for submitting your review
Most reviews are processed and published within 5 business days. You will receive a confirmation email once your review has been published.
Customer photos
More details on the Sony DSC-H400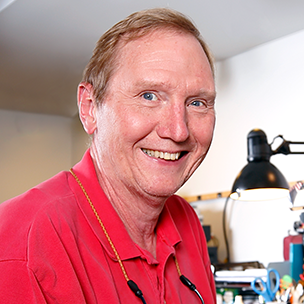 Researched by Crutchfield's

Mark G.
Product Research
Recording Features
Playback Features
Battery Information
Connections
Software
Recording Features
3" LCD Screen: The Sony Cyber-shot DSC-H400 digital camera has a 3.0" Clear Photo LCD screen with 460,800 dots. The LCD brightness control can be set between 1 (dark) and 5 (bright). You can also change the display resolution from high to standard to save battery power.
Recording Media: The camera is compatible with the following recording media: Memory Stick XC-HG Duo, Memory Stick PRO Duo (Mark 2 only for movie recording), Memory Stick Pro-HG Duo, SD, SDHC, and SDXC memory cards (Class 4 or faster). The camera also has an internal memory of approximately 55 MB.
Image Recording Formats: The camera records still images in JPEG. Moving images can be recorded in MP4 format (AVC/H.264) with AAC stereo audio.
Image Sensor: For optimal image quality, the camera uses a 1/2.3" color Super HAD CCD image sensor with approximately 20.4-million total pixels and 20.1-million effective pixels.
63x Optical Zoom Lens: The camera is equipped with a Sony 63x optical zoom lens. Focal lengths are as follows: Still Images: 24.5-1550mm (4:3) and 27-1700mm (16:9); Movies: 29.2-1849mm (4:3), and 32.1-2029mm (16:9). The aperture range is F3.4-8.0 (W) and F6.5-8.1 (T).
Digital Zoom: In addition to the 63x optical zoom, you can reach higher zoom scales by engaging the Precision Digital Zoom or the Smart Digital Zoom. Precision Zoom enlarges all image sizes by the total zoom scale of approximately 126x including the optical zoom of 63x. The Smart Zoom enlarges the image digitally within the range where the image will not be distorted, according to image size. The amount of zoom for each image size is as follows:
| | | | |
| --- | --- | --- | --- |
| Image Size | Optical Zoom | Smart Digital Zoom | Precision Digital Zoom |
| 20M | 63x | Not available | 126x |
| 10M | 63x | 89x | 126x |
| 5M | 63x | 120x | 126x |
| VGA | 63x | 500x | 126x |
| 16:9 (15M) | 63x | Not available | 126x |
| 16:9 (2M) | 63x | 160x | 126x |
Optical SteadyShot with Active Mode: Optical SteadyShot can provide blur-free movies and still images. Camera-shake compensation using Optical SteadyShot has been improved with the addition of new electronic image stabilization. This makes it easier to obtain sharp movies, even when zooming in unsteady situations.
Still Image Sizes: When recording digital still images, the DSC-H400 allows you to choose from the following image sizes and aspect ratios:
20M: 5152 x 3864
10M: 3648 x 2736
5M: 2592 x 1944
VGA: 640 x 480
16:9 15M: 5152 x 2896
16:9 2M: 1920 x 1080
Sweep Panorama: You can record multiple images while moving the camera in an arc, either horizontally or vertically. You can choose the direction to pan the camera while taking the images. The available image sizes include:
Standard:

Horizontal: 4912 x 1080
Vertical: 3424 x 1920

Wide:

Horizontal: 7152 x 1080
Vertical: 4912 x 1920

360°: 11520 x 1080 (Horizontal)
Recording Movies: Besides recording still images, you can also record movies in MPEG-4 formats (30p) with AAC audio, in three image sizes:
| | | |
| --- | --- | --- |
| Movie Format/Quality | Average Bit-rate | Image Size |
| 720 Fine | 9 Mbps | 1280 x 720 |
| 720 Standard | 6 Mbps | 1280 x 720 |
| VGA | 3 Mbps | 640 x 480 |
Drive Modes: In addition to single frame shooting, the H400 offers several types of drive modes:
Continuous Shooting: The camera shoots continuous images while you press and hold down the shutter release. Up to 100 continuous frames can be recorded in a single burst at approximately 0.7 frames per second.
Self-Timer: You can set the Self-Timer mode to a 10-second delay so you can be in the picture. The self timer with a 2-second delay can help prevent blurred pictures from camera shake.
Self-Portrait: A Self-Portrait Timer mode will capture the image 2 seconds after the face of one or two persons is detected.
Self-Timer Continuous: The Self-Timer Continuous shooting mode takes up to 10 continuous frames after a 10 second delay.
Bracket: The Bracket mode lets you shoot a series of 3 images, each with a different exposure setting--one at normal exposure, one under exposed, and one over exposed. You can select from three different step values: 0.3 EV, 0.7 EV, or 1.0 EV.
Bracket WB: The Bracket WB mode shoots three images, one with the current color tone, one with the white balance shifted toward blue, and another toward red.
Auto Focus Areas: You can select from the following auto focusing areas:
Multi AF: The camera focuses in all ranges of the finder frame automatically. When you press the shutter button halfway, a green frame is displayed around the area that is in focus.
Center AF: The camera focuses on a subject in the center of the frame. By pressing the shutter release halfway, you can lock the focus on your subject and recompose your shot with the subject off center.
Spot AF: The camera focuses on a very small area.
Tracking Focus: If you are trying to photograph a moving subject, you can use the tracking focus feature to keep the subject in focus as it moves around the frame. If Face Detection and tracking focus are used at the same time, the camera will track a selected face if it is registered with the camera.
AF Illuminator: The AF (auto focus) Illuminator briefly provides fill light to focus more easily on a subject in dark surroundings. You can set the AF Illuminator to Auto or Off.
Face Detection: Face Detection technology detects up to eight individual faces and controls flash, focus, exposure, and white balance to deliver accurate, natural skin tones with reduced red-eye. It can also give priority to children or adults. You can also select and register an individual's face to be given priority.
Scene Recognition: Scene Recognition mode operates in the Intelligent Auto mode, and automatically detects nine different types of scenes and selects the appropriate camera settings: Portrait, Night Portrait, Night Scene, Backlight Portrait, Backlight, Landscape, Spotlight, Low Light, and Macro. The camera may also recognize whether the camera is on a tripod or moving.
Shooting Modes: Using the top-mounted Mode Dial, you can select from the following shooting modes:
Intelligent Auto Mode (iAuto): Allows you to shoot still images with the settings adjusted automatically.
Program Auto: Allows you to shoot with the exposure adjusted automatically (both the shutter speed and aperture value). You can also select various settings using the menu.
Aperture Priority: You can shoot still images after adjusting the aperture setting manually. The camera will determine the shutter speed.
Shutter Priority: You can shoot still images after adjusting the shutter speed manually. The camera will determine the aperture setting.
Manual Exposure: You can set the exposure manually. The shutter speed can be set between 1/2000 and 30 seconds. The aperture (F value) can be set between F3.4 and F8.1 (Wide Angle) or between F6.5 and F8.0 (Telephoto).
Sweep Shooting: Multiple images are shot while the camera is moving, and these images are compiled into a single panoramic image.
Movie Mode: Allows you to record MPEG-4 movies with stereo audio.
Scene Selection Modes: You can choose from the following Scene Selection modes: Portrait, Landscape, Night Portrait, Night Scene, High Sensitivity, Gourmet, Pet, Beach, Snow, Fireworks, and Party.
Exposure Compensation: Besides auto exposure, you can adjust the exposure from +2.0EV to -2.0EV in 1/3 stop increments.
Built-In Flash: The camera's built-in flash features a range of 1.3' to 28.8' with the zoom set to wide and 11.4' to 15' with the zoom set to telephoto. The flash settings include:
Advanced Flash: the flash automatically operates in dark locations or when the subject is backlit. The ISO sensitivity is increased in a dark place to shoot a farther distance brighter.
Auto: the flash automatically strobes when the surroundings are dark or when there is backlight
Flash On: the flash strobes with every shot
Slow Synchro: the flash is used regardless of the amount of ambient light, but the shutter speed is slower under dark conditions, allowing you to clearly shoot a background that is out of the flash-lit area
Off: the flash does not operate
Red-eye Reduction: The flash pre-strobes before shooting to reduce the red-eye phenomenon. You can set to Auto (when Face Detection is activated), On, or Off.
Metering Modes: You can select Spot, Center, or Multi-pattern Metering. Spot metering lets you adjust the exposure to the subject, even when the subject is a backlit or when there is strong contrast between the subject and the background. Center-weighted metering measures the center of the image and determines the exposure based on the brightness of the subject. When multi-pattern metering is used, the image is divided into multiple regions and metering is performed in each region. The camera judges the subject position and background brightness, and determines a well-balanced exposure.
White Balance: When the white balance is set to auto, the white balance is set automatically in response to the condition of the subject, and the overall color balance is adjusted. When shooting under special lighting conditions, you can select the settings manually. When using flash, you can select the flash white balance mode. The white balance can also be set to Daylight, Cloudy, Incandescent, Fluorescent 1 (white fluorescent), Fluorescent 2 (natural white fluorescent), Fluorescent 3 (day white), One Push (adjust white balance depending on the light source), and One Push Set (memorizes the basic white color which will be used).
Histogram: A histogram is a graph showing the brightness of an image. The graph display indicates a bright image when skewed to the right side, and a dark image when skewed to the left side.
Playback Features
View Modes: The Sony DSC-H400's View Mode allows you to select your recorded images and movies by sorting them into different views: Date View, Folder View (Stills), and Folder View (Movies). The internal memory only offers Folder View.
Index View: In addition to viewing images one-by-one in full screen, you can view multiple images at once in the index view mode. The index feature lets you to display a total of 16 (4 x 4) or 25 (5 x 5) images at once. You can also view images in the Calendar View which displays a thumbnail image on the shooting date.
Slide Show: The Slide Show function lets you play back images one after the other. You can select from the following slide show effects (Simple, Nostalgic, Stylish, or Active). The interval between the pictures can be adjusted, allowing you to choose 1, 3, 5, and 10 seconds. When repeat is selected, the images are replayed in a continuous loop.
Playback Zoom: You can enlarge a recorded still image up to 8x the size of the original image. Once the image is zoomed, you can pan left to right and up or down through the image.
Rotating Images: Recorded images can be rotated 360-degrees in 90-degree increments on the camera's LCD screen.
Picture Effect: You can add effects to images with different effects, such as Toy Camera, Pop Color, Partial Color, and Soft High-key. The original image as well as the retouched image can be saved.
Deleting/Protecting Images: You can delete a selected image, or you can delete all the unprotected images at once. In order to avoid accidentally deleting of an image, it can be protected.
DPOF: You can mark recorded still images on a memory card for printing. This Print Mark is convenient when you have images printed at a shop that conforms to the DPOF (Digital Print Order Format) standard.
Battery Information
Battery Information: The DSC-H400 is powered by the supplied NP-BX1 Lithium-ion rechargeable battery. Using the supplied AC-UB10C AC adapter, the battery can be fully charged in the camera in approximately 230 minutes. Under normal operating conditions, the battery has the following capacity:
Battery Life
Number of Images
Shooting Still Images
LCD Screen
Approx. 150 min
Approx. 300 images
Viewfinder
Approx. 160 min
Approx. 320 images
Typical Movie Shooting
LCD Screen
Approx. 60 min
---
Viewfinder
Approx. 75 min
---
Continuous Movie Shooting
LCD Screen
Approx. 120 min
---
Viewfinder
Approx. 135 min
---
Viewing Still Images
Approx. 240 min
Approx. 4800 images
Connections
Multi (AV/USB) : The camera features a proprietary jack for connecting the supplied USB cable to your computer for downloading your photos, or charging the battery in the camera. The interface is USB 2.0 High Speed compatible. You can also connect the optional VMC-15CSR1 A/V cable to the Multi-connector for playing back images or videos on a Standard Definition TV. The TV output can be set to NTSC or PAL, as needed.
Software
PlayMemories Home: The DSC-H400 can be used with PlayMemories Home software, which needs to be installed on your computer. With the PlayMemories Home software you can:
Import images recorded on the camera to the computer.
Play back images stored on the computer and the camera.
Share images using PlayMemories online.
Display images stored on your computer by shooting date on a calendar.
Edit still images, such as resizing and cropping.
Upload images to a network service (internet connection required)
Compatible Operating Systems: The "PlayMemories Home" software is downloadable from the Sony Imaging website. It is compatible with Windows 8/8.1, Windows 7 (SP1), and Windows Vista (SP2) operating systems. A version is also available for Mac OS X 10.7-10.9.
2 questions already asked
Q
what size filter does this camera use?
[ Thomas Mar 27, 2014 ]
A
I forwarded your question to an Advisor and they responded with the following: That Sony DSC-H400 will accept a filter because it has internal threads around the lens. The appropriate size of the filter is, however, not known. That information isn't available right now on our website or Sony's website. No filters are listed as accessories and the manual isn't available either. If you would like to add a filter, I'm sure the proper size will be in the manual or, at the very least; you could check with a local camera shop and have them measure the ID. If you would like to discuss further you can contact an Advisor directly by phone (1-800-324-9695) or online chat.
[ Krissy Mar 31, 2014 ]
Staff