Illuminate your work with a high-performance flash
Sony's HVL-46RM is a fast, high-output flash that delivers professional quality lighting with a flexible suite of features. It supports impressive continuous shooting — up to 60 flashes at 10 flashes per second. It also syncs with the shutter of compatible cameras at up to 1/400 second, helping you perfectly illuminate subjects even against a bright background.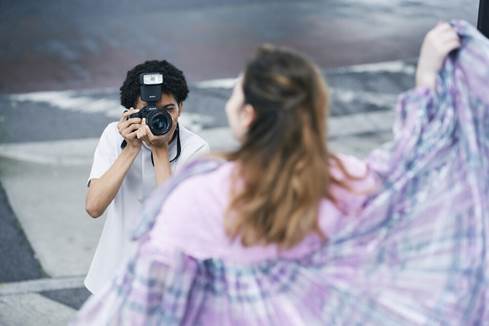 Sony's HVL-46RM is compact and versatile, helping you catch your subjects in the right light with your Sony Alpha camera.
Illuminate your work with a high-performance flash
Sony's HVL-46RM is a fast, high-output flash that delivers professional quality lighting with a flexible suite of features. It supports impressive continuous shooting — up to 60 flashes at 10 flashes per second. It also syncs with the shutter of compatible cameras at up to 1/400 second, helping you perfectly illuminate subjects even against a bright background.
Your Sony Alpha camera's best friend
This flash was designed to communicate with Sony Alpha cameras for enhanced performance. Key flash settings like light ratio and flash compensation can be controlled directly from the camera. And the flash links with the camera's face detection function to automatically adjust white balance, letting you capture a subject with optimal lighting even if they're in a group. The HVL-46RM also transfers color temperature data to the camera to help render natural colors in bright areas.
Multi-flash radio control
The HVL-46RM can be controlled remotely using a wireless radio signal, allowing you to use the flash off-camera for better flexibility. It can be used as either a commander or receiver for multi-flash arrangements, letting you connect up to 15 flashes in five separate groups.
Adjustable bounce
This flash's angle can be adjusted upwards by 150 degrees and rotates left-to-right 180 degrees. This makes it easier to bounce light at just the right angle and capture your subject in a flattering light.
READ LESS
Product highlights:
high-output GN46 flash designed for use with Sony Alpha cameras

links with compatible camera's face detection to automatically adjust white balance, capturing the main subject with ideal lighting even in a group shot
transfers color temperature data to compatible cameras to render natural colors in challenging environments
flash compensation, light ratio, and other flash settings can be controlled directly from a compatible camera

light output optimized for lenses with focal lengths from 24mm to 105mm
compact, lightweight design
supports slow sync, rear-curtain sync, and multi-flash
can wirelessly trigger additional HVL-F46RM Alpha flashes when mounted to a compatible Sony Alpha camera

up to 15 off-camera flashes in up to 5 groups

heat-resistant constructions and optimized flash algorithm allows longer continuous shooting
continuous flash: 60 flashes at 10 flashes per second
1/400 second shutter sync with compatible cameras
dust- and moisture-resistant design
multi-interface shoe with rugged side frame and metal shoe foot for increased durability
flash distribution types: Standard (STD), GN priority (CENTER), and wide-angle priority (EVEN)
adjustable bounce angle: 180° (horizontal), 150° (vertical)
dot-matrix display lets you adjust key parameters with intuitive camera display tab format

Quick Navi display provides status details and has customizable buttons

maximum guide number: 46
General info:
includes carrying case and mini-stand
uses four "AA" alkaline or Ni-MH batteries (not included)

power for up to 320 flashes with a 2 second recycle time

2-3/4"W x 4-5/8"H x 3-1/2"D
weight: 10.9 oz.
warranty: 1 year
MFR # HVLF46RM
What's in the box:
Flash unit
Flash connector protection cap (installed)
Mini Stand
Vinyl storage pouch
Reference Guide
Startup Guide
Warranty Sheet (US + Canada)
License Issues
We don't have any reviews, yet.
Submit a review and then enter to win a $350 gift card.
Be the first to review this product
Thanks for submitting your review
Most reviews are processed and published within 5 business days. You will receive a confirmation email once your review has been published.
Customer photos
More details on the Sony HVL-F46RM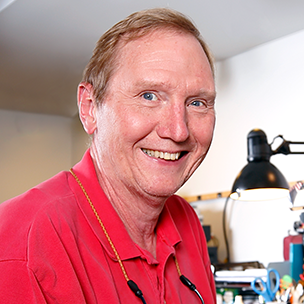 Researched by Crutchfield's

Mark G.
Product Research
Features
Overview: The Sony HVL-F46RM is a wireless compact flash unit for Sony α-series (Alpha Series) Interchangeable-Lens Cameras. As part of the α Lighting System, the flash unit provides superb performance and multiple illumination options when paired with an α-series camera. The HVL-F46RM supports 2.4GHz wireless multi-flash photography as a commander or receiver unit. The head tilts forward and backward, and swivels left and right, supporting both direct and bounce flash. The flash comes with a mini-stand, and a vinyl storage pouch. It is powered by four AA-size alkaline or Nickel-Metal Hydride (NiMH) batteries (not included).
Compatibility: The HVL-F46RM electronic flash is designed for use with Sony α-series digital cameras equipped with the Multi-Interface Shoe. This includes those with the E-mount (mirrorless) and A-mount (DSLR). It also works with Sony Digital Still Cameras (with non-removable lenses) and Vlog Cameras that are equipped with the Multi-Interface Shoe. With many of the compatible cameras, you can control flash compensation, light ratio, and other detailed flash parameters from the camera.
Operation Console: The flash unit's Operation Console, located on the back panel, consists of a control wheel with 4 direction buttons and a center button, plus four other control buttons. Rotating the control wheel or pressing the direction buttons moves the focus or changes the setting item value on the Quick Navi screen or Menu screen. The direction buttons control Zoom (up), Mode (down), Flash Compensation/Power Level + or - (left), and Wireless Mode (WL)(right). You can can assign other functions to the direction buttons, the center button, and the control wheel, if desired. The four separate control buttons have the following functions:
Function (Fn): The Function (Fn) button opens a list of settings on the Quick Navi screen and confirms your selection.
Test: The backlit Test button glows orange to indicate when the flash unit is fully charged and ready to fire. Pressing the Test button when it is lit in orange fires a test flash, especially if you're using a flash meter for manual flash photography.
Menu: The menu button opens up a list of functions and settings on the Quick Navi screen. You can use the direction buttons to select the setting item of your choice, then press the center button to select it.
Power Switch: The 3-way power switch primarily turns the flash unit on and off. The middle position, LOCK, lets you disable the control wheel and the buttons on the flash unit to prevent unintentional operations.
Quick Navi Screen: The Quick Navi Screen is a 1-3/4" diagonal dot-matrix display provides flash status information, as well as direct access to important parameters that are controlled by the control wheel, direction buttons and other buttons. The screen has an amber backlight.
Bounce Flash: The HVL-F46RM's flash head can be tilted (up/down) from -8° to 150° to illuminate your subject with reflected light instead of direct light. Reflected light reduces the intensity of the shadows, and produces a softer light on the subject. There are stop positions at -8°, 0°, 30°, 45°, 60°, 75°, 90°, 120°, and 150°. The flash head can also swivel left and right 90° in either direction, with stops at 0°, 30°, 45°, 60°, 75°, and 90°. You should consider the flash range, focal length of the lens, and distance to the reflective surface, when determining the bounce angle.
Wide Panel: The HVL-F46RM has a built-in wide panel that can be pulled out when needed to cover focal lengths from 15mm to 24mm. This prevents having darker areas on the periphery of the photos because of the difference in light intensity. The wide panel is stored in the area above the flash tube when not in use.
Bounce Sheet: The built-in bounce sheet creates a highlight in the subject's eyes, making the subject look more vibrant. The bounce sheet pulls out when you pull out the wide panel. You can then push back the wide panel to use the bounce sheet. When using the bounce sheet, you should tilt the flash head upward at 90°.
Flash Compensation: When using a flash mode that supports TTL (through-the-lens) metering, the flash intensity is automatically adjusted. You can correct the automatically adjusted flash using Flash Compensation. You can set the Flash Compensation values between -3.0 and +3.0 in steps of 0.5 or 0.3 EV.
Flash Power Level: During Manual Flash mode, you can specify the flash power level from 1/1 (brightest) to 1/128 (darkest). The interval of the steps can be set to 0.3EV or 0.5EV.
Multiple Flash: In Manual mode, you can set the unit to flash multiple times while the shutter is open. Multiple flash allows motion of the subject to be captured in a single photograph for later analysis. You will need to set the flash frequency (1 to 100 Hz), the number of flashes (2 to 100), and power level (1/8, 1/16, 1/32, 1/64, or 1/128).
High-speed Sync: High-speed Sync (HSS) eliminates the restrictions of flash sync speed and enables the flash to be used throughout the entire shutter speed range of the camera. This allows you to shoot with a wide aperture, leaving the background out of focus, and accentuating the front subject. The HSS feature can be turned on or off from the flash menu.
Auto White Balance: White balance is automatically adjusted on the camera, based on the color temperature information at the time of the flash firing. The camera should be set to Auto White Balance or Flash White Balance, while the flash unit should be attached to the unit and in the TTL flash mode.
Wireless Operation: The HVL-F46RM can be used for 2.4 GHz radio wireless flash photography when used with another flash unit that supports radio wireless communications. The flash unit is in commander mode when the power switch is in the ON position. To configure the flash unit as a receiver unit, you should set the power switch to "A," "B," or "C." The Pairing button lets you pair the flash unit with other flash units or a wireless commander unit. You can pair the flash with up to 15 receiver units in up to 5 groups at distances of up to 98.4 feet (30 meters).
Test Flash: The Test button illuminates orange when the flash is charged and ready to fire. You can try a test-flash before shooting to check the light level or check shadows.
Power Requirements: The HVL-F46RM is powered by four Alkaline or Ni-MH "AA" rechargeable batteries (not supplied). Fresh alkaline batteries provide enough power for more than 110 flashes. Fully-charged Ni-MH batteries (2100mAh) can power approximately 130 flashes or more. The Test button flashes slowly when the batteries are running out of power, and flashes quickly when the flash unit is no longer capable of firing.
Overheat Protection: The flash is constructed with heat-resistant materials and an optimized flash algorithm that resists overheating, so you can shoot continuously for long periods of time. The HVL-F46RM has Overheat Protection that suspends operation until the temperature of the unit falls back to normal. When overheating is detected, an icon on the Quick Navi Screen will appear. You should turn off the flash unit for approximately 10 minutes to allow the unit to cool down.
Specifications:
Guide Number: 46 (105mm at ISO 100, in meters)
Flash Coverage: 24mm-105mm (angle of view of 15mm covered with built-in wide panel)
Color Temperature: 5500 K
Battery Types: Four "AA" size -- alkaline or NiMH rechargeable
Battery Performance:

Flash Interval: approx. 0.1 to 2.5 seconds (alkaline); approx. 0.1 to 2.0 seconds (NiMH)
Number of Flashes: approx. 240 or more (alkaline); approx. 320 or more (NiMH)
Continuous Flash: 60 flashes at 10 flashes per second

Operating Temperature: 32°F to 104°F
Storage Temperature: -4°F to 131°F
Dimensions:

Flash at 0° (direct--no bounce): Width 2.736", Height 4.585", Depth 3.117"
Flash at 90° (bounce straight up): Width 2.736", Height 6.118", Depth 2.0"
Weight: 10.9 ounces (excluding batteries)