What Sony's Walkman® and Discman® did for on-the-go music enjoyment, the wireless LocationFree TV does for portable viewing.
What Sony's Walkman® and Discman® did for on-the-go music enjoyment, the wireless LocationFree TV does for portable viewing.
The 12" LF-X1 places Sony's famous crystal-clear picture at your fingertips without tying you down with a power cord or audio/video cables. Built-in speakers, an easel stand, and a handle let you pick up and move effortlessly from room to room, or head outdoors (reception range is approximately 50 feet). A high-capacity rechargeable battery is built into the TV display, so you can watch for up to 3 hours, unplugged. Wherever you roam, you'll always enjoy a noise-free, high-contrast picture.
The 2-piece design is a masterpiece of clever engineering, and setup is straightforward. First, connect your home entertainment gear to the LocationFree Base Station transmitter unit. You can connect two video sources in addition to the regular antenna/cable TV input — a DVD player and/or a TiVo® recorder, for example. The Base Station stays with your components, making for short, easy connections. Next, plug the Base Station into a broadband Internet connection, and you can surf the Web or send e-mail just like you would with a laptop PC. The controls are easy and intuitive, based on touchscreen menus you operate with a touch of the stylus.
When you take the LF-X1 TV on the road, the super-slim display unit is all you need to take advantage of the growing number of airports, hotels, and coffee shops that have a Wi-Fi "hotspot" for Internet access. Built-in software includes a Web browser, e-mail, and a PDF viewer. There's also a video input, so you can plug in a camcorder and review your day on a big, clear 12" screen. There's even a Memory Stick slot for go-anywhere viewing of digital photo slideshows. Back home, use the LF-X1's picture-in-picture (PIP) feature to simultaneously surf TV and the Web! Jump online to check scores while you watch a ballgame, or check your e-mail during commercial breaks without getting up!
Note: In order to access A/V material at home from a remote location, you must have a static IP address or Dynamic DNS service for the Base Station.
Consumer Alert: This component has only an analog broadcast tuner and will require a converter box after February 17, 2009, to receive over-the-air broadcasts with an antenna because of the Nation's transition to digital broadcasting. Analog-only TVs should continue to work as before with cable and satellite TV services, gaming consoles, VCRs, DVD players, and similar products. For more information, call the Federal Communications Commission at 1-888-225-5322 (TTY: 1-888-835-5322) or visit the Commission's digital television website at: www.dtv.gov
READ LESS
Product highlights:
Wireless LCD Monitor:
12.1" LCD touchscreen
4:3 screen aspect ratio
800 x 600 pixels
Picture-in-Picture for video/Internet (inset)
built-in rechargeable 3-hour lithium-ion battery
DCDi™ video processing
3D digital comb filter
universal A/V remote control functions via touchscreen
Hand Drawing feature using supplied stylus
built-in stereo speakers and digital amplifier
1 A/V input (mini jack)
Ethernet port
USB 1.1 port for optional external keyboard
Memory Stick® slot
mini stereo headphone jack
built-in handle
easel stand
14-3/8"W x 9-9/16"H x 2-1/8"D
weight: 5.3 lbs.
warranty: 1 year parts & labor
Base Station:
802.11a/b/g dual-band Wi-Fi® digital wireless transmission system (2.4GHz & 5GHz, max. 54Mbps)
181-channel NTSC tuner
3D digital comb filter
2 A/V inputs, including:

2 composite video
1 S-video

1 A/V output (composite)
1 RF input for antenna/cable signals
Ethernet port
2 USB 1.1 ports
IR blaster for unattended operation of A/V components
2-5/16"W x 8-13/16"H x 7-1/8"D
warranty: 1 year parts & labor
MFR # LFX1
What's in the box:
LF-X1Base station
LF-X1M LCD Monitor
Stylus
Base station stand
BP-LX1A Lithium-Ion rechargeable battery (10.8V/4400mAh)
Ferrite core noise filter
AC-LX1B AC power adapter for base station with attached 4' DC output cord (DC output: 12V/3A)
AC-LX1M AC power adapter for monitor with 68" DC output cord and in-line noise filter (DC output: 16V/3.75A)
IR emitter with attached 59" cable with mono 3.5mm mini-plug on the end
Double-sided tape for IR emitter (5/8" x 1/2")
Two 80" AC power cords
Operating Instructions
Quick Start Guide
Important Software Notice booklet
About AdobeReader sheet
Warranty sheet
Note on Power Switch and LCD Screen (attached to monitor)
We don't have any reviews, yet.
Submit a review and then enter to win a $350 rewards card.
Be the first to review this product
Thanks for submitting your review
Most reviews are processed and published within 5 business days. You will receive a confirmation email once your review has been published.
Customer photos
More details on the Sony LF-X1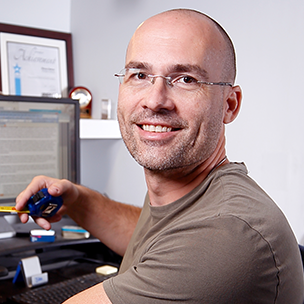 Researched by Crutchfield's

Stacey B.
Product Research
Features
Inputs and Outputs Notes
Location Free TV: The Sony LF-X1 Location Free TV is an LCD television that allows you to enjoy TV, videos, DVDs, Internet browsing, mail, and digital photos most anywhere in your home or office. It includes a 12.1" battery-operated monitor and a base station that communicate with each other over a wireless connection. The monitor must be within 50 feet of the base station in order to receive and send transmissions clearly.
Transmission Frequencies: The Location Free TV transmits on the 2.4 GHz and 5 GHz wireless channels using IEEE 802.11a, 802.11b, or 802.11g protocol. In the average home, this gives you a coverage range of approximately 50 feet. The range may be shortened by other devices that emit radio waves, such as a wireless LAN or microwave oven. You can set the transmission frequency to Automatic 2.4 GHz, Automatic 5 GHz, or Manual. When set to automatic 2.4 or 5 GHz, the TV automatically shifts to the clearest wireless channel within that frequency. If pictures are frequently interrupted, you should manually switch channels to find the optimum reception.
Touchscreen Monitor: The Location Free TV includes a 12.1" Transparent TN (twisted nematic) LCD panel with a resolution of 800 x 600 pixels (SVGA). It has touchscreen capability with a supplied stylus for navigating through menus and using the "on-screen" remote control. The monitor features two oval speakers (1-1/8" x 1-5/8") with an audio output of 0.6 watts per channel (8 ohms). The supplied BP-LX1A battery mounts in the monitor's easel stand. The stand can be adjusted from 0° (retracted) to 120° for best viewing. (Maximum overall depth is 9-7/8" with stand at 120°.)
TV Tuner: The LF-X1 has a built-in PLL synthesizer NTSC tuner for VHF (channels 2-13), UHF (channels 14-69) and CATV (channels 1-125). A threaded "F-type" RF coax jack on the base station allows you to connect the unit to an antenna or cable box. Automatic programming presets the available channels into memory.
Internet Browsing: If you have Internet access through a Cable or DSL line, you can connect the Cable or DSL modem to the LF-X1 with a LAN cable (not supplied). The LF-X1 can also be connected to a router as well. The Location Free TV can be configured to send and receive e-mail. Note: Some technical requirements by the ISP may prevent Internet connection to the Location Free TV. Internet access by dial-up modem or cellular phones are not supported with this product.
Net A/V: While you are away from home, you can connect your monitor to your base station via the Internet, and watch TV or movies, controlling the DVD player or VCR in your home. You can connect the monitor to public wireless Internet access at a cafe, for example, or connect to the Internet at a hotel via wired LAN.
Sub-Screen: While viewing web pages or mail, you can watch TV or video on a smaller sub-screen. Using the touchscreen functions, you can activate the sub-screen, and with the on-screen remote control, you can change channels on the built-in tuner or control a connected component or set-top box (IR blaster required). If desired, you can watch the image in full screen. By touching and dragging the sub-screen, you can move it to another position on the screen.
Selectable Backlight Level: For best visibility, you can select an appropriate level of screen backlighting based upon ambient light levels. The backlight level can be adjusted up or down along a sliding scale from Minimum (Level 1) to Standard (Level 8) to Maximum (Level 15). The amount of battery life varies according to the backlight level you are using.
On-Screen Remote Commander: The LF-X1 can control the internal TV tuner and up to 2 external A/V devices from multiple brands, such as a DVD player or recorder, VCR, cable box, DVR, or A/V receiver. The supplied IR blaster plugs into the base station with the emitter positioned in close proximity to the A/V devices' IR windows. When the monitor screen is touched with the supplied stylus, the "remote" face appears with the currently viewed source appearing in a smaller PIP window. The remote's appearance varies according to the type of device being controlled.
Power Options: The monitor can be powered by rechargeable battery or AC current. It comes equipped with a BP-LX1A Lithium-Ion battery rated at 4400 mAh. The BP-LX1A provides approximately 4 hours of battery life at minimum backlight, 3 hours at standard backlight, and 1 hour 40 minutes at maximum backlight. It requires 2-1/2 hours charging time with the monitor on and 2 hours with the monitor off. The base station is powered by standard household current.
Image Capture: You can capture a still image from the currently displayed screen. The captured image is saved automatically in the album to enjoy later. The captured image can be from the TV (tuner) or a web page, but cannot include images from copyrighted material such as from a DVD or VCR.
Album Functions: You can view digital photos stored on Memory Stick or in the small internal memory. Photos can be viewed manually one-at-a-time, or in a slide show fashion. You can select an interval for changing the pictures: 3 seconds, 5 seconds, 10 seconds, 30 seconds, 1 minute, 5 minutes, 10 minutes or 60 minutes. In addition, you can watch MPEG1 movies. Pictures from the album can be copied to the Memory Stick. Note: Location Free TV supports the following formats: JPEG, GIF, PNG, BMP, and MPG.
Drawing On The Screen: You can draw pictures and text on saved images or a blank white screen and save your creations in the album. The drawing screen size is 640 x 480 pixels. You can choose the following from the Drawing Palette: type and width of pen, color of drawing, eraser, image blur, paint an enclosed area, use stamps, or apply effects to the entire image (brighter, darker, negative, positive, sepia or mosaic).
Sending Pictures By E-mail: You can select a picture (up to 4MB in size) from the album and send it to someone by e-mail.
Additional Dimensions:
Base Station:

Without base: Width=2.286", Height=8.762", Depth=6.923" (8.423" including RCAs)
With base: Width=3.535", Height=8.793", Depth=7.076" (8.423" including RCAs)
Monitor Inputs/Outputs:
Headphones: stereo headphone jack (3.5mm mini-jack) on the left side. The built-in speakers are muted when headphones are plugged in.
A/V Input: 3.5mm mini-jack on the left side for directly connecting a digital video camcorder (requires mini-AV cable--not supplied)
LAN Connector: 10Base-T/100Base-TX Ethernet RJ-45 jack on the right side for connecting to a wired LAN.
USB Connector: USB 1.1 input for optional wired keyboard (keyboard must have USB connection and the supplied ferrite core noise filter attached to the cable)
DC Input Connector: proprietary jack for connecting the supplied AC-LX1M AC adapter
Memory Stick Slot: right side mounted slot for inserting Memory Stick for viewing digital photos and MPEG1 movies (compatible with Memory Stick, Memory Stick Duo with required adapter, Memory Stick with memory select function, MagicGate Memory Stick, Memory Stick PRO, and Memory Stick PRO Duo with required adapter)
Battery Contacts: 6 metal contacts in easel stand for supplied BP-LX1A Lithium-Ion battery
Base Station Inputs/Outputs:
A/V Inputs: two sets of stereo RCA audio jacks with composite video (In 1 & 2) and S-Video (In 1 only) for connecting DVD, VCR, or A/V receiver
A/V Output: stereo RCA audio jacks with composite video for connecting an external TV or monitor
IR Blaster: 3.5mm mono mini-jack for supplied IR blaster (for controlling other A/V components)
VHF-UHF Antenna: threaded "F-type" RF coax jack for connecting 75-ohm external TV antenna or external tuner set top box
USB Ports: two USB 1.1 ports
LAN Connector: 10Base-T/100Base-TX Ethernet RJ-45 jack for connecting to a wired LAN
DC Input: round DC power connector for supplied AC-LX1B AC adapter