Skip a step! The MZ-N1's combination USB cradle/charging stand connects the recorder to your PC's USB port and recharges the included battery, all at once. So you can take advantage of Net MD's speedy transfer rates (record over an hour's worth of music in just a few minutes!), power up the included NiMH rechargeable, and get going in less time.
Skip a step! The MZ-N1's combination USB cradle/charging stand connects the recorder to your PC's USB port and recharges the included battery, all at once. So you can take advantage of Net MD's speedy transfer rates (record over an hour's worth of music in just a few minutes!), power up the included NiMH rechargeable, and get going in less time.
Not that you'll need to recharge frequently — the supplied battery delivers a respectable 42 hours of maximum playback time per charge. Add an optional "AA" in the external battery case to listen for up to 110 hours!
You also get handy software: Simple Burner, which allows you to dub CD tracks directly to MD without saving files on your computer's hard drive, and OpenMG™ Jukebox for music management. (Plus, OpenMG Jukebox is now compatible with the free RealOne™ player — great for users familiar with popular RealAudio® software.) MDLP™ record mode lets you store up to 5 hours of music on a single 80-minute blank MD. And, since it's MiniDisc, you'll enjoy easy recording, editing, and titling with discs that are fully rewritable, nearly indestructible, and inexpensive.
The clever MZ-N1 delivers convenient playback features, too. You get a nice, big, 3-line LCD on the unit. The backlighting on the remote's LCD allows easy control of playback and editing functions, even in the dark. Sony's G-Protection™ keeps your music flowing non-stop. Plus, all this MiniDisc coolness is packed into a sleek, durable magnesium body that weighs only 3 ounces!
Details:
includes USB cradle/battery charger
includes Toslink-to-mini-optical cable
converts MP3, WMA, and WAV to ATRAC™ (or ATRAC3™ in LP2 or LP4 mode) for MiniDisc playback
compatible with USB 1.1 and 2.0
"Easy Skip" group/folder function
minijack input (analog stereo and mini-optical digital)
proprietary USB jack (connects to supplied cradle)
minijack microphone input
digital and analog record level control
digital synchro recording
sample rate converter
Digital Mega Bass®
G-Protection skip recovery system
Automatic Volume Limiter System
folding, in-ear stereo headphones
AC adapter
external battery case
in-line stick-style remote with backlit LCD and editing functions
includes blank 80-minute MiniDisc
playback time in LP4 mode: up to 110 hours with included NiMH rechargeable and optional "AA" in external case; up to 42 hours with included rechargeable
includes Simple Burner and OpenMG Jukebox software CD-ROM
3"W x 2-7/8"H x 5/8"D
weight: 3 oz. without battery
warranty: 1 year parts, 90 days labor (1 year with registration)
Requirements for PC use:
Windows® 98, 98SE, 2000, Me, or XP operating system
available primary USB port (USB 1.1 or 2.0)
233 MHz Pentium® or better processor
64 MB RAM
150 MB free hard disk space
CD-ROM drive
READ LESS
What's in the box:
Net MD walkman
MDR-A34 In-the-ear fold-up headphones with 18" stereo cable (and stereo male mini-jack connector)
RM-MC11EL in-line remote with attached 31.5" cord
AC-ES305 AC adapter with attached 73" output cable and in-line filter (3V/500mA DC output)
1 NH-14WM(A) Ni-MH rechargeable battery
Add-on battery case (holds 1 "AA" battery)
80 Minute blank MiniDisc
31" Mini-to-Toslink cable
56" Mini 4-pin to 6-pin USB cable
1 Docking station/USB cradle
OpenMG Jukebox operating manual
Limited warranty sheet
OpenMG jukebox CD-ROM
MZ-N1 operating manual
"Visit Musiclub" sheet
Install guide for Net MD Simple Burner Ver1.0
Operating Instructions for Net MD Simple Burner
"For Net MD's Attention" sheet
"Notes on installing" Net MD sheet
"Notes on Charging" batteries sheet
"Notes on using" Net MD sheet
Corrections sheet
"Important information" sheet.
MFR #MZ-N1
We don't have any reviews, yet.
Submit a review and then enter to win a $350 gift card.
Be the first to review this product
Thanks for submitting your review
Most reviews are processed and published within 5 business days. You will receive a confirmation email once your review has been published.
Customer photos
More details on the Sony MZ-N1

Researched by Crutchfield's

Research Team
Product Research
Features
PCLink Interface
OpenMG Software
Net MD Simple Burner
Inputs and Outputs
Long Play Recording: In addition to normal stereo recording, this unit has two long time recording modes; LP2 and LP4. When recording in LP2 stereo mode, you can record two times the normal recording time. When recording in LP4 stereo mode, you can record four times the normal recording time. Note: A track recorded in LP2 or LP4 mode is given an identification code that is displayed only when you attempt to play that track on an MD deck that does not support LP modes.
Mono Recording: You may record in mono, with twice the recording time per MiniDisc (148 minutes using a 74 minute MiniDisc).
Group Mode: This feature allows you to categorize consecutive tracks into a group for playback, recording, or editing. This is handy if you are recording multiple artists, or CD onto one MiniDisc.
G-Protection: G-Protection was developed to protect against sound skipping while jogging, providing a higher level of shock protection than traditional ESP. The G-Protection feature provides 10-times faster shock recovery compared to conventional shock protection systems, so it will easily outperform electronic shock protection (ESP) systems equipped with 40 second buffers. The memory buffer is refreshed so quickly, that it is virtually impossible to make an MD skip.
Recording Level Adjustment: The digital and analog recording levels may be set manually or automatically.
Synchro Recording: This feature allows you to automatically have the player start recording when it receives sound from the source unit. This only functions when using the digital (not analog) input.
Labeling: You can label MDs and tracks you record. Each MiniDisc can accept up to 1,700 alphanumeric characters.
Erasing Tracks: You can erase a single track or the entire MiniDisc.
Dividing Tracks: You can divide a recorded track at any point simply by adding a track mark at that point.
Combining Tracks: This function allows you to combine two consecutive tracks into a single track by removing the track mark between them.
Moving Tracks: This function lets you change the order of any track.
Digital Mega Bass: The Mega Bass function boosts bass output for richer audio reproduction. There are two bass boost levels to choose from, and the Mega Bass feature may be turned off. This feature only affects the sound to the headphones/earphones.
AVLS (Automatic Volume Limiter System): This feature automatically limits the volume to protect your hearing. The AVLS feature may be turned on or off.
Headphones: The supplied headphones are on-the-ear phones with an adjustable plastic headband. They have an attached 39.5" cord that is terminated with a standard stereo male mini-jack.
Illuminated In-line Remote: Has input for headphones. Buttons include: search/AMS/play, stop/enter, pause, edit, volume +/-, hold switch, T-mark, delete.
Sampling Rate Converter: This unit has a built-in sampling rate converter that will accept digital inputs from 32kHz to 48kHz. This allows you to perform a digital recording from a non-44.1kHz digital source such as a DAT or DBS unit. The sampling rate converter turns on only when a non-44.1kHz source is detected.
Battery Life:
| | | | |
| --- | --- | --- | --- |
| 1 Alkaline "AA" Battery (sold separately) | SP Stereo | LP2 Stereo | LP4 Stereo |
| Recording | approx. 12 hours | approx. 19 hours | approx. 23 hours |
| Playback | approx. 44 hours | approx. 52 hours | approx. 62 hours |
| | | | |
| --- | --- | --- | --- |
| 1 NH-14WM(A) rechargeable battery (included) | SP Stereo | LP2 Stereo | LP4 Stereo |
| Recording | approx. 12 hours | approx. 17 hours | approx. 21 hours |
| Playback | approx. 30 hours | approx. 38 hours | approx. 42 hours |
| | | | |
| --- | --- | --- | --- |
| Rechargeable battery and 1 "AA" Battery combined | SP Stereo | LP2 Stereo | LP4 Stereo |
| Recording | approx. 30 hours | approx. 43 hours | approx. 52 hours |
| Playback | approx. 79 hours | approx. 95 hours | approx. 110 hours |
Battery Recharging: To recharge the supplied Sony rechargeable battery, the MD player must be placed in the recharging/USB cradle.
Battery Case: The included battery case allows you to attach one "AA" alkaline battery to the MD player.
USB Audio Cable Benefits: The benefits of using the USB Audio cable (instead of simply recording from the analog output found on a computer's sound card) are that you (1) bypass the soundcard's D/A converter, which is often of very low quality and (2) avoid the electrical noise, interference, etc., which is always present in a computer case. In order to use this connection, the Recharging/USB cradle must be used. The MD is placed in the cradle, and the USB cable is attached to the cradle as well as the computer.
Computer System Requirements and Usage Info: Please note the following points:
The computer must be running Windows 98, Windows Me, Windows XP, Windows 2000.
The software does NOT run on Macintosh or Windows 95 and Windows NT.
The computer must have (and you must use) a primary USB port (if a computer has two or more USB ports, only one of these will be the "primary" port and this is the port that must be used).
Since the PCLink connects to your computer's USB port, you do not have to turn off the computer before plugging it in, rather, you can simply connect and disconnect it as needed.
When the PCLink is connected, no sound will come from your PC's speakers, so, to monitor music as it is being recorded, you must use headphones plugged into the recorder.
You can record any audio signal output by your Windows player, so the original file can be a WAV file, an MP3 file, a Liquid Audio file or any other audio file output by your computer's audio player.
Overview: Allows the storage and the playback of digital music on the hard drive of a computer. With this software you can transfer digital audio files (MP3's, CD's, WAV, ATRAC3, WMA's) from your hard drive to your portable Net MD portable player at speeds up to 32X speed. You can choose your recording level quality among standard, LP2, or LP4 modes, which allows you to store over 5 hours of music on one 80 minute disc. The title/track information you create in the jukebox automatically will be transferred to the Net MD recorder. To transfer audio files to the Net MD player, they first must be converted to ATRAC3, which the software will do. OpenMG uses copyright protection technology which enables storage, playback , and edit of music content, but maintains the holder's copyright by preventing unauthorized distribution of music material. Note: You can also return these music files from your Net MD player back to the original computer only.
Overview: Allows you to easily record audio CD's from your CD-ROM to the MD player, without the need of storing any information on your hard drive. It will also allow you to edit and perform playback functions of your MD player through your computer.
Side of Unit:
Headphone (Line) Output: stereo mini-jack variable-level headphone/line out and proprietary Sony input used for supplied in-line wired remote.
Line (Optical) Input: mini-jack that is used for optical digital input and stereo analog input.
Mic Input: For connecting an external microphone (not supplied).
DC In: 3V DC jack.
Charging/USB Terminals: to attach MD player to the Recharging/USB cradle; cradle has a female mini USB version 2.0 jack
The Sony MZ-N1 replaces these items

Adding...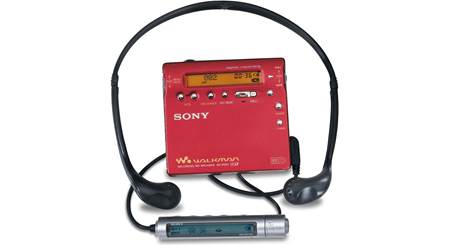 MD Walkman® recorder with direct digital PC interface
USB-to-mini optical adapter
MDLP recording
G-Protection Ultimate Skip Protection