About the Sony UBP-X800M2
Sony stays focused on the best 4K picture quality
With all the on-demand video content out there, I'm so glad to see that Sony is still dedicated to the 4K Blu-ray format. Their UBP-X800M2 Ultra HD Blu-ray player is the sequel to one of our top-sellers in this category. While 4K streaming looks fantastic, Ultra HD Blu-ray discs continue to deliver the absolute best picture possible for a
4K Ultra HD TV
or
4K projector
.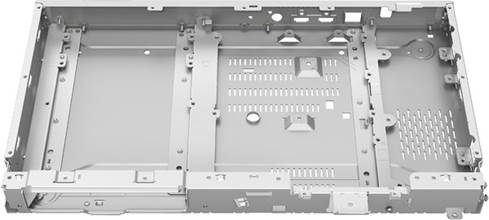 The Sony UBP-X800M2 4K Blu-ray player has a frame-and-beam chassis for less vibration.
Sony stays focused on the best 4K picture quality
With all the on-demand video content out there, I'm so glad to see that Sony is still dedicated to the 4K Blu-ray format. Their UBP-X800M2 Ultra HD Blu-ray player is the sequel to one of our top-sellers in this category. While 4K streaming looks fantastic, Ultra HD Blu-ray discs continue to deliver the absolute best picture possible for a 4K Ultra HD TV or 4K projector.
While Sony probably could've released a flimsy disc spinner and called it a day, they've instead chosen to go all in. This solidly built home theater component will serve up Ultra HD Blu-ray discs with their full 4K resolution and wide, vivid color spectrum. The UBP-X800M2 also plays pretty much any other movie and music disc or digital file out there — and yep, it will even stream Netflix® in 4K.
High Dynamic Range gives you a realistic, high-contrast picture
4K Blu-ray discs with High Dynamic Range (HDR) feed your compatible TV an incredibly lifelike, vibrant picture. And the UBP-X800M2 is ready for them. The player will serve up the darkest and brightest content side by side — even within the same image — on a compatible Ultra HD TV.
Plus, more and more modern directors are shooting in natural light to give their films a more authentic look. But with the wrong TV equipment, darker scenes can be harder to see and follow (perhaps you remember the brouhaha concerning the final Game of Thrones season). With this player, you'll get deeply detailed picture contrast on your 4K TV with HDR, so you can see the nuance within shadowy and dimly lit scenes.
Sound that pulls you into the action
All the top movie sound formats are supported, too. You can send three-dimensional audio formats like Dolby Atmos® or DTS:X to a compatible receiver via HDMI. This gives you a home theater sound experience that's worthy of the super-crisp images you'll see on your screen.
A true high-res music player, too
Many of our high-end audio customers use a Blu-ray player as the main music source for their home stereo setups. The UBP-X800M2's top-notch audio circuitry will ensure all your music sounds clear and detailed. It will play CDs, SACDs, and pretty much any audio disc you can throw at it. And the USB port accepts thumb drives you load with music files — even lossless and uncompressed formats, including high-resolution DSD.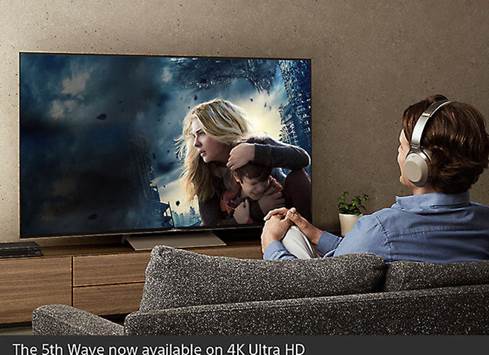 Send movie audio wirelessly to a pair of Bluetooth headphones like the top-selling Sony WH-1000XM3 (sold separately).
Dual-band Wi-Fi means smooth 4K video streaming
Sony Blu-ray players usually offer a decent variety of streaming video services. And this player even offers 4K streaming options, so you can get a better picture from Netflix and Prime Video.
Dual-band MIMO (multiple input, multiple output) Wi-Fi gives you the strong connection needed for streaming 4K. Sony designed the built-in Wi-Fi antenna to optimize reception, even on the edge of your wireless network. (Keep in mind, Sony recommends having an internet speed of 25 Mbps or faster for 4K streaming.)
Beam sound to headphones wirelessly via Bluetooth
The UBP-X800M2's built-in Bluetooth can transmit the sound of your movies, shows, and other media to a pair of Bluetooth headphones. This is perfect for late night binge-watching. You can catch all the dialogue and hear all the loud, exciting sound effects without waking everyone up.
This player also features Sony's LDAC technology, which allows the wireless audio signal to retain more detail with compatible Sony speakers and headphones. So when paired with Sony's best Bluetooth headphones, the WH-1000XM3 wireless noise-cancelers, movie soundtracks will come through even clearer.
READ LESS
Product highlights:
rigid frame-and-beam chassis design for reduced vibration
plays Ultra HD Blu-ray discs, 3D and standard Blu-ray discs, SACDs, DVD-Audio, DVDs, CDs and rewriteable discs
full 4K video resolution for use with Ultra HD TVs

4K video upscaling for standard Blu-ray and DVDs

supports lower resolutions when used with non-4K TVs
HDR (High Dynamic Range) for extended picture contrast and brightness on compatible TVs

supports HDR10 and Dolby Vision™ formats

Quick Start/Load mode swiftly queues up a disc from the "off" position
plays high-resolution digital music files via USB storage device; PCM files up to 24-bit/192kHz resolution, and 2.8 MHz DSD files
plays Region A Blu-ray discs and Region 1 DVDs
Wireless video and music features:
dual-band Wi-Fi for smooth wireless streaming

streaming video apps include Netflix, Amazon Prime Video, and YouTube (subscriptions required for some services)

HEVC for watching streamed 4K content (Sony recommends internet speed of at least 25Mbps)
Bluetooth transmitter sends audio from the player to Bluetooth-compatible headphones or speakers

LDAC Hi-Fidelity wireless music streaming to compatible sources
Technical specs and general info:
selectable video resolution up to 3840 x 2160 pixels
built-in audio decoding for Dolby® Digital, Dolby TrueHD, DTS®, and DTS-HD Master Audio

can pass Dolby Atmos and DTS:X soundtracks when HDMI output is set to "bitstream"

plays AAC, AIFF, ALAC, DSD (.dff and .dfs files), FLAC, MP3, WMA, and WAV audio file formats
front-panel USB port to play music, movies, and images from external hard drives and thumb drives
BD-Live and BonusView support for added bonus features with compatible discs (requires external USB storage device)
2 HDMI outputs for separating audio and video signals

"VIDEO" HDMI output is HDMI 2.0a (connected 4K TV and/or receiver must have an HDCP 2.2-compatible HDMI input, and must have HDMI 2.0a to support HDR)
"AUDIO" HDMI output does not pass video signals

coaxial digital audio output
Ethernet port for internet connectivity
remote control
17"W x 2"H x 10-3/4"D
warranty: 1 year
MFR # 13652076
KEEP READING
READ LESS
Sony UBP-X800M2 reviews
Average review:
Customer photos
Very Nice Player
Jerald from Bountiful, UT on 5/14/2019
I received this beauty yesterday. I was thinking of buying the $1,000 Panasonic UB9000 but ultimately could not justify the extra $$$. This player really looks sharp and the build quality is excellent (metal chassis that is solid with some weight to it unlike the plastic model it replaced)! Setup was easy and it looked for, and then updated the firmware as the first step in the setup process. To my surprise, the box came with two 4k movie titles (an added bonus to the already reasonably price). We are a disc watching family, so I was most interested in the disk performance with streaming as a secondary need or want (I know we are becoming the minority with streaming taking the lead over disc's). Wow! The picture and sound are amazing! The remote is basic, and I wish it had a display. There are two buttons on the front (open/close the tray and the power button) along with power indicator light. On the back is an ethernet port, HDMI video/audio out, HDMI audio only out, and a digital optical out. I just use the HDMI A/V out as this is for movies in my system. It has all the latest playback bells and whistles. For the price, it is hard to beat this player. I am very happy with this purchase!
Pros: Well built, Great looking, Amazing picture and sound, ethernet port and WiFi, great deal for the price
Cons: Audio component outs would be nice, a display would be nice
6 of 6 found this helpful
More details on the Sony UBP-X800M2
Researched by Crutchfield's

Stacey B.