Integra DTM-6
Stereo receiver with Wi-Fi®, Bluetooth®, and Chromecast built-in
Item # 164DTM6 | MFR # DTM6
In Stock

Our VirginiaVA-based experts can help.
Overview
A stereo receiver with all the wireless goodies
I listen to a couple of local Charlottesville radio stations I love, but I've also grown accustomed to the convenience of streaming what I want, when I want. The Integra DTM-6 has just about every music source covered: it offers up to 40 AM/FM presets, wired connections for all of your components, and wireless connectivity for a plethora of streaming music sources.
Plenty of wired connections
This receiver offers two digital optical and two digital coaxial inputs, and it has plenty of connections for your analog components, too. There are six stereo RCA inputs for CD players, tape decks, cable boxes, gaming platforms, Blu-ray players, and more. There's even a dedicated phono stage input if you're a vinyl-lover like me.
You can connect up to two pairs of speakers in an A/B configuration, and of course, there's a subwoofer output, because what's music without solid bass?
Wireless streaming convenience
Just about everyone has their favorite online music service, and a preferred method of streaming. The DTM-6 is absolutely loaded with options: it has built-in dual-band Wi-Fi, Bluetooth, Apple Airplay®, and Chromecast. It supports popular streaming platforms like Spotify®, Pandora®, Deezer, TIDAL, and more. And it's compatible with Sonos and DTS Play-Fi®, so you can integrate it into your wireless multi-room system.
Expand to additional zones
The DTM-6 is designed to work as part of a multi-zone system. On the back, you'll find line and unamplified outputs that let you connect to an additional amp and speakers. The receiver offers advanced power and remote control options so you can command your entire system from the comfort of your favorite chair.
Built to last
This receiver is designed to work hard, and smart. It features fully discrete output stage circuitry, a large power supply, and two high-current capacitors inside an anti-vibration chassis. A non-phase-shift amp design produces stunningly realistic sound imaging. Long story short: you'll enjoy more musical detail with little or no noise.
Product Highlights:
80 watts x 2 into 8 ohms (20-20,000 Hz) at 0.08% THD
high-current amplifier design with large power transformer
built-in dual-band Wi-Fi for music streaming

includes support for Pandora®, TIDAL, Deezer, and free internet radio streams with TuneIn (subscription required for some services)
Chromecast built-in for streaming music from the cloud with compatible mobile apps
Spotify® Connect lets you play Spotify's streaming music library through the receiver via your smartphone or tablet (requires Spotify app and a premium subscription)

Apple® AirPlay® for streaming music from an iPhone®, iPad®, iPod touch® or computer running iTunes®
DTS Play-Fi® wireless multi-room music available via firmware update
compatible with Sonos Connect - receiver turns on automatically and sets the right input when selected in the app
built-in Bluetooth for wireless music listening with smartphones, tablets, and compatible computers

dual rear-mounted wireless antennas help make a strong connection

plays high-resolution digital music files from a USB storage device or networked computer

PCM files up to 24-bit/192kHz resolution; DSD files up to 5.6 MHz

40 AM/FM presets
remote control included
Connections:
4 digital audio inputs (2 optical and 2 coaxial)
front- and rear-panel USB ports for audio playback from USB flash drives

front USB (500 milliamps) for audio playback from USB flash drives
rear USB (1 amp) can accommodate an external hard drive

Ethernet jack for a wired connection to your home network
6 RCA audio inputs for connecting components

dedicated phono stage for connecting a turntable

1 mono RCA output for a powered subwoofer
line out stereo RCA output for Zone 2 amp

independent Zone 2 controls and subwoofer output for custom integration

two sets of binding post speaker connectors (A/B)
1/4" headphone jack
IR in/out for use with external controllers
Remote Interactive (RI) port for interactive control of compatible Integra and Onkyo components (cable included)
RS-232 port for third party controllers
Dimensions and Warranty:
17-1/8"W x 5-7/8"H x 12-15/16"D
weight: 18.7 lbs.
warranty: 3 years
What's in the Box:
Stereo receiver
6' AC power cord
Remote control (RC-906S)
2 "AAA" batteries
FM wire antenna
AM loop antenna
Instruction Manual
Chromecast built-in instructions
Product Registration/Warranty Information
Warning/Precautions sheet
Why Shop
With Us?
10 Reasons.
---
Details
Product Research
Audio Section
Network & Tuner Functions
Bluetooth & USB Integration
Multiroom Playback
Remote & App Control
Convenience Features
Audio Section
Discrete Amplification: To ensure low-impedance and high-current performance, the DTM-6 employs fully discrete output stage circuitry, a massive high current power supply and two custom made 8,200 μF high current capacitors. 80 watts per channel at 8 ohms / 110 watts per channel at 6 ohms are packed into an anti-vibration chassis with an anti-resonant front-panel, and the non-phase-shift amp design produces stunningly realistic sound imaging.
Non-Phase-Shift Amp Design: The receiver employs a Non-Phase-Shift amp design which prevents phase shift by pushing the roll-off point higher than the listening-level frequency. This creates a well-focuses and realistic audio image.
Massive High Power Transformer: The Massive Power Transformer delivers large amounts of power necessary for reproducing the wide dynamics of movie soundtracks and the detail and clarity of your music.
384kHz/32-Bit DAC: The DTM-6 utilizes a premium quality 384kHz/32-bit digital-to-analog converter (AKM4438) from AKM that features unique low-distortion technologies to further ensure effortless high-quality playback and excellent sound quality.
Tone Controls + Direct Mode: You can independently adjust the Bass (100Hz) and Treble (10kHz) of the receiver's Front L/R channels from -10 to +10 dB. In Direct mode, the receiver outputs pure sound as it was intended by bypassing the tone control circuits during playback.
Analog & Digital Audio Inputs: The Integra DTM-6 stereo receiver is outfitted with both analog & digital audio inputs.
Analog Inputs + Phono (MM): There are seven stereo RCA inputs, including a Phono (MM) input with ground terminal. The RCA and phono jacks are gold-plated for excellent signal transfer.
Digital Inputs: The Integra stereo receiver features four digital audio inputs. There are two optical (toslink) digital inputs and two coaxial (RCA) digital inputs. The receiver's digital inputs support 2ch PCM audio signals only. Supported sampling rates include 32kHz, 44.1kHz, 48kHz, 88.2kHz, 96kHz, and 192kHz; with a bit-depth of 16-bit, 20-bit, or 24-bit.
Note: You can set the receiver to automatically turn on when it senses an audio signal from the Optical 1 digital input.
Analog Audio Outputs: The Integra DTM-6 is outfitted with the following analog audio outputs. All the analog output jacks are gold-plated for excellent signal transfer.
Binding-Post A/B Speaker Terminals: There are binding-post terminals for the A/B speaker terminals. The binding post terminals will accept bare-wire, pin-connectors, and banana plugs (single or dual). You can use 4Ω to 16Ω loudspeakers when only connect Speakers A. When connecting both Speakers A and B, use 8Ω to 16Ω loudspeakers.
Subwoofer Outputs: The receiver is fitted with a mono-subwoofer output for the Main Zone and Zone 2 to connect powered subs for extra bass in those zones.
Headphones: When headphones are plugged into the full-size 1/4" jack on the front panel, the main speakers are automatically muted.
Pre-Out: Use the stereo RCA pre-out to connect an external power amplifier to drive your loudspeakers.
Line Output: There is a stereo RCA line output for connecting a recording device.
Impedance Switch: If you're using only one of the speaker sets (A or B), choose the 4Ω setting if each speaker's impedance is 4Ω to less than 6Ω, or choose the 6Ω setting if each speaker's impedance is 6Ω or more. If you're using both of the speaker sets (A & B), choose the 4Ω setting if each speaker's impedance is 8 to 16Ω.
Volume Setup: The Integra stereo receiver provides the following volume settings.
IntelliVolume: With IntelliVolume, you can set the input level for each input (+/-12dB) selector individually. This is useful if one of your source components is louder or quieter than the others. This function does not work in Zone 2.
Maximum Volume: Use this feature to set the receiver's maximum volume level in the Main Zone and Zone 2. This feature is useful to avoid turning the volume too loud by mistake. You can set the Max Volume from 50-99 (max), or Off (default value).
Power On Volume: Use this feature to set the volume level when the power is turned on in the Maine Zone and Zone 2.. You can choose between Last (same as the volume when the unit was turned off), Min (0.5), Custom (0.5-99.5), or Max (99.5).
Headphone Level: With this setting, you can specify the headphone volume (+/-12dB) relative to the main volume. This is useful if there's a volume difference between your speakers and your headphones.
Network & Tuner Functions
Wired or Wireless Network Connection: The Integra DTM-6 stereo receiver supports a wired Ethernet (RJ-45) or wireless WiFi (802.11 a/b/g/n; 2.4/5GHz) network connection. Via the stereo receiver's network connection, you can enjoy music files stored on your computer and listen to internet radio through a variety of online music services.
Ethernet (LAN) Jack: The Integra stereo receiver is equipped with an Ethernet (RJ-45) jack for connecting the player to your home network and computer. Connecting the receiver's Ethernet port to a 100Base-TX switched Ethernet network is recommended for best results. Use a shielded CAT-5 Ethernet cable to connect the receiver to your home network.
Built-in Wireless LAN: The stereo receiver also features built-in WiFi that allows you to wirelessly connect to your home network, so you can enjoy the benefits of a cable-free network environment. A wireless connection requires a home network with a WiFi-enabled access point (IEEE 802.11 b/g/n; 2.4/5GHz). Supports WPS, WEP, and WPA security.
DLNA Certified: Because the DTM-6 is DLNA (ver.15) certified, you can play back music files stored on your Windows PC (w/ Windows Media Player 11 or 12) or a DLNA compliant media server through the stereo receiver. You can control basic playback functions of your music library from the included remote control; such as Folder/File Select, Play/Pause, Stop, Fast Forward/Rewind, Previous/Next Track, and Repeat/Random. Compatible music files include -
Hi-Res Music Files: AIFF (8/16/24-bit; 44.1-192kHz), FLAC (8/16/24-bit; 44.1-192kHz), WAV (8/16/24-bit; 44.1-192kHz), DSD (1-bit; 2.8/5.6MHz)
Lossless: ALAC (16/24-bit; 44.1-96kHz)
Low-Res Music Files: MP3 (8-320kbps; 44.1-48kHz), WMA (5-320kbps; 44.1-48kHz), AAC (8-320kbps; 44.1-96kHz)
Built-in Online Music Services: The Integra DTM-6 offers several built-in internet radio & online music services through its wired or wireless network connection.
Spotify Connect: The integration of Spotify Connect will enable Spotify Premium users to instantly select and wirelessly stream music to the Integra stereo receiver from within the Spotify app (Apple iOS or Android). Spotify is a digital music service that gives you on-demand access to one of the largest music libraries in the world (over 15 million tracks and counting). Spotify makes it easier than ever to discover, manage, and share music with your friends. You can browse music by artist, album, track, or most popular; and create your own music library with customized playlists.
Chromecast Built-In: Chromecast built-in lets you instantly stream a variety of music apps from your Apple (iOS 7.0+) or Android (OS 2.3+) mobile device to the Integra stereo receiver. Chromecast built-in works over WiFi and allows you to connect more than one device at a time to the receiver, as well as control what's playing from anywhere in the house with your compatible mobile device.
Supported Content: Chromecast built-in offers Internet Radio apps like TuneIn & iHeart Radio; plus online music service apps like Pandora, Spotify (requires Premium subscription), Tidal, Google Play Music, and more. Click here for a complete list of compatible apps. You can even wirelessly stream exactly what's playing on your Android phone or tablet through the Integra receiver. Or, if you're on your laptop or computer, you can also cast any music streaming website through the Chrome browser.
Simple-to-Use: Simply tap the Cast button from a Chromecast Built-in compatible music app to start streaming to the Integra receiver. You can search, browse, play, skip, and turn up the volume directly from the music apps you know and love on your compatible phone, tablet or laptop. While you cast your music, you can still use your phone to answer a phone call, play a game, send a text, and even leave the room, all without interrupting what's playing on the receiver's speaker system or draining your battery.
Note: Make sure the DTM-6 has the latest firmware/software update installed.
AirPlay Compatible: AirPlay lets you stream your favorite songs directly from your Apple iOS (4.3.3+) device or from your iTunes (10.2.2+) library on your Windows PC or Mac computer to the stereo receiver, over your home's wireless network connection. From your Apple iOS device you are able to stream stored music on your device, downloaded music apps, and music on your iCloud to the stereo receiver. From your Windows or Mac you can stream your stored iTunes music library on your computer to the stereo receiver; you can even download Apple's free Remote App onto your compatible iOS device to browse and control playback functions of the music stored in your iTunes music library on your computer that is being streamed to the stereo receiver. With AirPlay you also get to see song/artist information on the front-panel display (no album art).
AM/FM Tuner: With the built-in tuner you can enjoy AM and FM radio stations. You can store your favorite stations as presets for quick selection. You can store a combination of up to 40 of your favorite FM/AM radio stations as presets.
Bluetooth & USB Integration
Built-in Bluetooth: The Integra DTM-6 features built-in Bluetooth (version 4.1+LE) with support for profiles A2DP 1.2 and AVRCP 1.3. You'll be able to wirelessly stream stored music and music apps from your Bluetooth-enabled Apple iPod/iPhone/iPad, Android smartphone/tablet, Windows Phone/PC, & Mac laptop/computer, as well as other Bluetooth compatible devices to the Integra receiver. The receiver has a 48' wireless Bluetooth range. You can even set the receiver to automatically turn on when a Bluetooth source device is paired and connected.
SBC + AAC Codecs: In addition to support for the standard SBC Bluetooth audio codec, the DTM-6 offers support of AAC. By supporting AAC, the receiver offers better audio performance of the music streamed from your Apple iPod, iPhone, or iPad.
Playback Control: You can use the receiver's IR remote control to operate basic playback functions, like Play/Pause & Previous/Next Track. Advanced music browsing will still need to be handled from your Bluetooth-enabled device.
Song/Artist Information: The receiver will display song/artist information on its front-panel LCD. Album Art is not supported.
Note: Due to the differences in Bluetooth technology, some Bluetooth enabled devices may be incompatible, function improperly, or may not support all features when used with the Integra receiver.
Dual USB Ports: This stereo receiver is equipped with a front & rear panel USB (type-A) port that allows you to enjoy a variety of music files from a USB mass storage class memory device, such as USB thumbdrive, portable digital audio player, or hard disk drive (a hard disk drive will require external power). The unit will recognize USB MSC devices formatted in FAT16 or FAT32 with up to 20,000 music files. You can control basic playback functions of your music library from the included remote control; such as Folder/File Select, Play/Pause, Stop, Fast Forward/Rewind, Previous/Next Track, and Repeat/Random. USB portable audio players that can be charged via USB will be charged when plugged into the AV receiver's USB port (Front = 5V/0.5A, Rear = 5V/1A); even in standby mode. Compatible music files include -
Hi-Res Music Files: AIFF (8/16/24-bit; 44.1-192kHz), ALAC (16/24-bit; 44.1-192kHz), FLAC (8/16/24-bit; 44.1-192kHz), WAV (8/16/24-bit; 44.1-192kHz), DSD (1-bit; 2.8/5.6MHz)
Low-Res Music Files: MP3 (8-320kbps; 44.1-48kHz), WMA (5-320kbps; 44.1-48kHz), AAC (8-320kbps; 44.1-96kHz)
Notes: USB hubs and USB devices with hub functions are not supported. MP3 players containing music files that are managed with special music software are not supported. Apple iPod/iPhone/iPad and Android devices are not supported via USB.
Multiroom Playback
Zone 2: In addition to the main listening room, you can also enjoy audio playback from a different source in another room of your home using the receiver's Zone 2 line-level outputs and Zone 2 sub output. By using the Zone 2 line-level outputs and sub output on the DTM-6, you can connect an external receiver or integrated amplifier, as well as a powered sub in a second room, allowing you to listen to 2.1ch stereo in the main room and play a different 2.1ch audio source in another room of your home. The volume of Zone 2 can be controlled from the Integra receiver or from your add-on integrated amplifier.
Compatible Sources: Tuner, Analog, Optical/Coax Digital (2ch PCM only), USB, Network (including DLNA and online music services), and Bluetooth audio sources can be sent to Zone 2.
Incompatible Sources: DSD audio files cannot be output to Zone 2. As for Network, USB, and Bluetooth sources; you cannot select different inputs for the main room and Zone 2. For example, if a Network source been selected in the main room and then Bluetooth is selected as playback source in Zone 2, the input in the main room will also change to the Bluetooth source. When listening to AM/FM or Internet radio, you cannot select different stations for the main room and Zone 2.
Google Home Multiroom: Using the Google Home app for Apple iOS 8.0+ and Android OS 4.0.3+, you can sync multiple speakers with Chromecast built-in in multiple rooms of your home to play the same song from a Chromecast built-in music app throughout your house at the same time. Friends and family can even use their own Chromecast compatible phone or tablet to cast music to your system by connecting to your home's WiFi network.
DTS Play-Fi (Firmware Update Available): DTS Play-Fi combines DTS and WiFi to wirelessly stream high quality audio through out your home using the Integra Music Control App (for Apple iOS 8.0+, Android OS 4.0+) or the Play-Fi App (for Windows 7 PC or later). Supported music formats up to 24-bit/192kHz (including MP3, AAC, FLAC, WAV) are wirelessly streamed to the receiver at up to 24-bit/96kHz (Critical Listening Mode) or to multiple DTS Play-Fi players up to 16-bit/48kHz (CD quality sound). You can connect multiple DTS Play-Fi products together from different brands and manufacturers on the same home network to create a whole-home streaming experience. Play the same source in every room or a different song in each room. Due to the bandwidth limitations of most wireless networks, no more than 16 wireless DTS Play-Fi products on a single WiFi network at one given time is recommended. DTS Play-Fi has a range of up to 100' from your wireless router. Compatible sources include -
Source Devices: DTS Play-Fi provides you with the ability to stream your music wirelessly in high-quality lossless audio from Apple iOS & Android devices, Windows laptops & desktop computers, as well as DLNA-servers on your existing home WiFi network to the Integra receiver. Up to eight separate wireless source devices, each with its own source, are supported simultaneously and any wireless source device can stream to eight DTS Play-Fi playback devices.
Online Music Services: DTS Play-Fi enables wireless audio streaming from the world's most popular music services & internet radio, including - Pandora, Spotify Connect, SiriusXM, TIDAL, Amazon Music, iHeartRadio, Napster, & more.
Note: All DTS Play-Fi enabled products work seamlessly together, so there's no hassle adding more components, or choosing more than one audio brand (like Integra, Integra, Klipsch, MartinLogan, McIntosh, Paradigm, Phorus, Polk Audio, Wren, and more) in your home.
Sonos Connect Ready (Firmware Update Available): Instantly upgrade the music streaming capability of your Integra receiver with Sonos Connect (sold separately) and a free over-the-network firmware update. With the Sonos Connect connected to the Integra receiver via a set of stereo RCA cable, the audio system you've built around the receiver can now be part of a Sonos Wireless Multiroom Audio System (components sold separately). After a simple set up, the Integra receiver will seamlessly tie into Sonos, instantly turning on from network standby, changing inputs and playing at the volume you command through the Sonos controller app on your compatible Apple iOS or Android device.
Functionality: Once the Integra receiver is connected to the Sonos Connect you will be able to send any music or source on the Sonos app to the receiver. You will also be able to group the receiver to other Sonos devices on the network or use it independently. Whenever you start playing music back from your Sonos app and the Integra receiver is selected, the receiver will automatically turn on and switch to the correct input.
Compatibility: The Integra receiver can be used with the Sonos One, Play:1, Play:3, Play:5 or any combination of these speakers (all sold separately). You can even use the Integra receiver with a Playbar or Playbase (sold separately) that is located in a different room. Just remember that you need to have a Sonos Connect to connect the Integra receiver to the Sonos multiroom audio system.
Note: Click here to learn even more about Integra and Sonos working together to give you the ultimate home theater and multiroom audio experience.
FlareConnect MultiRoom Audio (Firmware Update Available): FlareConnect powered by Blackfire mirrors network audio sources and any external analog source playing through the receiver (from streaming audio to vinyl) on optional FlareConnect wireless speakers (sold separately). Sampling rates up to 48 kHz are supported. FlareConnect powered by Blackfire is stable, fast, and easy to control with the Integra Control Pro App for Apple iOS and Android.
Note: Make sure the Integra receiver has the latest firmware/software update installed. Integra cannot guarantee the compatibility with other devices featuring FlareConnect or Blackfire.
Remote & App Control
Integra Control Pro App: The Integra Control Pro App (for Apple iOS 8.0+ & Android OS 4.0.3) features an intuitive, user-friendly interface that allows you to conveniently operate the Integra receiver from your compatible Apple iOS or Android device. This app not only has the usual remote control functions, it also has a multiroom functionality for Zone 2 and wireless multiroom audio setups.
Remote Control: You can operate general control functions (play/stop, control the volume, select the input source, etc.) from your compatible smartphone or tablet.
Streaming Audio: Lets you play audio from built-in music streaming services (such as Pandora, Spotify, TIDAL), the music library on your Apple iOS or Android device, and your Windows PC or other DLNA-compatible server. You can also access music from Bluetooth and USB source devices.
Multiroom Audio: Provides control over Zone 2 and wireless multiroom audio (such as FlareConnect by Blackfire).
Google Home Voice Commands: With a Google Home voice-activated speaker (sold separately - see Accessories Tab) and the Google Home App (for Apple iOS 8.0+ or Android OS 4.2+), you can use your voice to control select functions of the Integra stereo receiver. With a simple voice command, you can play music from Chromecast compatible music services by artist, song, genre, album, playlist, mood or activity. You can also turn up the volume, skip to the next track, or stop the music - all without lifting a finger.
Custom Installation: Integra products are designed and engineered to meet the demands of custom audio/video systems installers. Integra works closely with control systems partners such as Savant, Crestron, URC, and RTI, and supports Control4 Simple Device Discovery Protocol (SDDP) and AMX Device Discovery for simplified system integration.
RS-232 & IP Control: The DTM-6 includes system integration connectivity such as RS-232 and IP control with support for two-way communication with 3rd party home automation systems and a web based browser.
IR Inputs/Output: Two infrared (IR) inputs and one IR output make for a clean, reliable installation and allow pass-through of IR signals to control other devices connected to the DTM-6, such as a TV or Blu-ray player.
Three 12V Triggers: Three fully programmable 12 volt triggers (3.5mm) can be used to raise/lower a projection screen, power on/off an external amplifier, and open/close the drapes all with the touch of a button.
Optional Rack Mount: An optional rack mount kit (sold separately) provides a clean, finished look when installed in racks and cabinets.
IR Remote: The Integra DTM-6 comes with an IR remote control for wireless operation of the stereo receiver. There is a 3.5mm RI remote control jack that allows you to connect this receiver to other compatible Integra components and control it from the included IR remote.
Convenience Features
Gapless Playback: Many live and classical albums have no gaps in the music. Gapless playback ensures that there are no pauses between audio files. This provides playback with no interruptions, the way it was meant to be heard. Compatible with WAV, FLAC, and ALAC music files via USB.
Name Edit: You can enter a custom name for each individual input selector and radio preset for easy identification. When entered, the custom name will appear on the display. This function cannot be used for the Network and Bluetooth input selectors.
Display Dimmer: The front-panel display brightness has three settings - Dim, Dimmer, and Normal.
Auto Standby & Sleep Timer: The stereo receiver will automatically go into Standby mode, if there is no operation for 20 minutes with no audio signal input. The Sleep Timer can be set to automatically turn off the receiver after 30, 60, or 90 minutes.
Firmware Updates: Future firmware updates are available from Integra through the receiver's Network or USB connection. Visit Integra's online Download Center for the latest firmware updates.
Our Product Research Team
At Crutchfield, you'll get detailed, accurate information that's hard to find elsewhere. That's because we have our own in-house Product Research team. They verify what's in the box, check the owner's manual, and record dimensions, features and specs. We stay on top of new products and technologies to help people make informed choices.
Q & A
Customer Q&A
Crutchfield asked


Why did you buy this?
High current amplification with WiFi and bluetooth for additional connectivity options.

[ Jeffrey Aug 04, 2018 ]
2 questions already asked
Sorry, no. The DTM6 does support Apple's Airplay but not the newer Airplay2. It does not feature built-in Alexa and does not work with voice commands from an external Echo device. [ Ryan Dec 15, 2018 ]

Staff
Thanks for your question. For information on comparing two or more models I would recommend reaching out to an Advisor by phone (1-800-324-9695) or online chat. They will be able to help determine the differences and help you make the best choice for your system and your budget. [ Krissy Oct 08, 2018 ]

Staff
I don't know. All I know is that I'm happy with the Onkyo TX 8260. My only criticism is that it sometimes drops the WiFi signal when I'm on something like Pandora. I have to then shut down the receiver and then start all over again.

[ TOM Oct 04, 2018 ]
I bought that for my son for Christmas last year,did not do a comparison between the two,it was on sale,my son seems to be happy with it, still working,that's a plus,not much help for ya

[ SCOTT B Oct 04, 2018 ]
Looking for more? Check out the next model in this lineup.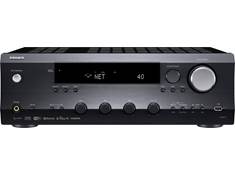 More power and HDMI connectivity
The Integra DTM-7 offers these features:
100 watts x 2 into 8 ohms (20-20,000 Hz) at 0.08% THD
4 HDMI inputs and 1 HDMI output
32-bit/384kHz AKM digital-to-analog converter (DAC)
3 digital audio inputs (2 optical and 1 coaxial)
4 analog audio inputs for connecting components