About the Autel Robotics EVO
Fast, convenient, and fun
There are a few things I look for in a drone, and the Autel EVO checks all of the important boxes. It's fast — it flies up to 44 miles per hour — and good-looking. There's also a sharp 4K camera on board, mounted on a stabilizing gimbal. The 'copter folds into a compact package so it's easy to carry, and it's loaded with sensors so I can fly smart and safe.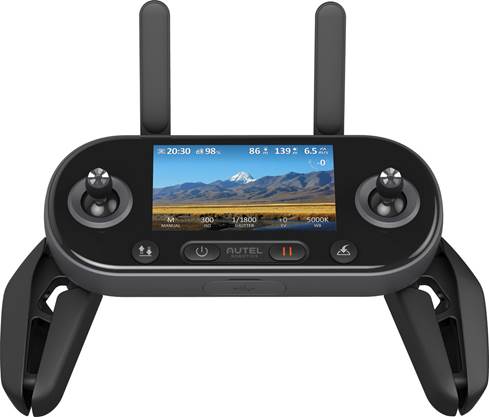 The Autel Robotics EVO comes with a compact remote control. Pilot using the built-in OLED, or dock your compatible smartphone for expanded options.
Fast, convenient, and fun
There are a few things I look for in a drone, and the Autel EVO checks all of the important boxes. It's fast — it flies up to 44 miles per hour — and good-looking. There's also a sharp 4K camera on board, mounted on a stabilizing gimbal. The 'copter folds into a compact package so it's easy to carry, and it's loaded with sensors so I can fly smart and safe.
Intelligent flight modes
Download the free Autel Explorer app, and the EVO's capabilities really open up. First of all, you'll get a sharp 1080p live view on your mobile device's screen, but you'll also gain access to these intelligent flight modes:
Dynamic Track - follow an object by drawing a box around the subject
Viewpoint - tap on the screen of your mobile device to fly to a new location
Orbit - fly in a circle around a point of interest for cinematic shots
Waypoint - fly to and shoot from pre-programmed locations to track changes over time
You can also use the app to view telemetry data from each flight.
Compact remote control
The included remote features a bright 3.3-inch OLED screen that offers a 720p live view of your aerial adventures. If you want it bigger and brighter, dock your compatible smartphone to upgrade to a 1080p view.
You can always take direct control of the aircraft with the joysticks, but handy one-touch buttons take care of basic tasks like takeoff, landing, and taking photos. Images and videos are stored on an included 32GB microSD memory card.
READ LESS
Product highlights:
Drone:
quadcopter with 4K Ultra HD camera, microSD card, controller, and rechargeable battery
foldable, lightweight design makes it easy to carry to your launch site
flight time: up to 30 minutes
maximum speed: 44 mph
range: 4.3 miles
free Autel Explorer app for iOS® and Android™ offers 1080p live view and intelligent flight modes:

Dynamic Track - follow an object by drawing a box around the subject
Viewpoint - tap on the screen of your mobile device to fly to a new location
Orbit - fly in a circle around a point of interest for cinematic shots
Waypoint - fly to and shoot from pre-programmed locations to track changes over time

view flight telemetry data
safety features:

dual front-facing cameras for 3D obstacle avoidance
bottom-mounted ultrasonic sensors and cameras for smooth, safe landing
rear-facing infrared sensor

weight: 1.9 lbs.
Camera:
12-megapixel still photos
records 4K video at 60 frames per second (1080p at 120fps)
ultra-precise 3-axis gimbal mount stabilizes camera in flight
94° field of view
takes several still photos per second in burst mode
built-in rechargeable battery
Included Accessories and Warranty:
compact wireless remote controller (2.4 GHz):

built-in 3.3-inch OLED display with 720p HD live view
dock your compatible smartphone for 1080p view
one-touch action buttons for basic commands
records photos and video to included 32GB microSD card

battery charger
micro-USB and USB-C cables (one each)
3 pairs of propellers
warranty: 1 year
Note: The FAA requires users to register their drones. State and/or local laws may also restrict the use of this drone in certain areas
MFR # 600000210
What's in the box:
Autel Robotics EVO owner's manual
Aerial drone (w/ gimbal camera)
Controller
Battery (pre-installed)
6 Propellers (4 pre-installed)
43" AC power adapter (attached 22" DC cord)
AC power cord
39" USB-C to USB-A cable
11" USB-C to proprietary connector cable
11" microUSB to proprietary connector cable
Quick Guide
Packing List
Disclaimer & Safety Instructions
Autel Robotics EVO reviews
Average review:
Customer photos
Autel Robotics EVO
Gregory from Ilion on 10/29/2018
I've flown a number of drones from several different companies. Some good, some not. There's another company that has a major share of the market, they make a good product. So does Autel. As someone who wants quality, performance, price value and support, Autel provided all of them with the Evo. The video quality and dynamic range of their camera is outstanding. The reliability and support response has been top notch with the few questions I've had. Their firmware updates, or fixes have been steady and responsive. I'm happy with my purchase for sure, I believe you will be too.
Pros: Camera Dynamic range Quiet Ease of use
Cons:
9 of 9 found this helpful
More details on the Autel Robotics EVO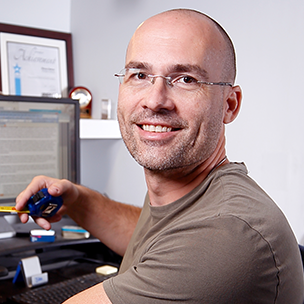 Researched by Crutchfield's

Stacey B.
Product Research
Features
Dual GPS/GLONASS Systems + Autonomous Flight: Dual GPS/GLONASS satellite positioning and advanced computer vision systems help avoid obstacles to ensure a safe and stable flight. Utilizing two cameras on the front giving it binocular vision, EVO creates a 3D environment and reacts to obstacles in the way. Intelligent algorithms are constantly running during autonomous flight, making long-range decisions for path planning around obstacles. Two ultrasonic sensors paired with two more computer vision cameras on the bottom of EVO, help protect the aircraft from landing on unlevel surfaces. On the rear of the aircraft, EVO is equipped with a near IR sensor protecting you when flying backward autonomously.
Forward & Rear Visions System: The Forward Vision System installed on the front of the aircraft using image data to detect the distance between the aircraft and obstacles. The aircraft will brake by itself when obstacles are detected in front. At the same time, infrared sensors located on the rear of the aircraft are also capable of measuring the heat being emitted by an object and detecting motion, which will help the aircraft avoid obstacles in a different way.
StarPoint Positioning System: The StarPoint Positioning System installed on EVO, functions through Binocular Cameras and two Ultrasonic Sensors on the bottom of the aircraft. The sensors identify the current height of the aircraft through ultrasound, and the camera obtains location information through image analysis. With the help of the StarPoint Positioning System, the aircraft can hover in place more precisely when flying indoors or in other environments where the GPS signal is unavailable.
Return-to-Home + Precision Landing: Built-in failsafe features like Return-to-Home call the aircraft back to its home point when the battery is low or the remote control signal is interrupted. You can also manually activate the Return-to-Home function and send the drone back to its starting position. Using the Precision Landing feature the cameras on the bottom of EVO will capture reference images and use them during the Return-to-Home providing pinpoint precision during the landing sequence. When the aircraft arrives above the return-to-home point location, it will detect ground conditions during the landing descent. It will scan and match the terrain and will land as close as possible to the take-off point once the current terrain matches take-off point terrain. The aircraft will land automatically if the terrain matches and looks safe; otherwise it will hover in-place to wait the next command.
Intelligent Flight Modes: The EVO offers the following Intelligent Flight Modes through the Autel Explorer on your compatible Apple iOS 9.0+ or Android device.
Dynamic Track: Using advanced algorithms, EVO can autonomously follow an object easily by drawing a box around the subject on the Autel Explorer app
Viewpoint: You'll be able to send EVO to a new viewpoint during flight by simply tapping on the screen of your mobile device using the Autel Explorer app.
Orbit: You can select a point-of-interest (POI) and EVO will fly a perfect circle making cinematic shots easy to capture.
Waypoint: You are able to set waypoints to program autonomous flight routes. EVO can even save multiple waypoint missions making it easy for surveying.
VR: You can take a seat in the cockpit with a virtual reality heads-up display (VR headset sold separately).
Flight LED Indicators: There are four LEDs located on the end of the aircraft arms, one on each arm. The color and flashing rate of the LEDs indicate the aircraft's status, working mode, and battery level. The front indicators will be solid red to help you identify the direction of the aircraft's nose, and the rear indicators show the current flight status of the aircraft.
XI-5A Camera Gimbal: The EVO's camera is built on a 3-axis stabilized gimbal and capturing stunning video at 4k resolution & 60 frames per second and 12-megapixel still images. Using real glass optics and the Ambarella H2 image processor, the camera can record more dynamic range in each shot. You'll be able to capture wide-angle perspective with 94° field-of-view and crystal-clear still imagery from a 12MP camera.
3-Axis Gimbal: The 3-axis gimbal enables the camera to capture clear photos and videos. It is specially designed to minimize camera vibration and providing the best experience for you. The controllable range of the gimbal roll axis is 0°~90° and the operating temperature is maintained between 14°F~122°F. The gimbal is powered by the aircraft battery, and a self-test is performed each time the gimbal starts where the gimbal will rotate through its limits and calibrate itself. The 3-axis gimbal supports two working modes -

Stabilized Mode: The gimbal's orientation will always remain constant with the aircraft's nose, but the gimbal will keep horizontal even when the aircraft tilts.
FPV Mode: The gimbal will be synchronized with the aircraft's movement including rotation and tilt to create a first-person view during the flight.

4K UHD Camera: The gimbal-mounted 4K UHD camera supports various shooting modes, including single shot, burst shooting, AEB and time-lapse. Photos can be saved in RAW or JPG formats, and videos can be recorded in MOV or MP4 formats. A high-definition live view from the camera can be displayed on the remote controller or Autel Explorer app (for Apple iOS & Android) with clear and smooth image quality.

microSD Card Slot: Videos & photos are recorded onto a microSD card (sold separately). The EVO supports microSD cards up to 128GB. It is recommended that you use a Class 10 or UHS-1 microSD card for high-definition videos.
microUSB Port: The microUSB port on the back of the EVO aircraft is used to transfer your photos and videos to a Windows PC or Mac computer using the included microUSB-to-USB cable.
Note: When stored the XI-5A Camera Gimbal is held in place with a gimbal holder to protect the gimbal from incidental rotation and avoid damage. Remember to remove the holder before powering up the aircraft. Failure to do so may result in damage and overheating of the gimbal motors and circuitry.
Remote Controller: The included remote controller supports live video downlink and aircraft remote control functions without the need of a mobile app. The video downlink system and aircraft remote control system operate at 2.4GHz or 900MHz (user selectable). The controller and aircraft have an unobstructed wireless range of up to 4.3 miles. The remote controller features a 3.3" OLED screen, joy-sticks, and push-button controls. It is powered by a built-in rechargeable battery.
3.3" OLED Screen: With the built-in 3.3" OLED screen, you'll be able to easily view a live 720p HD video feed or critical flight information without the need to connect to a mobile device. The flight information panel of the 3.3" OLED screen indicates altitude, distance, speed, GPS signal, battery life, and more.
Joy-Stick and Push-Button Control: Joy-Stick controllers are used to manually control the EVO drone's flight pattern. Push-button controls allow you to command EVO to return home, automatically take off or land and capture photos & video without taking your hands off the controller.
Rechargeable Battery: The remote controller is powered by a built-in, lithium-ion battery (6700mAh) that can last up to 3.8 hours on a single charge from the included battery charger.
Note: A built-in buzzer in the remote controller emits different alert sounds according to various conditions such as low battery warning, video link error, or losing aircraft communication.
Autel Explorer App: With the Autel Explorer App (for Apple iOS 9.0+ and Android OS 4.4+), it's easy to control the Autel Robotics EVO. The newly re-designed Autel Explorer app provides a 1080p live camera view, flight telemetry, access to advanced settings and powerful Intelligent Flight Modes. Your compatible Apple iOS or Android mobile device will act as the central monitor (HD Live View) for remote piloting control, aerial photographing and filming, and flight parameter tuning to achieve optimal flight performance. Monitor your aircraft data and use autopilot features such as Dynamic Track, Viewpoint, Orbit, and Waypoint modes to make flying the EVO even easier.
Live Video Feed & Flight Data: Thanks to the Autel Explorer app, you can enjoy FHD live video feed from the EVO's 4K camera and get real-time monitoring of aircraft flight data and status.
Flight Controls: The Autel Explorer app lets you easily configure the aircraft's flight control settings. Select Intelligent Flight Modes (such as Dynamic Track, Viewpoint, Orbit, and Waypoint modes), as well as upgrade flight safety with the Failsafe feature and Low-battery RTH Countdown.
Camera Settings: The Autel Explorer app acts as a professional camera setting assistant with support 4K/60fps video recording and 12MP still-image photography.
Rechargeable Battery: The EVO drone is powered by a rechargeable lithium-polymer with the capacity of 4300mAh. It can only be charged with the included battery charger. A fully charged battery can provide up to 30 minutes of continuous flight. Several smart functions added into the aircraft battery will protect and preserve battery life.
Real-Time Battery Information: The aircraft is able to communicate with the battery to get real time battery information such as voltage, capacity, current, temperature, etc. This information is visible on the remote controller's OLED screen.
Protection Circuitry: The rechargeable battery features Balance Protection to balance the voltage of each battery cell to prevent overcharging or over-discharging. The battery will stop charging automatically when the battery reaches full charge or if the charging current exceeds 8A in order to prevent severe damage. The battery will also shut down if a short circuit is detected. If the battery is not in use, it will disconnect power output once the self-discharge cycle has completed.
Power Saving: The battery will cut off the power supply and enter power saving mode after 30 minutes of inactivity to retain the energy. To save power, the battery will enter the Ultra-Low Power Consumption Mode if it is idle for 7 days and the battery voltage is lower than 11.7V. In this situation, the battery can be used normally after being connected to the charger.
Optional Accessories: Additional accessories are available for the EVO drone. Purchase a spare battery, replacement propellers, extra battery charger, and carrying case (all sold separately - see Accessories Tab).
Built To Last: Designed with portability in mind, EVO was built with quality craftsmanship. Each component of EVO goes through multiple tests before assembly and every EVO must pass a rigorous flight test before it leaves the factory. At Autel Robotics, all products come with a full one year warranty and 7 days a week customer support (844-692-8835 or support@autelrobotics.com).
FAA Rules & Regulations: Please familiarize yourself with the FAA's rules & regulations for unmanned aircraft systems before flying your drone. Click here for more details.