About the Shure MV88+ Digital Video Kit
Make great smartphone videos
Sound can make or break a video. This Shure video kit ensures you'll record great sound when you shoot with your
iPhone® or select Android™ phones
. The kit includes an MV88+ digital stereo condenser mic that plugs into your iPhone's Lightning® connector or your Android phone's USB-C port. The included Manfrotto PIXI mini-tripod holds your phone and the mic firmly in place. You can use it for handheld shots or as a desktop stand. The included phone mount can also be detached and used with an optional full-size tripod.
Make great smartphone videos
Sound can make or break a video. This Shure video kit ensures you'll record great sound when you shoot with your iPhone® or select Android™ phones. The kit includes an MV88+ digital stereo condenser mic that plugs into your iPhone's Lightning® connector or your Android phone's USB-C port. The included Manfrotto PIXI mini-tripod holds your phone and the mic firmly in place. You can use it for handheld shots or as a desktop stand. The included phone mount can also be detached and used with an optional full-size tripod.
Flexible recording options
The MV88+ mic has selectable polar patterns, with variable stereo. The included windscreen minimizes unwanted wind sound during outdoor recording. You can monitor your recordings in real time using the mic's dedicated headphone output.
ShurePlus™ MOTIV™ Audio and Video apps
You can get even better recordings using the ShurePlus MOTIV™ Audio and Video apps. Both are free downloads from the Apple® App Store and Google Play. The audio app gives you advanced microphone controls for fine-tuning your recordings. You can then share them via email, text, iTunes®, AirDrop, and Dropbox. The video app features controls for video and uncompressed audio recording.
Manfrotto PIXI mini-tripod for great smartphone shots
The Manfrotto PIXI mini-tripod's phone clamp can hold any size iPhone, as well as a range of Android phones. You can secure the MV88+ mic to the clamp to keep your phone and the mic pointing in the same direction.
The PIXI mini-tripod's legs spread apart to make a stable desktop tripod stand. Bring them together, and their contoured shape makes an ideal handle for the assembly. Now you can get great handheld shots without having to juggle a microphone, too.
A ball head lets you precisely angle your mounted phone/mic assembly. And with a push of a button, you can lock it in position.
READ LESS
Product highlights:
Shure MV88+:
condenser microphone for mobile recording
includes Apple Lightning and USB-C adapters for smartphones
variable stereo patterns
headphone minijack output for monitoring
built-in analog-to-digital converter

supports 44.1kHz and 48kHz sampling rates
supports 16-bit and 24-bit recording

specifications:

frequency response: 20-20,000 Hz
sensitivity: -37 dBFS/Pa at 1 kHz
max. SPL: 120 dB
15/16"W x 2-5/8"H x 1-3/8"D
weight: 1.43 oz.
ShurePlus MOTIV Audio app:
free download from Apple® App Store and Google Play
allows uncompressed audio recording on smartphone or tablet
easy file-sharing via text, email, iTunes, AirDrop and Dropbox
ShurePlus MOTIV Video app:
free download from Apple® App Store and Google Play
record high-quality uncompressed audio for video recording with smartphone or tablet
edit recordings using trim or split options with adjustable fade curves and markers
high-resolution metering
Manfrotto PIXI mini-tripod
height: 9-3/4" (5-5/16" with smartphone clamp removed)
ball head for positioning phone

push-button locking mechanism allows for quick, intuitive positioning

allows stable handheld shooting when used with legs together
leg angle: 45°
lateral tilt: ±35°
front tilt: ±35°
weight: 6.7 oz.
Included accessories:
removable adjustable smartphone clamp with silicone grips and multiple 1/4" thread attachments
USB Micro-B-to-Lightning cable
USB Micro-B-to-USB-C cable
foam windscreen
carrying case
warranty: 2 years
MFR # MV88+DIG-VIDKIT
What's in the box:
Shure MV88+ Digital Video Kit owner's manual
Microphone
Windscreen (pre-attached to mic)
Table-top tripod
Microphone clip
Phone mount
16" Lightning to USB Micro-B cable (2.0)
16" USB cable (USB-C to Micro-B / 2.0)
Neoprene roll-up carry-case with hook-and-loop fastener
Warranty information
Safety and precautions
Scratch & Dent items may be missing non-essential accessories. In some cases the manufacturer's accessories have been replaced with generic equivalents.
See the difference between "Open Box" and "Scratch & Dent" Outlet items
Shure MV88+ Digital Video Kit reviews
Average review:
Thanks for submitting your review
Most reviews are processed and published within 5 business days. You will receive a confirmation email once your review has been published.
Customer photos
More details on the Shure MV88+ Digital Video Kit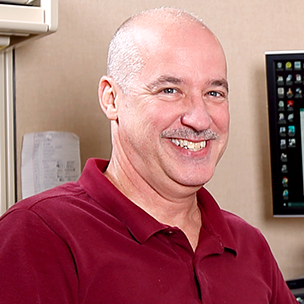 Researched by Crutchfield's

Russ B.
Product Research
Features
MOTIV App
Video App
Recording & Editing
Sharing MOTIV Recordings
Specifications
Overview: The Shure MV88+ is a professional quality condenser microphone designed to plug directly into a mobile device using either a Lightning or USB-C connector, allowing direct recording to a smartphone. The mic can be used in conjunction with video recording on the smartphone or for stand-alone audio recording, making it ideal for capturing a variety of sources, including music, speech, and video blogging.
Microphone: The MV88+ microphone features a durable metal housing with metal-mesh screens to protect the capsules. Two capsules are included: one front facing, with a cardioid pattern for picking up sound directly in front of the microphone; the other is bidirectional, capturing sound from both left and right sides. Each side of the microphone is clearly marked with L and R to quickly identify the correct placement when setting up the mic.
Tripod & Mounts: The MV88+ includes a table-top tripod with a 0.25" threaded attachment post. The tripod can accommodate the included microphone clip directly, or can be used to attach the included phone clamp, which in turn can accommodate having the microphone clip mounted on top of it. When fully extended, the table-top tripod places the microphone at approximately 7" high. If used in conjunction with the phone mount in a vertical fashion, the microphone sits approximately 10" above the table-top surface. A quick-release push-tab on the tripod allows the threaded mount to be tilted and swiveled, then locked into position. The tripod, mic, and smartphone can be configured in multiple ways allowing both videography, self-recording, or strictly audio recording, both with or without a smartphone mounted with the mic. The tripod can even be used collapsed as a hand-held portable mic stand.
Overview: The Shure MOTIV app, available from the Apple App and Google Play stores, allows you to not only record, but also edit and share your recordings. It will also store the most recently used settings for quick setup each time you record. Setup options include:
Input Meter: Displays the strength of the input signal, both mono and stereo. A "target range" (between -12 and 0dB) is outlined providing the ideal input level range. The Input Meter will also indicate if the signal starts to clip.
Microphone Gain/Monitor Mix: This graphic slider is used to adjust the mic input gain. Tapping this accesses the Monitor Mix Blend adjustment.
Stereo Width Handles: A graphic display of the stereo width can be easily changed by sliding the two indicator dots into a wider or narrower pickup pattern.
Polar Pattern: Four polar patterns can be selected:

Stereo: Both front and side capsules are set to On.
Mono Cardioid: The front capsule is On while the side capsule is turned Off.
Mono Bidirectional: Provides a figure-8 pattern with the front capsule Off and the side capsule On.
Raw Mid-Side: This setting provides a cardioid pattern for the front capsule and mono-bidirectional for the side capsule. This is ideal for recording applications that have a mid-side stereo matrix decoder. The stereo image can also be manually adjusted.

Advanced Features: This setting lets you fine tune your recording with Limiting, Compression (Off, Light, Medium, and Heavy settings), a variable high-pass filter, left-right swap, and 5-band Equalization.
Preset Modes: Five pre-configured modes let you quickly find a sound mode for most any recording application. Presets include:

Speech: Provides a narrow stereo field to reject background noise, equalization that emphasizes clarity and fullness, and gentle compression.
Singing: Provides a medium stereo width with subtle equalization to add richness and clarity for a natural sound.
Flat: Uses no equalization or compression. This adds flexibility when processing the audio after recording.
Acoustic: Provides a medium stereo width with transparent compression to smooth out volume spikes and bring out quiet passages. The equalizer emphasizes detail and an overall natural sound.
Loud: This setting provides wide stereo pattern to increase separation between sources. Equalization reduces frequencies that can make the instrumentation sound crowded.

Lock Mode: Prevents accidental changes to settings when engaged.
Overview: The Shure MV88+ Video app features controls for video and uncompressed audio recording, providing most of the audio control options as the MOTIV app along with video controls for the smartphone. Video app options for Standby and Record modes include:
Standby:
Connected Device Status: Displays the model of the microphone along with recording length displayed in Hours, Minutes, and Seconds.
Device Status: Displays the remaining battery life and available storage space on your device.
File Information: Displays video format options.

Audio File Type: WAV, ALAC, AAC 96, AAC 128, AAC256.
Sample Rate: 44.1kHz, 48kHz
Video Resolution: 720p, 1080p, 4K.
Frame Rate: 24 fps, 30 fps, 60 fps.

Reverse Camera: Switches the phone to the front-facing camera for shooting selfie videos.
Mic Setup: Accesses the same advanced microphone settings that are available in the MOTIV app.
Record/Stop Button
Flash: Accesses the flash when recording in low-light conditions.
Preview Window: Tapping this will review the most recently recorded video.
Grid/Level/Off Display: Tapping this can display can display grid lines or a level display for easy image composition. This option can also be turned off.
Zoom Level
Input Meter/Microphone Gain: Provides the same input level/gain options as in the MOTIV app.
Record: The Record mode provides many of the same options that are available in Standby mode, with additional features:
Menu
Connected Device Status/Recording Length/Focus Lock
Device Status
Record/Stop Button
Flash
Photo: Allows you to capture still photos during recording. Photos get added to the recording device camera roll.
Grid: The grid lines can assist in composing an image.
Audio Recording: Displays the waveform of the audio as its recording.
Zoom Level
Input Meter
Note: With either type of recording, it is highly recommended to turn on Airplane Mode or Do Not Disturb on your device to avoid any interruptions from phone calls, text messages, or alerts while recording.
System Requirements & Compatibility for iOS:
iOS: iOS 11.3 or higher
iPhone: iPhone 6 or higher
iPod Touch: 5th Gen
System Requirements & Compatibility for Android:
OS: Android Marshmallow 6.0 and higher
USB Host Power Requirements: ≥100mA
USB Audio Class Support: 1.1
Bit Depth & Sampling Rate: The MV88+ offers four different bit depth and sample rate settings. Selecting a lower sample rate will allow longer recordings and is ideal for recording speech or a podcast for download. A higher sample rate is ideal for music and dynamic recordings. The following selections are available. If none is selected, this setting will default to a 24-bit/48kHz sampling rate.
24-bit / 48kHz
24-bit / 44.1kHz
16-bit / 48kHz
16-bit / 44.1kHz
Timeline Display: A graphic waveform of the incoming audio will be displayed in a timeline, showing both signal strength and a time counter along the bottom of the display. If Stereo Recording, a complete waveform (top and bottom) will be displayed representing left and right channels. Mono Recording will display half of the waveform.
Recording Control Bar: Includes the following options:
Record/Pause: Starts and pauses recordings. The maximum file size for recordings is 2GB, approximately 2 hours of record time, optimizing app performance. Continuous recording for more than 2 hours will generate a second audio file.
Done: Tapping this checkmark icon will save the current recording.
Marker: A marker is an audio bookmark that allows you to return to specific points in the recording. Markers are identified by Hour, Minute, Second, and Millisecond, and cannot be placed closer than 2 seconds apart from each other. Tapping the Marker icon will place a marker in that spot on the timeline. A Marker can be used in Record Mode and Edit Mode to mark the beginning of playback.
Editing: After making an audio recording, two modes are available for editing the audio Trim and Split:
Trim Mode: Allows you to remove "blank" recording space at the beginning and end of an audio clip. Start and End points can be dragged over the graphic waveform to select areas to be deleted.
Split Mode: This mode is used when you have one long audio file that you'd like to divide into smaller audio files. New files are created when editing, keeping the original file intact.
Looping: A section of a recorded audio file can be selected and repeated, or looped, letting you hear just that section of audio. This option is handy for auditioning a section of edited audio without having to play the whole file.
Camera Roll: This feature allows you to convert an audio file into a video file, that can easily be shared over social media, using the Camera Roll feature on your iOS device. Once audio files are saved to a MOTIV folder inside the Camera Roll app, they will become available for sharing. You can also add artwork along with the audio, such as an image or photo.
Dropbox: MOTIV files can be saved to Dropbox for storing and backing up audio tracks, freeing up space on your iOS device.
AirDrop: MOTIV supports the ability to AirDrop WAV files to select contracts.
iTunes: Audio files can easily be transferred between your desktop computer and iOS device using iTunes. They can be added to you iTunes library or imported into any audio editing program.
Transducer Type: Cardioid/bidirectional condenser cartridge
Polar Pattern: Adjustable width stereo/mono, bidirectional/mono, cardioid/mid-side
Stereo Principle: Mid-side
Frequency Response: 20Hz - 20kHz
Adjustable Gain Range: 0 to +36dB
Sensitivity: -37dBFS/Pa @ 1kHz
Maximum SPL: 120dB
Limiter: Yes
Compressor: Yes
Equalizer: 5-Band
Housing: Metal with metal-mesh capsule screen
Microphone Dimensions:

Without Windscreen: Diameter: 1.07", Length: 3.05"
With Windscreen: Diameter: 1.73", Length: 3.05"

Tripod Dimensions:

Base Width: 7.750"
Height: 5.25"
Mic Height (w/o phone clamp): 7.0"
Mic Height (w/ phone clamp): 10.0"

Weight:

Without Windscreen: 2.78 oz. (0.17 lbs.)
With Windscreen: 2.87 oz. (0.18 lbs.)
The Shure MV88+ Digital Video Kit replaces these items

Adding...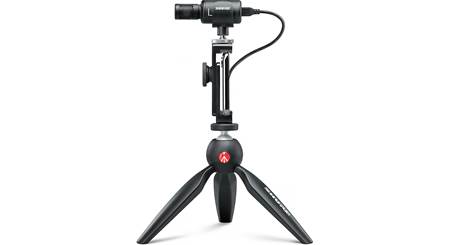 Digital condenser microphone with A/V recording accessories for mobile devices
features: built in analog-to-digital converter; extended functionality via ShurePlus MOTIV app
frequency range: 20-20,000 Hz
mini- tripod with ball head