About the PowerVision PowerDolphin Wizard
Capture footage above and below the surface
We've really enjoyed
testing PowerVision's aquatic drones
near our Virginia HQ, so we're excited to put the PowerDolphin through its paces. First of all, it's fast — it cruises at up to 10 miles per hour on the surface. And it's versatile, with a wide-angle 4K camera that tilts downward 150 degrees, and upward 70 degrees. It provides a wonderful way to explore waterways in much the same way an aerial drone explores the sky.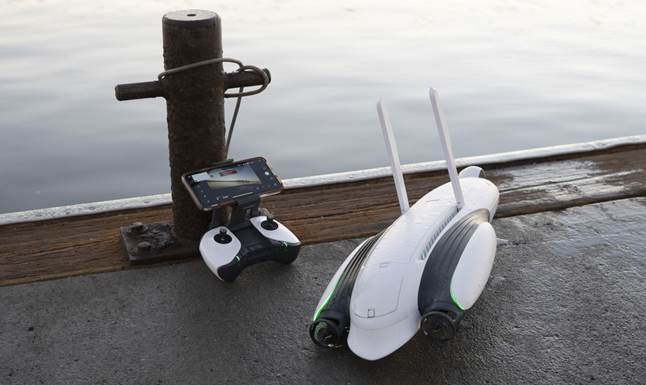 The PowerVision PowerDolphin Wizard comes with a remote controller with 330-foot transmission range (smartphone not included).
Capture footage above and below the surface
We've really enjoyed testing PowerVision's aquatic drones near our Virginia HQ, so we're excited to put the PowerDolphin through its paces. First of all, it's fast — it cruises at up to 10 miles per hour on the surface. And it's versatile, with a wide-angle 4K camera that tilts downward 150 degrees, and upward 70 degrees. It provides a wonderful way to explore waterways in much the same way an aerial drone explores the sky.
The PowerDolphin comes with a wireless remote controller with a 330-foot video transmission range. You can connect a compatible smartphone to get a 1080p live view, and insert a microSD memory card to record Ultra HD video for later sharing and review.
Fisherman's friend
The PowerDolphin Wizard includes a couple of special accessories that optimize exploration and fishing. The included PowerSeeker sonar module helps map fish distribution and works with the Vision+ 2 app to visualize underwater topography. A tow-behind external fishing container lets you take your bait directly to the group of fish you're after.
READ LESS
Product highlights:
water drone with 4K camera
132° viewing angle
dual-joint camera tilts 220° horizontally

70° upward angle, 150° downward angle for underwater shots

top speed: 10 mph
this craft is not submersible
photography modes: single shot, burst mode, interval mode
maximum data transmission distance: 330 feet
Vision+ 2 app offers up to 1080p live view for Apple® and Android™ devices
records to microSD memory card (not included)
built-in battery lasts up to 2 hours before recharging
front-facing headlight
Included accessories:
wireless remote controller with smartphone cradle
detachable PowerSeeker fish finder with 295-foot Wi-Fi range
towable bait release container
battery and charger
waterproof storage bag
Dimensions and warranty:
9"W x 4-3/4"H x 21-1/4"D
weight: 5 lbs.
warranty: 1 year
MFR # PDW10
What's in the box:
PowerVision PowerDolphin Wizard owner's manual
PowerDolphin ROV
Lithium-Ion battery pack (10.8VDC/5.8Ah)
Hand-held remote control
AC Power adapter w/ attached 39" cord (12.6VDC/3.76A for main and 5VDC/2.0A for USB)
39" AC Power cord
Fishing bait container
Bait container link-rod
Power Seeker fish finder
16GB Micro SD card (pre-installed in unit)
14.5" Power Seeker charging cable (3-pin proprietary on one end / USB type-A on other end)
8.5" Micro USB cable (Micro-B to type-A / 2.0)
4 Spare propellers
Nylon carry-bag
Quickstart guide
Safety guidelines
Battery safety guidelines
Parts list
We don't have any reviews, yet.
Submit a review and then enter to win a $350 rewards card.
Be the first to review this product
Thanks for submitting your review
Most reviews are processed and published within 5 business days. You will receive a confirmation email once your review has been published.
Customer photos
More details on the PowerVision PowerDolphin Wizard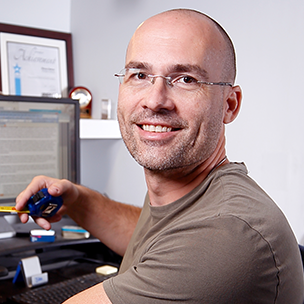 Researched by Crutchfield's

Stacey B.
Product Research
Features
Overview: The PowerVision PowerDolphin is a remote controlled water-surface vehicle equipped with a robotic camera arm that can shoot 4K video and take 12 Megapixel still photos, both above and below the waterline, either under manual control or autonomously. This multipurpose water craft features a PowerSeeker sonar attachment that can locate fish, check water temperature, and map underwater terrain. A rotating tow-hook in the tail section allows the PowerDolphin to drop bait in a precise location or can also be used to tow a fishing line. The Vision+2 app along with the included remote controller provide control and real-time images during use.
PowerDolphin: Designed to cruise along the water surface, the PowerDolphin is completely wireless, using a WiFi connection for control and onscreen visuals. The craft has an IPX8 water-ingress rating, allowing immersion in water up to 6.6 ft. for up to 30 mins, and its twin propellers and sleek form allow it to maneuver through the water with ease. Three modes of operation are available that can be accessed from the hand-held remote control:
U (Underwater): This mode is ideal for low speed underwater recording, like for snorkeling. In this mode, the PowerDolphin's speed is restricted, allowing the electric camera-arm to be adjusted for various viewing/recording angles.
N (Normal): This mode is for general high-speed use while recording at the water surface in an FPV (First-Person View) orientation. This setting allows the maximum speed (approx. 10 mph) to be achieved while locking the electric camera arm in its initial position, with no camera adjustments possible.
C (Cruise): Like cruise-control in a car, this mode lets you set the Cruise button at the current speed and then release the throttle, only having to steer. In this mode the camera arm is locked into the initial position and cannot be adjusted.
Note: The PowerDolphin does NOT use a GPS signal for navigation.
4K Camera: The PowerVision PowerDolphin is equipped with a unique dual-jointed rotating camera housed in the nose of the water craft. With a 132° wide shooting angle, the PowerDolphin's camera arm can record with a field of view up to +70° above the waterline and -150° below the waterline for a total shooting angle of 220°. The camera features a 1/2.3 inch CMOS, 12 Megapixel sensor for taking both still photos and full HD videos. A forward-looking LED light is provided to help illuminate the area in front of the camera in low-light conditions.
Still Photo Modes (JPEG):
Single Shot
Burst Shooting: 3 or 5 Frames
Interval: 1s, 3s, 5s, 10s, or 30s
Video Modes (MP4):
4K: 3840 x 2160, 30 fps
1080p: 1920 x 1080, 60 fps
720p: 1280 x 720, 120/240 fps
Photo&Video Storage: Videos and photos are stored on the included 16GB MicroSD card (up to 128GB supported). A rubber plug inside the PowerDolphin's battery compartment is used to seal both the MicroSD card slot and the USB port.
PowerSeeker (Fish Finder): The PowerDolphin includes a PowerSeeker sonar module that mounts to the underside of the water craft, providing a sonar "view" below the PowerDolphin. The PowerSeeker can be used for strategic placement of bait or a fishing lure by displaying the location of marine life on the Vision+2 app. It can also be used to provide a topographic map of underwater terrain and features, display water temperatures, water depth, and more, making it an ideal research and educational tool. The PowerDolphin's path and track can also be pre-configured using the Vision+2 app, and then set to run autonomously.
Lights: The bottom section of the PowerSeeker is equipped with 6 blue fish-luring LED lights that can be activated from the Vision+2 app.
Automatic On/Off: The PowerSeeker can be set to automatically activate when its immersed in water and will automatically shut down after being out of the water for approximately 1 minute.
Fishing: The PowerSeeker can easily be removed from the PowerDolphin and used in conjunction with your fishing line. The top of the PowerSeeker unscrews, allowing you to thread a line through it, providing a fixed position for the line as well as giving vital underwater information.
Sonar Detection Angle: 30°.
Sonar Detection Depth: Up to 262 ft.
Max. Communication Distance: 328 ft.
Towing&Bait Container: The tail section of the PowerDolphin features a motorized tow-hook that can be used to tow a fishing lure behind the PowerDolphin, greatly extending the reach of your fishing area. The tow-hook can also be used to tow and release fishing bait in a specific area. The PowerDolphin includes a bait-container that attaches to the tow-hook and when the command is given on the Vision+2 app, the tow-hook will rotate 180° allowing the bait to disperse from the container.
Smart Return: The hand-held Remote Controller includes a Smart Return button that when pushed and held for 3 seconds, will return the PowerDolphin back to your location.
Remote Controller: The included hand-held Remote Controller operates the PowerDolphin water craft wirelessly using a built-in WiFi signal. The Remote Controller features two 2-1/2" fold-out antennas while the PowerDolphin uses two 7" fold-out antennas for both transmission and reception of WiFi signals. Once the Remote Controller is connected to the PowerDolphin, it can provide control over the following distances:
0.5 Miles: When the Remote Controller is 11 ft. above the water surface.
0.3 Miles: When the Remote Controller is 5 ft. above the water surface.
Controllable functions from the Remote Controller include maneuvering the PowerDolphin, speed adjustment, still-photography & videography, precision remote bait drop, and more. Working in conjunction with your smartphone running the Vision+2 app, the Remote Controller includes an adjustable cradle for holding your device in landscape mode, and can secure a smartphone up to 3.5" wide. Controls on the Remote include:
Power: On/Off
Joysticks (2): Used for controlling the speed and direction.
3-Way Selector: Allows selection of the operation mode (Underwater, Cruise, and Normal).
C (Custom): This button can be customized in the app and is defaulted for hook release/bait drop functionality.
Lock/Unlock: Can lock/unlock the prop motors from working.
Smart Return: Pressing and holding will make the PowerDolphin return back to the user.
Thumbwheel: Used for manual control of the camera joint-control.
Photo&Video Buttons: Used for selecting either a still photo to be taken or a video.
Micro-B USB (2.0): Used for charging the controller.
2 Fold-Out WiFi Antennas
Smartphone Cradle
Vision+2 App: Using the Vision+2 App (for Apple iOS 8.0+ and Android OS 5.0+), you can view real-time video and positioning captured by the PowerDolphin's integrated camera on a compatible iOS or Android mobile devices (up to 1/2 mile away, maximum). You'll also receive fish-identifying images, underwater terrain imaging, water temperature, as well as battery and WiFi signal strength through the app on your mobile device. In addition, you will be able to operate the integrated 4K UHD camera functions for underwater and abovewater photography and videography - all through the Vision+2 app on your Apple iOS or Android device.
Battery Power: The PowerDolphin includes a 5800 mAh rechargeable Lithium Ion battery for powering it. The battery sits inside a top-accessed compartment, providing balanced weight distribution, and can easily be removed for recharging. An AC charging adapter includes cables for charging the Li-ion battery, the Remote Controller, and the PowerSeeker fish-finder. Charging takes approximately 2 - 2.5 hrs. and a fully charged system can provide the following operation times:
2.5 Hrs: When in U mode in still water.
20 Mins: When in C or N mode in still water.