About the PowerVision PowerEgg
A flying egg with legs (and arms, and a camera)
The PowerVision PowerEgg doesn't look like any other drone we've seen, and that's part of its appeal.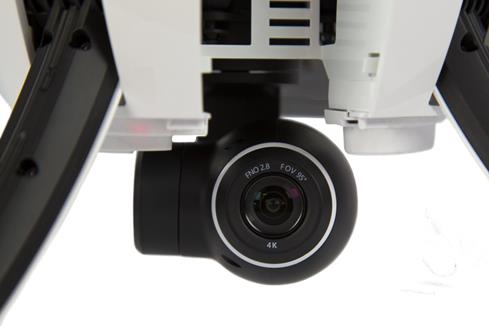 Get a birds-eye view from the 4K camera on the PowerVision PowerEgg drone.
A flying egg with legs (and arms, and a camera)
The PowerVision PowerEgg doesn't look like any other drone we've seen, and that's part of its appeal.
When you're ready to fly, rotor arms fold out of the drone's body. Remove the bottom part of the "egg" to reveal an Ultra HD 4K video camera on a 3-axis stabilizing gimbal. Pop off the top of the egg to access the drone's rechargeable battery.
Smart flight control
You won't lack for fun options to control the PowerEgg. A two-handed, joystick-style controller is included, as is a one-handed, gesture-based controller. If you prefer to use your phone, just download the free PowerEgg app.
Whichever option you choose, there are some easy, basic controls for beginners. One touch of a button tells the drone to take off, and the Home button brings it back to a smooth automatic landing. If you need to stop mid-flight, just hit the pause button and the drone will stop and hover in place until you give another command.
Special flight modes
It's a blast to pilot the PowerEgg manually, but these hands-free modes come in very handy for aerial photography:
Orbit - set your preferred distance and speed, and the PowerEgg revolves around you.
Cable Cam - set multiple checkpoints and the drone will follow the path precisely.
Follow Me - Put an active remote control in your pocket or bag, and the drone will follow as you run, bike, hike, or ski.
Before long, you'll be using the PowerEgg's camera with manual and automatic commands to turn each outing into a cinematic masterpiece.
READ LESS
Product highlights:
landing gear and propeller arms fold out from the drone's body

landing gear opens and closes automatically at a user-selected distance from the ground

free PowerEgg app lets you use your phone as a remote control
3-axis gimbal stabilizes the camera during flight
accurate GPS/GLONASS and optical positioning
max flight time: 23 minutes
base station connects to aircraft on the 2.4 GHz wireless band (5 GHz to all control devices)
real-time video transmission from up to 3.1 miles away
Ultra HD Camera:
1/2.3" CMOS sensor
95° field of view
fixed f/2.8 lens
shutter speed: 8-1/8,000 sec.
ISO range: 100-1,600
3/5/10 frames per second in burst mode
time lapse and self-timer modes
records to microSD memory card
Included Accessories:
PowerEgg base station and stand
rechargeable lithium-ion battery
joystick-style flight controller
compact PowerEgg Maestro™ gesture-based handheld controller
proprietary charging cable
Dimensions and Warranty:
18-3/4"W x 10-3/4"H x 18-3/4"D (with arms extended)
weight: 4.6 lbs.
warranty: 1 year
MFR # PEG10
KEEP READING
READ LESS
What's in the box:
PowerVision PowerEgg owner's manual
Aerial drone w/ gimbal camera
Remote controller
Gesture controller
Base station
Shelf dock
Smart battery
4 Propellers (installed)
AC power adapter
4' AC power cord
59" microUSB-to-USB cable
5' Minijack cable
7" Minijack cable
Hard case
Soft case
Drawstring pouch
Quick Start Guide
Very Important Pre-Flight Information
Disclaimers & Safety Guidelines
Battery Safety Guidelines
PowerVision PowerEgg reviews
Average review:
Customer photos
PowerVision PowerEgg
Crutchfield customer from Woodbury, NJ on 4/14/2019
An amazing product at an amazing price
0 of 1 found this helpful
PowerVision PowerEgg
William from Honolulu, HI on 1/5/2019
It was pretty cool with the retractable landing gear however sometimes they would not deploy until right before you land. It did not fly well even in moderate wind. I also did not like using wi-fi for a connection. Range was not that good either. I returned mine.
Pros: Cool looks, retractable Landing gear. Solidly built.
Cons: Did not fly well in moderate wind. Camera was not to stable in flight.
1 of 1 found this helpful
PowerVision PowerEgg
Crutchfield customer from Fajardo, PR on 12/18/2018
Excellent drone, very good quality in everything. I highly recommend this. Loved it
0 of 0 found this helpful
More details on the PowerVision PowerEgg
Researched by Crutchfield's

Stacey B.
Product Research
Features
PowerEgg Aerial Drone: PowerVision's PowerEgg aerial drone features a unique egg-shape design and features the industry's first one-handed gesture recognition remote control. PowerVision designed the PowerEgg to be the consumer drone for everyone - for both enthusiasts and first time drone owners. Takeoff and landing can be done with the push of a button so that anyone can fly PowerEgg right out of the box. PowerEgg's sleek and innovative design addresses user demand for easy drone portability with its pack-and-go features. It's sleek, compact and portable; as well as easy to operate - making it simple for anyone to launch and capture special moments on camera.
Visual-Aided Positioning System: The visual-aided position system is ultrasonic and camera based, with the camera obtaining the current position of the aircraft and ultrasonic waves used to measure the altitude so as to achieve accurate hovering and positioning of the aircraft. The visual-aided positioning system is located at the bottom of the aircraft and scan the ground beneath it for patterns, enabling it to identify its position and move accurately. With this vision-aided positioning system, the PowerEgg can fly indoors, low to the ground, and in GPS-free areas.
3-Axis Gimbal 4K Camera: PowerEgg's integrated 4K UHD camera can produce professional-grade photographs and videos with panoramic 360° views on a 3-axis gimbal, delivering stabilized aerial views with an immersive "spherical" experience. The camera features a 1/2.3" CMOS image sensor and a 95° FOV lens. The 3-axis gimbal has a control accuracy up to 0.05°, so the camera can take stable and smooth video/photos. You can also adjust the pitch (0° to 90°) and yaw (-120° to +170°).
Video Recording: You can record video in 3840 x 2160 (UHD), 1920 x 1080 (FHD), or 1280 x 720 (HD). You can adjust the ISO Range from 100-1600. Video is recorded in MP4 or MOV (MPEG-4 AVC/H.264).
Photo Recording: Still images are recorded at 4254 x 3264 (12MP), 2840 x 2160 (6MP), or 2560 x 1920 (4MP). You can choose between shooting modes - Single Shot, Burst (3/5/10 frames), Auto Exposure Bracketing (AEB), Self-Timer (5/10/30s), and Time-Laps (1/2/5/10/20/30/60s). You can also set the ISO Range (100-1600) and Shutter Speed (8s-1/8000s). Still images are recorded in JPEG or DNG.
Note: Videos and photos are recorded to a Class 10 or UHS-1 microSD (up to 64GB) - sold separately.
Two Types of Controllers: Two types of remote controllers are included with the PowerVision PowerEgg - a one-handed gesture-based controller and a standard two-hand controller.
One-Handed Gesture Controller: The one-handed remote has motion sensing capabilities, allowing you to interact with and manipulate the drone in flight via gesture recognition through advanced, integrated accelerometers and gyroscopes. You can control up-down, left-right, and near-far motions. The gesture controller also offers push-button control for shooting videos and photos, as well as once-click takeoff/landing and return-to-home..
Two-Handed Remote Controller: For users that prefer a traditional control, the PowerEgg also comes with a standard two-handed remote controller, featuring joystick and push-button control. The standard remote controller integrates one-click takeoff and landing, one-click return-to-home, open and close of the landing gear, control of the gimbal pitch and yaw, one-click back to position and face downward position, as well as shooting videos and photos.
Note: The gesture-based remote controller requires GPS positioning and thus cannot be used for flights indoors or in other environments with weak or no GPS signals.
Base Station: The included Base station features an integrated 2.4GHz wireless HD image transmission system, allowing aerial footage from the PowerEgg's camera to be streamed in real-time to the Vision+ app on your Apple iOS or Android mobile device. Your Apple iOS or Android device clamps to the Base Station. It delivers long distance real-time video transmission up to 3.1 miles (5 kilometers). The Base Station mounts to the standard remote controller; it will simply rest separately from the gesture controller.
Vision+ App: The Vision+ App (for Apple iOS 8.0+ and Android OS 5.0+) provides real-time high definition video streaming on your compatible mobile device with detailed flight data including associated parameters and map information. The Vision+ App lets you access user-defined flight modes and allows you to record your flight routes and then share them on social networks. In addition to real-time video transmission, the Vision+ app is sued for gimbal adjustments, waypoint settings, flight modes, electronic fencing, return-to-home points, and flight logs. The app also provides real-time voice prompt of alerts and reminders while in flight. The Vision+ app can even be used for storage of recorded video and still images.
Flight Modes: The PowerVision PowerEgg has 3 flight modes - P Mode (Professional), N Mode (Normal), and E Mode (Easy Control).
P Mode (Professional): In this mode, sonar is used instead of GPS and the visual positioning system. The aircraft is essentially on full manual control.
N Mode (Normal): In this mode, the aircraft uses GPS or the visual positioning system, depending on their signal strength. If GPS is unavailable, the visual positioning system and sonar are used to ensure accurate hovering of the aircraft, including indoors. When neither GPS signals not the visual positioning system satisfies the condition for proper and safe flight, the system will automatically switch to Professional mode. In t his case, only sonar is provided.
E Mode (Easy Control): In this mode, the aircraft uses GPS and there is no need to focus on the flight orientation of the aircraft. There is a 10m radius safety zone with the user as the center of the circle, where the aircraft cannot enter. The forward and backward flight direction of the aircraft is relative to the operator. Pushing the right joystick up will move the aircraft away from the operator, regardless of aircraft orientation.
Automated Flight Modes: PowerEgg's flight software includes multiple automated flight modes that let you easily frame your shots while the PowerEgg automatically manages its flight path. These automated flight modes include Follow Me, Orbit, WayPoint, and Selfie mode. They are easily accessed through the Vision+ app on your Apple iOS or Android device.
Follow Me: In Follow Me mode, the PowerEgg will follow who ever has the controller of the PowerEgg. Follow Me keeps the camera on you while the drone keeps it relative height and distance from the subject. It will stay 7 meters or further back if you need it to.
Orbit: In Orbit mode, the camera is trained on a specific subject. You can adjust the radius/diameter of the flight path, as well as height it is flying at. Simply set your center point and radius, and fly perfect circles around an object, creating stunning aerial visuals.
Selfie: In Selfie mode the drone will move with a distance of 7 meters in front of you staying trained on you. The distance from you and the drone can be adjusted.
WayPoint: You can place multiple waypoints on the map of the Vision+ app, laying out your flight path before you even take off. so you can focus on capturing content and let the drone fly for you. During the set up of these way points, you can adjust the flight height for each and have it land back at your location or where ever you decide you want it to land.
Auto Take-Off & Landing: The PowerEgg offers automatic take-off and landing. Simply long press the automatic take-off button on the remote controller until it vibrates. The aircraft ascends to a height of 1.3m above the ground at a set speed and then automatically hovers in the air. Long press the automatic landing button until it vibrates, and the aircraft starts to descend at a set speed from the current position - subject to horizontal control during descending.
Smart Return-To-Home: When Smart Return-To-Home is activated, the aircraft returns to a pre-selected point from its current position. There are 3 kinds of return points - user location, aircraft starting point, and map selection point. The take-off point of the aircraft will be selected as the return point by default. The aircraft will also automatically return to home, if it loses control signal or the battery is low.
Note: The Smart Return-To-Home mode may be used only when there is ample GPS signal.
Rechargeable Batteries: The batteries must be charged using the included AC power charger.
Smart Flight Battery: The PowerEgg comes with a specially designed smart flight battery which has a capacity of 6400mAh, operates at a voltage of 14.8V, and has charging-discharging management capabilities. The battery consists of high-energy cells and an advanced battery management system to guarantee adequate power supply to the aircraft. It provides a maximum flight time of 23 minutes. The current battery level may be check in the Vision+ app on your Apple iOS or Android mobile device.
Standard Controller Battery: The built-in rechargeable battery in the standard remote controller has a capacity of 3000mAh and can continuously work for 20 hours. The current battery level may be check via the batter level indicator on the remote. It takes 3.5 hours to fully charge.
Gesture Controller Battery: The built-in rechargeable battery in the gesture-based remote controller has a capacity of 1400mAh and can continuously work for 10 hours. The current battery level may be check via the battery level indicator on the remote. It takes 2 hours to fully charge.
Base Station: The built-in rechargeable battery in the Bass Station has a capacity of 800mAh and can continuously work for 2 hours. The current battery level may be check via the battery level indicator on the remote. It takes 5 hours to fully charge.
FAA Rules & Regulations: Please familiarize yourself with the FAA's rules & regulations for unmanned aircraft systems before flying your drone. Click here for more details. The Federal Aviation Administration (FAA) has created this website for registering the drone.
Fly Academy and Peripherals: To become a drone pro, PowerVision provides well designed online video tutorials.
Q
Crutchfield asked: Why did you buy this?
A
Good deal
[ Daryl Dec 17, 2018 ]
A
Im new to this world of drones and video streaming and I think Poweregg is very innovative and unique drone. Compared with other drones with the same characteristics, the price is pretty good.
[ Marcos Dec 13, 2018 ]