A pocket-sized powerhouse for your headphones
Most high-quality headphones need a hefty dose of power to sound their best. So connecting them directly to your phone, laptop — or even a dedicated portable music player — just might not cut it. That's where the compact iFi Audio xCAN comes in handy. It delivers enough clean power to drive everything from professional in-ear monitors to extra-large over-ear headphones.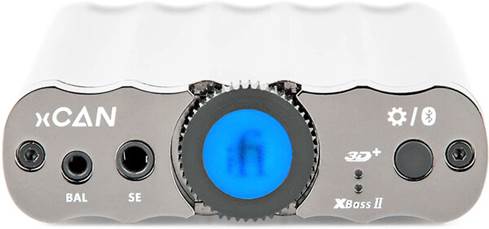 The iFi Audio xCAN's front panel features a large volume control, balanced and unbalanced headphone outputs, and striking color-coded LED lights.
A pocket-sized powerhouse for your headphones
Most high-quality headphones need a hefty dose of power to sound their best. So connecting them directly to your phone, laptop — or even a dedicated portable music player — just might not cut it. That's where the compact iFi Audio xCAN comes in handy. It delivers enough clean power to drive everything from professional in-ear monitors to extra-large over-ear headphones.
This battery-powered amp fits easily in a bag or briefcase and packs plenty of punch. There are no wired digital inputs, just balanced and unbalanced analog audio inputs. It also features Bluetooth, so you can play music wirelessly from your phone. Now you can get serious sound quality, wherever you go.
iFi Audio xCAN vs. xDSD: Which is the best solution for you?
iFi makes another product called the xDSD headphone amp/DAC, which has a similar look, sound profile, and many of the same features as the xCAN. But there are some key differences that can help you determine which will work best for you. As noted, the xCAN is primarily a headphone amp. If you already have a high-quality digital-to-analog converter (DAC), or plan on using Bluetooth 95% of the time, and just want more power to drive your headphones? You're probably looking at the right product.
The xDSD is more of a "jack-of-all-trades" portable device. You lose the balanced connections and some of the amp power. But it features digital connections and a high-grade Burr-Brown DAC chip that can squeeze out more musical detail from Spotify®, Apple Music®, YouTube, and other digital audio sources. This DAC will decode high-resolution music files up to 32-bit/786Hz resolution, including DSD. It also offers full MQA support.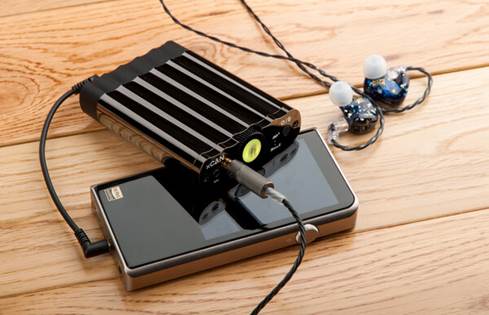 The compact xCAN headphone amp works well with a portable high-res music player to deliver top-notch sound on the go.
High-powered built-in amp
The iFi Audio xCAN has a standard 3.5mm stereo headphone jack and a 2.5mm balanced 4-pole output for compatible high-performance headphones. Either way you connect takes advantage of what iFi calls "S-balanced" headphone amp technology. Their dual-mono circuitry keeps the left and right audio channels separate for as long as possible to avoid cross-talk and distortion.
This amp has enough power to drive headphones of all shapes and sizes with impedance from 16 ohms up to 600 ohms. And in balanced mode, it can deliver up to 1000mW of power per channel. That's more power than you'll find in most portable high-res music players, so this is a nice complementary piece of gear to have.
Travel-friendly design
I work both in the office and at home, depending on the day. Some headphone amps are just too cumbersome to lug back and forth to both places. Not the iFi xCAN. Not only is it the right size, but the lightweight magnesium aluminum frame feels sturdy enough to weather the travel. And some of the design touches are really thoughtful, like the no-slip rubber "feet" on the bottom that kept the xCAN from sliding off my desk.
The controls in general took me a while to master — consult the manual when switching from wired to Bluetooth — but there's no mistaking what to do with that satisfying, tactile volume control dial. As I rotated the volume level up and down, the large LED panel changed color, so I could tell at a glance that the volume might be too high or low.
A note about charging
The xCAN has a built-in rechargeable battery that offers 12-18 hours of music listening on a full charge, depending on how you use it. Bluetooth tends to run more battery, so you'll get more toward the low end of that range if you connect wirelessly. This amp runs completely on battery, and must be recharged via the USB-C port (a charging cable is included). You'll want to ensure it is charged up when you take it out and about.
Who is iFi Audio?
iFi is an award-winning British audio company that may not have the recognition of some of the big-name brands we carry. But in the world of high-end headphones, their name rings out. iFi Audio offers well-built gear, packed with sophisticated circuitry to deliver the sonic goods.
READ LESS
Product highlights:
battery-powered high-performance headphone amp with balanced and unbalanced connections
compact design with extruded magnesium-aluminum chassis and metallic chrome finish
better headphone sound from your PC, digital music player, iPhone®, and/or Android® phone

balanced 2.5mm and unbalanced 3.5mm analog audio cables included

Built-in Bluetooth for wireless music streaming from compatible phones, laptops, and tablets

ESS Sabre Hyperstream DAC for wireless Bluetooth sources
helps reduce jitter introduced by wireless signal
S-balanced headphone amplifier:
iFi's dual-mono circuitry helps reduce crosstalk between the left and right audio channel
sound control processing: XBass II® (for boosting bass) and/or 3D+® (for expanding soundfield)
114-step analog volume control with manual volume dial

color-coded LED on dial indicates volume level

output impedance: 16-600 ohms
output power (unbalanced):

>3.1V / 600mW @ 16 ohm
>3.5V / 380mW @ 32 ohm
>3.8V / 45mW @ 300 ohm

output power (balanced)

>5.7V / 1000mW @ 32 ohm
>7.2V / 800mW @ 64 ohm
>7.6V / 90mW @ 600 ohm
Analog audio connections:
back panel inputs:

2.5mm balanced sub mini (TRRS)
3.5mm unbalanced stereo mini

front panel outputs:

2.5mm balanced 4-pole headphone output
3.5mm mini headphone output
General info and specs:
rechargeable battery provides 12-18 hours of playback on a full charge

completely self-powered — cannot borrow power from your computer, phone, or playback device during use

USB-C charging cable included
includes selection of adhesive-backed fasteners
cloth storage pouch
output impedance: < 1 ohm (unbalanced); < 2 ohms (balanced)
2-5/8"W x 13/16"H x 3-3/4"D
weight: 4.8 oz.
warranty: 1 year
MFR # 310002
What's in the box:
Portable headphone amplifier
5" Cable with right-angled 3.5mm plugs (unbalanced)
5" Cable with right-angled 2.5mm sub-mini plugs (balanced)
6" USB charging cable (Type A USB on one end and Type C USB on other end)
Cloth storage pouch
Wide adhesive-backed Dual-Lock fastener
3 Narrow adhesive-backed Dual-Lock fasteners
User Manual
Dual-Lock fastener diagram
3 Easy Steps
iFi Audio xCAN reviews
Average review:
Thanks for submitting your review
Most reviews are processed and published within 5 business days. You will receive a confirmation email once your review has been published.
Customer photos
More details on the iFi Audio xCAN

Researched by Crutchfield's

Research Team
Product Research
Features
Overview: The iFi Audio xCAN is a portable, dual-mono headphone amplifier that drives headphones far better than your smartphone, tablet, digital audio player, or laptop/desktop computer. It features both single-ended (unbalanced) and balanced inputs and outputs, as well as a Bluetooth input. xCan supports Hi-Res Audio, and has its own built-in battery with a playback time of up to 12-18 hours, depending upon the mode and headphones connected.
Bluetooth: iFi utilizes Bluetooth differently than most companies. In the xCAN, Bluetooth is simply for reception, but not for conversion and amplification. It includes AAC, aptX, and aptX Low Latency to deliver CD-quality Bluetooth audio. Because the wireless signal has a huge amount of jitter, an ESS Sabre Hyperstream DAC with Time Domain Jitter Elimination is added. You can stream music and content from your smartphone, tablet, computer, or TV to the xCAN, and listen through your plugged-in headphones. The xCAN has the ability to store up to 8 paired Bluetooth devices for instant pairing.
Balanced/Unbalanced Inputs/Outputs: The xCAN offers both balanced and unbalanced (single-ended) inputs and outputs. iFi's exclusive S-Balanced technology lets you enjoy the advantages of a balanced connection, even if you're using an unbalanced one. Balanced connections have lower distortion, less interference, and less crosstalk, compared to unbalanced. The unbalanced input and output has a 3.5mm jack (TRS), while the balanced input offers a 2.5mm sub-mini jack (TRRS).
Volume Control: xCAN is equipped with the 114-step (1dB each) W990VST analog rotary volume control with a power switch and imbedded LED. The volume control features digital CyberDrive, which preserves the full dynamic range and resolution. To turn on the xCAN, you press and hold the rotary knob until the LED lights up. Keeping the knob held in lets you cycle through the source modes: Analog (green) or Bluetooth (blue). As you turn the volume up or down, the LED changes color:
Blue: 0% to 18% (-101 to -82dB)
Magenta: 19% to 36% (-81 to -64dB)
Cyan: 37% to 54% (-63 to -46dB)
Green: 55% to 72% (-45 to -28dB)
Yellow: 73% to 90% (-27 to -10dB)
Red: 91% to 100% (-9 to +12dB)
Sound Controls: The xCAN features two of iFi Audio's proprietary sound controls. A single button beside the main volume control lets you choose one or both settings, Off, and Bluetooth Pairing. The Sound Controls include:
XBass II: XBass II adds a measure of low-frequency correction to make the headphones sound more natural. No DSP, with its loss of resolution, is used for XBass II, so the adjustment stays in the analog domain, retaining the clarity and resolution of the original music. XBass II has a separate 3-way switch on the back panel that lets you choose Bass (low frequency boost), or Presence (lower midrange correction), or Bass+Presence.
3D+ Matrix for Headphones: 3D+ Matrix recreates a holographic soundfield that simulates listening to a pair of speakers. It produces a deep soundstage with a more immersive sensation than typical headphone listening. 3D+ Matrix, like XBass II uses no digital processing.
Battery Power: The iFi xCAN has a built-in 3.8-volt, 2200mAh Lithium-ion rechargeable battery to power the headphone amp and Bluetooth circuitry. Since it is self-powered, it does not draw battery power from your smarphone or playback device. The battery charges via its USB-C port and requires a 5V USB power source. A battery status LED near the USB-C port shows the current battery status: White >75%, Green 74% to 25%, Red 24% to 10%, Red (flashing) <10%. As the battery is charging, the LED will flash with the charge level color. With a fully charged battery, the xCAN will deliver up to 12 hours playback time when using Bluetooth, and up to 18 hours with an analog connection. With In-ear Monitors (IEMs), battery life is typically 6 to 8 hours.
3M Dual-Lock: The xCAN includes adhesive-backed strips of 3M Dual-Lock fasteners to let you attach your smarphone or digital music player to the headphone amplifier.
Specifications:
Frequency Response: < 2 Hz - > 200kHz (-3dB)
Gain: -95dB to +18dB, adjustable in 114 1-dB steps (using the volume control)
Max. Input:

S-Balanced: 3V RMS
Balanced: 6V RMS

Max Output:

S-Balanced:

> 3.8V / 45mW (@ 300 Ohm)
> 3.5V / 380mW (@ 32 Ohm)
> 3.1V / 600mW (@ 16 Ohm)

Balanced:

> 7.6V / 90mW (@ 600 Ohm)
> 7.2V / 800mW (@64 Ohm)
> 5.7V / 1000mW (@ 32 Ohm)

THD+N:

S-Balanced: < 0.005% (@ 100mW/1.26V 16 Ohm)
Balanced: < 0.006% (@ 360mW/2.4V 16 Ohm)

Signal-to-Noise Ratio:

S-Balanced: > 121 dBA (@ 3.8V)
Balanced: >120 dBA (@ 7.6V)

Recommended Headphone Impedance: 16 to 600 Ohms
Output Impedance:

S-Balanced: < 1 Ohm
Balanced: < 2 Ohms

Dimensions: Width 2.617", Height 0.761", Length 3.733"
Weight: 4.8 ounces
2 questions already asked