Component-level performance in a portable DAC/amp design
If you're into high-end headphones like I am, the pocket-sized iFi Audio xDSD is a handy piece of gear to have around. It's highly portable, but don't let the compact size fool you: this battery-powered headphone amp/DAC combo packs enough punch to use in your everyday desktop headphone setup. I auditioned it for a week, and it delivered top-notch sound to everything from professional in-ear monitors to extra-large over-ear headphones.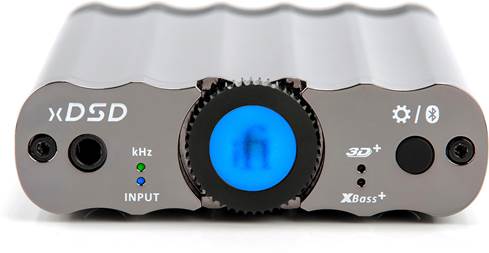 The iFi Audio xDSD's front panel features an analog volume dial, headphone jack, and striking color-coded LED lights.
Component-level performance in a portable DAC/amp design
If you're into high-end headphones like I am, the pocket-sized iFi Audio xDSD is a handy piece of gear to have around. It's highly portable, but don't let the compact size fool you: this battery-powered headphone amp/DAC combo packs enough punch to use in your everyday desktop headphone setup. I auditioned it for a week, and it delivered top-notch sound to everything from professional in-ear monitors to extra-large over-ear headphones.
But the portability makes it extra special. It fits easily in a bag or briefcase and has built-in Bluetooth. So you can connect to your phone or laptop, wired or wirelessly. Now you can bypass your device's ho-hum audio circuitry — and get serious sound quality, wherever you are.
iFi Audio xDSD vs. xCAN: Which is the best solution for you?
iFi makes a product called the xCAN headphone amp, which has a similar look, sound profile, and many of the same features as the xDSD. But there are some key differences that can help you determine which will work best for you. For one, you'll notice that the xCAN is listed primarily as a headphone amp. If you already have a high-quality DAC, or plan on using Bluetooth 95% of the time, and just want more power to drive your headphones? The iFi xCAN might be for you.
But that model only allows for an analog wired connection. The xDSD is more of a "jack-of-all-trades" portable device. It features digital connections and a high-grade Burr-Brown DAC chip that can squeeze out more musical detail from Spotify®, Apple Music®, YouTube, and other digital audio sources. This DAC will decode high-resolution music files up to 32-bit/786Hz resolution, including DSD. It also offers full MQA support.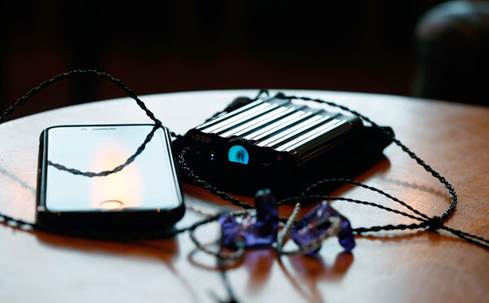 Built-in Bluetooth offers a quick, easy, and wireless way to get better sound from your phone.
Travel-friendly design
I work both in the office and at home, depending on the day. Some DACs are just too cumbersome (and complicated) to lug back and forth to both places. Not the iFi xDSD. Not only is it the right size, but the lightweight magnesium aluminum frame feels sturdy enough to weather the travel. And some of the design touches are really thoughtful, like the no-slip rubber "feet" on the bottom that kept the xDSD from sliding off my desk or coffee table.
The controls in general took me a while to master — consult the manual when switching from wired to Bluetooth — but there's no mistaking what to do with that satisfying, tactile analog volume control dial. As I scrolled the volume level up and down, the large LED panel changed color, so I could tell at a glance that the volume might be too high or low.
Versatile connections
It's also one of the most uncomplicated DACs I've ever used. USB cables are included for connecting to a PC, and I was able to connect to my Samsung Galaxy phone with an additional adapter (there are mini-USB and USB-C adapters for Android™ phones, and Apple Lightning® adapters for iPhone®). And I didn't have to download any USB drivers to play my music. My phone automatically sent sound through the DAC, and on my computer, it was a quick click on audio settings to get things going.
A note about charging
The xDSD has a built-in rechargeable battery that offers about 6-8 hours of music listening on a full charge. I learned early on that it would not draw power or recharge when connected to my computer (or phone) via the Type A USB port. It runs completely on battery, and must be recharged via the separate USB-C port (a charging cable is included). You'll want to ensure this DAC is charged up when you take it out and about.
High-powered headphone amp
Headphones plug directly into the stereo 3.5mm mini audio output jack. iFi uses what they call "S-balanced" technology for their built-in headphone amp. Their dual-mono circuitry keeps the left and right audio channels separate for as long as possible to avoid cross-talk and distortion.
The amp automatically optimizes the amount of power to the connected headphones. And it has enough power to drive headphones of all shapes and sizes with impedance from 16 ohms up to 600 ohms.
My listening impressions
So how does all this sound when the rubber hits the road? The iFi Audio xDSD brought the best out of some choice premium headphones. To see how well the xDSD worked with larger headphones, I connected the MrSpeakers Aeon 2 over-ear headphones. Planar magnetic headphones are notoriously power-hungry, but this compact iFi piece drove them with ease.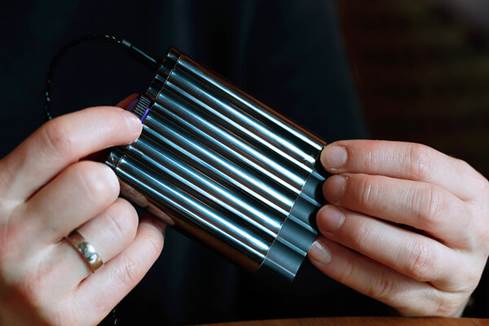 The battery-powered xDSD boasts a compact, super-portable design.
I primarily auditioned this DAC/amp with the Meze Rai Penta, a set of high-end in-ear monitors with five built-in drivers. On their own, these in-ears boast a spacious, outside the head sound with very precise imaging. But I got a better sense of dynamics — the soft and loud stuff in music — through the xDSD. I also noticed tighter, stronger bass response that provided a nice foundation for the soaring highs.
And the xDSD is just as versatile when it comes to music sources. On Spotify, I fired up the hip-hop album Brighter Daze by Murs & 9th Wonder. 9th's soulful beats came through with more punch and clarity, while Murs' deep, sing-songy vocals flowed gracefully into the mix.
Switching over to the high-resolution streaming music service Qobuz, I noticed even more detail on some tracks. The trippy dance track "Plantas Falsas" by Bruxas extended the soundstage of the Meze in-ears well outside of my head — I heard bongo drums way off to my left, and behind me.
For powered speakers, too
You can also switch over to "Line Output" mode by holding in the volume dial. In this mode, use an optional stereo mini-to-mini cable or mini-to-RCA adapter to feed a line-level signal to a pair of powered speakers, power amplifier, or receiver.
Who is iFi Audio?
iFi is an award-winning British audio company that may not have the recognition of some of the big-name brands we carry. But in the world of high-end headphones, their name rings out. iFi Audio offers well-built gear, packed with sophisticated circuitry to deliver the sonic goods.
READ LESS
Product highlights:
battery-powered portable USB DAC with built-in high-performance headphone amp
improves sound from your PC, digital music player, iPhone, and/or Android phone

USB-A and USB-B cables included

built-in Bluetooth® for wirelessly streaming music from compatible smartphones, tablets, and computers
compact design with extruded magnesium-aluminum chassis and metallic chrome finish

rubber grip feet help prevent slipping
Built-in digital-to-analog converter:
Burr-Brown DSD1793 digital-to-analog converter chip for high-quality sound
supported sample rates: up to 32-bit/786kHz PCM; DSD 512

up to 24-bit/192kHz via S/PDIF optical digital connection

offers rendering for MQA (Master Quality Authenticated) audio files
Type A USB input for connecting PC, smartphone, and other mobile devices
additional ESS Sabre Hyperstream DAC for wireless Bluetooth sources

helps reduce jitter introduced by wireless signal
S-balanced headphone amplifier:
3.5mm mini headphone/line-level output
iFi's dual-mono circuitry helps reduce crosstalk between the left and right audio channel
output impedance: 16-600 ohms
output power:

>2.82V / 500mW @ 16 Ohm
>3.7V / 270mW @ 50 Ohm
> 3.8V / 48mW @ 300 Ohm
> 3.8V / 24mW @ 600 Ohm

fixed line output mode for connecting to powered speakers or powered amplifier

line output level: 2.1V @ 0dBFS (& 0dB volume)

101-step analog volume control with manual volume dial

color-coded LED on dial indicates volume level
General Info and Specs:
rechargeable battery provides up to 10 hours of playback on a full charge (6 to 8 hours with in-ear monitors)
completely self-powered, cannot borrow power from your computer, phone, or playback device during use
USB-C charging cable included
color-coded LED indicator for incoming sample rate
includes selection of adhesive-backed fasteners
cloth storage pouch
output impedance: < 1 ohm
2-5/8"W x 13/16"H x 3-3/4"D
weight: 4.8 oz.
warranty: 1 year
MFR # 310001
What's in the box:
Portable DAC/headphone amplifier
39" USB 3.0 cable (Type A 3.0 USB male on one end and Type A 3.0 USB female on other end)
7" USB adapter (Type A 2.0 USB female on one end and Type B 2.0 USB female on other end)
USB adapter (Type A USB female on one end and Type B USB female on other end)
6" USB charging cable (Type A USB on one end and Type C USB on other end)
Optical digital adapter (Toslink female to Optical Mini)
Cloth storage pouch
Wide adhesive-backed Dual-Lock fastener
3 Narrow adhesive-backed Dual-Lock fasteners
User Manual
Dual-Lock fastener diagram
iFi Warranty
iFi Audio xDSD reviews
Average review:
Thanks for submitting your review
Most reviews are processed and published within 5 business days. You will receive a confirmation email once your review has been published.
Customer photos
More details on the iFi Audio xDSD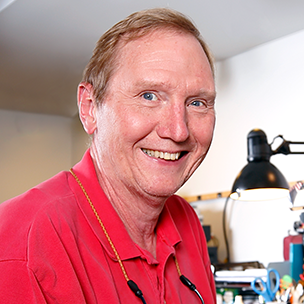 Researched by Crutchfield's

Mark G.
Product Research
Features
Overview: The iFi Audio xDSD is a portable DAC (digital-to-analog converter) with a dual-mono headphone amplifier that drives headphones far better than your smartphone, tablet, digital audio player, or laptop/desktop computer. It features USB and S/PDIF inputs for your home computer, TV, or game console, plus Bluetooth for your smartphone, tablet, or digital audio player. The xDSD has an S-Balanced 3.5mm (TRRS) headphone output, and supports Hi-Res Audio formats (PCM, DSD, and MQA). It has its own built-in rechargeable battery with a playback time of up to 10 hours, depending upon the mode and headphones connected.
Bluetooth: iFi utilizes Bluetooth differently than most companies. In the xDSD, Bluetooth is simply for reception, but not for conversion and amplification. It includes AAC and aptX to deliver CD-quality Bluetooth audio. Because the wireless signal has a huge amount of jitter, an ESS Sabre Hyperstream DAC with Time Domain Jitter Elimination is added. You can stream music and content from your smartphone, tablet, computer, or TV to the xDSD, and listen through your plugged-in headphones. The xDSD has the ability to store up to 8 paired Bluetooth devices for instant pairing.
Digital-to-Analog Conversion: The xDSD uses the Burr-Brown DSD1793 D/A converter chip to play Hi-Res audio in the original format, including DSD (up to 512), and PCM (up to 768 kHz). You can also listen to MQA (Master Quality Authenticated) audio. The xDSD utilizes the zero-jitter AMR Global Master Timing clock system for both the digital and Bluetooth sections. The xDSD has a color-changing LED to indicate the audio format and sampling frequency received from the music source:
Green: PCM 44.1kHz, 48kHz, 88.2kHz, and 96kHz
Yellow: PCM 176.4kHz and 384kHz
White: PCM 768kHz
Cyan: DSD64 and DSD128
Blue: DSD256
Red: DSD512
Magenta: MQA
Off: No valid signal
MQA (Master Quality Authenticated): The nano iDSD Black Label includes MQA rendering technology, which enables you to play back MQA files and stream MQA audio from sites such as Tidal Masters. MQA delivers the sound of the original master recording, so you'll hear the music exactly the way the artist intended.
Digital Inputs (USB + S/PDIF): The xDSD has a Type A USB 2.0 input that can be used with your smartphone, tablet, or home/office computer. For iPhone and iPad, you will need an Apple CCK cable, such as the Lightning to USB Camera Adapter or the Lightning to USB 3 Camera Adapter (sold separately). For Android, an OTG (On-the-Go) cable (with Type C or Micro USB, depending upon the device) is required. When connecting to your home or office computer, you should use the included USB 3.0 cable. The S/PDIF input is an optical mini connection that lets you connect a compatible digital music player, CD transport, Blu-ray/DVD player, TV, or game console. An adapter is provided for those components with a Toslink optical output. The xDSD automatically selects the wired input, with the USB signal taking priority over the S/PDIF signal. You should make sure no USB source is present when switching to S/PDIF mode.
Digital Filters: The xDSD portable DAC is equipped with selectable digital filters for PCM and DSD listening. The advanced minimum phase (Bezier) digital filter is applied when the Filter switch is in the "Listen" position. It is optimized for sound quality and enjoyment. The Listen position provides extended bandwidth and is transient optimized. In most cases, the switch should remain in this position. For those who prefer the sound of standard FIR linear phase filters, or are required to take objective performance measurements, the "Measure" position should be selected. The measure position provides a narrower bandwidth, and is optimized for lower output band noise.
S-Balanced Headphone Amp: The xDSD's dual-mono headphone amplifier features iFi's exclusive S-Balanced technology that provides the best performance from balanced (TRRS) headphones, as well as single-ended (unbalanced TRS) headphones. With TRRS, you have full dual-mono circuitry, with the grounds separated all the way to the amplifiers. The full separation is lost with TRS headphones, but because there are two contacts on the ground, crosstalk is still reduced by 50% over a single contact. iFi's Cyberdrive headphone amplifier stage places all of the parameters of the fully analog system under digital control. It provides up to 3.6V output to easily drive high-impedance headphones, while at the same time, offering superior low-noise performance with high-sensitivity headphones and in-ear monitors (IEMs).
Volume Control: The xDSD is equipped with a 101-step (1dB each) analog rotary volume control with a power switch and imbedded LED. The volume control features digital CyberDrive, which preserves the full dynamic range and resolution. To turn on the xDSD, you press and hold the rotary knob until the LED lights up. Keeping the knob held in lets you cycle through the source modes: USB (White), S/PIDF (Green), or Bluetooth (Blue). As you turn the volume up or down, the LED changes color:
Blue: 0% to 18% (-101 to -82dB)
Magenta: 19% to 36% (-81 to -64dB)
Cyan: 37% to 54% (-63 to -46dB)
Green: 55% to 72% (-45 to -28dB)
Yellow: 73% to 90% (-27 to -10dB)
Red: 91% to 100% (-9 to +12dB)
Sound Controls: The xDSD features two of iFi Audio's proprietary sound controls. A single button beside the main volume control lets you choose one or both settings, Off, and Bluetooth Pairing. The Sound Controls include:
XBass+: XBass+ adds a measure of low-frequency correction to make the headphones sound more natural. No DSP, with its loss of resolution, is used for XBass+, so the adjustment stays in the analog domain, retaining the clarity and resolution of the original music.
3D+ Matrix for Headphones: 3D+ Matrix recreates a holographic soundfield that simulates listening to a pair of speakers. It produces a deep soundstage with a more immersive sensation than typical headphone listening. 3D+ Matrix, like XBass+ uses no digital processing.
Line Output Mode: The xDSD lets you switch the headphone output to a Line Output for connecting to powered speakers or a separate amplifier. In the Line Output mode, all of the headphone-specific sound controls are bypassed and the volume control is bypassed. The Line Output level is rated at 2.1V. There is no dedicated button for enabling or disabling the Line Output. It is switched by a combination of button presses while powering the unit on.
Battery Power: The iFi xDSD has a built-in 3.8-volt, 2200mAh Lithium-Polymer rechargeable battery to power the headphone amp and Bluetooth circuitry. Since it is self-powered, it does not draw battery power from your smarphone or playback device. The battery charges via its USB-C port and requires a 5V USB power source. A battery status LED near the USB-C port shows the current battery status: White >75%, Green 74% to 25%, Red 24% to 10%, Red (flashing) <10%. As the battery is charging, the LED will flash with the charge level color. With a fully charged battery, the xDSD will deliver up to 10 hours playback time. With In-ear Monitors (IEMs), battery life is typically 6 to 8 hours.
3M Dual-Lock: The xDSD includes adhesive-backed strips of 3M Dual-Lock fasteners to let you attach your smarphone or digital music player to the DAC/headphone amp.
Specifications:
USB Input: up to PCM 768kHz & DSD512 (24.6/22.6 MHz)
S/PDIF Coaxial and Optical Inputs: up to 192kHz/24-bit
Volume Control: -101dB to 0dB in 1dB steps
Output Power:

> 2.82V / 500mW @ 16 Ohm
> 3.7V / 270mW @ 50 Ohm
> 3.8V / 48mW @ 300 Ohm
> 3.8V / 24mW @ 600 Ohm

Line Out Level: > 2.1V @ 0dBFS (& 0dB volume)
THD+N (1V/16R): < 0.005%
Dynamic Range: > 113dB (A)
Recommended Headphone Impedance: 16 to 600 Ohms
Output Impedance: < 1 Ohm
Dimensions: Width 2.621", Height 0.761", Length 3.748"
Weight: 4.8 ounces