About the Revel PerformaBe M126Be
Incredible sound, impeccable craftsmanship
Revel paid a visit to our headquarters prior to the launch of their Performa M126Be bookshelf speakers. Luckily for me, they had arranged an extended listening session for us. Read on for a closer look at what the M126Be is all about, along with my listening impressions.
Incredible sound, impeccable craftsmanship
Revel paid a visit to our headquarters prior to the launch of their Performa M126Be bookshelf speakers. Luckily for me, they had arranged an extended listening session for us. Read on for a closer look at what the M126Be is all about, along with my listening impressions.
The magic all starts with the beryllium tweeter
The secret to the M126Be's great sound is its uniquely designed beryllium tweeter. You may have heard of beryllium back in chemistry class (it proudly carries the atomic number 4 on its virtual nametag).
Beryllium is several times stiffer than aluminum or titanium tweeter diaphragms. And it's also super-lightweight, so it moves quickly and in a very controlled fashion — two key attributes of a high-quality tweeter. I found that the M126Be created detailed, neutral, and non-fatiguing sound — even at extended high listening levels.
An acoustic lens waveguide lets every seat enjoy great sound
One of the most impressive attributes of the M126Be is its off-axis listening. The beryllium tweeter uses an acoustic lens waveguide, which helps it produce remarkably accurate sound, even if you're sitting off to the side of the "sweet spot." The soundstage holds up convincingly, just like it might at a live show.
Impressively hard-hitting bass
Revel paired its beryllium tweeter with a 6-1/2" Deep Ceramic Composite (DCC) aluminum cone woofer. Let me tell you, the bass that this speaker produces is startlingly good for its size. I had to confirm with Revel's trainer that there was in fact no subwoofer playing when I listened to the M126Bes — the bass was that tight and impactful.
My listening impressions
The pair of M126Bes I auditioned were driven by a Peachtree nova300. At 300 watts per channel this is a high-current amp, and it paired beautifully with the M126Bes. I was treated to an extensive playlist of high-quality tracks that spanned multiple genres, which let the M126Bes show off their versatile capabilities.
During "I Put a Spell on You," Morgan James' angelic voice rang through with power, revealing layer after layer of her impressive vocal range. And a 1964 recording of "Bossa Antigua" by jazz saxophonist Paul Desmond showed the soulful expression of his three-piece band. The M126Bes offered depth and nuance that let me revel (no pun intended) in this 50-year old recording as if it had happened that day.
During every track I listened to — from folk to blues to electronic funk — the M126Be delivered effortless, detailed sonic performance that left me smiling.
Tested by instrument and by ear
Revel's world-class speaker design and testing facility features an anechoic chamber and the latest high-tech measurement gear. But some of their most critical test instruments are the ears of their trained listening panel. When working on a new design, Revel's engineers set up a series of controlled auditions comparing their design to several competing speakers.
Speakers under comparison sit on a rotating platform, and each model is moved into the identical position by a computer-controlled belt drive system. An acoustically transparent screen hides the speakers from the listeners to avoid visual bias. These double-blind listening tests provide an essential reality check, and help the engineers correlate measurements with what listeners actually hear and prefer.
Get the most out of your stand-mount speakers
I'm a proponent of using high-quality speaker stands with bookshelf speakers. They help improve the sound by giving your speakers a stable, vibration-free platform. When shopping for stands, remember that the ideal height will place the tweeters roughly level with your ears, for maximum clarity.
Speaker stands also give you more placement flexibility, since you won't be limited to a space on your shelf or table. Keeping your speakers away from the wall or the corner of a bookshelf can also prevent excessively boomy bass. Many stands even offer built-in cable management for a neat, clean install.
Revel's sturdy matching Revel M Stands are an excellent choice to use with a pair of the M126Bes. The speakers mount securely to the stand platforms with supplied screws. Need more help? Contact one of our Advisors for an specific recommendation for your setup.
READ LESS
Product highlights:
1" beryllium dome tweeter with proprietary acoustic lens waveguide for consistent dispersion over a wide listening area
6-1/2" Deep Ceramic Composite (DCC) aluminum cone woofer with cast frame for reduced resonance
advanced high-order crossover optimizes timbre accuracy both on-axis and throughout the room
cabinet has thick walls and extensive internal bracing to reduce vibration
bass-reflex (ported) cabinet with rear-firing port
frequency response: 54-44,000 Hz (-6dB)
sensitivity: 86 dB
impedance: 8 ohms
recommended amplifier power: 50-150 watts
gold-plated binding post speaker terminals
includes a foam port plug for adjusting the speaker's low-frequency performance
top panel is painted a stylish metallic black with raised electroform badging
removable grille is magnetically attached
8-5/16"W x 15-1/4"H x 10-5/16"D
weight: 22 lbs.
warranty: 5 years
MFR # REVM126BESIL
What's in the box:
Bookshelf loudspeaker
Grille
Foam port plug
Owner's Manual
Revel PerformaBe M126Be reviews
Average review:
Thanks for submitting your review
Most reviews are processed and published within 5 business days. You will receive a confirmation email once your review has been published.
Customer photos
More details on the Revel PerformaBe M126Be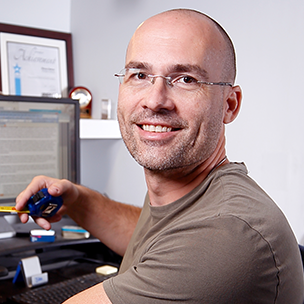 Researched by Crutchfield's

Stacey B.
Product Research
Features
Two-Way Bookshelf Loudspeaker: The Revel PerformaBe M126Be is a powerful and elegant two-way bookshelf loudspeaker engineered to extract the finest details, the highest level of performance, and the most emotion possible. Featuring an all-new 1" beryllium tweeter and one 6.5" DCC aluminum midrange/midbass driver, the M126Be delivers unparalleled detail and accuracy with an expansive and cohesive soundstage.
1" Beryllium Tweeter: At the heart of the Revel Performa M126Be's immaculate sound lies a 1" beryllium tweeter driven by massive 85mm dual ceramic magnets. The powerful tweeter is mated to a 5th-generation ceramic-coated, cast-aluminum Acoustic Lens waveguide engineered to seamlessly integrate with the directivity of the companion midrange driver.
6.5" Midrange/Midbass Driver (DCC): The 6.5" midrange/midbass driver has been updated with larger Deep Ceramic Composite (DCC) aluminum diaphragms, bigger voice coils and ceramic motor structures. The result is greater efficiency, less compression, improved dynamic range, reduced distortion, and increased power handling.
Beryllium: Beryllium, Element 4 on the Periodic Table, is a rare earth metal that is renowned for its remarkable physical properties; properties that just so happen to make it the ideal material for a high-frequency transducer. It's lightweight, incredibly stiff, inherently well damped - basically everything you need for the ideal tweeter diaphragm in a loudspeaker. Compared to other metals used in tweeter diaphragms like aluminum and titanium, beryllium offers 4.5x the stiffness and 3x more damping, and does so at only half of the weight.
Deep Ceramic Composite (DCC): The PerformaBe midbass/midrange driver features newly developed Deep Ceramic Composite (DCC) aluminum cone technology. DCC creates a much stiffer and better damped cone than untreated aluminum, reducing cone resonance and promoting ideal pistonic motion. The result is unparalleled midrange purity and detail retrieval.
Precision High Order Crossover Networks: Revel PerformaBe's precision high order crossover networks feature carefully selected components to dramatically reduce distortion and dynamic compression for pristine sound over a wide dynamic range. These networks optimize the speakers' timbre accuracy, enhancing the listener's enjoyment anywhere in the room - even off axis.
Elegant Enclosure: The Revel Performa3 bookshelf loudspeaker's fully-curved enclosure is inherently stiffer than conventional box shapes and are formed with contiguous wood layers that prevent splitting. The enclosure also features strategically-oriented bracing that eliminates the possibility of enclosure-induced coloration. The beautiful, modern enclosure is finished in Piano Black or High Gloss Walnut in a process (developed and overseen by Italian luxury cabinet makers) that exceeds automotive finish quality. A magnetic grille eliminates unattractive hardware on the baffle and also minimizes diffraction and veiling.
Rear-Firing Bass Port w/ Port Plug: The M126Be bookshelf loudspeaker employs a sophisticated fluid-model designed low-frequency port with identical flares on both ends. This greatly minimizes dynamic compression and port-generated noise, assuring low-distortion low-frequency performance. The Revel Performa3 bookshelf loudspeaker includes a foam port plug that can be used to adjust the loudspeaker's low-frequency performance in certain installation situations.
If the bookshelf speaker is built into an entertainment center or shelving unit, or if the speaker is located less than about 2' (0.61m) from walls or other large objects, inserting the port plug into the loudspeaker's port opening can reduce the overly-aggressive bass output that can be created by the speaker's proximity to large surfaces that reflect bass energy.
Insert the port plug into the loudspeaker's port tube opening far enough so that the end of the plug is flush with the inside end of the port tube's flared section. Be careful not to insert the port plug so far into the port tube that it falls inside of the speaker.
Binding Post Terminals: The M126Be bookshelf speaker features gold-plated binding-posts that provide secure connection for speaker cables terminated with banana plugs (single only), spade lugs, pin connectors, or bare wire (up to 10AWG). You will need to remove the binding post's rubber inserts in order to use banana plugs.
Mounting & Placement Options: Optional stands (sold separately - see accessories tab) are available that place the bookshelf loudspeaker at the proper height for seated listeners. The speaker does not offer any rear-panel threaded inserts, keyhole slots, or integrated bracket for wall mounting. For best stereo image and performance, follow these guidelines -
Remove all obstructions between the loudspeaker and the primary listening position. For instance, a coffee table between the loudspeaker and the primary listening position will create reflections that will degrade stereo imaging and timbre. Placing the loudspeakers near large objects may also cause unwanted reflections.
For best results, place the M126Be speaker so the tweeter is aligned within a few inches of seated listener height.
For the best stereo imaging, place the loudspeakers so that they are both the same distance from the primary listening position and so they are both the same distance from the side walls.
For optimal stereo imaging and timbre, aim the loudspeakers directly toward the primary listening position. If you wish to widen the stereo soundstage you can reduce this toe-in angle, even to the point at which the loudspeakers are pointing straight forward.
Moving the loudspeakers farther from the front and side listening room walls will improve stereo imaging and the sense of spaciousness in the listening space. Moving the loudspeakers closer to the corners or walls of the listening room will increase bass level.
Note: Placing minimal acoustic treatment materials at the room's primary reflection points will reduce sonic degradations. Ideally, acoustic absorbers should be placed at the first reflection points on the front and side walls and either acoustic absorbers or diffusers should be placed at the first reflection points on the rear wall. Check out the Accessories Tab for acoustic panels & treatments (sold separately).
Position-Independent, Double-Blind Listening Tests: Every Revel by Harman loudspeaker is compared head-to-head with competitors' models in a position-independent, double-blind listening facility. True research-quality processes assure the validity of the listening tests, which employ the latest psychoacoustic research.