High-res recording on the go
Want to make high-res audio recordings on the fly? The Olympus LS-P4 can record clips in up to 24-bit/96kHz resolution, and it fits in the palm of your hand. You can also record in MP3 format for long sessions. The LS-P4 features Olympus' Tresmic 3-mic array. The two stereo mics mimic the way our ears pick up sound, and the center mic can be switched on to help capture lower bass frequencies.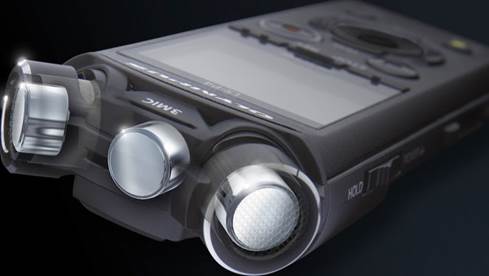 Olympus' Tresmic 3-mic array ensures realistic, spacious recordings.
High-res recording on the go
Want to make high-res audio recordings on the fly? The Olympus LS-P4 can record clips in up to 24-bit/96kHz resolution, and it fits in the palm of your hand. You can also record in MP3 format for long sessions. The LS-P4 features Olympus' Tresmic 3-mic array. The two stereo mics mimic the way our ears pick up sound, and the center mic can be switched on to help capture lower bass frequencies.
Monitor your recordings on the go
No need to fool with wires. The LS-P4 has built-in Bluetooth so you can stream playback wirelessly to compatible headphones or speakers. Or use the recorder's compact, built-in speaker for replay.
The LS-P4 also has a standard stereo minijack so you can use your favorite pair of headphones to monitor your recordings or listen back later.
Memory and battery life
The recorder has 8GB of built-in memory. You can supplement that with an optional microSD memory card for up to an additional 32GB. And transferring files is easy. The recorder gets up to 39 hours of recording or 31 hours of playback from its included "AAA" battery.
READ LESS
Product highlights:
battery-powered digital audio recorder with expandable memory
3-microphone array, selectable for 2-mic stereo
8GB embedded memory
records in MP3, or PCM/FLAC up to 24-bit/96kHz
frequency response 20-20,000 Hz (3-mic), 60-20,000 Hz (2-mic)
microSD card slot for expandable storage (memory card not included)
LCD display
built-in speaker
retractable high-speed USB interface for data transfer
3.5mm microphone input
minijack headphone output
Bluetooth 2.1 wireless output for compatible headphones and speakers
up to 39 hours of operation with included "AAA" battery
1-9/16"W x 4-5/16"H x 9/16"D
weight: 2.7 oz.
warranty: 1 year
MFR # V409160BU000
What's in the box:
Portable digital audio recorder
Tripod adapter
One AAA Ni-MH rechargeable battery
Owner's manual (Eng / Span / Fren / Others)
Warranty registration card
Olympus LS-P4 reviews
Average review:
Thanks for submitting your review
Most reviews are processed and published within 5 business days. You will receive a confirmation email once your review has been published.
Customer photos
More details on the Olympus LS-P4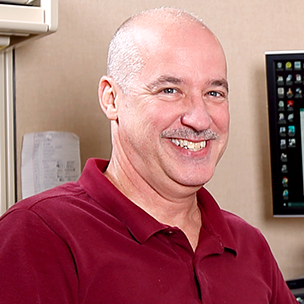 Researched by Crutchfield's

Russ B.
Product Research
General Features
Recording Features
Edit and Playback Functions
General Features
Overview: The Olympus LS-P4 is a compact, hand-held portable digital voice recorder. The device records MP3, PCM, and FLAC files onto the built-in 8 GB flash memory or optional microSD memory cards (up to 32 GB). The recorder has three built-in microphones (TresMic System), an 18mm diameter dynamic speaker, and jacks for an external microphone and headphones. The LS-P4 operates on one "AAA" NiMH rechargeable battery (supplied) or a "AAA" alkaline battery (optional).
LCD Display: The LS-P4 features a 1-3/8" (diagonal) backlit, monochrome LCD display which indicates recording and playback information. The recorder will display the elapsed or remaining recording time in hours, minutes, and seconds. The backlighting duration can be set in the menu to 5 sec, 10 sec, 30 sec, 1 minute, or Off. You can set the display contrast to one of 12 levels.
Date and Time: The recorder features a built-in clock. If you have set the time and date, information as to when a sound file was recorded is stored automatically with that file.
TresMic Microphone System: The unit features three built-in microphones on the top of the recorder. The outer microphones are angled at 90 degrees for a wide stereo pickup pattern. The center microphone is omnidirectional. You can choose to turn the center microphone on or off while recording. The recording level can be set to Low, Middle, High, Manual, or Auto. The internal microphones, with the center mic on, have a frequency response of 20Hz-20kHz. In addition to the built-in microphones, the recorder also has a 3.5mm external microphone input.
Zoom Microphone: The Zoom Microphone feature allows you to electronically expand and contract the microphone range using the "+" and "-" buttons on the unit. If recording from a distant position, this feature can help you make clearer recordings.
Bluetooth: The LS-P4 is equipped with Bluetooth capability (ver. 2.1+EDR). This allows you to play recorded audio through a Bluetooth enabled playback device such as a wireless speaker or headphones. By downloading the Olympus Audio Controller BT app to your Bluetooth enabled smartphone, you can operate the LS-P4's controls remotely.
Headphone Jack: A 3.5mm headphone jack is provided to allow you to listen to recorded files, or monitor the audio during recording. No headphones are included with the recorder.
Microphone Jack: A 3.5mm jack is provided to using an optional external microphone (not included).
Recording Memory: The LS-P4 features a 8 GB internal memory for recording and storing files. In addition, the recorder has a slot for microSD memory cards with capacities ranging from 2 to 32 GB.
USB Plug: The LS-P4 has a retractable Type A USB plug at the bottom to let you plug the unit directly into your computer for transferring files, and charging the included rechargeable battery. The unit is Hi-speed USB 2.0-compatible, and can work with the following Operating Systems: Windows 10, 8/8.1, Windows 7, and Mac OS X (v10.8-v10.12).
Tripod Adapter: The recorder comes with a tripod adapter that screws into the back panel. This raises the recorder off the surface so the microphone doesn't pick up surface vibrations, or can be clipped onto clothing or inside a bag.
Power Requirements: The recorder is powered by a single "AAA" rechargeable NiMH battery (included). When the rechargeable battery is exhausted, you can use a "AAA" alkaline battery to continue recording. In the menu, you can indicate the type of batteries being used, Ni-MH or Alkaline, for best performance. When Alkaline has been selected, the recorder will not attempt to charge the batteries when it is plugged into your computer via USB. A fully-charged battery provides approximately 39 hours of recording time and 31 hours of playback time (with headphones).
Power Save: The Power Save function turns off the display and switches the unit to Standby after the recorder has been stopped for a selected amount of time: 5 min, 10 min, 30 min, or 1 hour. You can also turn off the Power Save function, if desired.
Recording Features
Recording Format: The LS-P4 records audio files in MP3, PCM, and FLAC format. If MP3 is selected, you can 320 kbps, 128 kbps, or 64 kbps mono. PCM and FLAC recordings can be made at 44.1kHz mono, 16-bit/44.1kHz, 16-bit/48kHz, and at 24-bits with sampling frequencies of 44.1, 48, 88.2, and 96kHz. The lower bit rates provide longer recording times while higher bit rates offer better quality recordings.
Low Cut Filter: The LS-P4 has a Low Cut Filter to minimize low frequency sounds below 300Hz while recording. This helps make voice recording clearer, especially in windy conditions.
Recording Level (Sensitivity): The recorder has 5 Recording Level adjustment options:
High: This is the highest recording sensitivity and is ideal for recording lectures, large conferences, or other distant sound sources.
Middle: Suited for recording discussions and small group meetings.
Low: The lowest sensitivity selection, this is ideal for recording dictation.
Manual: This lets you set the recording sensitivity manually to any of 30 available levels.
Auto: The recording level automatically changes according to the volume of the input sound.
Recording Scenes: A recording setting can be set to one of seven templates to suit the recording scene or situation. Each Recording Scene designates specific settings to suit the scene, including Recording Level, Recording Mode, Low Cut Filter, VCVA, and V-Sync Rec. The available Recording Scenes include:
Lecture: For recording a single speaker at the front of a large space.
Conference: Suitable for recording conferences in a large space.
Meeting: Suitable for recording a meeting held in a small space.
Dictation: For recording your own voice and other sounds that are extremely close.
NoisySituation: Suitable for recoding your own voice or other sounds that are extremely close. Helps reject background noise.
Music: Records audio with exceptional clarity and realism. Good for recording musical instruments.
DNS: Suitable for Speech Recognition software.
Limiter: This feature automatically reduces clipping caused by excessively loud input signals during recording. Three options are available:
Music: This setting is ideal for clarity of sound during music recordings.
Voice: This setting is ideal for voice recordings by equalizing the sound volume.
Off: This is used when adjusting input levels without any correction.
VCVA / Voice-Sync: You can set the LS-P4 to automatically start recording when it picks up sound and shut off when the sound stops. The Variable Control Voice Actuator (VCVA) lets you adjust the volume level threshold for starting and stopping recording. The Voice-Sync level can be set to different values. You can set a detection time of 1, 2, 3, or 5 seconds. The recorder enters standby mode when the sound goes below the preset level for the set number of seconds.
Voice Guidance: The LS-P4 offers Voice Guidance which provides audio announcements of the recorder's operations, and confirms setting changes in an easy-to-understand voice. Voice Guidance can be turned on or off in the menu.
Overdubbing: This allows you to overdub a file while listening to its playback sound. The overdubbed file is saved with a different name. This function is useful for composing music or practicing with an instrument.
Hold Function: The recorder has a sliding On/Off switch. While recording or playing back a file, moving the switch to the Off position puts the recorder in the Hold mode. The recording or playback continues, but no other operations can be performed. This prevents any accidental operations during recording or playback.
Edit and Playback Functions
Playback Volume: The Olympus LS-P4 lets you adjust the playback volume between 00 and 30.
File Storage: The recorded files are separated into five folders--A, B, C, D, and E. Each folder can store up to 200 files. You can search within each folder to find the desired file to play back, or use the Calendar Search function to search for files by their recording date.
Playback Speed: You can adjust the playback speed as you desire; slowing it down to review spots you couldn't understand, or speeding it up to listen to meeting content at a faster speed. You can vary the playback speed by 0.1x increments from 0.5x (half speed) to 3.5x normal speed. When playing back at a different speed, the LS-P4 automatically adjusts the pitch to make the audio sound close to normal. You cannot manually adjust the pitch of the playback audio.
Voice Balancer: The Voice Balancer function adjusts the volume levels of all speakers to roughly the same level for clearer playback. This compensates for uneven voice recordings when persons are varying distances away from the microphone.
Voice Playback: This feature lets you play only the speaking portions of a recorded file of spoken-word content.
Noise Cancel: This function reduces surrounding noise when a recorded voice is difficult to discern.
Equalizer: The LS-P4 features a 5-band equalizer for use while in Music mode. Bands include: 60Hz, 250Hz, 1kHz, 4kHz, and 12kHz with adjustment from +6 to -6 in 1dB increments.
A-B Repeat: The A-B Repeat function lets you repeat a portion of a file over and over. This is helpful if you're transcribing a recording and need to listen to a segment repeatedly.
Index Marks: Setting an index mark lets you quickly find a location you want to listen to while fast forwarding or fast rewinding. Up to 99 index marks can be placed on a single file.
File Divide: Large files, or files with long recording times, can be divided for easier management or editing.
Erase: You can erase your recorded messages one by one, or all messages in a folder at one time.
File Lock: To prevent a file from being accidentally erased or edited, you can lock it. When a file is locked, it is regarded as a read-only file. It can later be unlocked, if desired.